La Esperanza
Mexican restaurant La Esperanza, 601 E Jackson Blvd, Elkhart, IN 46516:
220 reviews
of users and employees, detailed information about the address, opening hours, location on the map, attendance, photos, menus, phone number and a huge amount of other detailed and useful information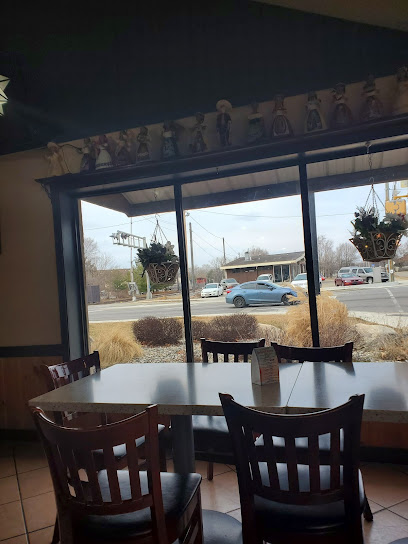 Address:
601 E Jackson Blvd, Elkhart, IN 46516
GPS coordinates
Latitude:
41.6896052
Longitude:
-85.9641032
Location on the map
Reviews Jackson Barrett
New favorite!!! BEST Mexican restaurant I've ate at in a long time. You have to try the steak Taco combo- Chicano style. Very clean restaurant and nicely decorated.
8 months ago Mark Melourne
Perfect heat, great taste, Very clean, all around a great experience!
2 months ago Alyssa Morris
The food was delicious and very authentic!! Service was very good...our food came much sooner than we expected. Highly recommend this restaurant! Yep we ate EVERYTHING!
2 months ago Tom B
Someone here doesn't know how to make margaritas. tasted like the mix lol. And the food is last choice.
1 month ago Michael Ciha
My Husband and I both really enjoyed our meal here! After traveling all day it was nice to sit down and enjoy a meal in this very cute restaurant. I love the way it is decorated! The prices aren't bad and the staff is very nice and helpful! I believe it was also the owner we spoke with and she was such a nice lady and seems to genuinely care about people!
7 months ago Jo Bond
Best steak tacos and margaritas and chips and salsa were amazing New favorite mexican restaurant wont be going anywhere else
9 months ago Alexa Barretero
They have amazing food and even better drinks!! The food came out quick and they always make sure you have full drinks. I recommend everyone to stop by here!! Loved the decore too
5 months ago Sara Ha
Very good Mexican food and very nice place
6 months ago montique reddick
Enjoy the whole meal. The Hostess was nice and the waiter too. The owner also came fourth and asked us about our meal. I enjoyed that the most because he is cares about his Customers and the Services they receive. Thank you.
3 months ago Imran Virk
The lady and I really enjoyed this place! The salsa and chips were fantastic, as was the esperanza dip entree. We both ordered flat steaks for dinner and they were amazing. Very clean restaurant with a very friendly staff, we're certainly coming back again, thanks!
4 months ago Jill Cyriacks
Enjoyed the atmosphere when we first walked in. Art on the walls, on the shelves, hanging from the ceiling. The service was good, so was the food. Would have been awesome to know how hot the salsa was, as it burned my mouth! But if I'm ever back in the area, and feel like having some good Mexican food, I will definitely be back
7 months ago Sina Safayi
Love the ambiance and art work. The 3D painted wall is very creative. The food was good. They allow customization to cater to vegetarian and vegan food. Their rice and beans are vegan. Been here twice now and have loved it both times. Will come back again.
3 months ago katie vient
Just okay steak tacos. The chips and salsa are the best I've had in elkhart so far.
2 months ago Bart G
Been here a handful of times. Food is good. Service could be more attentive.
2 months ago Ian Stanley
Was pretty good. The food came out pretty fast and was pretty good. The staff was nice as well.
5 months ago Ramon Sanchez
We walked in for lunch and waited for them to seat us. Once seated, it took about 15 mins for them to come give us menus and still didn't take our drink order. A few mins later, someone came and took our drink order and brought chips and salsa. After about 20 mins, they took our order. We then waited for over an hour and nothing. When a couple that had walked in about 10 mins before got their food, they realized that we had been sitting there. Normally, we would have walked out, but we were trying to be patient as with Covid most restaurants are shorthanded and it looked like they might have been too. At that point, someone walked over and asked if we had placed our order. We told them never mind, we had waited over an hour and didn't want to wait any longer. They offered us our drinks at no charge, but nothing else was said. Even the person who took our order was behind the bar watching like he didn't remember taking the order.
3 months ago salimah SHABAZZ
Food and service is good... Margaritas not so much. ????‍♂️
3 months ago Taylor
The carnitas ranchera was awesome, and the tamales are huge with a lot of meat. The margarita was strong and tasty.
4 months ago Leo Stuckey
Great food and very nice staff. I have a salad with shrimp. De.li.ci.ou.s
3 months ago Eric Hutcheson
9/13/20 Long wait for food. My husband order the pork chips in mole sauce. They were tough mole was sweet chocolate sauce. I ordered the Chile Relleno it was good. My steak taco was good nice flavor. Service was lacking she didn't even come check on us. Coffee was $2.50 not even hot. The decor was nice. They did turn a table away bc they didn't have masks on.( even tho on door said they could sell them one for a $1.00 she didn't offer them one.) I got my food a good 10 minutes before my husband's food came out. So my food was cold before his came. $2.99 for 3oz of Gauc... Overall I wouldn't be visiting again unless they were the only place open. Not very satisfied with our experience.
3 months ago Robert Holcomb
super friendly , great food will go again soon
3 months ago Adam Salah
Alway Good food. Spicy salsa just the way I like it
7 months ago Leanne Hudson
Food is decent but they can't take your order unless you speak Spanish . All customers Hispanic and so is staff... no speak English. And order will be wrong
7 months ago Yeimy Tamez
Great food and service.
5 months ago Nicholas Wong
Very good food and fast service
3 months ago Harman Khehra
The food always tastes great, and the stuff are very friendly.
5 months ago Julia Davis
Just tried them today for the first time. Great quality tacos. Me and my dad loved them. They also throw in chips and salsa to go which I've never seen any other place do. The guy who cashed me out was also super nice.
2 months ago Natasha Stefanovska
It was a nice little Mexican place that we went to for lunch. The food was good. We did think it was a little higher priced than the normal mexican lunch resturant we eat at. The service was good.
5 months ago zakirullah hedayat
Good food and service, don't bother with Hacienda if you are looking for real Mexican food. Mexican tacos, nachos, and enchiladas verdes are among the favorites. Everything we have tried has been great...hot salsa on request!
3 months ago Abdullatif Aldaei
Amazing food! Excellent service and the place is one of the most cozy Places that we have had the pleasure of dining at! Thanks for the great meal!
1 week ago ravi malhotra
The food was amazing & the mango margarita was delicious. I just love the decor in this place. It's so pretty..
4 days ago Vincenzo Falzone
Horrible service called an hour early to get food for lunch. They ended up giving my food away before 12:30 when I asked for my food to be done. Made me late back to work an didn't even get to eat my food.
5 months ago Mike Class
Great food and people.
2 months ago Jacquelene Zabik
Wonderful flavors and food.
2 months ago Amrit Sinha
Wait staff was friendly and wore masks and arrenged table for social distancing. They were very attentive to our needs throughout the meal. The food was good and service timely.
2 months ago Amy Bryant
Food was great and service was excellent
3 months ago Lance Turner
As usual, La Esparanza provided a wonderful experience and excellent food. The fajita trio serves up steak, shrimp, and chicken with the onions and peppers on a sizzling hot cast iron with plates of refried beans, seasoned rice, lettuce,guac, and sour cream and your choice of corn or flour tortillas. For dessert I had the flan and my friend had the fried ice cream, both of which tasted just as amazing as the presentation.
1 month ago Bernice Trilling
Great food, fast great service, and great prices! We had two orders of the enchiladas and two drinks then decided to order a torta to go all for $34!
1 month ago Elle Song
Food was unfortunately not tasteful. Very over priced for quality. Restroom stall doors don't close in girls restroom. Baby changing area in men's rooms. Drinks were great.
11 months ago Cory Rodrigues
The staff was polite and the food was great. I tried the steak tacos and the chicken tacos and my wife tried the tamales. The tamales were great and the house hot sauce on the tacos was perfect. We will definitely be back.
4 months ago Matt Fleming
So delicious, always great service, never a wait.
6 months ago Vitaliy Vilshanetskyy
Delicious food, friendly staff, and a good spicy sauce? This is a winner for me!
7 months ago Ginger Thomas
Great food especially the Fiesta Nachos and Chicken Fajitas.
2 months ago Victor Herrera
Worst foos and service I've EVER had..$42 worth of food we couldn't even eat!! Older lady waitress was rude..
8 months ago Nate Carilli
Friendly people excellent food. Would come here again!
8 months ago Mark McPherson
Fantastic service and great tasting food.
7 months ago Stephanie T
Their hot sauce and salsa is awesome.
10 months ago B D
Food was cold waited 15 min for drink refills, ladies were nice just think they are understaffed.
1 month ago Cynthia Zuccalo
Servers are friendly and helpful. Food tastes great and their prices are very good.
10 months ago Lisa Pulliam
One of my favorite place to eat! Knowing and understanding with the COVID-19 deal, but today was the worse. There wasn't hardly anyone inside eating, so the service was really slow, the order wasn't right, food was warm, and to get ready to pay, they messed up and didn't know what to do. Had to call to see what to do, so waiting a long time again. I might try to eat there one more time, but if i have this experience again and it will be my last time there. Before was great and friendly, but now is terrible.
4 months ago
Popular places from the category Mexican restaurant