Travis County Criminal Court
Courthouse Travis County Criminal Court, 509 W 11th St, Austin, TX 78701, United States:
26 reviews
of users and employees, detailed information about the address, opening hours, location on the map, attendance, photos, menus, phone number and a huge amount of other detailed and useful information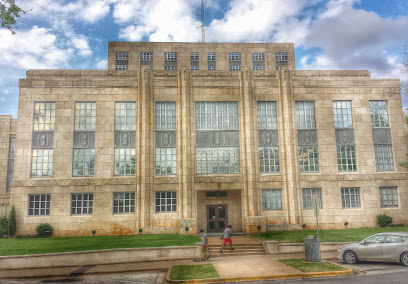 Address:
509 W 11th St, Austin, TX 78701, United States
GPS coordinates
Latitude:
30.2729737
Longitude:
-97.7445911
Location on the map
Reviews Scott Kaplan
Judge Cliff Brown Is related to the Byrd and Sneed estate with Texas comptroller of public accounts unclaimed property and Mrs Verna Mae Brown and another kinfolk Mr Kevin Brown who lived with Lillian Roland on Maple St.. 78702. Lillian Roland is Mrs Alter Mae Byrd sister.
9 months ago Deni Jo
Creepy vibe building filled with expensive suits
4 months ago shane ross
It's a court house. What you expect?
3 months ago Jonny Jonny
I have a custody case with my son it's rigged the whole court system is rigged.
5 months ago Оленька Oi
This is for the help desk in the civil courthouse, particularly. They're really helpful, and very professional. They manage to be both kind and knowledgeable.
10 months ago Sasha Yefremkin
What can I say... I did nothing wrong. I got arrested. The judge threw it out. Good on that judge. The parking is naff, the neighborhood has some nice stuff, and the building is a bit stodgy looking.
3 months ago Mike Moak
It's a court. It's close to a park though, so if you are near the park you get to see many weddings. Always a great sight to see 2 people promising to only be with each other for eternity.
8 months ago Stuart
They put you on hold for hours at a time when you call regarding your information on your birth certificate. Call never went through several different ways even asking for a different number to help me. Still waiting! Frustrated just keeps telling you to wait!
5 months ago karamvir grewal
Went prepared first thing in the morning to get my passport and it was fast and easy and everyone was very nice.
6 months ago C Armstrong
The level of incompetence here is staggering. I went to the courthouse to file for divorce and was told I needed forms from the law library across the street. I went to the law library where 3 employees stared at me as if they had no idea what I was talking about because, from what they could tell, I already had all the forms. I went back to the courthouse and saw a different clerk who gave me COMPLETELY DIFFERENT "information". Once I was able to confirm that all the paperwork was done, I showed up at court to finalize the divorce, only to be told that yet another form was missing. I was told wildly different things by the lawyer, the clerk, and an incredibly rude person on the phone. I get that government has never been known for its efficiency, but this place is beyond inefficient, as it functions as a very particular and profoundly frustrating level of BLATANT STUPIDITY.
5 months ago Abeja Yaj
This is the civil courthouse but misdemeanor filings and records are kept here on the second floor. I've usually found the staff efficient and friendly.
12 hours ago Paul Ravenstone
(The Heman Sweatt Courthouse) They have free wifi. That's always a plus. There's never enough parking around this place during the week, but tons on weekends. Also the parking meters quit at 6 for the most part, and you are pretty close to downtown so you could walk to say, Republic Square from here.
1 week ago Monica Verga
Operates like straight out of the 1800's...
5 months ago sam ducrane
Thanks, for making me plead guilty to something I did not do. Bumping into someone is not assault. I should have just said excuse me Cameron. And then you would have still lied. So what's the point. Don't ever put my Little girl in the situation you and Alisha put her in. Again. And don't think for a milisecond that you are in the right you little liar. You and Alisha are equally guilty. I will NEVER FORGIVE YOU OR HER FOR WHAT YOU DID TO MY CHILD!!!!! That aside. Moving on. I do wish you Cameron Powel and Alisha Plummer the best in life though. May God Bless you both with what you trully need in life. Also i wish you the best as a Couple. You do both go good together. Good Luck with your lives. I would like to see you both successfull and mature. Pretrial Services, thank you so much for all your help. Especialy Leo and Annete. Thanks for making my visits as little hastle as possible every week.
2 months ago Tracy Garner
This place is a joke
7 months ago Siddhant Yawalkar
bad
3 months ago Cynthia Rice
Beurocratic nightmare, they go at the pace of a sloth, if you are not staff or a lawyer then you will be treated like a convict, even if you are there to support others.
3 months ago Jesse Mintun
Terrible and corrupt.
8 months ago Clark
Liberal fascists.
9 months ago James Tackett
Worst experience ever.
3 months ago Brett George
I'm just a big fan of justice, what can I say?
10 months ago Big E
Arbitrator is fair and make you guilty even if you're innocent
2 months ago Vusal Museibov
The long arm... Of The Law!
1 month ago EbinPaskaMies
It's court - of course it gets a 1 star review. Nothing good ever happens at court.
10 months ago Barry Carroll
What a bunch of jackasses LOL
2 months ago Harley
This place is the definition of Government inefficiency and ineptitude.
1 week ago
Popular places from the category Courthouse