U Point Syracuse
Apartment building U Point Syracuse, 404 University Ave, Syracuse, NY 13210:
44 reviews
of users and employees, detailed information about the address, opening hours, location on the map, attendance, photos, menus, phone number and a huge amount of other detailed and useful information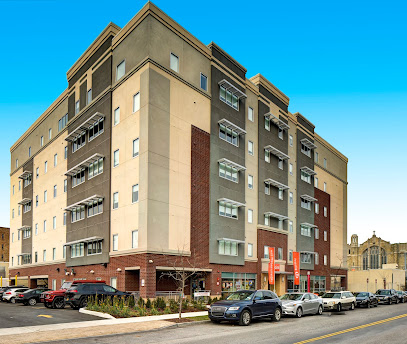 Address:
404 University Ave, Syracuse, NY 13210
Website:
americancampus.com
GPS coordinates
Latitude:
43.0463138
Longitude:
-76.1344935
Location on the map
Reviews I J
Would 100% recommend! The staff is very attentive (Jack will know your name by heart if he meets you twice). Honestly great location, yes it's a bit further down on University Ave, but it's literally a simply straight walk up to the university. The gym isn't huge, but it has most of the essentials you need. Overall, if you're a junior or senior at Cuse, this place definitely is worth a look. The only issue is the parking, and even that, the parking garage most of the residents use, is less than a block away.
7 months ago Alyssa Anthony
nflexible and terrible management who take advantage of kids. They are shamefully charging my daughter and her roommate $700 to move in 4 days early to comply with a university sanctioned event that they are leading -- they didn't get the date until after they signed their lease. NO flexibility, no rationale other than corporate says so. I called corporate, no answer, no return calls. AVOID them at all costs. This is no way to run a business.
3 months ago Esjbv K
The units have pretty much everything you could possibly need and more. The lobby is kept very clean and put together. Most notably, the staff is extremely nice and puts a smile on my face every day! I honestly have nothing but good things to say about my experience living at UPoint and I have recommended it to several friends :) If I wasn't graduating this year, I would most definitely be renewing my lease!
8 months ago Jason Cao
Living at U Point was a great experience. It is a 5 minute walk to Marshall street, and so close to campus. U Point has spacious, modern apartments units, which I loved living in so much! The apartments come come with laundry utilities and a fully functional kitchen, and I loved having a en-suite bathroom. There is also a game room in the lobby and a gym and amazing study rooms in the basement. I wish the windows opened, and the closet had a little more space, but overall, I felt pretty at home at U Point!
7 months ago Katelyn Stoddard
Great experience and very accommodating
4 months ago alidda peoples
Staff is very friendly and personable. They are always available to answer any questions that you may have. I have lived here for the past 2 years and would highly recommend living here. I absolutely love my apartment!
5 months ago Shannon Selvaggio
We found the staff super responsive and thorough in navigating the application process, particularly Daa'iyah who went out of her way to be helpful. I hope the place and the people live up to their very good first impressions.
4 months ago Sachin Jose
U Point is a truly pleasant place to live! Staff is very friendly, and they're always happy to chat. Whenever there are any problems, they're very quick to do everything they can to fix them. I've only had two maintenance issues: the first was fixed the next morning, and the second was fixed within 10 minutes. Although expensive (but still cheaper than on-campus per-month), quality of living is great, too. I live in one of their smaller-sized 2-bedroom units, but it still has plenty of space. They recently remodeled the main areas and opened some amenities, so everything looks great. In my apartment, there's a dishwasher, stove/oven, wall TV, microwave, and reasonably comfortable furniture. This is also the first place I've seen that has in-unit laundry, and it's free! Internet is also excellent, although it is a public network. I've never had any connectivity issues, and I can usually download at 125-650Mbps depending on the time of day. Overall, I love living here, and I'd certainly recommend it.
7 months ago pamela klemenz
my experience at upoint has been amazing to say the least, the amenities are great and the community itself is one of a kind in the best way. It's the perfect location from campus and the staff treats you in a very caring and respectful way... looking forward to renew my lease here for the following year.
7 months ago Jessica Schmidt
Beautiful, modern apartments. Stainless steel appliances, granite countertops, with great washer and dryer. Living room space is very comfortable. Bathrooms are very spacious and nice. Very close to Whitman and Marshall Street. Excellent Staff. I would recommend living here over anywhere else at Syracuse.
7 months ago Monte Mahler
U Point is truly one of the best buildings to reside in. The staff is extremely amicable starting from the moment you walk in. The activities they have on the first floor are so entertaining including the basketball NBA game, ping pong and the flat screen TV. The best part about it, apart from the apartments, is the ability to work out and study in a quiet environment. The basement has the best studious environment. It's quiet and peaceful guaranteeing you get your work done. Thank you UPoint!
9 months ago Beverly Benfer
At first I was skeptical about living off campus but it's been only a couple weeks and I couldn't have asked for better rooming conditions. The rooms are spacey, everything is modernized and furnished, the workers around here are very nice. There are also cool rooms downstairs if you ever need to go somewhere quiet and study, a very nice gym and a convenience store right downstairs. Overall, it's a neat and friendly environment and I would recommend this building to everyone.
1 month ago Emma Dakin
I am one of the CAs for the building and my experience has been amazing! Everyone I spoke with has been super helpful and answered every question I had in person, over the phone, and online! They are all super friendly and made me feel so welcomed. I am so excited to be a part of this! The amenities that will be offered are great too, you don't even need to leave the building to go do everything you need because there will be a 24 hour gym, convenience store, study rooms and rec space that all the residents can use! #BLVD404 is doing amazing things!
11 months ago Christopher Cameron
BLVD 404 is the best new place to live. The spacious 2 person apartment comes fully furnished with quality, comfortable furniture and up-to-date, modern styled appliances. The kitchen is huge with plenty of room for additional storage. The gym is amazing. It not only has everything you need, from a squat rack to different cardio machines, it is open 24/7. BLVD 404 also has multiple study rooms down on the gym floor. Complimentary coffee and tea is also available in the main lobby 24/7. The manager of the building is also extremely generous and answers any email/question right away. Overall, great place, great staff. I would suggest living in BLVD 404 to anyone.
11 months ago Bill Warhop
This is a great place to live for students. To start, the management is awesome and always willing to help you and your roommates and the rooms are extremely nice and clean (because the building is less then a year old). Another thing thats great is the kitchen is dope and it comes with a TV in the living room. It has a extremely nice gym and study rooms too. One complaint I have is no windows in any apartment open
11 months ago Donald Tilbury
My air conditioning and heat was out for the hottest week of September while I had my dog in the apartment and the temperature was well over 90 degrees. I lost all running water for a week and had weak to no water pressure for longer than that, had been locked out of my building apartment multiple times due to the door breaking, only one elevator ever worked at a time, the list goes on, need I say more.
4 months ago Juan Soto
New, clean apartment with excellent utilities and accommodations. Very welcoming and professional staff.
7 months ago Owais Haq
I have lived at Upoint since August of 2017 and absolutely love it here. The amenities, my favorites including the gym, rec room with NBA hoops and study lounges are reasons I chose to live in upoint that lived up to all my expectations. Our rooms are spacious with new appliances and a comfy living area where my roommates and I usually end up at the end of a long day! Everything is clean, modern and safe. I feel so safe in this building with the electronic operating system and staff on call. The staff here are the most caring and helpful employees who always help us out with a smile on their face. Being in this community has brought me joy and stability here at Syracuse and I am so excited to be here until I graduate!!
6 months ago Brian Dickman
Overall my experience was average. Fully furnished amenities and living space was very nice, the only issue was WIFI, which never offered a stable connection. Other than that, the management was welcoming and would assisted to the best of their abilities to address any issues if present. The reason I gave a one star rating was with how inadequate this property accommodated to my service animal. During one event in the summer, the AC was broken and without the ability to open windows, my apartment would reach up 90 degrees. Though I would be able to put up with this short-term, this issue lasted consecutive days where my animal was beginning to suffer from heat stroke. I had reached out to corporate regarding this issue and their response was "you'll just have to deal with it just like everyone else." In disgust, I rented a hotel for my animal while they fixed this issues. Property refused to reimburse me. Additionally, I was randomly assigned a roommate who was well informed of my animal prior to moving in and stated he had no issues. However, throughout my lease he would mishandle my animal and from my acknowledgment was borderline physically abuse and tormenting. Over the course of my lease, my animal ended up becoming aggressive after months of maltreatment. When I brought this issue to management they showed the slightest care. I ended up leaving my apartment months before my lease was up for this reason. Needless to say, if you need an apartment that offers any reasonable accommodations such as a service animal, this is not your place to live. The least they could have done is compensated to the issues they had caused rather then telling me to, in a lack of a better word, f*** off.
10 months ago Rhianna Pollard
Awesome place to live. Very welcoming from the day I moved in. Appliances in the apartments are all new and work well. Overall amazing place to live.
7 months ago Jamie Hribal
Overall great spot to live, great staff at the front desk, especially Ron who is always friendly and helpful. However, definitely some drawbacks for the price and I suggest reading pros and cons heard from multiple residents. Cons: -Elevator is frequently broken or very slow to even go up a few floors. -No ventilation in the kitchen and windows throughout the apartment do not open. Also no ventilation in the bathroom. -Convenient store which closed shortly after the beginning of the school year used to be very nice, but now space is vacant. -Gym: nice to have 24 hour access, but if you prefer weightlifing instead of running there are very limited options which caused my roommates and I to buy an off-campus gym membership. -Parking: probably the biggest complaint I've heard from residents. Poor plowing and frequently icy spots makes parking tight and difficult. -Garage parking: advertised as being close, but is a pain to access your car during off hours as you need to walk up six flights of stairs and then drive all the way down. Not worth the money. -Significant money spent on promotional events, could be spent on actual improvements. -Definitely a far walk to every other academic building besides Whitman -Some study rooms have couches, yet that is not what students intend to utlize it for. -Limited closet space. Pros: -Nice appliances, brand new and clean. -Fully furnished, nice furniture especially couches. -Friendly front desk staff, maintenance team that is always willing to help. -Great study rooms for midterm and finals weeks when other academic buildings are crowded. -Good community atmosphere. -Printer and desktops in study room are very convenient. -Included washer and dryer are brand new and very nice. -Included utilities. -Good location in proximity to Marshall St. and Whitman. -Nice lounge and game room, especially NBA hoops. -Ability to modify room in accordance with contract. We mounted a larger TV in our apartment with help of Ron. -Quick assistance with maintenance requests. -Everything feels brand new. Hope this helps future residents make their decision would overall recommend with a few drawbacks.
5 months ago Logan Bass
I visited my friend here recently and the place is very clean and beautiful.
4 months ago Sarah Reiss
It is an excellent place to live, the accommodations are perfect and everything that you could need is near. The staff is very friendly and Rick Norris, the leasing manager is an excellent person.
1 month ago Jason Law
This is the relatively good place you can find on campus. The only shortcoming is that the bedroom is as small as the bathroom and the bed is just a twin. Besides that everything is great.
10 months ago Ellison Browne
UPoint is a pretty nice place to live! However, there are some drawbacks. It's very expensive, the closets are small, there is no pantry or extra closet space, and the parking lot is always full. But, the apartments and the building itself look really nice, modern and clean! An added bonus is that each apartment comes fully furnished with a washer, dryer, dishwasher, microwave, fridge, etc. (all are modern and nice). Also, there is a game room and a Starbucks coffee machine in the lobby, which costs $1 to get a drink. Personally, I think it should be free as the cost of rent is super expensive! The gym is small and could use some more machines, but it's super convenient! Overall, the cost of apartment living isn't cheap and UPoint is definitely a nice place to live.
10 months ago David Placzek
I worked with the owners of this building for a time and I am so excited to see this property! They are doing things that haven't been done in Syracuse before. They will have a Jim Boeheim memorabilia room, a virtual doorman for extra security, and other cool things that will appeal to students. Since the owners are SU alumni, they know the market and what students want (not just need) in student housing. It's going to be amazing!
8 months ago Paolo Cerutti
My experience at U-Point was one of my most troublesome stays I have had while attending SU. An avoidable part of this experience involves the range of the thermostat as I had roommates who would turn the temperature up to 80-83 at night. Meanwhile, the apartment is unable to fully ventilate itself with permanently closed windows. The interior ventilation would also cause fumes from other areas of the apartment such as weed and cigarettes to pass into other roommate's and my own bedroom. The distance to the main campus, the noise and lackluster ventilation and the mediocre maintenance do not make up for the high price and $100 parking fee for this apartment complex.
10 months ago Melanin Swrl
Honestly, upoint is the greatest thing that's ever happened to me, everyone is sick and life is tight. If you want your life to be sick and not freeze to death in a house move to upoint
3 months ago arun arunm
Very attentive staff, great amenities and overall a great living experience.
7 months ago Caroline June
Living in BLVD 404 has been a great experience overall not just for myself, but for my roommates as well. The kitchen, dining, and living room area are all generously spacious, with comfortable suede furniture and a large Flat screen "smart" TV all included. Utilities are also included, along with free Wi-Fi and cable. Speaking to multiple friends about their monthly payments for rent and utilities has made me thankful that BLVD 404 has included all of these amenities for such a low price per month. My friends and I also enjoy the enormous; fully equip gym, as well as the downstairs lounge area, which has a large amount of seating, and also a pool table. The building maintenance and management have been so helpful and kind, going out of their way to ensure my comfort here is to its full potential. One example that comes to mind is my first time in the gym, our building manager, Rick, came down to make sure that I had everything I needed in terms of equipment, and to come by anytime with suggestions on how to improve the facilities. Ron, the maintenance supervisor for the building, has gone out of his way for my roommates and I personally on several occasions. We had issues installing a new TV mount when we moved in and Ron dedicated over 30 minutes to installing the bracket for us, no questions asked. 5 star living, 5 star staff – All we need now is a Ping-Pong table.
9 months ago Ariel B
Awesome place to live. Great management. Amazing kitchen and living space.
4 months ago Voahangy Ramananjatovo
I love living here because the maintenance and management staff are always friendly and available when needed. It's a very welcoming environment and I would recommend anyone to live here.
5 months ago Juan Martinez
Love this place. Great amenities:)
5 months ago Yudelkis C
Lobby is always clean in the morning, Friendly staff
1 month ago KID KRAZE
One of the best decisions I have made in my lifetime, fantastic staff, fantastic living space, fantastic service!
1 month ago Omar Guerra
Greetings fellow SU students! I've never found the need to write any sort of internet review, but i did, once before, about this building. And they they took it down. So I'm here again, to share about my experiences with ACC and to warn any future students from making the same mistake that I made. Before you read further I'm going to save you some time right now: LIVE SOMEWHERE ELSE. Sufficent warning reader, go on if you must. First and foremost, swindled myself, and my roommates out of thousands of dollars for housing that appears to be luxury, and upon first glance it is. But then you live there. Mattresses are rock hard. Bedrooms are small with little to no storage. Apartments are poorly laid out. Windows don't open. Kitchen has no ventilation system. Elevators are slow and/or constantly breaking down. Staff is fake-nice to your face. They don't care about you, they just want your money. Janitorial staff is extremely kind and competent. Merely talking desk jockeys here folks. Kathryn you know who you are. Along with rent prices being astronomical, so is the price of parking, $100/month which you can't opt out of. On the lower end you can park two blocks walk away for "only" $85/month. One star for the 24 hour gym. If you have a guest that needs to park, if they park in the back lot they will tow their car with no warning. Convenience store closed downstairs so that was nice while it lasted, you're far from most grocery stores. I'll be back to probably write edits/repost this as they'll probably delete it again. But I Persevere. Go Cuse.
10 months ago Mike Onesko
I'm enjoying living here with such friendly environment and quite good accommodations
9 months ago Carlie Bissler
Great place to live! Comes with furniture and all the appliances you need.
7 months ago leslea somerville
I was a resident at Upoint this past Semester and I was extremely satisfied. The Staff (Rick and Ron) are really committed to provide the tenants with quality and make sure we all feel comfortable. The apartments are the best looking i've seen on campus (better than Park Point or any dorm I lived in). Living at Upoint will really make you have a better experience if you are at student at Cuse.
9 months ago Chuck Smith
Everything is brand new and a lot of space in the living room. Also, the gym is a good size and always clean.
8 months ago Naddie Naddie
Worse place ever, they get into your apartment, you don't get to have privacy, they doors locked you out all the time, dirty wherever you go, management sucks and never clean the bathrooms.....lived here for a year and it has been the worse place to pick ever
9 months ago Ira Lewis
Great people,great place.
5 months ago FIRDAUS GARMENT
Great living experience.
7 months ago Donna Paddock
Nice amenities
7 months ago
Popular places from the category Apartment building