Guitar Center
Music store Guitar Center, 8813 JW Clay Blvd Suite A, Charlotte, NC 28262:
220 reviews
of users and employees, detailed information about the address, opening hours, location on the map, attendance, photos, menus, phone number and a huge amount of other detailed and useful information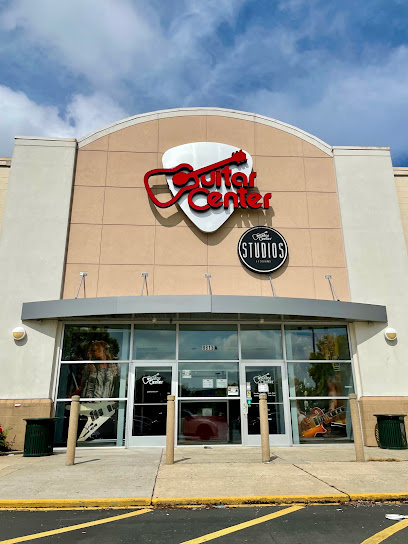 Address:
8813 JW Clay Blvd Suite A, Charlotte, NC 28262
GPS coordinates
Latitude:
35.3129977
Longitude:
-80.7548712
Location on the map
Reviews Emily Krouse
Took my classic guitar to get strings replaced. The tech that serviced my guitar was very friendly and helpful.Looked around while waiting. I experienced good customer service. Pleasant environment.
4 months ago Lisa Lycett
I LOVED IT WE HAD FUN DEMOING THE PIANOS AND MY FAVORITE PIANO WAS THE YAMAHA GROOVE CREATOR ONE. I DECIDED TO BUT THE PIANO SOME DAY SOON AND THE DRUMS IN THERE WERE EVEN LOWDER THAN I THOUGHT. THIS IS THE BEST MUSIC PLACE EVER.
5 months ago Charles Johnson
Kind of weird. Not one employee came up to greet us or ask if we needed help at all. Maybe it was a fluke, but just seems strange in these days when most places go way over the top with customer service and you can't get the employees to stay away from you. Not this place, they give you plenty of breathing room and let you figure it out on your own. Cool place though.
6 months ago Bethany Rocktaschel
Wow! An fully stocked music store. How fun to walk around.
4 months ago Barb P
A lot of good stuff. Always check your receipts. Make sure they don't add funny extras To the total But other than that Very good.
2 months ago Samantha Tank
not what it used to be. terrible variety in the selection for bass players
4 months ago Gwen Ackley
Good folks. Not a novice but yet know what I don't know. That translates to asking alot of questions on my part. Build a relationship not just make transactions. This store will treat you well from my perspective if be honest and expect same in return. Aspiring bassist as a hobby for a wounded warrior.
5 months ago Shimmy Weiss
Courtney the PM manager is the man! This dude worked 2 hours trying to fix an issue for me. Couldn't come to the solution we wanted but got creative and gave an equally good one. I appreciate your time bro!!!
8 months ago Landry Jones
You will find variety of instruments here. We went buy keyboard and found the one we wanted. Manager was generous to show a demo of the keyboard we wanted even though it was not on display, he opened a new box. Really nice staff.
6 months ago ULISES ESTRADA
They just offered 100$ less than a pawn shop on a guitar i brought in to be checked out.
4 months ago Dakota Tate
Love the store overall but it was in shambles when I went. Hard to get help, guitars not tuned and just boxes of strings laying out open on the floor.
5 months ago Samuel carter
First visit here. 3 different employees asked at different times if we needed help. We found everything we came for, plus more. Checkout was a tad slow.
5 months ago Michael Mottolese
Been shopping here almost 7+ years and the people have changed, but the service has remained the same: subpar. I just stood around for 30+ mins trying to buy cables and there weren't enough people to help, so I walked out. (I can't count how many times this has happened throughout the years) This is by no means the employees' fault, as the store is severely understaffed. You would think after almost a decade that they would switch it up, but it's for this reason and lack of service that Sweetwater is my #1 choice.
5 months ago Liew Winc
Bought my very first electric guitar. I was in and out. They made things super easy for me
6 months ago Carl Schreiber
My son has being tryimg to teach him self the piano, he played and the staff was friendly.
5 months ago Michelle White
While away on duty in the Army I ordered an acoustic guitar for my Daughters Birthday over the phone from an absolute professional named Siani. He talked me through the various guitar options, pricing, and helped me pick the ideal Yamaha Guitar for her. The Customer Service he provided was outstanding! Thankyou!
7 months ago joseph long
I love guitar center. I have purchased thousands in instruments and equipment over the years. But last night I had the first horrible experience in 20 years. I wanted to purchase an inexpensive speaker for my garage gym. It was on sale for $100. i brought the speaker to the audio sales desk. The nice young lady started ringing up the sale and asked me of i wanted the warrantees. I said no. Then another really tall guy started asking me why i didn't want a warrantee and hard-selling me. He was condescending, rude, shaming and would not quit. He said he was doing what he was trained to do. I asked if he was going to stop pushing me and let me purchase the speaker. He wouldn't stop so I walked out without the speaker. It was super stressful. As of now I am never going back to that store again. Good job in following your training Tall man. (Sat 7:30 pm, 6/12/2021)
9 months ago Matt West
The staff was extremely nice and helpful. We were able to walk in and find exactly what we wanted to get. They have very good prices and my daughters birthday was extra special with her new keyboard. I highly recommend this store. You won't be disappointed.
1 week ago kostadin ivanov
I love that place..the staff there are incredible. Smart and talented..I can't say enough good things about them
6 months ago Diana Pence
Great group of people.Extremely knowledgeable and so nice.We have purchased a guitar from them and taken lessons.
5 months ago Oz Gunal
They should offer what the online store says they have in stock. Also, they should polish a guitar off after you buy it. To many people play them and there are a lot of germs, they should take more caution before sending you home with others germs. Service was awesome, found a really nice and unique bass
11 months ago Lillian Tarafa
Very good place to try the electric drums, guitars I electric Bass guitar. Good attention. I just think you need to tidy up and clean, the carpet was somewhat dirty with small pieces of cardboard. I think they were taking inventory that day. but in general the store is very cool.
1 month ago Andre P
Good store, but not alot to select from
4 months ago Eric Redegeld
Nice place, got my Roland RD-2000 at a very good price.
8 months ago Laura Villafane
The staff at this guitar center is very friendly, i like it more than the one in Pineville where one employee was very rude to me. Great selection of guitars amps drums etc.. The service counter was helpful when i needed some work done on my guitar. Very professional, do reccomend.
1 week ago Samar Abozuhairah
Called to ask about a drum head in stock. The person of the phone was overly rude and boldly said, "Listen man, you can hold for 15 minutes or call me back later." I'll not shop there!!!!! Timestamp 11:19am 9/25/21
4 months ago mary burr
brought my sons fender electric guitar to get restrung...the tech then offered to look at the guitar to make sure everything else was good. He removed the piece where the amp cable plugs in and it ripped off the sodder point and broke...then he continued to tell us how it was already broken and if we wanted the $50 service he could fix it...then he told us the neck was too bent to restring and basically that the guitar was not worth fixing. Was super disappointed with the service after waiting in line for 30 minutes for him to finish with another customer, it was tough to see my sons face when we had to walk out with his now broken guitar. Would give 0 stars if i could.
4 months ago carrie melissen
State of the art equipment. I lost all my music studio gear and am interested in acquiring new gear but I'm going through a major loss and am currently displaced and struggling. I really hope I can find a way to make music and continue making sure dreams come true.
4 weeks ago Will Clodfelder
Great store & sales reps were nice.
6 months ago Molly Barbian
Awesome place!! Very helpful!! Ashley was very very helpful and she is a fantastic instructor!!!
8 months ago Steven Palomino
Loved that musicians offered assistance to my minor son & played a mini bass concert ????
8 months ago Eric Warmath
Store is almost empty. But it's understandable with the funglitus. Sales staff were great. Just couldn't buy the basics that I needed.
10 months ago mar jmz
Met Brian and 3 others wish I had there names great time... Nice guys will come back again.
2 weeks ago Anjali Garg
Good place to get music equipment...
5 months ago Ilona Melnichenko
Enjoyed an amazing guitar lesson and they have a groovy selection of guitars!
9 months ago Tanner Shamrock
Their stuff are always nice and helpful. Grate place to try and instrument before you buy it, so you can make sure it's the right fit for you.
9 months ago Teresa Tapia
My boys enjoying going to try before they buy, staff is always pleasant and knowledgeable.
11 months ago Irina Danilova
Great facility. They don't have a lot of material for woodwind instruments though.
6 days ago Todd Clark
Very rude customer service. The one in Pineville is much better!
1 week ago Talha A
They have some good deals and A decent range of guality products. I can usually find what i need when im there. Customer service is a bit of a challenge until you get their attention. When they do acknowledge you they are friendly and very helpful. Just dont expect anyone to run you down for assistance.
1 month ago Jean Papworth
I found everything I needed. And was treated with respect
8 months ago Wilmer Perez
Was harrassed 2 times once near the keyboards and once on the way out about mask falling slightly below nose.These employees on a power trip .This was the first time in the store and definetly the last!..They obviously think customers need them!I spend my money when customers are appreciated not harrassed by their own policies which are not laws!!
11 months ago shemeka carter
Wide selection of guitars to choose from. Not only do they sell guitars, they also have Ukelele and other string instruments on the floor. Very clean and tidy. The manager is welcoming and will let you try out most instruments they have on hand. They also sell drum and drum accessories, as well as keyboard, audio and a plethora of other musically creative instruments.
5 months ago Krystal Ducharme
This review is for Brian and siani at JW Clay boulevard in my opinion these two gentlemen are a real asset to guitar center as Sean was carrying out some heavy control monitors I was playing a keyboard and he literally stopped and set the speakers down and just stood there very patiently and said do you have any questions about the keyboard most people would have just said okay let's get these speakers out that's what separates a great salesman and a great associate from the rest of the pack
2 months ago Kawani Hudson
Great selection of guitars, something for just about everyone who plays, helpful staff. Helped Make buying my first gibson lespaul standard a great experience !!
6 months ago Dinesh Kumar
Love this place. The most healthiest best pizza I have ever had, and I was born and raised in Brooklyn NY where a NY Slice reigns supreme in my opinion. I no longer eat meat(Pescatarian) so veggies play a big role in my eating habits. I was pleasantly surprised when Blaze has vegan cheese, and crust! I am in love.
6 months ago Wei Pang
All the guys guitar center siani Brian Nick they're wonderful cheapest on prices on musical equipment.
2 days ago Chris Rogers
Great store, pretty good staff, okay prices.
11 months ago James Adams
Awesome place with a great staff!
8 months ago Fouzia Fathima
Very nice and helpful customer service. Good selection of guitars in all price ranges.
1 month ago
Popular places from the category Music store