Lowes Foods of King
Grocery store Lowes Foods of King, 614-G S Main St, King, NC 27021:
220 reviews
of users and employees, detailed information about the address, opening hours, location on the map, attendance, photos, menus, phone number and a huge amount of other detailed and useful information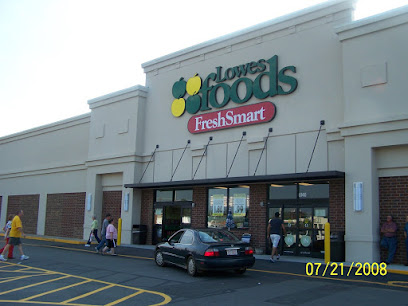 Address:
614-G S Main St, King, NC 27021
GPS coordinates
Latitude:
36.2663710
Longitude:
-80.3627880
Location on the map
Reviews Axel Madge
I really like being able to just pick up groceries I've ordered and go back home. Service is good, On time and with friendly people. Great way to shop!
3 months ago Carrie Solberg
Great helpful employees. Very nice selection and ok prices with their card.
3 months ago Gene Fignar
First time ever in a Lowes. Snagged a fresh made chicken pot pie for lunch (good call, Ben!) and filled mini cinnamon buns from the bakery. Both items were delicious. I interacted with three employees and saw one helping a customer in the parking lot...y'all are a friendly bunch! I will make sure to visit Lowes whenever one is available.
7 months ago Wesley Castleberry
Nice store with friendly staff. Stopped here to get balloons & the lady in the floral dept was just delightful.
2 months ago susan falato
Tried the Foods to Go. Items not in stock. Got charged more than I purchased by $10. Recipient did not match what they took off my card. No contact info on mobile app or webpage.
3 months ago anthony mancilla
I go here almost once a week. I love their selection of organics and meats. Love the fresh produce section and the personnel are friendly.
6 months ago Jessie Sawyer
Awesome store, a must see. Fresh produce and locally owned. Stop in and try a wine, yes that's right. You may sample, that's a unique experience for me, fun even!
8 months ago Omatillo Khojiev
The beer den in king is one of the best. A great store where the people really care about you
6 months ago Scott Carroll
This is the nicest grocery store in the area. The people that manage it and work there are great. They all go out of their way to make your shopping comfortable and complete.
9 months ago Justified Aggression
Great organization and stocking skills, preferred over Food Lion, Workers were kind and very helpful, people that were also shopping were also extremely kind and generous.
5 months ago Bonnie Taylor
Always clean, have what I need the majority of the time and good customer service.
4 months ago Israel Silva
Very well stocked store, very clean and kept up. Friendly staff.
3 months ago Jeff Smith
Always enjoy my time shopping here. Their fresh seafood and steak is the best for spur of the moment splurges. Beer and wine selection is fantastic.
9 months ago Mary Laing
Everyone was trying to get groceries on Wednesday before the ice storm hit. I could tell my cashier had had a very long day, but he was still working at a fast pace and he was very cheerful. I had a really long and busy day too, so I really appreciate that!
10 months ago Gwen Ackley
It was a very clean well laid out store. A nice break from the madness.
6 months ago Ricardo Mena
Most things are more expensive here than anywhere else in the area. Yet, if you know where to look and how to shop at Lowe's, some real deals can be had. Killer bakery! And, the checkout staff is consistently patient and friendly.
8 months ago Patricia Williams
Always fully stocked and shelfs blocked. Great choices!!
5 months ago James Roberts
Hardscoop samples today Thursday august 26. Come by and pick one up.
3 months ago Sherry Child
I like coming shopping at this grocery store I can get whatever I need better than the big box stores I cannot find it
8 months ago Jessica Jordan
Where I live now we don't have a lowes foods and I miss it. They have the best brownies.
9 months ago Local Reviewer
Although Lowes is some what more expensive than other grocery stores the deli meats are a lot better. Meats Are a lot less fatty. You just have to look around if you're not familar with tbe store.
9 months ago Lisa Timberlake
Great place to shop for groceries it had a open salad bar before the cov 19 the best ever does have a open bar to get a beer or wine while you shop!
11 months ago Liz Odu
My favorite place to shop produce is first class
5 months ago Steve Parker
Other than the Togo order pickup button has been broken for Id say at least 6 months now I'd say it's a good store !
6 months ago Jay Nance
Clean and good service.
3 months ago Senthilkumar S
The bakery did an amazing job on my sons birthday cake! I am BEYOND pleased with the outcome. Thank you Dee for making him such a perfect cake!!!
2 months ago nick nord
Great selections on food items. Checkout was pleasant. Thanks ya'll!!!
11 months ago Griffer
There were a great help in the birthday cake ????
6 months ago Rachael Free
Has great produce, deli and meat sections. Also cakes and other specialty items.
1 month ago Sergey Jakovlev
High quality, fresh produce and meats. Inexpensive canned and dried goods. Half the price of most groceries. A+
2 months ago James Brooks
Great store. Friendly staff.
8 months ago Nicholas Koulermos
The Store is VERY WELL stocked....they had things that I Needed and things that I didn't know I Needed
6 months ago Dosov D
Great produce & meats.
5 months ago Ron Cognetta
Try a chicken pie you will love it
8 months ago Wayne Doyle
I have always enjoyed shopping here. All of the employees I have interacted with have been helpful, friendly, and very nice. I also like that this is the cleanest, neatest, and easiest store to get around in. Josh, in particular, has been especially friendly and helpful and always says hello when he sees me and that's a big difference from other stores. It's nice to have the hometown feel.
2 months ago Ev Ruch
Great location and reasonably stocked considering the circumstances (COVID-19). Could be better as far as the aesthetics go. Customer service is great!
5 months ago Janelle Dale
This is where I go when in King. Interesting yet clear layout and nice employees.
1 week ago Emiliano Velasco
Great customer service
4 months ago Eli Hugeguy
The Deli employees are very helpful and equally as friendly! The store is well laid out and easy to navigate.
4 months ago Annabelle Lewis
Great service at Beer Den ALWAYS. Store is clean and the produce section, meat section always clean and neat. Nice folks too
8 months ago Victor Hetman
This place you can find veggies so fresh
8 months ago Shani Ingle
I like this place. Good produce. Good people.
4 months ago Niko Pantazis
This store has a little bit of everything and a bar..great selection of veggies and fresh meat's
6 months ago Amy
Clean, short lines, helpful staff
7 months ago Roger Maurer
Wierd and overpriced. They're not even trying to compete with food lion or Walmart as far as prices.
10 months ago Cynthia Zuccalo
Very well stocked right now during this pandemic and very helpful when you need the find something fast
3 months ago Jeff H
Always clean and friendly
6 months ago afroditi loukidou
I specifically come here to buy the soda that is on sale. I forgot my card and the cashier still made sure I got my discount.
1 week ago Raymark Bancolita
Lowe's Foods is King always seems to be clean and well kept. The employees have always been kind and helpful. They have a great selection and variety of groceries. They also have a nice section of fresh food prepared daily. The salad bar is nice. The butcher is very helpful and the meat selection is all we need.
2 months ago richard duncan
I've started shopping at this Lowes Foods at least once a week. My friends say it is expensive and some items are however you can find really good deals. The deli is awesome! Great items and friendly service keeps me coming back every week!
2 months ago
Popular places from the category Grocery store