HealthWarehouse
Pharmacy HealthWarehouse, 7107 Industrial Rd, Florence, KY 41042:
220 reviews
of users and employees, detailed information about the address, opening hours, location on the map, attendance, photos, menus, phone number and a huge amount of other detailed and useful information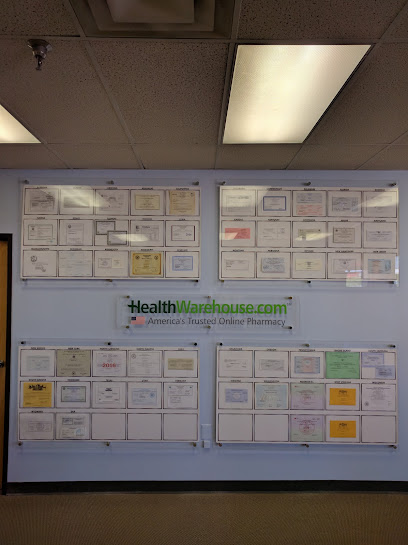 Address:
7107 Industrial Rd, Florence, KY 41042
GPS coordinates
Latitude:
38.9795900
Longitude:
-84.6178627
Location on the map
Reviews Lon Porter
HealthWarehouse is awesome. You must setup an account first. After that moves swiftly. Plenty of knowledgeable customer service and they go out their way to help. We saved over $300.00 for one drug. I choose 2 day shipping to speed things up. I recommend.
5 months ago Dea Swe
The customer service folks were incredibly helpful. I needed a rare drug for my dog and they helped with creating an account, ensuring rapid delivery and even helped with a discount! It's always a treat to have someone go above and beyond expectations. Thank you!
5 months ago F U
Very slow service. Genius Rx much faster. Price, however, was the best.
5 months ago Zackary Breeding
HealthWarehouse is a great pharmacy. Customer service is very helpful. I have no problem speaking with a pharmacist. You can order everything by phone or use the online - both are easy. Their prices are the best too. Highly recommend them.
8 months ago JaelynRae Cree
Great service and fast delivery. Needed customer service as a med was out of stock. They were able to substitute an alternative generic and expedite delivery with a single contact with the chat service. Super.
5 months ago Nicole Krol
Whenever I have to make a purchase it takes at least one telephone call. Try and make ordering entirely online. You'll save the customers their time and yourselves will have a lower operating cost.
5 months ago Casandra April
Great people to deal with but price was extremely high. My prescription cost me 182.00 through them and I'd just paid 27.00 for the same prescription at Walgreens for myself. I desperately needed it for my husband or I wouldn't have bought it at that price. Honestly… I was shocked.
4 months ago Diane Schmitz
Their prices are the best for what I need, but the turnaround time is horrible - VERY slow! They also sent the latest order to the WRONG address, despite being notified of a new mailing address. Take your chances if you need to save a few bucks - otherwise, order locally.
5 months ago steve vanarsdale
I needed syringes for my son's allergy shots. They were only dispensed in very limited quantities from the pharmacy. I was able to get a reasonable amount through this website and not have to keep making trips to the store. It was fast and accurate. Would highly recommend.
9 months ago Lamont Jackson
Best prices. Great customer service. Quick delivery.
5 months ago Janet Steahl
Healthwarehouse is a great way to receive prescriptions. It's fast, easy and affordable! The staff gives top notch costumer service. Very nice, professional and knowledgeable! I recommended giving them a try.
6 days ago polly Oxo
Great prices. Excellent on time deliveries and customer service.
5 months ago Matthew Davidson
Very fast Very efficient Very fast shipping Very good price All around a very good place to buy from
5 months ago Timothy Reggev
I recently went on auto refills . They arrive on time and the pricing is great .
5 months ago Nicole Cullen
Arrived "just in time". Did not get a shipping notice so called customer service who responded quickly with the information.
5 months ago Ali Razmjoo
This online pharmacy has just about anything you can imagine, and with a doctor's script your medicine may arrive overnight. The customer service agents and pharmacy team are always there for you- friendly, efficient and helpful "about and beyond the duty." My first experience was a bit frustrating due to the fact that the prescribing physician did not get the information right, it took almost a week to get the script in and then I found out that it was too early to refill my RX. The doctor had an option to override the script, but was too busy/unavailable. So I had to get my drug from the regular pharmacy. The second time I knew which questions to ask, what my Plsn B was, the script was called in on Tuesday, arrived overnight Thursday. Sheer magic! I highly recommend it to anybody and everybody who needs certain amount of medication taken regularly at hand. And by all means, don't be afraid to ask questions! You will get the best care and high quality product!
6 months ago ron brock
First prescription I ordered went very smoothly. The price was reasonable. Second prescription I tried to fill there, magically their computer gave me the wrong price, and instead of honoring it, they told me that I would have to pay the inflated price. No thanks. If you're going to advertise a price, you should honor it. It is not my fault that your computer system made a mistake.
1 month ago Andria Alefhi
Well packaged. My order came in just a few days. I will order from them again and again!
8 months ago Barbara Davis
I am happy to have found HealthWarehouse. My insurance only covers my medication for three months at the beginning of each year. HealthWarehouse's prices are cheaper than paying full price at the drug store, and their service is fast and reliable.
9 months ago Bwedu Wabango
Always run out of medication waiting for them to ship. Good prices but processing and delivery time has always been an issue. Step it up.
6 months ago Rachel Runnells
Never a problem, excellent people to work with. Not to mention the money saved, also meds are delivered to you. What could be better?
8 months ago Hannah Badwan
I had been searching for a very expensive medicine for several months. It was going to cost me $458 a month AFTER having met my insurance deductible for the year. I tried all of the different pharmacy coupons but none of them could be used with this particular medicine. I also looked into other "pharmacies" that turned out to have lots of negative reviews. I found HealthWarehouse and the first thing I appreciated was that they were not asking for my SS#. Also liked that they were up front saying they would not charge my credit card if they could not get the medicine for me. When I decided to give them a try, I said a prayer and held my breath that all would go smoothly. From the time I filled out the information to the time I got the medicine in the mail was 2 weeks at the most!!!! At this point, I would refer anyone to this company!!! Oh....and I paid $180 for THREE months of medicine!!
9 months ago Greta Hart
Great selection of products, easy to use online ordering system, and received my order in tip top condition in a timely manner! Will use again!!
6 months ago Ty Stallard
Very conscientious and customer-centered. A product I ordered was unavailable and I received a call within 24 hours asking if I would like to switch out unavailable product for another, similar product. I recommend HealthWarehouse-- the customer service is notable.
10 months ago carolyne koech
Quick response and delivery of product. Very happy with your service.
6 months ago Robby Mahaffey
Your sevice was excellent and very speedy delivery.
5 months ago Emily Perry
Quick and easy to transfer a prescription. Fast Shipping, Great Prices!
6 months ago Kinjal Dasbiswas
Excellent service. Prompt delivery.
5 months ago Marina Sinclair
LOVE HEALTH WAREHOUSE! CUSTOMER SERVICE REPS ARE RESPECTFUL AND HELPFUL IN ALL WAYS, EVERYTIME I REACH OUT FOR EXTRA HELP. I WILL CONTINUE USE THEM FOR ALL MY PHARMACY NEEDS.
9 months ago Noe Vences
My experience was perfect! My customer service rep Dan's was awesome. So kind & helpful. I received my first order in 7 days. Highly recommend this company. Thank you for your service.
8 months ago Sylvia Frausto
Great way to get your pharmaceuticals. Easy to order and fast shipping. No more standing in lines at the pharmacy. Highly recommend!!
9 months ago Jared Saucier
I ordered items previously and again this time for replenishment of my supplies. The website is easy to use and the selection of supplements to choose from is tremendous. I was able to buy items that weren't available anywhere locally, and on none of the online sites I'm familiar with. The price of all the items I've bought so far are below what I've paid for them on the past. Overall, this site is terrific for my needs.
4 months ago Michelle Ingram
Thank you Health Warehouse for saying what you mean and meaning what you say. You filled the prescriptions and delivered them EXACTLY when you said you would, and your prices are fantastic. I have told several people to go to Health Warehouse. com for ALL their prescription needs. Keep up the great work.
1 month ago Troy Maierhofer
A wonderful experience all around. A vital medication not on my hmo formulary and very expensive...all arrived at minimal cost and much effort on their part! A++++
9 months ago arockia samy
EDIT: After posting this review they did follow up with me and resolved the issue. I've updated the rating to reflect that up to this order there were no issues with them. --- They will randomly change your order without informing you and claim that it's because of a prescription issue when you inquire about it (when it is demonstrably not the case) then never respond to you again.
10 months ago Tomi Ayodele
Everything was totally fine with the order EXCEPT it took like 4 days b4 the order was even shipped. Other than that it was good.
8 months ago Ilian Topalov
This is my first experience with HealthWarehouse. My Primary Care Physician suggested this company in order to purchase a cheaper alternative. He submitted the prescription for me and I was on my way. I was contacted by a representative after them receiving my prescription. The woman was so polite and very informative. She made my registering very easy. She told me when my order would be shipped. Sure enough, my order was in the mail for the time frame she gave me. I am very pleased with my experience and am sure I will have a good relationship with this company.
5 months ago Shrinimurugesan
I've been getting a prescription med from HealthWarehouse for a couple years now and it's been great. Found them online looking for a good price, which they have. But the best part is the customer service interaction - you can send them an email with a question or problem, and soon after you get a response from an actual person. How often does any interaction with the health care industry leave you feeling well served? HealthWarehouse has consistently done that for me.
5 months ago TeknicallyFlow yeet
This was the only place I could find my vitamin brand which is usually on Amazon so I am very grateful. Great service and fast delivery. Thank you
2 weeks ago Jean Dahm
I work contract so sometimes I need to get prescriptions filled without medical insurance. Health Warehouse is the best at getting my prescriptions to me fast, and at the best price. I highly recommend them.
4 weeks ago Natalie Holmes
Talk about easy and cost effective! I don't even have to drive to the pharmacy! My prescription comes in the mail!
10 months ago Brandy Craig
I just love health warehouse. Their customer service is so refreshing - they actually answer the phone and have someone available for a live chat. They were so helpful when i was having a hard time contacting my vet. Will use them forever.
1 month ago Ronald Neal
I had difficulty finding the desired product, Nose Better ointment, in my local stores and was delighted to find at HealthWarehouse. I have used this product over the years and was really missing it. I'm so glad I was able to easily find it and order it from HealthWarenouse.
6 months ago stephen shaffer
I had a great experience in getting my medication from Health Warehouse. Customer service were very prompt in arranging for urgent delivery of medicine when i informed them that my medicine has not arrived and i might be left with no medicine if it does not arrive soon. i received urgent supply and in the meanwhile regular supply also arrived. I found customer support guys very supportive and understanding. Shall continue to shop with the company in future too.
3 months ago Oleksandr Chernenko
Haven't made it over to check it out
5 months ago Aleksander Prozorov
Delivery at regular ship evn with the pandemic was super fast. Product carefully and securely packed. So appreciate the care. Ive ordered previously with the same speed and quality care.
4 months ago Daneel Konnar
Easy! HealthWarehouse contacted my pharmacy to transfer my prescription. The price of my prescription was a fraction of the cost it would have been at the pharmacy even with my insurance. Shipment was easily tracked and delivered within a week.
8 months ago M Stade
I am very happy with how my order was handled using Health Warehouse. I have historically almost exclusively used Walgreens for my healthcare products and services but they have restructured their business model and their hours along with it. Also some pharmacists and techs I worked with for 20 plus years retired or left the company for greener pastures. So I did some research online on some different products and services which led me too Health Warehouse or I should say healthwarehouse.com . When checking on safety of orders and products and procedures when ordering prescriptions and products which require prescriptions most all searches and recommendations defaulted to these guys because they, from what I can tell, hold all the appropriate licensing and certifications in regards too medicine, the different scheduled medicines which require more care and authorization then I guess you need a lot of the same to be able too legally ship such products too all the different State's. Long story short these guys are government sponsored and carry all the appropriate certifications in order too so the job correctly and do so without getting us in hot water by knowing their stuff.' So I pulled the trigger on my order after searching their stock for what I required and the options were plentiful. I liked they had different brands and options and didn't feel forced into one brand through pricing or by stocking only X brand and one or two more. They had many brands and options which is refreshing these days. Found my items and clicked to order, opened an account and used my credit card to pay. Now I am on file and they have all the right internet protections. It was very simple and I received great confirmations as well as updates including Tracking link once product shipped. They to care of everything so all I had too do is read a text or an email when it arrived. I have been slow too get comfortable with online ordering but my experience with Health Warehouse was excellent and is truly how the process is supposed work. I feel they are the go too with regards too online pharmaceutical and healthcare supplies. I will look no more. :-)
8 months ago Mutha Jones
Dependable, reliable, courteous. A pleasure to deal with Health Warehouse. Lila Levy
9 months ago William Coit
I ordered needles for my Testosterone injections that my pharmacy had been out of for some time. Healthwarehouse.com had the same brand my pharmacy usually carries (BD) for half the price that I normally pay at the pharmacy after my insurance, with fast shipping. Highly recommended, I'll definitely be ordering from them again.
6 days ago
Popular places from the category Pharmacy