Noah's Animal Hospital & 24 HR Emergency Center - ER SERVICES TEMPORARILY ONLY AVAILABLE FROM 8AM TO 5PM
Veterinarian Noah's Animal Hospital & 24 HR Emergency Center - ER SERVICES TEMPORARILY ONLY AVAILABLE FROM 8AM TO 5PM, 5510 Millersville Rd, Indianapolis, IN 46226:
220 reviews
of users and employees, detailed information about the address, opening hours, location on the map, attendance, photos, menus, phone number and a huge amount of other detailed and useful information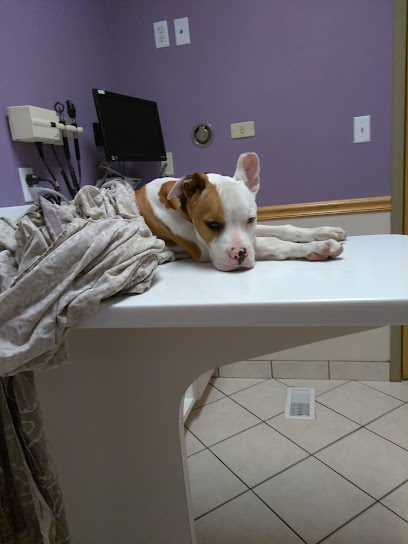 Address:
5510 Millersville Rd, Indianapolis, IN 46226
GPS coordinates
Latitude:
39.8544649
Longitude:
-86.0878550
reviews Jessie S
This place is awesome! The staff is very professional and informative. They will work with you on pricing. They helped me decide what wasn't super necessary and what was, so I wasn't paying too much. Still expensive but if I went anywhere else I know it would probably be much more. I also know my cat was treated well. Which is super important of course!
9 months ago Jan Arnold
I was very happy with the care my kitty received! I had to take him in for facial swelling. Turns out he had an abscess from a broken tooth & periodontal disease. They got him all fixed up & were very kind. He is on the mend & I am grateful for them helping my big fella! Thank you Noah's! ❤ Day-Day (picture for smiles)
2 weeks ago Khaled Alneyadi
They really helped me and my husband thru the loss of our almost 10 yr old dog. My service dog chomper had been with us since he was a puppy since I was pregnant with our first child. And they took care of him and us. I had also brought a cat there a few times due to an emergency and they understood how much he meant to me and took care of me and him. I'm forever grateful to them.
4 months ago Andrew Carr
Abu is our new kitten. Noah's Animal Hospital was the best. He received all of his shots and WILL RETURN in 3 to 6 weeks for his boosters. We are taking car of his ear problem also.
2 weeks ago Amit Shah
Best visits I've ever had with a vet! Walk in clinic is well ran and organized, quick and staff is super friendly! Honest and caring staff. Would recommend to anyone and well worth the drive if you live a good distance.
10 months ago Jonathan Grossklas
For the second time in 4 months, Noah's was there for us in an emergency situation when our regular veterinarian was not. We had to help our sweet baby over the Rainbow Bridge last week and the staff at Noah's were so kind & compassionate. We will be regular patients there now, but the kindness they showed us during a heartbreaking moment was so very much appreciated.
5 months ago Connie Canon
Love the staff! Awesome people doing a great job :) I genuinely send my appreciation for taking the extra few minutes to listen to all of my concerns in between checkups.
9 months ago Matt H
I took my 8 y/o male cat, Byron, to Noah's when he started showing signs of a urinary blockage. The staff were patient, clear, and responsive when explaining treatment options to me and, after he was recovering from the procedure, they called 2-3 times a day with updates on how he was doing. When he ended up having complications, Dr. Lyons called me with frequent updates as they worked to identify the underlying issue and give appropriate treatment. When his organs started to fail at around 2 in the morning, I got a call and was told I could come in to see him. Throughout the entire process, the doctors and vet techs were compassionate and communicative. What happened to my beloved boy was the most devastating thing that I've ever experienced, but I know the staff did everything they could to give him a chance. I'm so grateful he spent his last days with the caring staff at Noah's, and I'm sure my loving boy would be grateful to know that the staff showed his grieving mom how much they understand what it means to love an animal. The condolence card was so sweet and unexpected and I'll treasure it forever. I hadn't yet established a regular vet as I had just moved to Indy, but I'll continue to use them for routine care for my new cat. Boundless gratitude for all the work you do.
8 months ago Sue H
Our puppy was very sick. And the staff was so patient and understanding of our situation. They were so kind. We even received a signed sympathy card that included our fur baby's name. That meant so much
10 months ago Jared Donnamiller
I'm giving one star mainly because of what I had to do and then how the day ended. I had to put my 16year old pup down after holding her for a hour they took her that isnt way the 1 star the part that makes me mad is because when they took her the girl who took her just let her head hang now I know my pup was already dead but it's the respect of the body and the my family watching heck the girl was thinking more about could they wash the hair out of the blanket then taking my pup from my arms. That's way they get 1 star.
9 months ago Rosalyn Harris
Your pet is not merely a number to them. They do care and offer comfort. Excellent care from start to finish.
9 months ago Donna Matthias
They are absolutely amazing! Definitely recommend taking your babies here. I am forever grateful for them!
9 months ago Eileen Lightfoot
Sadly today our pup crossed the rainbow bridge with loving care at Noah's. Unfortunately they also helped with another a few years ago. I highly reccomend them. They took us in immediatly and took great care of us all. He ate ice cream as he was passing
10 months ago Angela Hernandez
Went on a Saturday morning.Good wait time only about an hour for us too be seen and we were on our way. Staff there was great. Good pricing on the services performed. Thank u Noah's, good job!!!
11 months ago James levi
Six days ago we visited Noah's Animal Hospital for the care of an oozing ear tumor. They were very professional and gave us many options for the care of our Maci. When we decided that surgery was not the best option for her, due to previous health issues, we made the hard decision to lay her to rest. The team there was very courteous and respectful to us and Maci giving us multiple options for surgery and putting her to sleep. Everything was given with a low end to high end for pricing and every question was answered very thoroughly. I want to thank them for easing the process, the respect they showed us and her and giving us the time we needed with her. Also not pressuring us into a decision and giving us the information and then the time to decide. Thank you and I loved the paw print. Update. I want to thank Noah's for the card. We really appreciate it.
10 months ago Nick Boxter
The staff at Noah's are the best in the biz! They always shoot you straight and even help pet parents find discounts on medications--as they just did for me last week :) I really can't say enough about how kind and caring they are. When I lived downtown, I had probably half a dozen veterinarian offices closer, but I still always drove to 56th & Millersville b/c I trust them the most!!
9 months ago Heidi Alley
We brought our baby girl there after a long history of issues we never got solid answers for. Our pup had surgery and we received some bad news and had to put our pup down. I was VERY impressed with the communication, the quick responses, and the passion of these individuals. I could call in anytime for an update and they would have one in seconds. When we had to make a very hard decision they were very supportive and caring. They were with us through every step and explained everything so wonderfully. I loved the staff and truly can't thank them enough for the care they provided our pup. We got a personalized card in the mail signed by many people who cared for our pup while she was there and it really touched our hearts. Highly recommend.
7 months ago Max LeaVesseur
This is the 2nd time there with different dogs not only did they treat me great they actually remembered my nephews dog by name they taught me so much on our new puppy they explained about the breed I can't thank them enough both times were outstanding ❤????????????♥????
10 months ago Michael Taylor
I had a pleasant experience here when I had to have my senior cat Sweet Pea euthanized. Everyone was professional from the person at the front desk who scheduled me in, to the tech's and the doctor who made a terrible situation more comforting. I was able to hold her while she went. I even received a signed card from everyone there. I'm forever grateful to this veterinarian for being compassionate and reasonably priced. Thank you for all you do!
1 month ago carl Engle
Excellent Emergency hospital with hygenic rooms and reasonable prices for their services for your fur baby. I took my Yorkie, River here, late on a Sunday, after he ate a sharp beef rib bone and was acting strangely afterwards. I was so worried it had punctured something internally. They calmed me and were incredibly gentle with River. They showed me on the X-rays that the bone was in small pieces and should exit fine. The visit was only $200, fair for everything they did for him & worth my peace of mind knowing he wasn't going to die. They even followed up the next day to see how River was. He's doing great now!! Will definitely use them again, if have too, but hopefully won't have to!
10 months ago Julie Phillips
They took care of my sick cat as an emergency visit and for the level of care they provided the price was really reasonable.
9 months ago tennia lewin
I had a thirteen year old female her name is Dymun. They took such good care of her. They let us spend as much time with her before and after she passed. Thank to the staff. You are amazing. Oh and the card. Thank you for that. It was beautiful.
9 months ago Mike Torres
The employees are amazing. They worked exceptionally well with my service dog. I love how Dr. Wright is so detailed about my boys well being.
3 weeks ago lolita cortez
Nice hospital fast and curious service. But I feel this place as well as other veterinarians, price gouch you to the fullest. And they bring it knowing your upset at the time they tell you the cost. My dog for instance needed stitches in her leg. Turned out to be over $500. And no stitches!! They said needed to come back for those with an additional $600-900!!! Outrageous!! My dog now has a gaping wound that we are trying to heal. Because I simply don't have the funds for $900 stitches... I really feel they know what they are doing. And its not right. Not everyone can afford these types of price jacking. We shouldn't have to.
4 months ago Jonathan Swift
The staff at this location was so incredibly kind throughout the duration of my visit. The wait was extremely long (I was there for 6 hours total), but my animal was in stable condition and more serious cases came before her, which is how it should be and I did not mind the wait for that reason. I was able to call and use their restroom any time I needed to. They also offered to bring me coffee or tea. They were so sweet to my German Shepherd, Athena. The vet on staff answered all of my questions regarding her diagnosis and was so helpful is discussing moving forward with her care, since she was diagnosed with intervertebral disc disease, which she will have for the remainder of her life earth side. They provided me with referrals to a neurologist if my girls condition does not improve, which I am so thankful for. I cannot express my gratitude to the kindness of this staff. I so, so appreciate them making this process as stress-less as possible.
6 months ago Oleksandr Zaikin
This was our first night at Noah's. Our 15 year old cat ended up with a lesion on her face and they immediately jumped into action. They are all very kind and compassionate. Our Ally girl is going to be better soon and I cannot express enough gratitude for them saving our baby. Thank you all so much!
8 months ago Oleksandr Zaikin
Been here several times when my vet's office was closed and pet emergency came up. So great to have this as a wonderful back up in emergency happenings. I brought Daisy Mae in when observing her urinate blood. Being only a 9 month old puppy in great health it greatly concerned me. At Noah's they took Daisy in right away and examined her and suggested testing to confirm diagnosis and eliminate any hidden issues. They showed me medical costs before testing so I could see upfront the expenses with and without extra testing. They supported me in my choices without making me feel like I was pressured to make a particular choice. They were compassionate to my pet and respectful to me as pet mom. After treatment we was sent home with meds for healing urinary infection and instructions for further care. I left confidant knowing they would personally call me with test results. They did not pressure me to return to them but encouraged me to follow up with our regular vet. Noah's open the door of partnership with Daisy Mae, myself, our vet and themselves. Noah's is not just a vet clinic but a relationship in pet care. ❤????????????????
1 week ago Caroline Tromblee
I was referred by my vet in Irvington to the Noah's on Emerson Ave on the north side. They were said to no longer be 24 hours because of "Covid". But I was instructed to take my cat there with an emergency urinary blockage, and that the hours were 8am to 5pm. When I got there I had to buzz in, and they told me that they no longer do walk-in emergency services. They referred me to VCA in Fishers (over the intercom, I couldn't even bring my cat in and talk to them). They should remove their sign and any advertisements that refer to them as an "animal hospital" or "emergency provider". They're now actually just a regular daytime vet, seeing pets by appointment only. There's nothing wrong with this, they just need to update their business model, and tell other vets to stop referring people to their facility for emergency care.
1 month ago Zack Tully
Been using the Millersville Road (Emerson) location since the '80s when it was "Glass Animal Hospital," Howard retired, sold to Noah's, and we stayed on. Have had some great care in the past (particularly Dr. Don Kalt who went to extraordinary lengths to treat and direct care for one of our dogs) but our latest experience was terrible. Called for an appointment for our sick dog. was told none available for over 3 weeks, but we could use their ER ($99 to just walk-in the door, plus extra fees). So the next morning we drove over and they had posted signs that their so called "24 Hour Animal Hospital" was closed for 3 days! Went to the Pet Wellness Clinic, they could not see us today, but were able to make an appointment within less than 24 hours. They were professional, ran a battery tests, made a diagnosis and we will need a follow-up in a few weeks When my pet is ill, I want an appointment quickly - not over 3 weeks in the future.
8 months ago Eddie Nealous
UPDATE: Thanks for your reply, Tom. If Kai and Denali were both doing well, we would not have called Noah's to schedule an "illness" visit. Lucky for our guy in need, Emerson Pet Clinic was able to get us in today and they are happy to have us back! We had been loyal to Noah's and there is something to be said for customer retention, or at least trying to give it a shot. I don't buy the influx of emergencies, as I feel Noah's benefits financially, by not scheduling "illness" visits, that is - the customer has no choice but to pay the increased emergency price vs. being able to schedule an appointment, as we could before. PRIOR REVIEW: We have been taking our dogs to Noah's for many years, for routine wellness visits, illness visits, and emergencies. The staff have always been professional, caring, and knowledgeable. We called today, to schedule an "illness" visit, and were told that the next available appointment would be in October. Our pet's situation is not an emergency, but does require attention, sooner than a month out. Wellness visits are scheduled as a "cattle call", meaning drop off between 7:30 - 8:00 a.m. and pick up when they are done with your pet's exam (as of 9/3 when we were last in). I can get past the cattle call wellness visits, but when our pets need medical care for an illness that is non life threatening, we'd like to be able to schedule an appointment within a reasonable time-frame. Unfortunately, Noah's can no longer meet this need, so we will be transitioning to another vet care provider. Noah's is top notch for emergencies, but since covid, getting an appointment is subpar.
9 months ago line wri
My daughter took her cat there. And the prices you guys charge. Is. Outrageous. She couldn't afford it. Had to take her cat home. You guys wouldnt offer to even sew up the poor cat unless she payed more money to even take him home. Such a rip off. Not everyone has this kind of money to just come up with. So she has to wait until next day to take cat to the normal vet who cares for animals and not the money
3 months ago Randi Lee
I spent $510 dollars and I'm not even able to pinpoint what's wrong with our cat. It stings because that was my rent money. So now I have my baby in the same condition as she was before we took her and no answers. I pray my tax check gets here soon so I can take her to someone who will help. I would also like to point out that when I called and asked about the care that was received which was 100% ineffective I asked the woman would she feel ok with the situation if it was her baby. She said I'm not going to answer that for legal reasons which tells me all I need to know. PLEASE TAKE MY WORD AND USE THIS AS A LAST RESORT. THESE PEOPLE DO NOT GIVE A DAMN ABOUT YOUR PET THEY CARE ABOUT YOUR WALLET. I would never write a review of this kind. It is absolutely necessary!
4 months ago Stephen E
Thank you for your kindness to baby, and helping us with her. See you Tuesday.
9 months ago Kryss McCarley
Very very knowledgeable and takes the time to answer your questions, My great animal friend Ali gives Staff Three wags of his tail ????????????????????????️????????????❤️????
3 months ago Claresa Kuhlman
We usually go to the West Side location. The staff at the Broadripple Noah's were equally as helpful and a joy to interact with.
10 months ago Herb Klemz
Visited the ER and they were great! Very attentive and answered all of my questions. The ER is expensive, but follow up appointments are reasonable.
3 months ago Josh Buford
Staff was great, from the moment I got their they were so good to my dog and my self. Vet answer all my questions and the staff pay attention to all my concerns.
9 months ago juhana kopperoinen
I brought our family cat to the Noah's walk-in clinic to address a low-grade infection. The staff were patient, responsive and informative. The only part of my visit that I didn''t love was a long wait - but that's absolutely to be expected as a walk-in. I would just say that if I take advantage of the walk-in clinic again, I'd plan for a long-ish (2 hour+) wait. Again, the staff was great and I'd absolutely recommend. Thanks Noah's!
1 month ago kitty lam
Worst Vet clinic ever. Don't bring your fur baby here. Most expensive procedures and personnel tell you one thing then something else. Incompetent, Unprofessional, cold and uncaring. Glad to be rid of them.
10 months ago michael Cormier
I have been in Indy going on 4 years and still cannot find a vet I am satisfied with. I recently moved and tried out Noah's. My cat is diabetic and needed her annual shots. While she was there they recommended a senior bloodwork panel, an extra $200+ which I was perfectly okay with, I want to ensure she is healthy and happy. However, over 3 weeks later now, Dr. Ball has not contacted me back with the results, even with me calling in once a week to ask for an update. I would like to reiterate that the vet techs and the people I talk to are extremely friendly and kind but I would not recommend this place any longer.
10 months ago Dana Mundell
Thank you so much for your help and your kindness.
10 months ago LuizCarlos Silva
We were told the wait time was only an hour. Drove almost an hour to get here. Arrived at 2:50 pm and did not leave till 8:00 pm. My poor dog was coughing and puking all night. As we were waiting people that arrived after us were being seen. Called and spoke with a lady as we were in the parking lot and asked what was taking so long. The lady that answered the phone was not helpful or sympathetic at all. She told me they are only helping those animals who are critical. That's very frustrating because if I did not feel like my dog was critical I would have never brought him in. I don't normally give reviews especially bad ones, but this review needed to be posted. To people that are working at this facility have zero sympathy or compassion for families and their beloved pets. At the end of the day my dog is my world and the light of my house this facility failed to take that into consideration. So if you're looking for an emergency animal hospital this facility is not recommended.
6 months ago Norberto Lopez
I honestly cannot say enough good things about Noah's. My cat had a bladder obstruction and had to take him in during their emergency time. They were so responsive and quick acting. They made me feel comfortable leaving him there. They were very sweet to me, as I was visibility upset over my cat being as sick as he was. They called me twice a day to keep me informed with how he was doing and what was going on. My cat is not a good patient at all, and they did the absolute best with handling him. I highly recommend Noah's!
10 months ago Joey Sirmans
Went there with emergency was closed. 24 hr hospital was closed. Very disappointed. Not happy
2 months ago Robert Govier
Way too expensive. They charge too much just to get your pet in. And they will not work with you on payments. My dog could barely breath & they turned him away. I wouldn't recommend going here if you're on a limited budget unless you have a few thousand to get in & get the tests they're going to require. That's just my opinion. This pet hospital will drain your wallets, so to speak.
9 months ago Katy Brunner
I have NEVER seen a place that calls themselves a hospital decide that they'd rather see an animal die than treat the animal for free. This is, without a doubt, the worst group of human beings posing as caring, animal-loving folks I have ever witnessed. My wife just found a VERY injured little kitten - not even our cat - on the side of the road in terrible pain. She brought this poor cat to you...which we now know was a huge mistake. After forcing my wife to agree to pay $300 to even look at the dying animal, you did nothing for her. You come back out, tell my wife that 1) you won't keep the cat overnight, and 2) we have to pay even more to actually save this cat. Without payment, you wouldn't do anything. Well, congratulations...the cat is dead and it's your fault for not even TRYING to help it. I don't know what kind of operation you're running here, but calling yourselves a hospital is a joke.
8 months ago Kali Muhlbauer
We had to take our dog in after she ate a pan of brownies. The staff were incredibly kind and kept us informed while we waited in the parking lot (due to covid). We had several veterinary nurses come out to talk to us and several phone calls. We were given estimates of the costs involved and the total cost was very reasonable for a pet emergency. They also asked us ahead of time if we were ok with the possible costs involved so there were no surprises. The staff were great about communicating and making sure we understood what treatments she received and what medications she would need to take. I can't thank them enough for making sure our family member was taken care of.
5 months ago Lenny Silencio
Horrible ..Dr Hartman misdiagnosed my Missys heart murmur ..it was too severe for the surgery n her age but she lied about it only wanted my money ...neglected her post op surgery ..and asked for a verbal DNR over the phone while Missy was still in 48hr observation from the anesthesia. I will never forgive u for what u did to me n Missy in that week of hell n I hope someone that is your boss sees this bc u don't belong in vet medicine. I can say so much more but u will NEVER touch my pets again ..Have a great day
1 month ago John Flanagan
NEVER GO HERE ! I brought my Pitbull Pepper to this facility on a Wednesday night @ 8:30 pm for emergency care. I informed them that Pepper was lethargic, not eating her favorite food and her eyes were very red. I did agree with a blood panel for further care. They were trying to charge me $750.00 for physical, blood panel and X-rays. I was only able to pay $200.00 for the physical and blood panel. The doctor stated that per the blood panel Pepper had no life threating systems and sent us home @ 11:30 at night with a prescription of medication. They did not give medicine at the time of service to help increase Peppers appetite until I could get the prescription filled the next day. I clearly told them that Pepper lost her appetite but they prescribed a pill form instead of a liquid form. The next day my Pepper died at my home! I called to inform staff and they were so shocked with the news. The Vet misdiagnosed Pepper. I asked to speak with the manager Christine McGuire and as I was grieving explaining what happened she was cutting me off as I was talking and hung up the phone on me. I called back and requested to have the owners info so I could explain what happened. NEVER GO HERE!
4 months ago Sam Bana
We came in here in a hurry because our car was very sick and they did everything they could and would keep us up anytime something new happened. Sadly we had to put a cat down that day but they respected us and our privacy when we was saying good bye. They was so nice and understandable
7 months ago
Popular places from the category Veterinarian