Smoky Mountain Cat House
Gift shop Smoky Mountain Cat House, 3327 Old Mill St, Pigeon Forge, TN 37863:
220 reviews
of users and employees, detailed information about the address, opening hours, location on the map, attendance, photos, menus, phone number and a huge amount of other detailed and useful information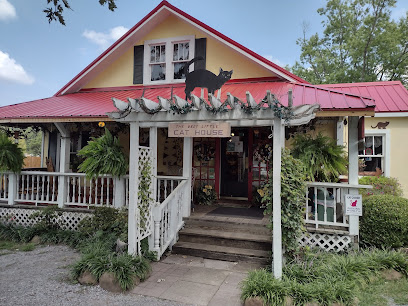 Address:
3327 Old Mill St, Pigeon Forge, TN 37863
GPS coordinates
Latitude:
35.7896987
Longitude:
-83.5542755
Location on the map
Reviews Cheria Hay
I love this place, and I will come back when I have a chance to Pigeon Forge. All unique items that designed and handmade. Some friendly cats come around in front of the store to attract customers into the store at 8:30 am. Those cats have brought seven customers into the store at 9 am.
5 months ago Julio Reyes
Awesome! Definitely stop if you're a cat person. Some dog stuff too. I couldn't decide what to get so many options! Cats were also precious! Very friendly! There was also donation box for cat rescues. Car coasters were printed in Amish country! Neato!
6 months ago Julie Nodine
LOVE, LOVE, LOVE this ADORABLE little shop. Precious furbabies roaming around ( when they aren't sleeping). Cute gifts. I highly recommend this shop.
6 months ago Aidan Simons
Wouldn't be a trip to Pigeon Forge without stopping in to see our feline friends! Great little shop for the cat lover in your life!
5 months ago Don Deaton
Such cute kitties and you can tell they were well-fed and taken care of.
6 months ago Lisa Arthur
Amazing place!!! The lady working there was super sweet. Cats were absolutely adorable!!! Has a wonderful selection of merchandise. If you are a Cat lover this is the place to visit!!!
10 months ago Carolyn Goff
Really neat shop for the cat lover! All sorts of unique cat (and some dog) related stuff. Shirts, magnets, art etc. The people working there were awesome too. It was a real treat. Ended up buying a shirt for my sister and donating to them.
8 months ago Gary Hersey
The gentleman was very pleasant. All the cat items you'll need for your furry family member ????
4 months ago Veola Glover
We make it a point to stop by here anytime we visit Gatlinburg,TN. Great selection of cat related merchandise endorsed by the resident salescats. Oh, and there's some dog stuff too.
4 months ago Extreme Justin
You don't usually see stores dedicated to cats. They have a number of items from cat toys, cats decor, cat outdoor decor, cat jewelry, cat t-shirts, and other apparel. For the area, the merchandise is reasonably priced. So glad I stumbled on to this. They even have cats hanging out in the store, which is a major plus in my book.
5 months ago Laura Halahan
Quirky and unique! Must do for cat lovers. Walking distance from the Old Mill restaurant. My girls loved petting all the cats and came away with some cute cat collectibles!
10 months ago James Stullich
Absolutely the best little shop. The cute kitties love to be pet, and they have wonderful merchandise. Cute jewelry and clothes, also amazing cat toys. My Michigan kitties love their new toys! I got a corn, carrot, and strawberry plush! They absolutely go crazy for the carrot. Get some toys from them!!
8 months ago Leila Joslin
I loved this place a lot. Was cool to see and pet some of the cats. The owner was very friendly. I purchased a few cat clothing items for a fair price. Can't wait to make my way back someday!
10 months ago Joann Gomez
Absolutely love this shop and have been shopping there for over 20 yrs!! Always love to see the cats and give them ❤
6 months ago Prabhjot Kaur
I didn't know that so much cat themed merchandise existed. Shirts, slippers, sleepwear, purses, calendar, decor for humans. Toys, food, housing for your furry friend. Some dog stuff available. Be sure to check out the resident felines.
4 months ago monsieur leboncoin
I was sad the kitties were all sleeping but I still had a good shopping experience!
5 months ago George Lusczek
I really enjoyed looking at the jewelry and kitty cat . Luna was so soft and I wished I had another one but mine passed away i can't get another . The lady there was so nice I would like u on Facebook
6 months ago Phillip Henderson
Cute little place. Cats are roaming everywhere which my daughters loved. Got a few toys for our cats which they loved so much. Lady working there was so nice and helpful, even recommended some local places for us to visit.
10 months ago Rodney Walker
Only 1 kitty roaming around inside and it's a little small but well stocked with some adorable things.
6 months ago Rai Shouse
Love this place. Have a lot of stuff with cats. Real cats to pet.
5 months ago Logan Bass
A cute cat accessory store with some adorable cats roaming around. The man at the counter was very kind and friendly. Too cute to pass up!
9 months ago Kate Wallace
Great place to shop especially if you love cats. Great gift ideas.
6 months ago John Hampton
How could this witch to get any better!!! A entire shop that is focused on CATS! Love the kits Mo, Bella And the crew. Got some great items to take home all with cats and of course for cats.
5 months ago Julia Schelp
Unique place but didn't measure up to all the hype in our book.
6 months ago Peter Jang
A must see for cat lovers! Do realize that cats are picky about when they want to be pet. They all have their own personalities just like us ????
6 months ago cesar verdugo
Very cute and quirky store with friendly staff and a large variety of items for cat lovers. It's a must visit stop for me every time I visit the area.
5 months ago Emily Ramos
This little shop is great! Everything cat and even a few dog themed things to shop from while the friendly kitties accompany you. If you're an animal lover, definitely stop by.
5 months ago M
Cute little place with cat related products. They have a few cats on premises.
2 months ago Terry Maher
My cats loved everything I got for them.
4 months ago Caylee Cayetano
Adorable store. Neat and unique items for the pet owner but the man behind the counter was gruff and really didn't want to be social. I may have caught him on a bad day but he really did not want to be social. Lovely merchandise though!!
11 months ago Nicholas morey
Very nice shop with all things cats. Will definitely go back on my next trip to the Smoky Mountains.
8 months ago lenry austin
Neat little place for cat lovers with actual cats inside. All kinds of different merch inside.
7 months ago Gary Hofer
For all your cat centric gifts, apparel, and toys! Mo is the best employee!!! ????
6 months ago Lakshmi GR
Love this place!! We stop by every time we go to pigeon forge. I always bring something home. Lots of cat themed stuff! If you are a cat lover, this place is definitely a must stop!
11 months ago greg moore
Small shop... Extremely nice lady that owns the place (I think). Some really cool shirts and other things for sale.
10 months ago Tina Ma
Great store for the cat lover
4 months ago Bert G
Love this place, everything anyone would want for their kitties.
6 months ago Holly Jackson
Wonderful little cozy shop with excellent friendly service from the human and the cats.
7 months ago Ghenadie Lihonin
Always great to visit the store and see the varying selections and decor they have. They usually have a handfull of cats that are free to roam the store and play with patrons when they choose. Parking and traffic can be tricky and congested anywhere in the Old Mill area. Can't leave without purchasing something, it is a locally owned small business of 32 years as of 2018 rescuing and helping cats and kittens.
9 months ago Hemy Daniells
My husband and I were on vacation June 6th thru June 12th and found the Cat House. We bought a few toys for our two rescued black cats; momma cat and one of her youngings son. Their names are Salem (momma) & Spirit (son). They totally loved there new toys. Please visit the Cat House, owner was amazing.
9 months ago ROBERT WEILAND
Cats, cats and more cat items. If you love cats, thos Is the place to shop!
7 months ago Clay Barnes
If you love cats you will love shopping here!
5 months ago George Medley
I loved it. A cat lovers heaven.
4 months ago Joe Jamal
Lots of neat stuff mostly cats but some dog stuff. Friendly.
10 months ago Lynn Carson
If you love cats go here! They have everything and even cats in the store to pet
8 months ago Mackenzie Dye
I love this place. They have alot of good cat things here.
9 months ago yuxun sun
Nice place! Cute cats that run around. Cat merchandise such as cat shirts, cat toys and cat jewelry.
6 months ago Mike Flo
If you are a cat person you have to check the Cat House. Great stuff.
6 months ago Mark Leadingham
love all the unique items that this little place has just the stories of the rescues that they have done was amazing
6 months ago Jesika Chism
Very Cute
1 month ago
Popular places from the category Gift shop