NYC Taxi & Limousine Commission
City government office NYC Taxi & Limousine Commission, 24-55 Brooklyn Queens Expy W, Woodside, NY 11377:
220 reviews
of users and employees, detailed information about the address, opening hours, location on the map, attendance, photos, menus, phone number and a huge amount of other detailed and useful information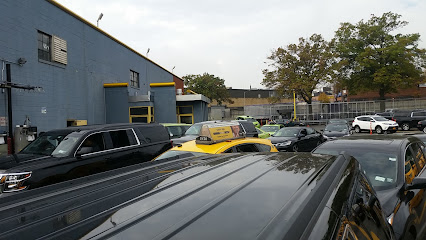 Address:
24-55 Brooklyn Queens Expy W, Woodside, NY 11377
GPS coordinates
Latitude:
40.7638867
Longitude:
-73.9023490
Location on the map
Reviews John Huskins
Very nice treatment and fast good service ???? thanks
5 months ago Austin D
They always find a problem with Your TLC vehicle whether you went to the mechanic or not. Don't even bother wasting your money on a repair shop beforehand. It's inevitable!
10 months ago Evgeni Enchev
You wait so long for an appointment in my case months. Only to arrive at the appointment time and wait on long lines. I fail to see the point of the appointment if I'm just waiting around and will definitely not be seen at my scheduled time. Drivers provide an indispensable service to NYC and are treated like garbage. TLC is financed by the fees drivers pay and we are routinely abused. Would anyone in any other industry put up with waiting hours after an appointment time?
4 months ago Collin Hill
good work in line with the influx of many cars, the entire inspection took 3 hours
10 months ago kevin white
I don't even know where to start is there a way to give a lower rating ? Please show me.
6 months ago Sam B
Not rating the system but the complex. So it's good and working find. Just prepare your papers neat and come on time.
6 months ago Meital Heber
It was good not bad.
4 months ago Patrick Rady
Came for inspection here today after 2 years.. I have to say the place is very well 100% organized then before. On time appointment car inspections are done now. All the officers were very professional & helpful. I've been in TLC business since about 25 years now I have to say I never had this kind of great experience here ever before ???????? Keep up the great work(TLC Dept Woodside) guys... As us drivers will keep moving NYC! We all have to work together TLC Dept & US TLC Drivers to make this Great City back moving again safely like pre pendamic. ????????????????????????????
2 days ago Paul Opdyke
The entrance guard was so rude, i Don't know why people treat us tlc drivers like a slave
6 months ago Erick Chambers
Was fast easy but one problem for me my appointment was 9:30 I come there at 7:00 they said I can't get in 1hr before my appointment but the lot was empty and Saturday it's the busy day for taxi I lost over 4hrs today for this inspection anyway thx
9 months ago McKenzie
It was nice and very good experience.
6 months ago Gene Swedberg
Now, its getting better. It use to be hours waiting time to get ur car inspected. Now its just about 30 min.
2 months ago Nick S
In and out quick..
5 months ago Chris Franklin
They're much more polite then my previous visits and experiences since years of 1999. Greate service I truly appreciate. Thanks for having my feedback.
4 months ago Isaac Taylor
Pretty smooth and thorough. The officers were absolutely nice and courteous. Very unlikely
6 months ago Oakley Miller
We went for registracion. it was quick service,everyone was wearing their mask, only one person per vehicle is allowed inside so I waited not more then 20 min. and that was it. Very good. could have been less money due to the pandemic but what can you do. Need to work, its worth it but THIS time could have been less $$.
5 months ago Jenn Fremont
Through inspection, informative inspector, and i was in and out in no time. Thank you NYC TLC
1 month ago Kamran Siddiqi
Far far better than before.
9 months ago Dan C
It was quick this time so I give it 4. Not 5 cause still not my favorite place to be.
2 months ago M M
I was there last week and I have to say that this was the first time that the inspection went smooth. I was in and out within 30 minutes. If your vehicle is up to date,you shouldn't be there that long. Like any other business in new York , you will have your good days and bad days.. while waiting for my inspection to get done I saw a few cars that I really don't know how in the world they are even allowed on the road. But hey to each their own . Not siding with TLC but 150000 vehicles against 15 inspectors you think about it..
5 months ago Loretta Hodnett
This time they are nice and fast
9 months ago M
In n out ,easy speedy
8 months ago Patrick Lamont
well organized and quick. Thanks for making sure my vehicle is safe and in good condition. ????
6 months ago Jackie Alexander
If you are a taxi driver and your car is not in good working condition, it is a wrong place to be. You will spend lots of money on repairs before you will get back to the road.
11 months ago Sneha Krishnan
That's the worst attitude I've ever had in my entire life.
4 months ago M kojima
We worked hard to feed this group of rubbish people, extremely rude and without tutoring.
11 months ago Jen Atkins
Very good exelent tlc tank you
5 months ago Brian Holder
The new officers need training about the TLC laws training.
9 months ago Roxanne Varela
Very good service. Very fast.
5 months ago Donald Mune
Worst service ever
5 months ago Alfredo Lopez
The inspection process is a lot better and faster now.
4 months ago Ashley Sissenwein
fast service. very organized
7 months ago Nauset Bum
Very fast and professional
8 months ago Roger Hutchison
It was almost empty not as it used to be & everything done like one two three .
2 months ago Design Hub
Inspection site, for taxis of new york city
9 months ago Imran Shariff
Very organized and fast.
10 months ago Mary Young
Good
4 months ago Tara Harvey
called the number to ask questions. the guy barely understands what I'm asking and extremely rude and hung up the phone. very ignorant workers and a holes! Update: the TLC tricks drivers to drop off their tlc plates at the dmv for storage and then tells dmv to surrender them, and basically took my plates away!
4 months ago Anthony Steichen
It was quick, not more than 10 minutes. However, one officer was not following the social distancing rules.
10 months ago Victoria Meyers
Very fast good
2 months ago Yi Tang
For inspection fast and everything in okey.
4 months ago Jessey Perkins
What can i say? It's the TLC inspection center.
4 months ago Jim Cooper
Great guys awesome service cool
4 months ago Greg Godfrey
Worst place on earth. Besides the fact they pass and fail cars on their own rules and not following city laws, the employees are just extremely rude in general. No one is helpful, and everyone is hurtful and rude like nothing else. Power abusers and the sad part is, drivers do not say anything with the fear of getting their cars failed! Sad case here in TLC.
6 months ago shawn graham
It's very bad service.. no system for Handel every thing .. they is loser
5 months ago Terry Lynch
They are the worst people out there. Gate security guards are extremely rude as if they're working without pay. Utterly unprofessional and treat drivers with no respect — absolute worst humans work there.
6 months ago Ernie Hamilton
These people here working in a line up lot are extremely rude to drivers. They take advantage of being a TLC officer, they try very hard to act tough as if they are cops. I have seen them yell at drivers for absolutely no reason just to humiliate them. It would be helpful if someone to act on this issue and tech them little manners/customer service skills.
1 month ago Mark Nottley
Failed - no belt, when its right there, this people need to open their eyes.
5 months ago PUGH
Worst place ever just care about money
5 months ago P Day
Sounds like an older white male who answers the phone, never wants to help me with anything. His answer for everything is, "I don't know call customer service. Thats their job I don't know nothing about that." Please help me to understand, why do you work for a company and represent their name but don't know anything about it. I would expect that response from a unionized worker. He does not need to be answering phone calls at all.
7 months ago
Popular places from the category City government office