Verizon Authorized Retailer — Cellular Sales
Cell phone store Verizon Authorized Retailer — Cellular Sales, 113 S Van Buren Rd Ste A, Eden, NC 27288:
220 reviews
of users and employees, detailed information about the address, opening hours, location on the map, attendance, photos, menus, phone number and a huge amount of other detailed and useful information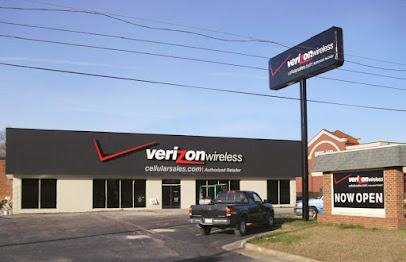 Address:
113 S Van Buren Rd Ste A, Eden, NC 27288
GPS coordinates
Latitude:
36.5001230
Longitude:
-79.7432306
Location on the map
Reviews Paul Profir
Cole was friendly, knowledgeable and efficient. I hate getting a new phone because it just seems so complicated. Cole worked very hard to make it relaxed, easy and even enjoyable. Thank you! (And--I actually like the new phone! :) )
4 months ago Local Reviewer
Matthew was a breath of fresh air! He understands and knows how to relate to people. Recommend him and this store very highly!
5 months ago Annkulit Pedros
Big shout out to Hannah, Tyler and Gage. They are extremely professional and bend over backwards to help you with whatever you need. Any issues they have your back!
5 months ago tom moss
Jae was awesome he went above and beyond. If it wasn't for him I would have neverfound my phone. Or any contacts which is my life as I am not from this area and know no one.
6 months ago Leland Fleming
Cole was great. He was so very helpful. Mathew sold me a phone on Sunday and was great. Cole spent a ton of time with me today with help with international capabilities.
10 months ago Smita Reghunath
Through all the chaos of changing out my S21 to S20, Kaleb rocked it! Actually, not only Kaleb but the Cole and Evan! This store team is awesome and kind! Great customer service!!! Highly pleased!
8 months ago Sara Burzynski
Always had good experiences here! I have gotten phones from here multiple times and most of the staff have changed out through the years, but they are always nice and helpful!
8 months ago Phyllis Brower
Kaleb did a great job. I came to trade in my phone and everything went smooth I was out in less than an hour.
7 months ago Cynthea Carrington
Nyia was so patient with two digital dinosaurs upgrading to new phones. Thanks Nyia for your professionalism and kindness!
8 months ago Ritika Shirshuddhe
Kaleb provided excellent customer service. I would definitely recommend him to my friends and family.
7 months ago Mike Leach
Hannah was absolutely fantastic!!!! She was very helpful and very knowledgeable on everything! She went out of her way to help me and even came in on her off day just to help me get a new line! I would def recommend her to anyone! I will always ask for her specifically any time I need to go there!!!
2 months ago Alicia Mcmillan
Tyler did a very good job helpings me. Thank you.
5 months ago Marc Perreault
Hannah was absolutely fantastic! Traded my old phone for a new one in less than an hour. She has a great personality and is wonderful to work with. Everyone in the store was very helpful and nice.
9 months ago Mark Dick
Matthew was great. He helped me get my warranty phone after so many other attempts. He made it happen. What a rock star! Come see Matt!
8 months ago harsh Popat
Had a very good experience in the Verizon store in Eden nc. Cole was very helpful with a new phone and program to save money!! Will be back when I need something in the cellular field.
8 months ago Sharon OUELLETTE
Had a very great experience, went somewhere else and they didn't help me as much as this store did!
8 months ago Rafael Feliz
Hannah was fantastic, as I was falling apart because my phone wasn't working well. She go ed everything & assured me it would be better. She was RIGHT!! I am so grateful. Thank you Hannah!
11 months ago Adalin Soto
I a great experience with Kaleb, Mole, and Tyler. Thank you all for your patience.
7 months ago Simon T
Tina was very helpful in helping another associate get us all the help we need. Tina was very knowledgeable and her help was very appreciated. Without her we would have been in the store a lot longer than we were.
6 days ago Rick Hesse
We like this store very much have always been helpful when we have any problem with our phones very courteous service would recommend everyone to shop at Verison
10 months ago Rachael Johannessen
Gae was amazing and quick to help! If anyone coming please ask for him!
7 months ago Dan Tyburski
Cole the manager is really helpful and goes out of his way to help. Recommend!!
8 months ago MaxCrazZzyTV
Great customer service. Tyler was phenomenal. Thanks again!
8 months ago Eugene Slutsky
Amazing staff! Wonderful people! Great customer service!
9 months ago Jamari Davisjones
Jae Lynn was great to work with. He was super friendly and professional, ordered my 12 pro max and promptly informed me when it was ready for pick up. I was in the store about 30 minutes and my new phone was up and running perfectly. Very pleased with the service there!
3 months ago Andrew Williams
I don't like this. Store at all went in to pay my bill had wait 45 mins and then they started help other people that came in after I did and I am going call Verizon and Report this store I would not recommend the store Reading some of these reviews the lieing In the morning I will be calling corporate report in the store all-around Bad customer service
8 months ago Wendy Bullock
Cole help me out with the insurance replacement! He was very helpful today!! James
10 months ago Victor Anderson
Awesome staff here, huge thanks to Kaleb, Cole and Tyler for a great experience!
8 months ago Anon ymous
Great place and customer assistance from Kaleb!! Made things go by smoothly,, a wonderful charismatic person.
10 months ago gi
I have been to this store twice and both times I was greeted in a friendly way as soon as I got there. They are knowledgeable and attentive without being pushy and both times they took care of what I needed in one visit. I feel confident that they will take care of you, too.
2 months ago you you
Tina Marie at the Eden NC store was great! She was polite professional and a joy. She helped me with every thing I had all the questions in my mind but never had to ask because she did exactly what I was thinking lol anyways great place and clean store thats has what they advertised. We need more businesses with this kind of customer service!
1 month ago KTTK YT
This place is amazing. Very friendly and helpful people. I would definitely recommend going here.
2 months ago Matthew Moreau
Super great team! Fast and great at their jobs!
8 months ago Alex Weaver
Erika was so nice & helpful. She absolutely knew was she was doing. I highly recommend going to cellularsales & see Erika. She's the best.She even stayed past her time to get off and make sure everything was ok. Thanks again
5 months ago Daniel Highberger
Trey french did an excellent job. Love the new phones. If you don't use him your gonna have a bad time. Best bro in law a man could get.
5 months ago Myles Rodenhouse
Jae was very helpful and made purchasing a phone very easy!
8 months ago Harold Monroe
Hannah was great to work with. Definitely recommend this store.
9 months ago Sergii Martseniuk
Stacy Crouch was very helpful and knowledgeable. Purchased a new iPhone Mini and tablet! She made the process easy to switch my husband from an android to iPhone. Thank you, Stacy!
20 hours ago naomi zeusz
Tyler Frazier was very professional and very helpful!!! Great service!
8 months ago Paul Brand
Did not resolve my problem, but they were very helpful.
1 month ago Sheldon Snodgrass
Went to the repair guy mark and was in and out in 5 mins with my phone fix at no cost, highly recommend.
9 months ago Susan Andrews
Let me tell you how WONDERFUL mine and my husband's sales rep, Megan Johnson, was!! She went above and beyond to make sure we got the exact phone we wanted and made sure that ALL of our questions were answered before letting us leave! She even stayed well after closing time to make sure everything was done correctly and to make sure we had no further questions! She gave us her cell phone number and told us if we needed ANYTHING to just text or call her! Needless to say, we had one of the BEST experiences EVER when it came to switching phone services! We HIGHLY recommend Megan!!
6 months ago Melanie Butler
Brought my phone is for a screen repair, got it done quickly and for a good price.
2 months ago bj edgeston
Jenna did a great job! Very paitent
11 months ago Allie Hillary
After dreading the inevitable trip to the Verizon (Cellular Sales) store, I flat out lucked out by getting hooked up with Erikka...she was merely awesome and made me completely at ease...never want to deal with anyone else! Pay this young lady !
2 months ago Jerry Lesher
Normally, I HATE going to the Verizon store but I have to tell you guys about my experience today! Met a wonderful salesman named, Logan Hash. He was knowledgeable, kind and helpful. He was able to get me the phone I wanted within my price range. I cannot recommend him enough! I am so glad that we went to the Eden store and was blessed enough to meet Logan!
6 months ago Mario Pare
Jae know his job, great job
10 months ago thabisomedia Mabuyi
Trey French is the best. He helped me and my husband get the best phones. Thanks bud.
5 months ago Scott Fulton
Trey French helped me get and set up my new phone. He was very helpful and nice. He will be my Verizon go to person from now on.
8 months ago BISHNU BANERJEE
Megan was great with her knowledge of the phones and promos. She tried to get us the best deals possible. In addition, she ensured all of our information was pulled over from the older phones before we left. We were completely satisfied. Great customer service!
5 months ago
Popular places from the category Cell phone store