Midland Air Service Experts
HVAC contractor Midland Air Service Experts, 714 S Lake Dr Suite 100, Lexington, SC 29072:
220 reviews
of users and employees, detailed information about the address, opening hours, location on the map, attendance, photos, menus, phone number and a huge amount of other detailed and useful information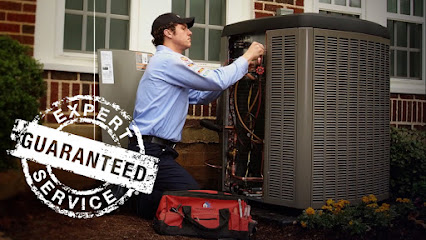 Address:
714 S Lake Dr Suite 100, Lexington, SC 29072
GPS coordinates
Latitude:
33.9683827
Longitude:
-81.2350317
Location on the map
Reviews Saiel B
We have the annual program and they check out our system in the spring and in the fall. We are contacted by the office to set up our appointments and we don't have to worry about remembering to do that. We moved here 2 years ago and they have taken care of our system from the beginning. We have been very pleased with their service.
4 months ago Rosa Miranda
Jerrod Warden was very helpful explaining what was wrong with my unit. He also offered multiple price points and options for my maintenance work. Jerrod also looked at my water heater and noted the problems with that unit. Terrence replaced UV system and filters. Well done.
4 months ago Toni Lewis
Lee and Adam Taylor were prompt and very nice. In and out with no problems. Told me everything good. They were a pleasure to work with.
4 months ago Brandy Borchers
Wow! I could not be more pleased with the service from Midlands Air. Our tech, Jared W., was fantastic! First, he arrived right on time. He was very friendly, patient, and knowledgeable. He explained all options and never pressured us. I like to ask questions, and he always gave an honest answer. So, not only did I get my necessary repairs done, but because I was so pleased with everything, I went ahead and signed up for the service agreement with the company! I'm looking forward to many more years of doing business with Midlands Air!
6 months ago Malcom Ward
Edit 10/7/21 The system that was installed is working great. However, I cannot recommend their "Advantage" Plan. Essentially you will pay WAY too much for the system over the 10 years that you sign up for. Additionally several mistakes were made during the install including a hack job on the sheetrock around my return. The company did send someone out to repair but they left the job unfinished and never called or came back. I'll just end up fixing it myself. Additionally, I was sent a letter that I was late on my first payment before I ever received an invoice. I called to set up online payments and then the online payment system did not work. The next day I got a call that I needed to make a payment. 20 minutes on the phone and then the payment finally went through. Not confident in the service at all and regret my decision to go with Midland. I made a rash decision while talking to a sales guy in my house with no AC in the middle of Summer. Thats on me but wanted others to know. Do the math and really think about what you are getting for your money.
4 months ago joshua collins
Midland Air reported during inspection that my ductwork was shot. Not what I wanted to hear, but they were correct. They wrote me up a work order and had a team on site within days. The installation crew was on time, efficient, and quickly had my entire system up and running better than it has in years. Very impressed with their professional work and quality and their easy financing. Highly recommend.
5 months ago David Kost
Jerrod from Midland Air was terrific! He came to our house within three hours of our request for service and in less than an hour he got our system unfrozen and repaired and back in full service. The cost for the supplies and parts was very affordable and was a tremendous value. Many thanks to Jerrod and Midlands Air!!
5 months ago Karen Croisetiere
Jerrod warden was patient and listened to our exact needs for a new system. Thanks Midland air for everything we highly recommend this company
4 months ago Pondy Mokaupu
Jerrod is wonderful!!! He was full of energy, and knowledge. He was very much a gentleman, and respectful in my home. He only offered what I needed for my home and nothing else!!! I would call Midland Air for all of our heat & air needs for our home & business. I was so impressed with this company from the first phone call to the end with Jerrod. I signed up both of my homes for their services.
8 months ago arthur RUDY
My experience was very pleasant. It seems as if late in the afternoon my ac unit wasn't cooling as supposedly. Jarrod who was super kind ( I had just got my carpet upstairs clean an he politely took his shoes off…Thank you), he checked out the ac and duct work, he confirmed that the unit is too small for the house, he explained great options, he did the vents, I asked questions and he answered. Jerrod was professional, courteous and friendly.
5 months ago Steven Barton
My thermostat went out late last night, and I called Midlands this morning. We baked overnight but Chris Turner was here right on time. The unit is up and running and the house has cooled. Great service and professionalism. He even explained every question I had regarding the unit. I will need to replace my unit in the coming months and I feel confident about using this company. Thanks so much!
6 months ago Orenthal Phelps
The entire crew from start to finish were very professional. They were so kind and timely they did a ton of work in 1 day replacing 2 units, installing a water heater and thermostats. Bryan and Mitchell were my technicians and i saved a lot of money upfront with their advantage program. Awesome employees and customer service
5 months ago Nichole Etienne
First and foremost, Tevan was great. He took the time to truly inspect and identify the issues. That said, he was the third tech to be sent out in less than two weeks because the other techs either didn't identify or only partially fixed the issues. The attached video is after the first tech told us that our system was fine and before the second tech fixed the cracked pipe. Tevan saved the day and we will use Midlands again because of him.
7 months ago Gustavo Rojas
Jerrod and Bobby were fantastic! Very professional and knowledgeable. Highly recommend. Midland Air is great, been using them for over 16 years! Give them a try, you won't be disappointed.
5 months ago Chris Karasek
Jerrod & Bobby came out to look at my unit less than 24 hours after my first call! They were friendly, professional, & explained repairs/cost in an extremely easy to understand way! Great value & service, definitely recommend Midland Air Service Experts!
5 months ago Everly Halley
Had the occasion to get my duct work inspected and obtain a quote for the price of repairs. Jonathan responded within hours of my call to inspect my system and provide a quote, along with financing options. He was immensely professional. Fantastic service, I would not hesitant to call them in the future.
5 months ago Charlie Belcher
Jerrod was not only knowledgeable about the unit we were having trouble with, but he was also very personable. He answered all of questions without being smug or trying to up sell us on things we didn't need. I'm glad he gave us his card because we will definitely call him for any future issues that may arise on any one of the three units we have.
5 months ago william phillips
Our AC went out while we were on vacation! We returned to a house that was 90°!! Not only was Midland Air able to fit us in same-day when others weren't, but our technician actually arrived even faster than their estimate!! Lee was so nice, very professional, and got us sorted quickly!! He found the problem quickly and was able to get it fixed and cooling, which was great since we have a 2 year old at home!! Thanks so much, Lee! We're glad we will have you guys for maintenance from now on so we don't have this problem again!!!
6 months ago Joann moss
Came home yesterday afternoon and my AC was off completely. called and they sent an emergency tech within a couple hours. He located the issue right away, fixed it, and left without charging me. Very pleased!
9 months ago Dayuxinxin Xiao
Very polite and professional. Jerrod quickly addressed the issues with my unit and got the cool air flowing again before discussing possible long term solutions to our problems. Pricing was very reasonable compared to astronomical prices I've paid in the past. Jerrod was very knowledgeable and not pushy at all when it came to high priced options. Will definitely use them again.
8 months ago Joe Pirro
When our A/C kept tripping the breaker they were able to come out on the same day. Jerrod and Bobby showed up on time and diagnosed the problem quickly found the problem and resolved it for us. Would easily recommend Midlands to my friends and family.
4 months ago Haleigh Merwin
We unfortunately had to call Midland Air this weekend due to the AC going out upstairs. They were professional and pleasant when we made the initial service call, and when Lee Taylor came out to look at our system, he was also very professional, polite, and pleasant to work with. He went over what the issue was, what part we needed, and promptly followed up with us when they contacted the part supplier. We haven't had the repair done yet, and if Google allows it, I will update my review with the repair experience.
8 months ago Saeryn Wilcox
Lee and Carlos were very professional and did our maintenance quickly. They answered questions thoroughly. Great service experience
5 months ago S Baliga
Midland Air and Jerrod Warden have been wonderful and met all of our heating and ac needs!!
4 months ago Sam
We've used Midland Air for the last 7 years and they have always been wonderful. Today our technician was Lee and he was very nice and professional. Thank you so much for getting our A/C back up and running!
6 months ago Marlene Cabanaw
Jerrod and Bobby serviced the unit and gave us options to replace duct work and optimize our unit's efficiency. They were both very friendly, knowledgeable, and very professional.
5 months ago Eric Hidalgo
Jerad was prompt, informative and extremely knowledgeable and kind. He worked fast but thoroughly. He is the reason I signed a one year contract. I would definitely recommend him.
5 months ago Irene Naranjo
Technicians Lee and Adam was very professional in knowing there jobs and thoroughly explained to me what they were going to be doing.during my maintenance check up. I'm greatly satisfied and appreciated their services. I needed to have a part replaced "capacitor" and everything else checked out good with my system.
6 months ago Missy Bird
AC went out in the afternoon and Midlands Air was able to make it out later the same day and get the AC back up and running. Lee and Chant did a great job, very professional. Definitely recommend.
6 months ago Abigail Jaeger
Lee and Jonathan (sp?) were great to work with. They were professional, timely, and knowledgeable. The company's pricing beat out 2 other local Hvac companies.
4 months ago David Johnson
Midland Air service was the second contractor I called out for a condensation problem on my duct work in a open attic of a 1650 Sq. Ft. house. (Mind you, you can practically walk around my entire house up in the attic, as in I have tall gables) I was told that all duct work needed to be replaced to flexible duct. The quote was $5800! The red flag for me was the cost, the easy financing process, (with counter offer, as in longer term higher interest) and my duct work was never measured (I was told only the returns and cost of flexible duct and labor was factored in to the bid in so many words) I realized that only a few main trunk lines are metal, which you would think most prefer because it last longer and it's more expensive to install. The 18 registers throughout the house already have flex duct as this is normal in a cut up roof with multiple drops. I not only feel as though I was being mislead, but also taken advantage of, and after researching and talking with other people this hunch of mine was further confirmed. Very disappointed and will not recommend.
5 months ago Jordan Ddickman
Lee was early and very professional and thorough with his maintenance on our system. Been using this company for about a year now and they are amazing.
4 months ago Joy Day
Very professional service tech and sales rep. Good, honest company. Highly recommend.
5 months ago don foulger
Up front and professional great to work with made it easy to replace my unit with no out of pocket expenses with the advantage program highly recommend them
5 months ago Tom Gray
Jerod Warden and crew are professional, trustworthy and courteous. We know we are in good hands with him to keep our HVAC system running good as new.
4 months ago Mathew Briardy
Jarred was great. He was on time and to the point. Found our blown fuse in no time and we were back up and running. As a company I think it's a bit much to charge $66 to read the manual and reprogram a new thermostat but, what are you gonna do.
5 months ago Linda Deppen
Lee, came through and explained to me what my issue was (thoroughly and very professional) and stayed until the issue was fixed!! lol Because of him I now have Midland Air on speed dial for my Air and Heating needs!!
5 months ago Nasir
Excellent service. Timely, professional, and efficient. Lee was easy to work with and helped make my home a lot more comfortable for the summer.
5 months ago Mandy Townsend
On Good Friday, I discovered my Heating/cooling system went down, so I decided to contact Midland service experts who sent a technician out to my house right away. When Mr. Ronald Dunn showed up he was extremely professional. He not only fixed my issue to get my heat and air running properly, he provided me with a thorough diagnosis of what caused the issue. Excellent job.. I'm so grateful for Mr. Dunn going above and beyond to resolve the issues with my system.????
11 months ago Kyra Swanson
Jared and Bobby are professionals and experts in their field. They displayed excellent customers service and have a ton of knowledge of AC/HVAC systems. I would recommend them to anyone looking for HVAC services.
5 months ago Siana Jannesari
After speaking with multiple different companies regarding my unit not shutting off properly, I was finally able to get the right company for the job. Doug is by the best salesman, even when the unit I originally order was not in stock. They are more than accommodating and I will definitely be recommending them from this point on.
8 months ago david bartholomew
Lee and Carlos came out on a Saturday just a couple hours after I called needing a repair. They were very professional, helpful with any questions I had and quick repairing the outdoor unit. I will definitely be using Midland Air in the future.
7 months ago Inba Malar
I manage an office and we've had a couple ac issues this summer! Each time I've called them, they came right out and gave us the best solutions for our problems. Of course the continued problem is on our end not theirs but thats neither here nor there.
5 months ago Mike Bales
Chris Turner got our AC back up and running! He found a communication issue with our thermostat and condenser and was able to get our unit running again. He was friendly and knowledgeable and we are thankful he figured out the problem! Thank you Midland Air and Chris for getting our AC working again!
5 months ago Pramod Vishwakarma
Wade is very professional and pleasant. He explained every step of what to expect with the service I ordered. He did an excellent job with the entire process.
6 months ago LZHEN
Jerrod Warden has exceptional customer service. Our unit went out in the middle of winter and was frozen to capacity where we could not get any heat. He worked outdoors at 42 degrees for 3 hours trying to break the ice on the unit. I would have rated 20 stars if it was available.Thanks Midlands Air ????
3 months ago Alisha Tomlinson
Midlands Air technician Lee Taylor did an outstanding job. He was very professional and thorough and took the time to point out some things I might want to know. He had everything he needed on his van including the correct filter for my air handler. I will request him next time I need service. Five stars all the way!
2 months ago Kassidy Smith
The technicians are not just speeding through the maintenance services, they also answer questions and don't seem to BS. I appreciate the value of prepaying for the year. On time too, also patient when my dogs escaped the bedroom and got in the way until I gathered them back up. Also Parth the technician was very conscientious of making sure the back gate was securely locked when he was done, which I appreciate so so much.
8 months ago Rachele Eschenburg
Taven was great! He came in, diagnosed the problem and fixed it in a jiffy! Very friendly, informative, and has a great attitude! Thanks Taven!
5 months ago Xiomara Oppenheimer
Jarrod is an expert at turning a bad situation, into positive work. We had an appointment this morning at 9am with someone who decided to quit this morning and evidently didn't even set up the appointment. After repeated attempts to reach the tech. I eventually had to call the main number to reschedule. I was already irritated to a degree when Jarrod showed up. However his attention to detail and reassuring nature changed our perspective. It is vital for service departments to staff personnel that exhibit quality customer service and expert crisis avoidance management when things go south, like it did for us this morning. Thank you Jarrod for selling and installing our PMAC+RM3 systems.
7 months ago
Popular places from the category HVAC contractor