CODISSIA TRADE FAIR COMPLEX
Corporate office CODISSIA TRADE FAIR COMPLEX, G.V. Fair Grounds, Avinashi Rd, Coimbatore, Tamil Nadu 641014, India:
220 reviews
of users and employees, detailed information about the address, opening hours, location on the map, attendance, photos, menus, phone number and a huge amount of other detailed and useful information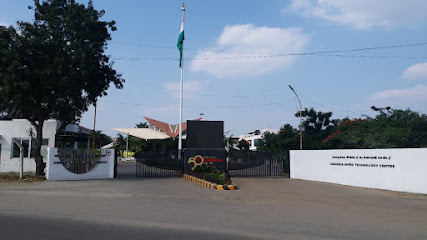 Address:
G.V. Fair Grounds, Avinashi Rd, Coimbatore, Tamil Nadu 641014, India
GPS coordinates
Latitude:
11.0424666
Longitude:
77.0263950
Location on the map
Reviews Cap Beatz
Best place for adults and kids. Widest shopping festival. Great arrangements. Fully air conditioning
10 months ago Shannon Greene
This is a wonder full exhibition complex. A variety of events are held here . We took part in the national science and technology fair 2019. It was a wonderful experience. We thank the organizers as well as Mr M.Sathish Kumar , Mr Ragnath and Mr Munishwaran for their support and guidance #SNSCE
4 months ago Pokey Clark
Best place to organise any kind of events in Coimbatore!
5 days ago Luxury Consult
Very big trade fair complex in Coimbatore.. they are maintaining the complex very good and neat
4 weeks ago Al Redenbaugh
Coimbatore shopping happens in this Codissia every year during Christmas and new year time. Almost 3 halls are full with multiple shops and varieties of products. Outside the halls it is allocated for kids playing and few foods counters are also located near the halls. Halls will be provided for exhibitions, functions and marriages. It is maintenance very nicely. The place itself is a great landmark and the halls sizes are also very huge.
7 months ago Nicole Foster
A composite facility with all infrastructure, equipments with spacious halls through which you can conduct any kind of function, fair, conferences, with any number and kind of audience. Only reach the venue from the main road is little away, but ample transportation facilities available, so easy accessibility. Clean and green atmosphere. City is also well connected with train, air and road transport.
7 months ago Louis Nash
One of the best trade exhibition center in South India with all facilities. Very nice place for international shows and exhibitions. Some halls are available for private functions also.
5 months ago Almaz Satarov
Large expanse. Unexpected in Coimbatore. Mind your step, at places.
4 months ago Mary Randolph
Very spacious fair complex. They have lot of fair throughout the year. Best one are the agri and shopping fair because they are targeted for general public. They also fair for business such as raw material suppliers, cotton industries, educational institutions. Most the activities are well organised here.
7 months ago GabrielaV V
Coimbatore's event place, even it is a palace Big events and political meetings will be always here because of its spacious hall and parking and also a open space which is more important for public meetings and located very near to Airport which is more help full for the celebrity arrive quick adn safe. Weddings in codissia hall will be a grant to the guests for their status and grand dream day will be more grand
6 months ago Anthony Nevue
Excellent place I've ever visited!!
6 months ago Victor Senyk
Very near to airport. Ample space available for car parking. Good place for big events.
7 months ago Vernelle Bland
Anti-Indian Codissis Vazhga!! THE FUNNIEST PART IN CODISSIA IS... ALWAYS THEY WILL COLLECT THE ENTRY FEE IN CURRENCY ONLY (BLACK MONEY) I HAVE PAID RS. 500/- FOR MY FAMILY. AT THE SAME TIME I HAVE PAID RS.35/- THROUGH PAYTM FOR A CANDY INSIDE ONE OF THE STORES. I AM HAPPY THAT CODISSIA IS AGAINST "MODI'S" DIGITAL INDIA
6 months ago Shahrokh Mandegar
This is a coimbatore event and expo place. Every knows this place in coimbatore. Easy to reach airport and railway station and also entry point of coimbatore city. Most of expo and big event happening here only. Good parking facility. Big size of Hall and well maintained in place. Just one km from avinasi road. .
5 months ago Kevin Monahan
Parking was good. They have food court. Cleanliness is good. Nice one
4 months ago Lasheem Wilson
A Big infrastructure with 5 big hall.First time I went for AGRI INTEX.Parking structure is very big.clean and green environment.
6 months ago Tony Knowles
Good and clean place where we can spend with the family members if we have own Transport.
10 months ago Theresa Williams
One and only fair ground in Tamilnadu after Chennai Trade Centre where regular and useful trade fairs are always held. Still some international fairs has to come as only national fairs are been conducted.
6 months ago Molly Trostel
There is High class peoples can Visit. Only They Support Annapoorna Restaurants. Middle class Persons can't Enter that Hotel. Tea 25 rs. Coffee 35. Woh.. And there is Worst Admistration at Codissia Hall. Sometimes Way In to Hall A and after noon via Hall C. What a excellent Guide. And there is No Drinking water in Facility. Except C Gate. And Toilet are available But No Direction mentioned. If Mentioned there is short way One man can enter in to. And Women's Can't. Pl arrange Order all above and do the needful for Customers Further Visits.
1 week ago Windy Lash
Codissia exists since late 90's I believe and has hosted so many good shows both commercial and non commercial. I have participated myself in lots of shows on behalf my employer/company. The ground has got 5 built halls and enough to make a large scale international Trade show. One such to point out is INTEC, a well known brand name for machine tools exhibition. In INTEC you can expect foreign visitors as well.. CODISSIA is a very important place in Coimbatore..
6 months ago Bridget Shelton
Very large area more space to have a trade centre it's so clean and well maintained and more spacious
7 months ago Shannon Curran
A very good place for conducting trade fair with centralized AC and much more....
6 months ago Walter Ammons
Only one best trade fare center in coimbatore.
5 months ago Ana Lopez
A place where spending time is really worth it....CODISSIA is a gift to Coimbatorians.
10 months ago Sam West
Large exhibition centre in Coimbatore, located in Avinashi road, Hope collage. Large halls, and grass lanes, good parking. Nice place to visit. Parking may chargeable about Rs10 or 20.
4 months ago Shi Low
A very good exhibition hall cum ground in South India,well maintained and the ambience is really cool...Consists of mainly 5 halls and an open ground..very good parking facilities.Very good recreation and garden facilities .The Agriculture expo "AGRI INTEX" is really famous,conducted in the month of july every year.Its just 45 mins away from Ukkadam and close to the CJB airport.
9 months ago Daniel Davis
Great area where all kind of exhibitions will happen. lot of parking space available. less entry fees.
9 months ago Lisa Baker
Huge halls , There are expoS that will be conducted here. It will be a shopping fun outing in the evening those times.Huge parking grounds.
9 months ago stephannie vasquez
Excellent location and amenities available. For Trade Fair suitable place.
7 months ago Natalia Kulikova
Very Good place to conduct Expo, Ex Prime minister Vajpayee helped more and inagurated this building. But his inguration stone was removed from here during Semmozhi maanadu.
10 months ago En Kur
Nice infrastructure must concentrate more on housekeeping in order to compete with international standards
1 week ago Claire Donaldson
Very good grand infrastructure for all kinds of exhibitions.
4 months ago Yana
Huge exibition center neet and clean Well maintained lawns
7 months ago Joe Paladino
11th Edition of Eat street Jan 04,05,06. Good to eat different variety of food and drinks and snacks and much more to enjoy...
10 months ago Petar Georgiev
All verry good bat elaktrishan not siyor
6 months ago Debbie Mccarty
Biggest trade fair complex in Tamilnadu. Five halls and lots of open space
5 months ago Tuitoek Tess
Good set up. Ideal place for exhibition.
7 months ago Kelly Banfield
I went for a Agritech trade fair in Codissia. The place was Awesome!!!
8 months ago Tammy McIver
In Tamilnadu, largest inbetween pillar less Hall
1 week ago Tim Spears
Worst group of securities ever. They show no respect to visitors as well as exhibitots. All they do is shout and yell at people and have 0% tendency to help anyone including women. Some even use abusive words towards visitors. This is the worst security squad ever. Being polite to people is something these people must learn. The first thing a person should deal while visiting codissia is these kind of immature securities and the first thing itself is worse. No matter how good reputation codissia has, the securities alone can spoil it.
11 months ago Matt Wang
Good plac for commercial meet ups and expo
5 months ago Chris N
A very big area for trade shows... It's very neat. You can also visit iskcon temple nearby at walking distance.
11 months ago Ridwan Bayuadi
Best trade center in Tamil nadu. Ample parking facilities and equipment for expo
8 months ago sandy bottoms
Truly World class. The second largest pillar free Hall in India next to pragati maidan
8 months ago Sue Sheetz
Big area, lot of stall. But it doesn't have any good security or first aid. My friend met with accident inside complex. Even first aid was not given by them
10 months ago Sarah McG
Neat and Clean. Parking space is spacious
6 months ago Sasanka Kanuparthi
Pride of coimbatore.spacious and well maintained.
8 months ago Felipe Martins
Its a convention center spread across a vast area.
5 months ago Phil Randall
Good for exhibition and marriage Lot of parking space available
4 months ago Nichole Blank
Attakasam... excellent place for shopping
6 months ago
Popular places from the category Corporate office