AutoZone Auto Parts
Auto parts store AutoZone Auto Parts, 4851 W Pico Blvd, Los Angeles, CA 90019:
220 reviews
of users and employees, detailed information about the address, opening hours, location on the map, attendance, photos, menus, phone number and a huge amount of other detailed and useful information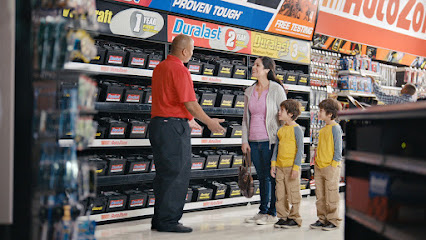 Address:
4851 W Pico Blvd, Los Angeles, CA 90019
GPS coordinates
Latitude:
34.0485039
Longitude:
-118.3425622
reviews Kenneth Constante
So grateful to Juan and Rosana for helping me at 7am this morning when my car battery died. Rosana was super thorough, friendly, and helpful in explaining the warranty and providing all the help I need. Juan was a total rockstar in helping fix my car and getting me everything needed so that I could make it to work. He was kind and never condescending when explaining to me what was wrong with the car and what I needed to fix it, which is invaluable to someone like me who doesn't know much about car parts. I hope they both get their praises and raises because the customer service here, and my first time at AutoZone, has been 100000%.
11 months ago Jonathan Grossklas
It's been a long time since I've gone into a random store had everyone say hi, ask what I needed. She didn't know but another employee overheard and directed me and it was just beautiful customer service at its finest.
3 weeks ago JASON NAYLOR
Called for a part that was listed on the web site. Their computer wasn't updated so Sean went to find out and found the part I was looking for. Excellent people skills! A+ to Sean! And that store. Unlike the one by my house! Going there from now on. Never mind the drive! It's worth it.
3 months ago Paul Sablack
I just came here to have a battery Charged , I was greeted with a friendly welcome from a knowledgeable. I had a lady who showed me my options and she was able to let me borrow a battery charger she was Extremely helpful I am one happy customer!! I will come back here and recommend everyone else to also.
6 months ago Damien Lee
My father and i came in for some help with a part for my 2003 Toyota Tacoma, Roxy and Marra went above and beyond to answer all our questions and we left the store confident knowing my truck would be working good as new. This AutoZone location is by far the best in LA.
2 months ago Wes Jenkins
Kendall L. Was incredibly courteous and helpful. It was a wonderful experience. Thank you Marc
1 month ago Jacqueline Grant
Got my car battery checked and replaced within 10 mins for less than other major brand service shops. I highly recommend.
1 day ago Patricia Williams
Everyone was so kind and helpful! Especially Kendall who helped me with my broken down car and getting a new battery. Went above and beyond, I am so thankful.
3 months ago Jim Black
Very rude employees no help at all have to find the stuff on my own
1 month ago Harsha B
I have been buying auto parts from this location for years, 10 to be exact. The staff are all knowledgeable, helpful, and kind.
4 months ago Christine Roger
Very helpful staff. Went above expectations.
2 days ago David Benson
Herbold no customer service be very bad people work there
6 months ago Jacob Spenadel
Find cheap auto parts affordable.
3 days ago Jack meoff
Kendall is the best!! Excellent service and advice!!
1 month ago Yi Zhu
I always find what I need the service is super friendly and love picking up little fun upgrade chachkis for my cars
8 months ago Rich Ayers
Good customer service.
11 months ago Pauline Girin
The guys that work at this Autozone are amazing. They have this heightened patience that I would never be able to pull off with s**t I have seen/heard walk through those doors. Good job guys.
1 month ago Pete Costello
Great store, good customer service
1 month ago Brian Pearson
My car was having issues on and off for a few months and i wasn't sure what to do so i drove down to Auto Zone and met a very intelligent young lady named YURI i highly recommend everyone come down to this auto zone and ask for her. YURI took the time to help me out even after her shift was over, she was very patient and extremely friendly. We had a little chat i explained what was going on, she gave me suggestions and we both worked on my car until it was up and running just like new!! SPECIAL SHOUT OUT TO YURI YOU ARE THE DEFINITION OF AWESOME CUSTOMER SERVICE.
1 month ago Van White
Josh was of great help and went above and beyond to help me install a new part on my jeep! He needs a raise asap!
3 weeks ago Kay Pearce
Staff always polite.
1 day ago karthik n
Nice size store, enough employees to help you.
5 months ago Mark Bentleybloke
Give Kendall a raise!! Thank for your respect service. ????
3 months ago Cruz Sotelo
Amazing, friendly helpful staff and service. I bought a battery and when they went to install it for me my old terminal was corroded and rusted to the old battery. they went above and beyond to remove and install new battery. Thank You!!
8 months ago Aaron Ratliff
It was great the employees there were big help
7 months ago Ken Carson
service is not that good, had me on hold waiting for 30 mins that's why giving it 1 star
5 months ago Larry Dipietro
Dawson, one of the managers there was great. Communicative and got me what I needed (a new battery) didn't try and upsell me on anything that I didn't need. He also installed the battery for me. I was in and out of there with a smile on my face in 20 minutes. Highly recommend heading here if you need something for your vehicle. Thanks again.
2 months ago Rob Lau
I called ahead to make sure they could replace a low beam headlamp for my wife and spoke to JOSH. He said they definitely have the part and he would look at the situation and help her as much as he could. Josh is the man! He had the part ready and got everything done for her right away. She left very happy. That's how it's done. MARIA was super nice, too!
1 month ago zhen Eric
Came in to the store early morning for a battery check, was helped out by the manager Juan who is very informed, polite and went on to explain other details about my car once we opened the hood for the check. Turned out i needed a new battery. Juan was kind enough to assist during my whole transaction process at the store, changed my battery and conducted himself quite professionally. I will be coming to this auto zone from now on. Great experience! Thanx man!
10 months ago Sal Suarez
I went by this location for break bulb and received OUTSTANDING SERVICE from Maria she was more then helpful as she assisted me with my purchase and also came out to my car to assist me with my further needs and help me trouble shoot the issue to my car which was a completely different issue than I anticipated! This was hands down the best auto zone experience I have had in years! As it's usually a waste of time in long lines, I will say that have gone to multiple auto zones in LA and this one is hands down the most helpful and efficient! THANK YOU MARIA!!! hope she see this since she refused my cash tip!
1 week ago Marco Aguilar
I have been going to this location for couple of times now ! The service i received was GREAT from Juan S !!!!!!! He was so nice and really helped me to diagnose what was wrong with my car! There was no long wait everything was fast . This store has everything so organized and clean better than all other autozones I've visit . Thank you Juan S for your Service it was the Best I've received! you helped me chose the right piece my car needed and assist me with everything i needed.
2 days ago Jackie Kirby
Great place which is close to home and other places that I frequent. They help me maintain my vehicle.
6 days ago Thomas Majors
Love this Autozone, I experienced great customer service!!! from assistant manager Yuri who was able to promptly find and secure a replacement battery for my vehicle, as well as Rossana who's thoughtful attention to detail and care for customer's SAFETY by offering me gloves while handling a damaged/leaking battery. (in this days and times) this is what I believe to be perfect customer service. Thank you ????!
2 days ago Tim Becker
Kendall you are THEE BEST! You saved me today girl!!!!!
3 months ago Madison Mell
Easy to park and great service.
9 months ago Maitreyi Jha
Maria makes this my favorite Autozone in LA. She is super helpful, efficient and sweet. I pass a few other Autozones on my commute, and a few blocks out of my to get parts here. Thanks!
1 month ago Jorge Ribeiro
Knowledgeable helpful
1 month ago manolo Tunchez
HANDS DOWN BEST STORE ! Im so grateful with Juan S.. He helped me install a headlight bulb in my car????5 min before they were closing . I had visit another autozone and they had said it was night n couldn't do it. This store is the best ! The employees here do care to satisfy their customers needs! Thank you Juan S if you see this you helped me get safe home with my bulbs working back on .
2 days ago Joseph
My name is is Elizabeth I been in the community for 40 years and I just say Maria Ramirez is very helpful and kind! Very considerate of her customers please keep her in this community we live her!!!!
3 days ago Barbara Abrantes
Outstanding service thank you so much Josh for taking time to help me install my new windshields and being so thoughtful and courteous. Best service I've received at Auto Zone & will definitely be visiting again soon!!
1 month ago Glen Howell
Great Service!
6 months ago Trevor Goodson
Employes are a little bit rude
6 months ago Koti Tummuru
Yuri & Josh were the best! They helped us find the exact screw to install our hard drive they were beyond helpful and extremely nice and knowledgeable, great location and great people!
10 months ago Henry Casillas
I've always purchased my auto parts here because of the convenience and great prices but I can't praise the customer support enough. I've come and they've helped me with everything. I especially want to thank Omar for all his help!
2 weeks ago Kanakacharyulu Velpuri
Kindly store. Fast. Nice!!
10 months ago Mykal Mason
Maria Ramirez the manager is an amazing human being and so nice and accommodating. Great energy. Pls come to this auto zone on Pico and LaBrea and check them out. Thanks Maria.
2 months ago Steven Reynolds
Great store. Personnel are both helpful and knowledgeable. Juan and Dawson have been rockstars every time I've come in. Highly recommended.
2 weeks ago Paul Maskell
Great service and excellent staff. These employees are very helpful at this store.
2 weeks ago Molly Wright
The service is good and personal from friendly guys who go the extra mile to get whatever additives and parts the customer wants, and that's very appreciating just like any NAPA auto store.But i feel they could have more good deals on some items to make it more convenient for shoppers.
4 months ago bishoy azer
I was given so much useful information on my car without even having to ask. Thank you!
6 days ago
Popular places from the category Auto parts store