AutoZone Auto Parts
Auto parts store AutoZone Auto Parts, 8344 Sepulveda Blvd, North Hills, CA 91343:
220 reviews
of users and employees, detailed information about the address, opening hours, location on the map, attendance, photos, menus, phone number and a huge amount of other detailed and useful information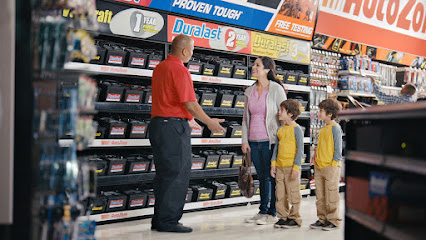 Address:
8344 Sepulveda Blvd, North Hills, CA 91343
GPS coordinates
Latitude:
34.2227837
Longitude:
-118.4673642
reviews Alexveritas
Jose the manager (man with grey shirt) was awesome . I came in there with looking for a car cover , he not only addressed the issue I had with my previous one he helped me find the correct one for my car. Thank you once again Jose !
11 months ago Yana E
Their stores smell horribly, they refuse to use better ventilation systems to air out the room with all the tires in them. Also they never have the type of car cover that I need. I always have to end up at Pep Boys.
1 month ago Micah Harris
Very knowledgeable and helpful employees. Big parking lot great busy main street location.
11 months ago Dave FR
Great customer service lacking little bit on knowledge other then that great place good prices
3 months ago Mario Mtz
They are staying safe, enforcing covid safety rules
11 months ago Jorro Veliki
Miguel is the best manager I have ever came across. Very knowledgeable, goes out of his way to make sure you are getting the right parts and the best parts available. Before interacting with him I dreaded coming in for parts. Now I look forward to it
8 months ago Marty Bost
Teresa, cashier helped me getting an air filter for my car. Very nice person tho.
5 months ago Susie Ratzlaff
Lost my receipt tried to return some oil i didnt use they told me i need my receipt there was nothing they can do after she pretended to ask some in the back... once i asked for store credit i was told there was No Manager on duty to process the transaction.......never had so much trouble returning product from a store
4 months ago Grace Wagley
I tookmy car battery to have it tested. Just purchased the battery three (3) week ago. And it died. The employee that assisted me was a bit rude. I had a long day. Then I return an hour later (battery was being charged) to retrieve by battery a different employee help me an HE had a great attitude.
6 months ago chergo chergoo
Noe is a rockstar! Great service and attention to detail. Installed a battery for us and couldn't have been more helpful.
6 months ago carmen vasilescu
Great group of people work for this location. Special shout out to Jimmy! Very professional and helpful!
6 months ago sam watson
Manager Miguel is awesome very knowledgeable and very helpful. I have never been to this auto zone but i will continue to go for any of our auto needs. Thank you auto zone for getting someone that cares to actually help
7 months ago Barri Ali
Showed me the exact part I needed great customer service
4 months ago Audrey Summer
First time inside it was cool nice people
6 months ago Levi swords
Great customer service every time I shop at the store, well stocked on supplies and reasonable prices
6 months ago Robert LaFleche
I made an online purchase for curbside p/u. Ridiculous delay and completely unprofessional/lack of customer service...told she was "busy" waiting on customers....wonder who she thought I was....a bystander?
7 months ago Yace Wade
Nice and clean people helpful
2 months ago Elizabeth Homer
The best auto parts and california
5 months ago Michelle Ray
Cleanest well stocked store around.
6 months ago James Stribling
Really bad attention to the customer
2 months ago Janice
This place was extremely helpful. The line.was a little long but there were plenty of associates and it took less than I thought. The store manager assisted with my vehicle. I would definitely come back
2 weeks ago Nathan Steinbis
Manager so wrong! ugly moment today with ordered parts! Bad service!!
2 weeks ago Teresa Cuckler
They are always so helpful, I love the kind of service that they offer, Adrian help me and everything that I needed help with????
1 week ago Yudelkis C
Full of crackheads around store and also getting told I can't be inside even though its not closed yet
6 months ago Mahmoud Essam
Great store, organized and knowledgeable folks
2 months ago Milayo C
Very good Auto parts
4 months ago Duccio Baldari
One thing about autozone is if they don't have it, they will get it
9 months ago AJL Tech
Very friendly and helpful staff!!! The guys at the Sepulveda and Roscoe location went above and beyond to help me troubleshoot an electrical issue I had. Customer service like the old days....thank you!!!
1 week ago Mohd Odeh
Good customer service. If you see something missing on the shelf ask them!
4 months ago Toni Andrea
They never answer the phone and when they do you get put on eternal hold. So you go to the store and wait for over an hour to get helped. All AutoZone's are run the same way. Completely understaffed and overwhelmed. How can you stay in business having no customer service? Get more help for the employees you do have.
6 days ago comedy raja
I had a pretty decent experience at this place. Staff were very helpful and friendly and I was able to get in and out no fuss. Found the part I needed at a decent price right there and stocked on the Shelf and it wasn't hard to find. It's a bit of a rough neighborhood but I showed up around 730 AM, found out they didn't open until 800. It is what it is. ????
3 months ago Jon C
Nice place and very good service with Marcos and Miguel.They are the managers on that lication
2 months ago Sobin Benny
We needed help with our car AC and the store manager went above and beyond to help us out! Best customer service at an autozone I've ever had. We will definitely be coming back to this location
1 month ago KE Cobb
Friendly staff store was clean
2 months ago kamogelo khakhu
I never thought I would be giving such a high rating for AutoZone but frankly I really like this shop on Sepulveda great bunch of guys that are working there and they usually have what I need my only gripe was when I had to go in and buy an extension for my ratchet and it was price it was like $8 you can get a set at harbor freight probably for about 3 to $5 and you have multiple sizes where with this one extension I had to pay $8 because it said duralast on it but again I really like to shop the people are nice that usually have what you need in and out pretty quick and if you can't fix it there is conveniently outside a mobile mechanic thank God I haven't needed him ????
1 month ago Zhejun Zhang
Edward....is the best....good customer service, any question, he can help you....thanks Edward...????
1 month ago Pokey Clark
Great advice and service. Dan helped me with low charging battery. 6 years old. Needed to be replaced. Pro installation. I will go back again and again. Been an Auto Zone Customer for over a decade. North Hills and Mission Hills...ask for Dan at Sepulveda, just north of Roscoe Bl
10 months ago Rachel Ruck
Went to the store and the young lady that help me was really knowledgeable and helpful. I believe her name is Angela, thank you I am glad you were there to help. BTW love how autozone had everything I needed.
10 months ago Nathan Perkins
Great service Dan was the best
9 months ago J HERMANN
I like this store the manager in charge Sunday January 3 2021 around 3 pm help me because the store in ????woodman &Chace???? sale me a wrong part and don't have experience to fix o exchange the part .thank you of the manager en Sepulveda & Roscoe ????
8 months ago Nathan Robbins
Worst customer service ever.had to call there district manager Edgar Ortiz because assistant manager their says freedom of speech gives him the right to say n do whatever he wants. Waited over 1 hour to do a return which the store return my disk back to there warehouse and manager said they don't do returns over 30 days. Keep my items under warranty I promise I will never shop again at vatozone.
7 months ago Brendon Romanski
My buddies at this AutoZone are very friendly and super cool with me. They are down to business and take their job seriously when it comes to customer service. A big thanks to them all...????????????
10 months ago laricia clark
Fast courteous service knowledgable personnel and good prices
2 weeks ago Alex Moise
Very helpful ????
10 months ago Brooke Henderson
I needed to change the water hoses on my son's car.. they had them. Mission accomplished!!!
6 months ago Dan Berenson
They've got a bit more selection that some other AutoZone shops in the greater LA area but they've never got more than one register or attendant at the parts section so you're often there for longer than you'd like to be. Parking is so-so. A taco truck sits right out front so spots are often taken but there's usually spots on either side of the store front.
6 months ago Billy Mettlen
Staff is the worse people i ever meet they stand doing nothing they leave u waiting and they dont help
2 months ago Carole Raney
Nice service
7 months ago Patricia Costa
Autozone is always great .
2 days ago L A
**** Be aware of these unprofessional employees coming to simply collect a check, a lot of the top ratings about this store are measly employees themselves creating accounts to boost their ratings.**** I came in after calling 3 times to very, confirm and place a hold on a part I needed that another autozone employee from a different store 10 minutes away. When I showed up to pay for the part the unprofessional incompetent employee asked if I knew how the part looked liked which was later followed by him telling me he had a miscount in his inventory. How hard is it to keep an inventory of a dozen or less automotive parts? Are they really that naive? I wasted time walking from one store to a other only for them to tell me to go somewhere else. I will be submitting a formal complaint to corporate followed by attaching it to a few others within the chain of command otherwise a simple complaint will fall on deaf ears if I only take it to the store manager.
10 months ago
Popular places from the category Auto parts store