CarMax
Used car dealer CarMax, 1000 S Flower St, Burbank, CA 91502:
220 reviews
of users and employees, detailed information about the address, opening hours, location on the map, attendance, photos, menus, phone number and a huge amount of other detailed and useful information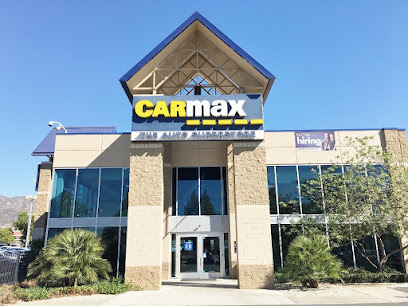 Address:
1000 S Flower St, Burbank, CA 91502
GPS coordinates
Latitude:
34.1712334
Longitude:
-118.3016455
Location on the map
Reviews Sally Sempek
Took in my 19-year-old Toyota Highlander for an appraisal and was so shocked at the fair price I received! From the beginning to the end it was a pleasure dealing with all of the employees at Carmax Burbank. It was pretty fast with an appointment and I was fortunate. I walked out with a big check and a smile on my face! There really is no haggle, they give you a price after they appraise it and if you don't like it you can take it somewhere else. I really recommend using Carmax! Thank you to Alex, Brian, Noe, Erik and Tatiana
3 months ago Linda Cruciano
I love CarMax! Good people. Good products. No messing around. I have bought 2 cars from them and sold 3 cars to them! Not one issue!
2 months ago Sarah Sawtell
First time seller. I was genuinely surprised at how smooth and easy things were. I did the online quote process first and figured the offer would go down a bit when I got there once my car was assessed in person, but they followed through. Once I approved the offer it was just a simple wait for the paperwork and then it was all done. The staff were all very friendly and courteous. My entire experience was very positive.
3 months ago Joseph Benedetto
When I first started shopping for a vehicle that would suit my lifestyle, I was visiting all my local dealerships and couldn't seem to find any in which the employees offered me the car I wanted - most places offered me the car they wanted to sell me. That was not the case with this CarMax! I was a little lost when I got there, but I bumped into Andy as he was moving inventory. Andy let me know he wasn't part of the sales team, but he still took the time to listen to me and went above and beyond by offering great advice on what type of car I should look for! Thanks to his great attitude and patience, I finally narrowed in on what I wanted. I ended up in a 2017 Civic Si! Best decision I could have made! Thank you CarMax and thank you Andy!
4 months ago Arianna McKinnon
What all car experience should be. Pleasant to the pint no pressure. No haggling. Trade in values are fare and to the point generous. Great experience. All car dealers beware of this behemoth, behemoth they may be, local as local as can be, they are your old neighborhood grocery store. Personable trustworthy done by a behemoth organization. May I see the actually give a good name to car salesman. Yet again all other dealers just can not help themselves but to bring car salesmen name to the bottom of the heap of untrustworthy. CarMax keep up the good work. Don't lose your magic customer service formula.
2 months ago Maria Cuenca
All the staff are really nice...Especially MICHAEL..he's the one who help us.. Carmax in Burbank..
2 months ago Manish Saha
One of the best Auto places to buy or sale your car. Not only they have superb inventory with hassle free pricing, Not only they give the very best value for your trade or the vehicle you are selling, but they provide excellent service. And worth mentioning that we received exceptional service by Brad, and Shaun. Very professional, Knowledgeable and made the selling of our car transaction very easy. I highly recommend Carmax in Burbank.
6 months ago Gurpreet kaur
I would not want to give any rating if that is possible. Those of you who want to sell your car at car max, you need to prepare for yourself to be there waiting for more than 5 hours even with appointment. Some of staff members were nice but many of them were not. Their attitudes were like "if you want to sell your car, you better wait no matter what." I would never go back to this place!!
3 months ago dhurjoti nath
The whole experience was great, each individual we came in contact with exceeded my expectations in customer service. The car price that I ran through online was exactly what I was paid before I went out the door. Very well done
3 months ago Amir O
I had a great experience. KG was informative, friendly and communicative. Great team at the Carmax in Burbank!
2 months ago EXPRECDJ
In and out in about two and a half hours. Found the car we were looking for, a Nissan Rogue. Staff was incredibly friendly. Great atmosphere. Buying a used car can be stressful, but not here. No haggling, no stress, a great experience.
3 months ago Linda Arsenault
The General manager, Ms. Monica and Mr. Norman, deserve a real appreciation for their professionalism and politeness...
2 months ago Howard LaPorte
The staff are nice, but their processes stink. They make people wait 3+ hours just to pick up the check for a car you sell to them (this is AFTER their appraisal & offer letter). You can't leave because they will wait only 10 minutes after you are called & then you go to the back of the line (TG that didn't happen to us). They also seem to be clueless about EV's. If you go to buy an EV there, they don't list range or which type of charging is present. I saw no indication that they charge the EV's on the lot either, though maybe that happens out of sight.
2 months ago Teron Hess
Buying my new car was an amazing experience. All of the CARMAX staff were friendly and extremely helpful. Not pushy like you would find at another dealership. I love my car and the money back guarantee is amazing.
3 months ago Terry Evans
Reasonable pricing - large inventory - good service - fair and generous policies ????????????
2 months ago Merel Sijbrant
I had a terrible experience trying to sell a car at this place. After a long wait, I got an appraisal from CarMax and made an appointment to sell the car later that week. When I got there, they said selling cars was on a first come first serve basis and they wouldn't honor my appointment that was expressly made by their staff person, Stephanie, because it was going to be a long wait when I originally wanted to sell the car. They said I would need to wait 3-4 hours, which would not work for me. I tried to escalate because I had an appointment and even showed the texts with their customer service representative, but they did not honor it. In the end, I ended up selling the car for nearly the same price to carvana who came and picked it up from my house. Why I wasted any time on CarMax,I'll never know but I won't work with them again.
2 months ago Trecee Artis
It was just too easy. The inventory is great on top of the warranty and there's no bs haggling. All the cars are basically brand new. They also gave me thousands more for my corvette too which community Chevrolet was not willing to give. The typical dealership experience at Chevy was pretty horrible. I've never been happier with a car. I traded in my Vette for a Silverado. That just says it all! Carmax is the way to go hands down.
2 months ago vanessa Carter
I had an excellent experience with the Burbank Carmax for the purchase of my car. Our Carmax Salesperson Galo Baghdasarian was very courteous, knowledgeable and patient with me. I highly recommend the Burbank Carmax. GREAT JOB GALO!!! ????
2 months ago Adam Malec
We traded in our car and it took over 4 hours. We also wanted to purchase a new car, but we were so exhausted from waiting so long with our three kids. We were from out of town, so we couldn't just go home and wait.
2 months ago IOWA MIKE
Absolutely disgusting, whomever your apraiser is, STAY AWAY FROM !!!!! She's absolutely the worse person for Carmax, she'll shooo customers away, and will cost Carmax lots of loss of business. She will apraise $10k for $2k ???? Does she really think people are so stupid to give away their cars ??? She needs to be gone, if she asked me to give the car free I would be less insulted . Even the gentleman who brought the appraisal was ashamed to represent the offered price. Really 2003 BMW 525 i Station Wagon black on black fully loaded in excellent condition with a big bundle of service records from day 1 for $2000 ??? Shameful. Will NEVER go back again NOR will recommend.
2 months ago Mariana Seda
Kumar took great care of my mom, as we were shopping for her. He's knowledgeable, honest, and there's none of that shark feeling, with someone trying to make a sale. As a result, we absolutely came back and wanted to buy a car from him. Why doesn't everyone understand this simple truth of sales, that ethics and kindness win every time?
6 months ago Jack Cotton
I was very happy to use CARMAX to sell my car, because they exceeded my expectations. They were very organized, efficient, professional and they gave me a great price! I recommend them to everybody!
4 months ago Nicholas Scott
Wait times are super long. Also, they're not transparent about the process at all. It keeps dragging out. You end up having to wait in three different lines for the whole thing. I must have waited a total of five hours doing nothing between the wait for the first person, the appraiser, and then the purchaser. Staff is nice enough but definitely not trained to manage expectations. Management is clearly asleep at the wheel.
3 months ago D Perez
We are huge fans of Carmax....selling your car there is an organized process and, for both cars we've sold, we have received a fair price. The staff is friendly and does their best to accommodate you and I love the fact that you can easily walk the lot looking at new cars to purchase without being hassled. The only thing to make note of is...pay attention to your bank's/credit union's hours. Carmax needs to be able to contact them at the time of your auto payoff. We made the mistake of waiting until the last day of our offer expiration, and they were not open....therefore, we had to have our car re-appraised the following week and start the process over again.
3 months ago Djamad Ahmed
Had a great experience. Couldn't have been easier. Everyone was very friendly and helpful. I am absolutely recommending to everyone I know who is looking to sell their car
5 months ago Nathan Laursen
Eddie Guerrero at Burbank's Carmax did an excellent job showing me cars and once I picked one, getting the car brought in from another part of California. He guided me through the test drive and purchase, giving me time to have it checked by my mechanic and getting an extended warranty that works for me. I can haggle with the best of them if I haver to, but Carmax with its large inventory makes it easy to find and purchase an excellent car. In a time considered by many to be difficult for the used-car buyer, Carmax and Eddie Guerrero came through.
6 months ago Nzm ozrn
Pretty easy and hassle free. We brought in our Nissan Sentra and left with a check within two hours (definitely not the thirty five minutes we were originally told, but it was OK, we just went to eat. Plan for that).
3 months ago Arielle Esch
Friendly expert staff. Well organized honest car prices and financial support!
2 months ago Kimber Block
After waiting 8 hours at CarMax to sell my car- they refused to assist me in taking the battery tender and license plate off!!! They told me I had to do it!!!!! This was literally one of the worst experiences of my life! I highly recommend going to Carvana or any other place besides CarMax
3 months ago Channon Smith
This is the second car I've sold to Car Max. I feel that the staff was well qualified and offered me a fair price. My only complaint is that, although I made a 10AM appointment on a Wednesday to have my car appraised, I had to wait half an hour before a representative came to my car to schedule the appraiser and another half hour before the appraiser actually showed up. There was another long wait before I actually had the offer in my hands, By this time, I had been on site for almost two hours. This was before I was to get in the line to start the process of actually getting the bank draft tor the car! At that point, I walked to the front of the line and asked the person who was next up how long she had been in that line, She told me one hour and forty two minutes! This would an unacceptable wait for me as i am 87 years old. I then asked the person at the desk if he could provide a chair for me to drag along the line. He could not., but stated that if I returned on Saturday it would not be busy and I could be in and out in 30 minutes. He lied. I arrived 15 minutes before the 9AM opening time and the line already had 10 people waiting. It took 35 minutes just to get up to the window, 55 minutes for a representative to call and meet me at my car and another 20 minutes before I actually had the bank draft in my hand. There must ne a more efficient to handle this process! Of course, the long wait times were blamed on the pandemic. I would suggest that you hire more staff! I am unable to submit this comment without agreeing to the terms of service, however I do not know what these terms are. Just saying....
6 months ago Robert Luce
Had the best experience ever once the processing began. Before going to establishment, we went to their site online and established a quote. Apparently they hired new office staff and a female didn't know procedure. She have us a fill-in-the-blanks note which said there was a 5-6 hour wait... but there wasn't one. However, she took information to process paperwork. We went back home. About 6 hours later, we received a call from a woman who thought our vehicle had been appraised, but it wasn't. She was confused, but not as much as we were! Needs to ensure new staff has been trained properly. We drove back to CarMax hoping we didn't have to wait another hour in a line to speak to someone... and no. Went to greeter's desk, this guy knew his stuff, told us it was a hour+ process and apologized for mix-up. During the process, you must remain by your vehicle as things happen sporadically and also have your vehicle registration and owner/seller ID handy. Our first contact was a man named Brad. Brad was very efficient in that he explained the process to us and apologized for the mix-up. We then met another guy, Sharia (?), who checked over the vehicle & took photos to then be passed back over to Brad who asked if we had an online quote... yes. They process your vehicle to check for any accidents (I had none). We were very pleased when the appraisal came back to show it was what was quoted online. ???????? Because it was late in the day and they normally stopped issuing checks, we were treated kindly because the girl who didn't know her job did have paperwork processed and because we were misinformed, they made special allowances for us. We had a different guy present us with a check (didn't get his name) and it was all done! It took a bit over an hour, but we were very pleased. This process was easier than having to deal with callers interrupting your day, asking about the car. I'm giving them 5 stars because even though the experience started off on the wrong foot and understandably, businesses will have new hires now that things are open after the lockdown, once we made contact with a knowledgeable person, the process went quickly and smoothly. Thanks CarMax!
5 months ago Ariel Riber
One of the best car-related experiences ????
2 months ago Billy Poteet
Besides lack of parking spaces the rest of my experience was very smooth and respectful. Each step of selling my vehicle was handled professionally and in relatively timely manner
3 months ago Suzy Worster
This was my first car-buying experience at CarMax and it won't be my last! Sasha took great care of us from beginning to end. My only constructive feedback would be the electric car I purchased should have had a full charge for my departure (like a fuel-powered car would have the tank 'topped off') and the document prep should have been faster. I uploaded my information in advance and it still took nearly three hours to complete everything. I know these things take time and I'm grateful the price I saw was the price I paid. Thank you CarMax - see you again in the future!
8 months ago Riya Patel
Definitely 5 star service. I was iffy about selling my car at first but they treated me with excellent service and not just that they gave me my car's worth. All of the staff acknowledge you and even if they are busy they will help you and provide excellent service it makes you feel like you made the right choice!
6 months ago Mark Hiersche
The process was quick and transparent. I felt like I understood every step of the way and I had some concerns initially having never sold a car before. I couldn't imagine a more simplified process.
3 months ago Mark M
Extremely good experience... they take out the complexities and fear when you are trying to sell your car.
2 months ago Jacob Frank
It went way faster than expected and the personnel was very professional and friendly. Definitely returning once I'm ready to buy.
3 months ago zaid jaf
Everything was excellent except the waiting time of 2 hours to get the final inspection and the payout.
3 months ago John Stalzer
I don't know where to start my praise of this Dealership . I'm not new to CarMax but this time around everything was exceptional, from the time it took to complete transactions to prompt and very friendly staff members, you guys Rock!!! 10 out of 10!
3 months ago Beth Kelly
I really like CarMax, so far I have had 2 cars sold with them and I am always happy when I leave. They are detailed and organized, and they made me feel really comfortable during the process.
3 months ago Sarah Faulhaber
CarMax is awesome! The BMW dealer (Century west) said that carmax wouldn't be able to buy my lease, but I still went and got my appraisal and without any hassle just some wait time got rid of my lease and put a few grand in my pocket! I Love Carmax!
3 months ago George Everett
Very easy and everyone was helpful especially Bill at the entrance. He even helped me find a parking spot and it was a chaotic parking day. I got the same price that I was offered online.
4 months ago Jeannette Rubio
This is the third car I have purchased through Carmax, and I am a die hard fan of this company. There is nothing I loathe more than the sweatbox you are put into at a standard dealer. The whole, "Let me go talk to my manager" line you get, and the ridiculous bickering... I'd rather take the bus. But the first time I went to Carmax I was blown away by how easy it was. This is the price. Period. Test drive whatever you want, and if you want it, you buy it. The experience this time was no different. I was able to use Carmax's website to search nationwide for the car I wanted. I steadily narrowed down the options and zeroed in on the exact vehicle I was looking for. An Audi A6 Premium Plus 2017 or newer. The staff was extremely friendly and worked easily with me. Even after I left the store, the attendant I worked with let me know what cars were on the lot. I ultimately had one shipped to the store, and boom. Sold. And as an extra bonus, they put a bow on the top of the car that was just such a wonderful touch. It made the whole experience even better. I'll definitely be back for my next purchase!
7 months ago Kaia Haffner
My experience at this CarMax with Michael was excellent he was very customer-oriented he explained everything thoroughly and I think he went out of his way to make us the customer happy
4 months ago Virginia Roberts
Good experience. They had exactly what I was looking for. Price was reasonable and the salesman was helpful. The only bad thing was that they only allowed for a 10 to 15 minute test drive and so I was not allowed to take it to my mechanic to look at. You do have 30 days to return so it's not a major problem but I would like to be able to have my guy look before I buy. Having said that, I'm very happy with the vehicle I purchased.
8 months ago Wendell Mornan
I had a wonderful experience. I had to wait a few hours but it was worth the wait when I left with a large check!! Easy to deal with and Eliza was lovely to work with!
5 months ago Shane Dekle
Very negative experience recently at this CarMax location. This location is absolutely overwhelmed. I had an appointment to have my car appraised and the lot was completely full with cars, double and triple parked, everywhere. After over 20 minutes or so trying to find parking, I finally managed to park on the street and went in. Long wait followed after I was checked in. While the reps were generally nice and professional, my whole experience took over 1.5 hours. And, at the end, the appraised value, for a pristine car, still under factory warranty, was remarkably lower as it should be, $15K below the lease end acquisition price of $50K. How is this possible in the post-COVID crazy car market?? I felt I completely wasted my time and will absolutely avoid going to this location ever again and maybe just cross out CarMax altogether. A highly recommend people to avoid at least this Burbank location if they can.
5 months ago Steve Morris
The online option to get appraisal is very easy and fast. On the spot you have to be ready to spent a few hours because of the great volume of people and cars but the people working there make everything possible to speed the processes. Everybody is kind and helpful.
6 months ago angel lynn
Bought the car from them a month ago. Very expensive car. Got the promissory letter they will do minor fixing. Never got the call form them . Called several times was told will call me back in 15min, in an hour never got called. Horrible. Will never recommend to deal with them.
3 months ago
Popular places from the category Used car dealer