Ralphs
Grocery store Ralphs, 14440 Burbank Blvd, Sherman Oaks, CA 91401:
220 reviews
of users and employees, detailed information about the address, opening hours, location on the map, attendance, photos, menus, phone number and a huge amount of other detailed and useful information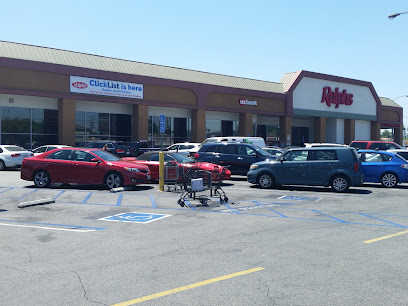 Address:
14440 Burbank Blvd, Sherman Oaks, CA 91401
GPS coordinates
Latitude:
34.1716507
Longitude:
-118.4470703
Location on the map
Reviews Andrea Rhone
2nd Sunday morning in a row, not enough cashiers. Today 15 people in line with one cashier open and 15 more for self check out. Managers response: "itsall we have, you need to be patient" so 20 min later still in line, RALPhS- if you don't have the personal to operate why do you put your employees and your customers in this position! MANAGER: maybe a SIGN at the door saying we are short handed if you can't wait please try another store? Ok out of here without my groceries :(
4 months ago Cole Terpstra
These stars are for a cashier named Sophia M.who is ALWAYS kind,efficient and in a great mood.Shes the BEST thing about this Ralph's .THANKS SOPHIA M.????????????
5 months ago Hebberly Ahatlan
Like always I had a good shopping experience. I managed to pickup a lot (48) Campbell's soups that were on clearance. I also took advantage o a great sake they were having on canned sodas. I give 4 of 5 stars because we had an issue with the security not wanting to let us being in an empty backpack to carry our groceries home. He finally offered t keep it up front but didn't want to give us a claim/receipt for it like other stores do. It wouldn't have been so bad exempt for his condescending attitude!
5 days ago Tessa Sanders
Two workers named Gerardo and Zack were extremely friendly today. Gave me wonderful customer service. Also, they were both incredibly polite and helpful. Nice, clean, and organized store. Easy to find what you need at any time.????
2 weeks ago Yahya Alharbi
When you enter to this store you say wow.The store is very clean and you will find everything easily. Everyone working there is very polite . They have baby Enfamil formulas there all the time. Every week they have different sales, and the product and quality of the things are amazing.
8 months ago Jason Johnson
Love this place but hot bar is super understaffed. Usually takes 15 mins to get taken care of with 1 person ahead of me.
6 months ago David Dawson
Great store. Large parking lot. Great customer service. Friendly and warm environment. Great selection of produce, Meat, deli and more
10 months ago Ciara D
Great grocery store in my neighborhood with reasonable rate...
6 months ago Sunny Jay
Great store!! Staffs are also kind
6 months ago Ricky Robertson
I really like this store, they have what I'm looking for friendly. But the security guard I have no problem with however he is very aggressively offensive, it's seems like he look for fights???????? The store need 5stars but workers like the bold caucasian security guard brings things down to a 3-stars...
9 months ago Miroslav Iliev
The food court need to be more friendly don't judge the book by the cover when you come to work the other to stay safe while you're home you give your best at 100% you customer service
4 months ago LaTonya Sneed
Open 24 hours. It's a pretty standard grocery store. Doesn't have the largest selection at this particular location but the newer ralphs a mile away is 2 stories and has a great selection. It Has self checkout which saves a lot of time if you don't have much and are in a hurry. It has a Starbucks inside which is convenient as well if you want a coffee while you shop.
4 months ago Karen Leon
Ralphs is great. Ample parking, a wide choice of your essentials but loads more. The friendly staff are always happy to go that extra mile for their Customers. They have the loyatly card as well, for real time savings every time you shop. I can honestly say being from UK that some of our supermarkets need to get their act together because Ralph's is a great place to shop.
7 months ago Aneesha reyes
Went for an interview at 10:30, got there at 10:00 was told to come back a 12:00 because the the interviewer (HERMAS RIVAS) was running late. Came back at 12:00 just to be told that the interviewer wasn't there yet. Finally the interviewer arrived at the site and greeted me. The interview wasn't a proper job interview, the interviewer just said the company is cutting hours, but yet there hiring people. The interview was 1 minute and after I told him that I don't have any work experience, he blew me off. The interview ended the second I said I have no work experience. The interviewer didn't offer training or no other jobs they had available. It was a waste of my time, had to catch the bus many times and while doing that exposing myself to COVID.
1 week ago Xenia Covas
This place is advertised as closing at 2am during covid. I understand that closing times change however that time is NOT advertised ANYWHERE!!! I got there at 12:56am and security wouldn't let us in saying it was closed. Wouldn't give any reason, wouldn't let us talk to anyone. There were several people waiting outside to get in and were refused. If you close early you must give a reason, show it at the door. But an hour before closing?!?!?! REALLY?!?!?!?
8 months ago Elliot Wight
I give it 4 out of 5 stars. The lines are way too long and not enough employees. Customer service is fantastic, just not enough of it.
3 months ago Robert LaFleche
Someone needs to inform the management that when you advertise that you are open till 2am, then you need to stay open till 2am!! Seems to be a simple concept to grasp! I drove from canoga park only to see them closed at 1:30. Dear Ralphs, your ever shrinking customers deserve to have their time respected. I only needed ONE ITEM (cat food) and I thought 30 mins is more than enough to grab it. Only to be turned away and dismissed very rudely by the security guard and a store employee. Those of you who remember... how nice was Ralphs 10 years ago? Compare to today and run away! You might pay more at whole foods, but at least they have heard of a very foreign concept called "customer service" and try to understand it!
4 months ago Adrienne Jurewicz
This place was a Hugh's market back in the 1980s
4 months ago tanya baramzina
Must be the worst supermarket in the area. Everything looks dirty. The flora in the entrance is missing pieces and nobody care about that. Recommend to replace store manager
2 months ago Eric Roy
Great place for quick grocery shopping and other means
9 months ago Benjamin Garcia
We were just talking about how awesome this Ralphs is. We haven't ate out for over 4 months, no deliveries, just fresh home made food since uncle Corona hit the city. This location is the best, I can't say that about other Ralphs locations. My favorite section is the meat department. Always fresh, clean and AWESOME deals on all kind of meat. Absolutely the best and safest meat department in LA. Also, there're always fantastic deals on liquors. I have been living in this area for 8 years and I have seen nothing but improvements in this fantastic grocery store. Cheers
6 months ago Alex Bender
Last week the security guy was working there, I asked for his name and he said"Im not going to tell you". Well service was not good to tell the truth he actually told me to that I can't buy there or go inside the store without a mask. I'm a Disable Veteran and can't wear a mask....CDC states anyone whom has a disability doesn't need to wear a mask.. I will report this to the state and city. My Constitutional rights were VIOLATED!!!!
2 months ago michele little
Saturday February 6th 2021 I was charged for my groceries and somebody else's groceries (must have been the person behind me). I was being rushed out of the line and did not get a receipt. I trusted that the whole transaction was fine but not until I got home and check my account to find out a big bill. I requested a copy of my receipt and yeap there it was CLEARLY the charge for my food and somebody else's it is clear even a different ralphs card was scanned after that none of the groceries are mine. But I paid for everything. I told the manager and no help at all. They throw the problem like a hot potato. As if we daily life normal people got extra money up to now I don't even know if they will return my money. Thiefs.
1 month ago Abe Celentano
They do not clean Shopping carts after customers use them. ????????????We still h .ave the problem of Coronavirus. Obviously, Croker does not care about their costomers.(• _ •)
1 month ago Prashant Ramesh
4 decades I've been going to this store.....FOUR DECADES! It's my HUGHES/RALPHS it holds a special place in my heart. They had alot of ups and downs and major changes but it's a mega store and we need it here where we grew up ....Van N.......oh I mean SHERMAN OAKS live long Hughes/Ralph's. ????
2 months ago Jennifer Wyant
It's a good store to shop at fresh market and I love having my seafoods fried here
11 months ago Ev Ruch
I had the worst experience in this Ralph I've never felt so rationally profiled at the self check out line the cashier names tatevick was not being helpful and very rude .She kept checking to see if I was going to steal but to the Caucasian she wasn't doing that only to me!!! I manage to see she only does this to people of color they should hire people that want to work and are friendly to their customers not rude and disrespectful!!I will be Contacting my Lawyer if this matter isn't resolved!!!
5 months ago Theodor Hoffjann
Love that this place has fresh seafood and meat over the counter ..I love self checkout and the Armenian lady who works there.. I left my Gucci glasses in the lil BLK shopping cart she ran outside to give them to me.. Love her honesty . store is always clean fresh fruit and veggies too and its 24hrs.. But what I dislike is the parking its is crazy can barely ever find one spot that's why the 4 stars
9 months ago Mayilvaganan Thaniakvelu
Wreck it ralph (smadre rolf)
1 month ago Olga Rosario
I went there during the worst of our pandemic and the workers were not wearing their masks properly. Including starbucks workers. I will post a photo, but I have complained to the manager several times and nothing has changed. It is so disappointing. No wonder our county is the worst. If you cannot wear your mask properly, stay home. Shakes my head.
4 months ago Josh Saucier
Lots of People for my anxiety but beautiful place to shop.
8 months ago Danny Horton
I love coming to this Ralphs because they have everything that I always need in a small place. Also, it's open 24 hours so this is a very convenient location. I love the staff at this Ralphs because they are super helpful, kind and always go above and beyond. Tina from the self check out is very helpful, kind and has great customer service skills. She's always so attentive and has shown me that she truly cares for customer needs. I definitely recommend this location and I will keep coming back because the staff never seem to disappoint me and the prices are always better than anywhere in the area.
5 months ago Josh Dejarnett
Despite everything online and the sign in their window saying they close at 2AM, they lock the doors at 1AM. Just because there are still people in the store doesn't mean that's your closing time. Whatever time you stop letting people in, that's your closing time. I know because a cashier told me -- they do this because their manager doesn't want to pay them past 2AM. That's fine, as long as you post your closing time at 1AM. Ralph's management: Please visit the Vallarta on Victory to learn how to keep carts clean throughout the day and enforce a mask policy.
8 months ago Laurentiu Buzea
You can always find what you need here and at fair prices!
5 months ago Brianna Staar
Polite workers and store is clean. Always come here for quick groceries when in the area.
1 month ago Mary Hughes
I give this Ralph's 4stars for one reason it is a little ran down but they do have mostly everything you need a little smaller but the staff is very friendly and willing to help you really quickly not bad at all
5 months ago Juicebox
It was over crowded I went in to buy two idea and when I got to the self checkout the line was down one of the aisle. So I went to the conor store
2 months ago Edmond Herring
Horrible. During the worst of the pandemic, I have seen more workers here not wearing their masks properly, than any other grocery store. Even the Starbucks workers aren't wearing their masks properly, and when confronted, the horrible girl with the glasses at Starbucks yells at you when asking the workers to please wear their mask over their nose. I cannot believe the disregard, and I cannot believe that nobody seems to care. Not even the managers. I have been to several supermarkets, and this one is by far the worst.
4 months ago Reynaldo Cardoza
Nice clean store, helpful employees, great location, overall good experience shopping here.
4 months ago Wendell Mornan
Needs more staff. Pales in comparison with new ralphs on Hazeltine.
3 months ago Tabare Fierro
????????????Horrible unsanitary condition in restrooms. ????????????Managers won't address the issue even after customers' complaints. Have to bring it up to corporate's attention so heads can roll????????????????????
5 months ago Vincent Meloche
Main entrance smells like a urinal...Also Homeless hang out, but are quite entertaining. Lady at the self-check out is rude as Hell.She should be a Sherriff Deputy. Go to other nearby locations...Sherman Oaks, Studio City or Lake Balboa.
4 months ago Sierra Durr
Generally, supermarkets are not what you would necessarily give a 5-star rating to but this particular Ralphs market is one of the larger Ralphs that we have here in the San Fernando Valley and because of its size has a huge selection of different types of groceries and other things. It has a large produce section and the produce is fresh. Bakery atea also has a nice selection. Seems to always be crowded.
9 months ago Steel Gaming
Lots of selection but a bit pricey. Wish they would lower their prices but definitely a nice looking store in really pretty and we'll kept. Their gourmet cheese for example is upwards of ten dollars! Sushi ranges from $8-20 about the same as a restaurant. Should have been a couple dollars cheaper in my opinion.
7 months ago Christina Lara
I do a lot of my grocery shopping at this location, the employees are very helpful and I love the deli section they always have fresh food there.
5 months ago Jennifer Enman
Easy to park. Lots if shoppers but got through the line in an appropriate amount of time. Store clean a good value at checkout.
6 months ago Juliet Bronkhorst
Good collection of daily needs. Store was clean and organized but outside need lot of improvements. Hope they fix it soon. Bought bunch of groceries and used self checkout lane, it had few issues but attendant helped us to resolve those. Attendant also helped us with reward card as mine was somehow not working.
4 months ago April Cate
Jorge from the meat counter was very friendly and knowledgeable about his products. Greets customers and have genuine interest in them. Decent prices but always my go to.
6 months ago kim walker
Only one cashier 18 people waiting on line Always the same We are in 2020 we needs A better costumer attention.
6 months ago Celine Tranchard
This is a good location. Very wide selection at this one. Seafood counter is on the slim side but they have one (not all Ralphs do).
4 months ago
Popular places from the category Grocery store