Ralphs
Grocery store Ralphs, 10861 Weyburn Ave, Los Angeles, CA 90024:
220 reviews
of users and employees, detailed information about the address, opening hours, location on the map, attendance, photos, menus, phone number and a huge amount of other detailed and useful information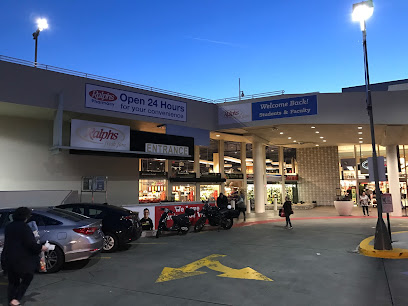 Address:
10861 Weyburn Ave, Los Angeles, CA 90024
GPS coordinates
Latitude:
34.0628446
Longitude:
-118.4438210
Location on the map
Reviews Tiffany Bumbury
Excellent location for a Ralphs. This router to Westwood village UCLA campuses excellent for the students who are away from home so that they can be able to do their grocery shopping I was pleasantly surprised to find out the size. Excellent customer service
4 months ago Erik Radle
Clean, convenient and I've met some staff who were friendly, but it really bothered me when I came in the other day, and I found one staff wandering so I asked her where I could find an item I was looking for. She refused to make eye contact and told me some aisle number. I started looking up at the aisle numbers and that aisle did not exist! Wow amazing service. Perhaps Ralph's can do reiterate to their staff the importance of good customer service. If I weren't running late, I would have gone back to her and asked for her name.
6 months ago Jawr
This is probably the best Ralph's in the area. They don't have shallots. Why don't you have shallots? Very diverse with the Asian selections. I am impressed and will always come back.
8 months ago Nancy Marshall
I literally love Ralphs. There is always so much in stock and a big variety of healthy food and different meats. Also the bakery always looks delicious and the salad bar does as well. I can always find everything I need here. Parking is also very easy. I cant wait to go back next monday.
8 months ago wally bank
Been going to this particular Ralph's in the Westwood village area (across from UCLA) for several years now and have never had a problem. But my last visit into town I found a product that I've never seen anywhere else and decided to buy it. Got it back to the motel and it was stale and 2 months outta code. I work in the grocery business myself and figured it wouldn't be an issue. I went back the next morning and tried to return it and had other purchases to make and got given the suspicious eye since I had no receipt! I understand policy and such but I was given a little bit too much flak for this. Especially since I just wanted a replacement and to buy other items. Of course there was no replacement available since their whole shelf was out of code! Which I explained to them and they dismissed me! Finally after a chat with a manager they gave me a refund in the form of a gift card of which I promptly headed to Starbucks! Gonna be a good day anyway! Still love the selection and the convenience of such a huge store being across the street from my hotel here! The customer service is kinda meh though!
7 months ago Keeshateachphet Kalaspi
I am a big fan of this Ralphs! Very friendly staff and it is quick and easy parking. Very clean and kept up nicely. Great variety of all kinds of food in multiple different brands.
10 months ago jossie oyoque
Ralph's is a solid grocery store but I hear from the employees that this location is particularly bad management wise and they have to work too hard for far too little compensation. But nice deals if you have a Ralph's card.
5 months ago Chandana Mishra
Yeah, totally terrific! The grocery store has so many things I like, and I enjoy going there to buy treats. Nice interior as well. They are seeking to provide us with the finest quality that satisfies our needs. I'll never forget to tell my friends and family about this grocery store for sure. I'm sure I'll drop by here again!
1 month ago Christian Montalvo
I love this Ralph's very huge and has a large selection of alcohol. Champagne and exclusive alcohol such as Ace Of Spades, Don P and More. There is also a Starbucks inside for coffee lovers. Free parking to the right of the street if you can't find street parking. Enjoy, watch out for long lines at night college student crowd the store at night. Enjoy
7 months ago Tengbeh Fallah
I had wonderful memories and good times when I was shopping in this store. Their staff is courteous and welcoming. The quality is of the highest quality and the products are competitive. Thank you very much!
4 months ago lynn smithson
Awesome selection of produce!
10 months ago DARKZOND GAMING
Best Raphs in the Proximity to UCLA, my Alma mater! The Sculpture garden and Mildred Mathias botanical garden are very close!
8 months ago Breher Meier
It's big with lots of high end as well as student items. Good sushi bar as well as a decent prepared food bar and salad bar.... they fry your fish for free when you buy it there. Oh yea, did I mention there is a bar inside the supermarket!
9 months ago Greg Godfrey
Good store with fare prices
5 months ago Sara Nygaard
Very spacious and features with a variety of products and it is very in front of UCLA.
10 months ago Ashleigh Zouzalik
The greatest store ever to be! It's a big spot. All the things and goods you're looking for are here! Both vendors are kind and kind to their clients! Keep up with the good job!
3 months ago Carlos Arroliga
Extremely rude staff at the entrance, questioning me about my need to use a shopping cart, while I literally just walked out of the store and wanted to return the cart. The exact words from this old white male staff were "can't you carry these things without a basket?", said with a passive aggressive attitude. I get everyone wants less workload but this is just ridiculous and unprofessional.
6 months ago Divya Khosla
Love this place has everything im looking for great staff, deli is great.
4 days ago Dmitry Kadett
Store clean and employee know where things are at if you need help
1 week ago Sonya Williams
They don't take apple pay in stores and always mess up pick up orders.
4 months ago Erika Bissonette
Lots of choices. Can get pretty busy. Prefer TJ for most of my food, but come here for random stuff TJ doesn't have.
11 months ago Cheyenne Dwyer
Great produce, good selection and good prices. Music is usually pretty pleasant.
4 months ago Kat Rinehart
Large store with a great Asian food aisle. Conveniently open 24 hours and with a large self-checkout area
4 months ago Luis Calderon
It's a great place to shop for everything
10 months ago SoulFire Productions
5 star chicken tenders
9 months ago Tina Sellers
Nice cashier's and o found everything I needed
4 months ago John Messeder
Great store it has everything you need
1 month ago David Roark
Mr. George at Produce is super friendly and bilingual with fluency in English and Spanish. Morning senior hours. No line. Support local merchants.
10 months ago Jag yanan
By far thee BEST Ralphs w/in the entire franchise. Seafood can be fried up request, Fresh suschi made daily per AFC corp., open bar as if your dining @ Friday's, Private walkin wine cellar, fresh juice bar, & to top it off quailty electronic kitchen gadgets. #GotMyEntireLife @ the market ????
9 months ago Heather Willer
It's a fresh fare and it's far superior to virtually any other supermarket in its class (according to jd powers and associates, nah nah I kid) and the quality of foods and availability of organic and gluten free etc, far exceeds, say Vons on Sepulveda @ national - now sure I'm biased cause I've lived close by for as long as it's been there (actually much longer as it used to be a Bollucks and well...) and I have a sentimental connection to Westwood in general - this also means it caters to the large percentage of customers that are students at ucla - now, I don't give 5 stars unless something is phenomenal, however (and this is the takeaway), the employees are second to none IMHO, and always are personable and willing to go above and beyond - nuff said
1 month ago Tom Oswald
This place is such a great neighborhood store. It's small but mighty. It's chock full of great produce and all the basics you could need. They are also very accommodating to any special orders. I'd say the meat section is not their strength but you can find decent cuts for your basic needs. Customer service couldn't be any better. Great place.
10 months ago Jarda Bed
Awful service like all Ralph's Only stupid person go here
3 weeks ago Jennifer Cunningham
Great store, Westwood,, Employees are always gracious and helpful. You are my "go to" store. Thank you all for being there on the front lines for all of us. You and your families, stay safe!
8 months ago Phil Petersen
The best Ralph's in Los Angeles. It's clean, organized and huge. you can find anything here from good fruited, flowers and etc and fresh foods and juices. I like their sushi's as well. Overall this location is my favorite.
8 months ago Elmo Rondon
The best Ralphs in the area!
4 months ago Delfin Balasabas
Horrible experience. Do not have standards of six feet apart at the self check out. Ruby, the manager does not see it as important and if you question she will try to have you escorted out. Six feet. You say you value your customers, self serve should be every other one open.
5 months ago Marion Dunne
It's very big.....filled with everything you could even want inside of a grocery store. You can even select and grind your own mix of coffee beans. Produce and meats were very fresh and looked amazingly good. Great customer service from every associate/team member that was there, from the stockers, cashier, or maintenance. They were all very pleasant and I completely enjoyed my visit today. Thanks Sincerely, Kashmir
4 months ago Joseph Abdallah
The only place off-line to get great deals and good honest advice on nutrition and fitness products. Never been duped always been helped here. End up shopping at least twice a month. I'm a regular.
7 months ago Sandy Valyou
One of the biggest Ralphs I have ever seen! Comes with a sushi bar and fresh sushi to be eaten, a smoothie and juice bar, and a beer and wine bar! The staff is always friendly and helpful. I love using the free Friday coupons for a free treat! The selection of produce and other products is great. Also, their bulk foods section has a lot to offer. Will miss this if I ever have to move! Plenty of parking in their lot and they're understanding about lost tickets with a receipt in hand :)
8 months ago Gary Gibbs
Customer Service was on fire today! They stayed on the phone with me top help me with my issue even while I could hear the fire alarm going off in the background.
5 months ago Willie Peloquin
This Ralph's is heavily used by the UCLA community, so expect the crowds here to be younger. Parking is easy through the attached lot. The staff here are friendly, things are kept pretty clean and the lines tend not to be that long.
7 months ago kata vikas
Close to UCLA so this is a good place to grocery shop. I used to live by the Ralphs in Culver Center which I can name every Ralph's I've been to recently are all better Ralph's Wilshire Blvd & Bundy Dr . Lincoln Blvd in Marina Del Rey . Years ago I believe that was a Boys Market. Top of the line in the 80s . And the Ralph's on Burbank Blvd & Van Nuys Blvd are all 4 ???? Culver City maybe 3 ???? im being kind ????????????
6 months ago West End
This is the most amazing grocery store I've ever stepped into in the United States. It's a blend of Whole Foods, Trader Joe's, and Target combined. They have a huge selection of ready made foods, including sushi, two huge hot buffets, salads, soups, sandwiches, burgers, yogurt, ice cream, and so much more! They have a huge selection of groceries, supplements, and house goods. There's even a bar in the back of the store! I wish I lived near there, because I won't shop anywhere else.
10 months ago Chilli Dee
awesome store. great selection of fresh vegetables and fruits. the deli area is great too. I had a tuna sandwich on wheat breast with avocado. the tuna was albacore. the avocado was fresh too. plenty of free parking here with free validation for two hours. this is one of the cleanest locations I've been too.
10 months ago J P
Homeless occupying the luncheon area making it un-usable by paying customers. On going issue with this store in particular. Perhaps managers need some motivation
8 months ago Michael Grenzicki
I like the selection of flowers at Whole Foods. Much better than, say, a Safeway. Also, the person who reviewed this floral department in terms of watching a man dump food back into the hot bar area: 1) that is not the floral department; and 2) I don't think it is Whole Food's fault that some dumbass decided to do that (it could happen anywhere) and you should have then reported it to the nearest employee who could then remove the tainted food.
7 months ago Steve Raglin
Excellent store deserves the 5 stars for sure except the pharmacy is the cheapest around so all I hear is "we can order your medication if you'd like itd be here next week". Apart from that there is plenty of Bruins gear to go with the college campus. Wide selection of alcohol, fresh hot food, and even different places to chill out and relax in store. Starbucks, sushi bar, small sports bar, and Asian fusion freshly cooked and ready to eat food. By far the best Ralph's I've ever been to. Even conveniently located below a Target to make shopping that much easier. And thinking about it I will rate it 5 stars because of the customer service where is the pros all will outweigh the con of the store.
7 months ago George Horak
Great selection of alcohol. Only place in west LA that I've been able to find twisted tea in 12 packs. Good music playlist. They also have really good deals frequently, especially if you get a free Ralph's card. There are also good deals in the back! Check there for cheap baked goods, and random things you'll regret buying later.
9 months ago Sal Suarez
I believe this is the best Ralph's on the westside of Los Angeles. Every possibility for food imaginable. Best to shop early mornings because they run out of foods on weekends and around height of everyday shopping times 3:00p.m. to 6:00p.m. Parking is limited too and you can be stuck in parking lots for 30-40 minutes when there is no attendant because often you have people not validating their parking tickets before leaving the lot. This can be a real PIA. UCLA degree but cannot maneuver how to exit the parking lot...this is the cost of that education currently!!!
1 week ago zach urling
Had a great shop in Ralphs. Can certainly say I feel like a valued customer! Was assisted in getting some meat that I was unable to find on the shelves and was offered a delicious free sample. Said meat also was absolutely SCRUMMY so will definitely be returning for more. Sometimes the prices can be a bit more than other stores, like Costco for example, but you pay for quality and service, something you aren't promised in Costco. Will definitely be visiting again very shortly and doing my weekly shop here.
9 months ago
Popular places from the category Grocery store