Luther Brookdale Chevrolet Parts Department
Auto parts store Luther Brookdale Chevrolet Parts Department, 6701 Brooklyn Blvd, Brooklyn Center, MN 55429:
220 reviews
of users and employees, detailed information about the address, opening hours, location on the map, attendance, photos, menus, phone number and a huge amount of other detailed and useful information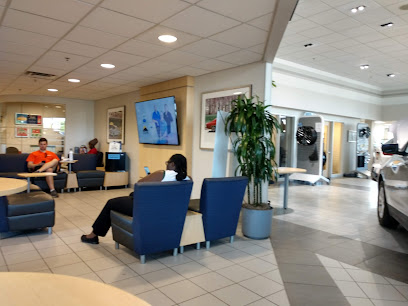 Address:
6701 Brooklyn Blvd, Brooklyn Center, MN 55429
GPS coordinates
Latitude:
45.0771604
Longitude:
-93.3347275
reviews Heather Staples
I met a group of very pleasant folks who knew what I would like and delivered it. Their level of professionalism and quick response was top notch. I enjoyed meeting and buying a Vehicle from them. My new Tahoe is absolutely awesome and I couldn't have found a nicer one anywhere else. Thank you Kevin and company.
9 months ago David Godines
Adam and Corey were great to work with. Adam kept me posted on my truck's timeline as it came from the factory, had all my documents ready when it arrived and answered all my questions very quickly. Corey made the finance process extremely simple and painless. He did a great job helping me find the appropriate extended warranty that would meet my needs. This was hands down the best vehicle buying experience I have ever had!
9 months ago Cameron Honig
I had a scheduled oil change, and it took 2 hours to complete. After an hour or so I had to inquire about what was taking so long and was told another 40 min. I was also informed that they couldn't get my valve stem covers off but they checked the air pressure anyhow (how is this possible?). As I was leaving a service representative came out due to overhearing my phone call and offered me a free oil change for next time. That was nice of him but I was only at a Chevy dealer due to my normal technician needing to cancel last minute and me needing an oil change asap. Not sure when or if I'll return for my free oil change, maybe I'll save it for an emergency situation. Waiting 2 hours for a scheduled oil change is ridiculous, I was late to my other obligations that night because of it. I should've just asked for that one to be free.
8 months ago Katie Wasinger
Eldon, Terri, and Lance made this buying experience amazing!!! I traveled 2.5 hours away and all were extremely friendly and prompt. All three offered a no pressure approach that was top notch. I would recommend anyone to the Luther family to purchase a new or used vehicle!!!
9 months ago Theresa laumeier
I have been doing business with them for years and have always gotten great service. I will continue to do service with them.
8 months ago Lindsey Peterson
The only reason I had a 5 star experience is because of Alan. He was welcoming, kind, ensuring and his customer service was just absolutely amazing. However, the sales people on the floor needs some training on how to greet and assist customers. No one on that floor spoke to me despite seeing me curious about a few vehicles. At one point a couple walked in and a sales person said 'you guys look serious, he can help you' as if I was a complete joke. It's time to retire my current Chevrolet and out of loyalty I was looking into getting another GM. I'm glad I had that experience because it made me go home and do research and now Toyota, Honda or Mazda seems like they will be a better fit for me and my family. Alan, thank you for your great service!
11 months ago Steve Hullcranz
The customer service is the worst I've seen. Upon arrival, no one comes up to you to greet you or to instruct you. The workers are dealing with numerous customers at one time, which barley give them time to throughly explain information to you. The employees are impatient, dismissive, and show POOR customers relations it's embarrassing. I've given this dealership numerous chances and I will no longer spend my money here or recommend it to anyone. I will avoid at all cost. Every time I come, the diagnostic is introducing "new problems" my car has, and then the next time I come in, it's all of a sudden in good condition. Doesn't make sense, and to me it's a scam just to try to get more money. It's ridiculous! Work needs to be done with new training on your employees and how to show professionalism.
9 months ago jose oropeza
The Tech was very pleasant, and was ready to take the time for any of the questions that I had. He explained in detail of what had taken place for the visit. I am happy with the service provided and will continue to come back for future visits.
10 months ago leonardo zarate
First of all, my appointment wasn't in the system even though I received a confirmation email, the Tech guy wasn't able to find it, and it took 2 hours just to start working on my car, I kept calling for 1.5 hours and there was no one to provide info, this sucked at all levels.I asked for full inspction, The team missed 2 important issues. This is the worst customer service level I've seen
9 months ago DanceJuan
I came to this dealership after a terrible experience at another local Chevy dealership. I worked with Alan Hammond and he was fantastic. He was very knowledgeable, friendly and honest about the service my car needed, the warranty coverage I still had on the vehicle and what to expect about the service process. In the end nothing was wrong with the car, when the other dealership was going to have me pay $375 for a part that would have been covered but was not even malfunctioning. If you are looking for honest and great service, go to Luther Brookdale Chevy!
5 months ago Carl ReZDoG
The person who helped me was awesome. He was super friendly and brightened everyone's day.
9 months ago DL Chapman
Dani was amazing, I didn't catch the sales managers name but he was great and stylish too. The trade in quote was beyond fair and they worked for me to make sure that I was able to explore all the options I wanted too. They ran the numbers so I could compare them and make a final decision. Over all I will always recommend Dani to friends and family looking for a new/used car.
3 weeks ago tom moss
Quick oil change is anything but quick. First appointment was for August 10th at 9:15 AM I was told the wait time was over 2hours I knew that if this was the time frame being told I knew it would probably be much longer. So I cancelled that time and remade an appointment for August 17th at 9 AM this only took 2 hours; as I said not very quick. Why bother with appointments if the mean nothing.
9 months ago Kam Powell
I always love coming to your dealership everything always goes smooth and without incident. You're a little farther away than places closer to me but I don't mind driving the extra miles.
9 months ago Autumn Bodnar
Nick, my contact at this location does not seem to be a "people person". The first time I got my car fixed, I was without a car for 2+ weeks with no rental because they were trying to figure out if my car problems were under warranty. They thought the problem was my battery, so I paid to have that replaced. They notified my that the battery wasn't the issue, but I never saw any money back for that. It took my car 2 months to get the problem fixed. The same problem has already happened 2 times since then, and has had to be towed to the dealer and be resolved again. Luckily, they gave me a rental car for a little while my car was being fixed. Nick seemed sort of inconvenienced (lol, me too) at my car having problems and having to be fixed. Unfortunately, this is really my only option of locations to get those car problems fixed since it is a hybrid.
9 months ago ALEX WALCZYK
I brought my car in for a complete check for warranty and was very pleased with the communication from the dealership. Halaina did great with answering all of my questions and left clear instructions on the next steps.
10 months ago Daisy Goh
I got the oil changed, tires rotated, and the cabin air filter replaced on my vehicle. The service was quick and competent, as always. What I most appreciated, however, was the expanded customer waiting area. No more crowding together around the TV. The dealership has added a number of tables and chairs, and social distancing is a lot easier than it used to be.
2 months ago Guadalupe Gonzales
First service visit for my current vehicle. It was very quick and I experienced the same treatment I have always had there. I greatly appreciate it.
11 months ago John Ordovas
Easy, I didn't have to worry about the issues with my vehicle, Thomas kept me informed the whole way.
9 months ago Krista Hershberger
Everyone was friendly, caring, helpful and informative. You all made a very difficult time for me much easier with good advice and great choices! Thank you to everyone! I highly recommend Luther Chev!
1 month ago Benjamin Moore
My sales person was great! She was very friendly and fun to talk to. Dani made buying this SUV a remarkable experience.
11 months ago Elliot Schwartz
Orlando Post and Corey Ramsey were amazing to say the least. Very professional, friendly and knowledgeable. Both are a great asset to Brookdale Chevrolet. The whole process was quick. I will be back!
2 weeks ago Gary Meservey
The service representative did an outstanding job for me. He worked with the mechanic to verify what repairs were needed. This allowed me to make an informed decision. I chose not to complete the repairs. This is the second time I have need to replace the timing chain and gears. To repair it again means there will be a third time this repair will be needed. GM corp knows about this problem with the timing chain. I am informed it is an inadequate oil pump which allows the engine to run too warm. GM could fix this. But they chose not to fix it. they do not inform the consumer about this problem. Shame on them! "A fool and his money are soon parted."
1 month ago Teresa Renfrow
The salesperson was not pushy. Showed me exactly what I was looking for with lots of options. Also got a decent amount on my trade.
2 months ago Dan Roesch
Moses was amazing! He was friendly, knowledgeable, let us decide with no pressure. GM did trade in came in higher than expected Got the paperwork signed, the finance person had us in and out. Perfect experience compared to other dealerships. Would definitely recommend Luther Brookdale Chevrolet and Moses!!!!!! ????
1 month ago Andrew Miliaresis
Dave Healey was excellent to work with. Very knowledgeable about the vehicle we were purchasing and we completed the transaction with 15 minutes. This is the second vehicle we purchased from Luther and the experience was solid was again.
11 months ago Emilija B
Came in for a routine service. Was in and out very quickly. Service tech was very polite.
9 months ago Ashley Mittag
Had a great experience. Zachary Miller was very knowledgeable, explained everything to me and got me in and out very quickly..
10 months ago Andrew Allen
Lance Vadnais was his name , he was a very excellent dealer, he was not pushy about his sales, we talked, and he Helped. We got to know each other, in this time Frame of buying our Beautiful Tranvese automobile, it's perfect ???????? Lance took the time to help my Husband health concerns Due to his Back problems, this Automobile is a blessing. I'm Glade Lance showed it to us ... Great Guy Now I love Luther Brookdale Chevrolet :
2 weeks ago richard french
Zach Miller was great He will probably be running your dealership within a couple years
9 months ago CHARLES OSBORN
I needed a 2021 Chevy Trax. However, they were hard to come by at the end of the model year. I found one on the Luther Brookdale Chevrolet that was "in transit," so I connected with the online chat box and requested a price quote. Very quickly, Derek Waddell contacted me, and I arranged to put a deposit down to hold the car. There was excellent follow-up to keep me informed of the status of the car. On Saturday, August 14, I took delivery at the dealership, meeting Derek for the first time and paying cash for the vehicle. Every step of the process was smoothly handled and everyone I met at the dealership was friendly, helpful, and efficient. In a time when new cars are scarce and used cars are too high-priced, I was very pleased with how Luther Brookdale Chevrolet met my needs and got me the car I was looking for. So far, I'm enjoying the Trax LS AWD very much. Good Job, Everyone!
9 months ago lenry austin
The interaction from beginning to end, what needed to be done, the process of how it was going to take place. My customer service person (Casie) was great !! He kept me informed and more importantly, my vehicle was completed upon the day he said that it would be. I can't speak for other people but to me that says a lot.
5 days ago Jessica Key
Considering the cost to repair our car it was a difficult decision to make-fix it or ditch it and look for something else. Our advisor, Casie T., was wonderful. He provided full details and answered all our questions to help us make a decision. We decided to fix the car. It took over 2 weeks and nearly $10,000. Casie continued to stay close with us. We felt he was really concerned for us. I'd go to Casie for help any time!
6 months ago Naman Jalan
I had to have my car towed in and they were quick in getting back to me as to what was wrong and what the cost would be. they also called me that i needed my warranty work done. they completed all of this and then they called when they done and explained about the charges and what they were for. very polite and pleasant to work with.
2 months ago Sebastian Smidt
My car was in and out in a timely manner. My advisor was friendly, courteous, knowledgeable and professional.
10 months ago Marissa Perez
Muffy is the most helpful person ever!!! He always makes sure the customer knows exactly what is going on and goes above and beyond in all aspects. I bring my car here every time I need work done and they never fail to do an amazing job and keep you in the loop.
1 month ago Ben S
The technician was great - he test drove the car w me to find the problem. The young man at the desk when I checked in was great - he checked in w me several times. My issue is the cost & the final result was "nothing is wrong".
4 months ago Vanessa Pulliam
Collin is amazing. So helpful and extremely knowledgeable. Helped me find a discount for my oil change and explained all the items on my bill.
1 month ago n john
Service was great, got me right in the door got the car done and the time allotted and did it all with a smile!
10 months ago Astrid Hernandez
Very pleasant and listened to what I was there for. Took a little longer then I expected, but very nice.
11 months ago sandy bottoms
Cody was very helpful and gave great service. He was honest about the work that needed to be done. The only negative is the worker removed my glove compartment and didn't replace it. I live 15 miles away and didn't notice it until I was home. I had to go back to have it put back on. Cody was very understanding to my situation and took care of it for me.
4 months ago Trent Bontly
We had an overall great experience at Luther Brookdale Chevrolet. We happened to be there on a day when they were extremely busy, so it took much longer than we planned or expected. The customer service was great, and the process itself was fairly painless. I would definitely buy another vehicle from them.
3 months ago Kelly Ibelegbu
Disappointed I brought my vehicle in for routine maintenance. Within a couple of days began having problems. I've brought it in several more times with essentially the same complaint and no resolution. I've now spent approximately $4,000 and am still having the same issue. Afraid to take it back because I don't want to spend more money on a vehicle that was working fine before the scheduled service. The service advisor has been great helping to bring costs down. But I've lost faith in the technicians. Update: Cole, Service Manager, reached out to me from the service department. He had me come in and meet with him and Troy, Tech Supervisor, to take my truck for a drive. They corrected the situation and as of this moment, my truck is running good.
6 months ago lauren larty
Always a pleasant experience. Everyone is friendly, safe atmosphere. Repairs done in timely fashion and done well. I won't take my car elsewhere.
1 month ago Leah Rampling
My appointment went smoothly and took less time than I anticipated
9 months ago David Smith
Salesman was great! Wasn't pushy, let the truck sell itself and answered all my questions.
2 weeks ago Lord Kapacita
My Equinox had a service battery light lit, advisor Alan Hammond helped me by directing to a service special deal add for ACDELCO GOLD battery, I stayed at shop until vehicle was ready, about 30 minutes later Alan informed me my Equinox was ready. I am very pleased with the assistance choosing the battery and my getting vehicle into service ,as well as the work/speed of the service techs, thank you
4 months ago DanceJuan
Casie was so patient with me and did such an amazing job advocating with the warranty agency for the work that needed to be done. He was great with communicating the progress of both the approvals for the work and status of the work. I appreciate all he did!!
8 months ago Ariana Davis
The salesman was very frustrating. He didn't know much about the truck I bought. He always said, "I'll have to check on that." Also, when texting or emailing, he would not answer questions accurately or in a timely fashion. When at the dealership as I was working with a guy on the purchase agreement, the service gal came in and talked over us, and she didn't stop until all her questions or whatever was done. It was rude and on top of that, at her desk, she couldn't tell me with much authority what I could not find online. I mean I was pointing things out to her on her screen. Ugh. The finance guy, Ted, was the only real person I was completely satisfied with. He followed up calls, explained things clearly, and was efficient, yet patient with me in the process of finishing the Purchase Agreement.
2 months ago Alex Greenlaw
2015 Chevy Sonic in for five days to Luther Brookdale Chevy, Brooklyn Park MN , said it was fixed, Charged $2000. and when I drove car out of lot and onto freeway, "immediately" same problem. Car was not fixed!! . Brought back right away, got shop foreman to ride with me and he experienced problem first hand, got the car back to mechanics, and now, I'm waiting… after another four days of working on it I was told they still haven't figured out what is wrong. Thankfully I got a rental car when I asked for one. But I need my car fixed and IF IT DOESNT RUN WELL when done" , I want my $2000. back! Thanks— I hope someone actually reads this and reaches out to me personally regarding this experience
10 months ago
Popular places from the category Auto parts store