H&R Block
Tax preparation service H&R Block, 8942 MN-7, St Louis Park, MN 55426:
193 reviews
of users and employees, detailed information about the address, opening hours, location on the map, attendance, photos, menus, phone number and a huge amount of other detailed and useful information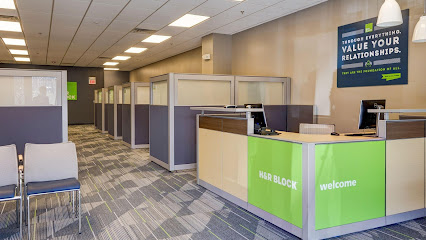 Address:
8942 MN-7, St Louis Park, MN 55426
GPS coordinates
Latitude:
44.9375656
Longitude:
-93.3926225
Location on the map
Reviews mohammad qatalo
They did a great job but not the best on communication. They needed a form I dropped off what I thought was the correct form and since I never heard back for weeks, I called to check on the status of my returns and found out they needed a different form. Once that had been emailed the response was great. I could have had that to them sooner had I been informed they needed a different form right away.
6 months ago Johnny
They did my taxes today and was very efficient and my refund was more than expected! I'll be back next for sure!
9 months ago Ryan Jenkins
Easy to set up meetings using online structure. Made a difficult process simple.
5 months ago Jeremy Parks
Thanks Angel for very well explaining how to use the app. I learned alot in a very short amount of time. AWESOME customer service.
8 months ago Madeline Root
I am a new small business owner and wanted to talk with someone about filing my quarterly taxes and get some guidance on how to do it correctly. I do understand it is tax season which can be very busy and stressful, but I have never in my life been met with such unprofessionalism. The "tax professional" helping me was rude, short, and huffed a lot. She never even tried to help answer any questions that I had, and just told me to go to the IRS website and file my estimated taxes myself and that was it. That was not what I was looking for at all.
2 months ago Baijunath J
My tax person is absolutely wonderful, honest, fast and efficient. He always provides me with great advice. Making an appointment was very easy and didn't take much time at all.
10 months ago Cristina Cheever
Angel got me what I feel is a maximum refund and she help give me knowledge on how to improve in the future by tracking.
6 months ago Alison Cunningham
Why I am going to file taxes with them, I thought they are knowledgeable, they are tax attorneys they know lot but it seems they know the details what available in internet. What gives me , i have few questions but I didn't get concrete answers. I don't see there is no value filing tax return than filing yourself if you are on W2. So why they need to charge more I don't see value.
2 months ago Mickey Shepherd
Peter was very quick and responsive. He did a great job with my taxes.
8 months ago John Moore
I have never been treated so bad in my life! I m helping a lady and she needed to sign some paper work and we made appt a week head. I we got there 10 min early and she has some Oxygen tank was low so I went in to ask if they maybe had a opening. The guy was very rude and said he was running behind and would not be ready at 4. So I said ok just trying to see if I can bring her home what time to come back he was very rude and said he had more clients coming in and was books. I said ok we do have appt at 4 in 10 min so when can we get in just to see if we had time to run home vs wait he there and he said he did not know and walked away!!! We were not late and asking to fit us in we were 10 min early and he was running late. Ok I get that but we still should have been next. I was happy to wait but he walked away!! So rude I can not believe this
8 months ago jarred talbot
The service was excellent. My agent, Lisa Lang, was knowledgeable and personable. So was the receptionist.
9 months ago derek hill
Because your company provided fast and good service. I didn't have to wait in line and the person who did my taxes professional and explain things to me.
10 months ago Zahruujaabdalla
Very great customer service
2 months ago Fer Perez
Do not use a tax the Tax "Professional" option and definitely do not use Stephen Grubbert if you do. They claim that this option cost $69 but after a horrible and time consuming process they will end up charging you over $200. When asked why it was so much he claimed that the minimum to file federal is $69 and to file state is $65. I have been doing my own taxes for years and it does not cost that much anywhere to file these, half that at most. When I refused to pay the amount that was also not made clear from the beginning I went and did my taxes on my own. I ended up getting twice the amount of a refund at a fraction of the file fee using TaxSlayer. Do yourself a favor, save money, time, and get a bigger refund by doing it yourself. The guy even tried calling me belligerent in message after I confronted him about how poor of an experience I had with him asking to correct the inaccuracies and deceptive marketing. I feel so disrespected I may have to take this further than a Google review...
10 months ago Cpt Dave
Angel is an angel . Shes kind, responsive , and I trust her to get me the best return.
9 months ago Kris Lexus
Trustworthy and ability to work with tax professionals. Andrew Jensen is the best.
9 months ago Amanda Marie
The entire process was seamless and got me to the right place with my taxes.
2 months ago Gabriela Romero
Everything was done quickly in the final days before 4/15.
8 months ago Jenn G
I hust H&R block And they always get.the best refund even when I think I didn't I do lol it's nice ????
10 months ago Lorenz Mager
Josh is very good at what he does. He is very transparent and efficient.
10 months ago Jenny Pooh
She was nice and very good what she do no complaints ????
9 months ago Adam McKenzie
The worst customer service I've ever experienced at any sort of business. Rude, extremely unorganized and unprofessional. The man that did my taxes was very nice, but the 3 other employees I dealt with on the 2 different occasions that I had to stop in were terrible. Go elsewhere to get REAL professionals, don't waste your time here.
10 months ago Jeffery Ledford
Andrew was very helpful, knowledgeable, and patient towards me. Great guy.
10 months ago line wri
Terry was a wonderful person. Friendly and professional
8 months ago B Rodriguez
Josh was very thorough!!! A real TAX MASTER. AMAZING CUSTOMER SERVICE. THANKS JOSH!!
11 months ago Jake H
Customer for years. Harry has many years of experience. Harry is the best.
1 week ago Nicole Spencer
I love H & R Block! Friendly, efficient and very knowledgeable
1 month ago Gianna Filaou
Cuz the tax professional was great at what she did
9 months ago Erin Benado
Taxes were screwed up and documents were lost after dropping them off
5 months ago allison burns
Prompt service and reasonable prices.
3 weeks ago Carlos Milan
Angel served us with total professionalism.
9 months ago aysu ozan
Mr Anderson is highly professional tax preparer.
11 months ago Yuvraj Mamupuria
The wait time was minimal , and the fee reasonable
9 months ago Susan Montague
They are so unorganized. They cancelled my app last min for no reason. Maybe she just wanted yo go home o was her last client and it was a Sunday but very unprofessional.
2 months ago Camden Bock
I gave the highest score, as I already have made my appointment for next year with Andrew Jensen, my Tax Professional who I have had for years. Andrew is the best Tax Professional I have ever had in all of my years of going to a tax consultant. He makes sure that I understand all that is that is taking place in considering my taxes, explains everything very carefully, and makes sure that every detail is covered. He also is an extremely friendly person with a sense of humor, plus he is very honest, humble, and makes his clients feel important and that he cares about you as a person, always wishing you well. He is also very knowledgeable about all of the new tax information that is out there and explains any changes in the tax laws in terms that his clients can truly understand. I also enjoy going to the St. Louis Park, MN location as the entire staff there is always friendly. I was welcomed and had the door opened for me by Keith, the front desk manager and he did a fabulous job.
5 months ago McCall Grosso
Always friendly show the best customer service
10 months ago Robin Stansell
I liked Janette and she did a great job and got me more of a return than I expected! Outstanding service all around!
3 months ago Pete Miller
Josh was very helpful and easy to talk to
11 months ago Debbie Davison
Andrew Jensen was very talented and knowledgeable
9 months ago jesse rodriguez
My taxes were done fast.
11 months ago mylife spa
Quick,fast and done right!????????
1 month ago Herbert Patterson
Katrina is a great person to work with.
9 months ago Mark
It was very cold and windy outside. The building was not. That was pleasing. The bartender was a flirtatious cyborg, who provided me with a beverage. I asked for no ice, but it malfunctioned and began creating it in abundance. It politely denied my attempts at refusing more ice, and within minutes I was encased in an icy tomb, with a flirty cyborg. It was then that my tax professional Sandy arrived, with two ion-beam drill hybrids to free me from my demise. Then she did my taxes. Consider coaching the cyborg.
2 months ago Wolfe Hayashi
I like the service, and how nice and helpful everyone is
2 months ago Levi Thayer
Katrina was great again.
8 months ago Jacob Oliver
Fast and easy and friendly
10 months ago Chantel Cable
Ms Barbara Lunde is very Professional
1 week ago Amy Sandy
Affordable pricing to prepare taxes
4 months ago Amethyst Evans
in and out fast - reasonably priced - great service - staff all pleasant - keep up the good work
3 months ago Oscar Sarmiento
Angel was outstanding!
7 months ago
Popular places from the category Tax preparation service