Fleet Farm
Department store Fleet Farm, 1935 Levi Griffin Rd, Carver, MN 55315:
220 reviews
of users and employees, detailed information about the address, opening hours, location on the map, attendance, photos, menus, phone number and a huge amount of other detailed and useful information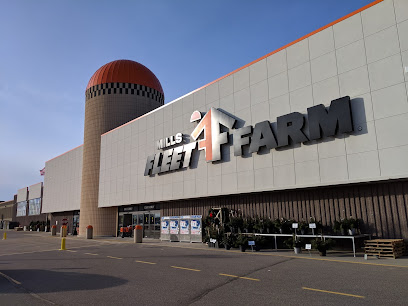 Address:
1935 Levi Griffin Rd, Carver, MN 55315
GPS coordinates
Latitude:
44.7796751
Longitude:
-93.6516316
Location on the map
Reviews Josh Morrow
Everything you need and more. Clean store. Friendly workers and decent prices.
4 months ago Art Moreno
I had tires/shocks/alignment done recently. I'm confident in the techs and staff. Always a great job at a fair price!
5 months ago Travis Beabout
Prices are great, but inventory management is horrible. Your best bet is 50/50 if they have something on the shelf when you go. Even if they have it, it may not be organized well. The plumbing department is probably the worst, I've gone back there to look for fittings, and you have to dig through a pile to maybe find what you need...
5 months ago lynn smithson
Whenever we visit MN, we stop for nuts. They have the best selection. Their selection of kitchen items and wild bird food is excellent too.
6 months ago Ron Mayfield
Fleet Farm has the stuff we all need. It may not be the fanciest, but for essentials- they have it. Ran in today to grab a meat grinder when the first grinder I bought at a fancy store broke.
5 months ago fred monahan
I miss the "old" fleet farm???? Employees are still real nice and helpful, but store often seems out of stock in many areas. Is also unorganized; and with messy shelves, missing pricing etc. Since sold to the investment firm in 2016, and no longer run by the Mills family….just isnt the same store anymore
6 months ago Barbara Shutes
Used to love this store. Not any more. While many other store have done a pretty good job of recovering from the pandemic, it looks like Fleet farm is not putting in any effort. I was there yesterday looking for a couple of things. A milk crate for one. I went by the farm and ag area, there was nothing. I tried finding someone to help and the place looked deserted. So I switched gears and went to find a 2 cycle oil measuring bottle. Went to the marine area and nothing. I again tried to find someone to help, and again deserted. After walking isle after isle to find help I eventually went to a cashier to try to find a milk crate. They said it was in office supplies. Ok, that's a sensible area to market. I walked down every isle twice and nothing. Looked to see if I could find someone to help and again the place was deserted. I usually never need help finding what I need, but it was one of the most disappointing experiences I've ever had at a Fleet Farm. The investment company that bought Fleet Farm is obviously taking a toll on the effectiveness of the store. I will have to be pretty desperate to go back ant time soon.
6 months ago Beth Caruso
Nice store. Usually have what we need for our livestock. This trip, however, hardly any calf grain, and the cat food prices are higher than our local Target. Very disappointed.
6 months ago Brady Bailey
"The Man Mall" never disappoints! (My first job off the Farm in WI was at a Fleet Farm so I may be a little biased) I love Fleet for yard tools, odds and end items you can't find anywhere else and animal products are the best. I just found some large animal clippers that work way better on my dog than the light weight whimpy clippers at the national pet stores. Love FF!
2 months ago Brad Phillips
Nice Fleet Farm, most in the area seem to be pretty good. Like every where else hurting for workers.
5 months ago krishna ambati
I wish they could stay more stocked in the fishing department. I love going there but hate seeing everything empty.
7 months ago Manolis Vitsaxakis
Car wash is junk. Nobody in it says in use, takes money. Call for attendant. Says they will be right out. 4 times. I'm done with you car wash.
4 months ago Tesela Dutton
Everytime I come here I hope for a better experience but I am consistently disappointed. I think they are understaffed and the staff they do have is not helpful. Nobody ever knows anything except for the one front desk lady
7 months ago Anthony Court
The workers were super nice but they didn't have all the outdoor items i thought they would. I found a few things i didn't expect though.
5 months ago Hanna McKellar
I usually only buy motor oil at fleet farm when they have a sale.
4 months ago Joseluis Garcia
Decent store, nice people, no ammo available, but you can't find it anywhere.
8 months ago Resmiye Demir
Staff was great, got everything I needed with little hassle... Thanks to the automotive department for helping me out.
7 months ago Martha Rosales
Most of the time there is 1 maybe 2 cashiers and the front is filled with customers. Now when I walk in I look at the front end and if it is like that I just walk out. I simply won't waste my time anymore.
2 months ago Darcy Stevens
One more store to take off my list to shop at. Empty shelves pricing not on items and was in wrong location.
8 months ago Eric Roy
Was there early to meet the fruit truck oh, and there was a line of people. All of a sudden the correct fruit truck showed up and didn't know where to go and people were going back and forth in the parking lot on a very hot day! Was not coordinated well with the Fleet Farm people
7 months ago Timofey Lebedev
The store lacks stock in the fishing department. A little sad how much this area has gone down hill since the take over. However, the staff is nice and the store is clean.
8 months ago Brenda H
Good experience. Lots of selection. Food trucks outside. How neat. ????
11 months ago Mary Ortiz
They carry everything I need. Not too crowded and very clean. Fast check out.
9 months ago Graham Wilson
This is my favorite Fleet Farm. They are well organized, clean. The workers are friendly. We used to go to a different Fleet Farm because this store did not carry some of the supplies we needed for our farm. They have expanded what they carry especially for those in the dairy industry.
11 months ago marivelle valerio
Seems to be low stock on shelves lately. Poor customer service. Cashiers received no help from anyone when the lines were backed up with 10+ people in each of the two open lines. Why are there only two cashiers on a Saturday?
9 months ago Chasetoysinc
Seems like other Mills places have a better selection of things.
4 days ago Majesta Heil
Friendly and helpful staff. Store was clean and had a nice selection of items.
9 months ago Jeff Laurinas
Be careful before making decisions to come in the store, online stock items are rarely on the shelf. Shoe/boot department is a mess! Lawn &garden batteries are a farce, never in stock! Bring your patience! This place is only a HAVE to go there anymore, very poorly run and stocked.
5 months ago Manuel Puente
After a couple years of being not real happy with our flower purchases elsewhere, we tried Fleet Farm. Great selection, good prices and good service and help.
8 months ago Daisy Lizada
Looking for a live trap. Associate helped me find one right away. Was in and out quickly. Shop Fleet Farm quite often.
10 months ago Beverly Smith
Place needs to be seriously organized. Nothing is in its spot
8 months ago Brenda H
Great store to get awesome deals on hunting and fishing gear. You can also buy groceries, clothing, pet supplies, and ourdoor/garden supplies.
11 months ago Pavel A
It would be greatly appreciated if they would actually enforce the mask policy which is stated on the sign on the entrance. Each time I go there it seems there is at least one customer not following basic public health guidelines.
11 months ago MARKOWICZ DEFALT
Not the place it used to be when the Mills family owned it. Still handy for many items, it seems more like a target store you can get horse feed and lumber at.
10 months ago wyatt fedora
Didn't have either thing I went there for. Canning lids and a door.
7 months ago Lakshmi V
I had an employee approach me and angrily demand me to lift down a product we were buying so other customers would be safe getting more of the product instead of doing it themselves. Also no flat carts to use, and many items not in an orderly fashion. Everything was in disarray in boots, brands, sizes, and prices mismatched. No employees were reacting to greetings or when trying to get some questions answered. This is by far the worst Fleet Farm I have ever been to, and having owned a farm for decades and shopping regularly at Fleet Farm, this one is easily the worst experience I have ever had. This is our third time to this location since moving from Wisconsin and it has continually gotten worse. Truly deplorable.
4 days ago Sam Bartlett
Great deals and the best bird food selection!
7 months ago laurie vinal
had a great selection of boots
4 months ago Gabriel Carrigan
Fleet Farm has become my favorite store especially since Home Depot has changed to SELF SERVE. FF not only has CASHIERS, but also has SCOTTY, who is always willing to help with a smile on his face, No matter the day or time of day he is consistently making me leave the store feeling better than when I came. Customer Service is very important to me, and actually very hard to find these days. When I do find it, I want to make sure I am giving them as much business as I possibly can. So Thank you Fleet Farm for your wonderful employee Scotty, it's nice to know I will get help whenever I need it. From your NEW LOYAL CUSTOMER.????
10 months ago Raquel Polson
Really good spot, had a lot to offer. Was able to to find everything easily and the employee who checked us out was very friendly.
3 weeks ago Alan Craft
Not crowded during a week day. Friendly and helpful staff.
2 months ago Jelena Vujinovic
Very helpful and had exactly what I was looking for.
8 months ago Demetrius Schwab
I was disapointed with our visit. We recently moved within a few miles of the Carver location and it seems like the store is closing, shelves were bare, whole areas of the store devoid of any products.
7 months ago Tina Anthony
Variety of goods. Glad that FF honored healthcare professionals!
9 months ago John James
It has a lot of products which has lots of selection on groceries, farm animals products, outdoor stuff. The staff there are friendly and very helpful.
10 months ago Dolma Tamang
The first place I will go if I need something quickly or if I feel like looking around to kilk some time. This store has literally everything a person could need!!
9 months ago jayasree benny
Never met a Fleet Farm that I didn't like. All the gear for fishing, hunting, camping, and hiking with good quality and good prices. Great selection of work wear like boots, gloves, and hi-vis. Good selection of livestock equipment and feed as well.
6 months ago eric tutterow
Eh! They can do better and Educate themselves on what a can crusher is And if they have it and if it's in the store Instead of sending their customers on a wild goose Chase I eventually had to go to the Internet and look up the nearest store that had one which wasn't 1 at fleet farm it was at another competitor I guess they lost my business at least for this portion
2 months ago Omario Ak
Awesome 50 percent off the a a veterans discount as well. Friendly assistants, and smiles everywhere. Love it!!
11 months ago Bill Schooler
Store itself is fine. They stopped carrying my dog's food, and they never seem to have what I need in stock. I know times are tough right now, but it's been months. However, I had an interview to work there and it was probably one of the worst interviews I have ever had. Hiring employee (manager?) was a half hour late for the interview, then about half way through our questionnaire he asked me why I was late and if I knew that the interview was scheduled at that time. I said "Yeah, I was on time. A few minutes early, actually. I waited downstairs for a half hour." His phone also went off and he quickly answered it. I know its only a part time sales associate job at Fleet Farm, but still.
6 months ago
Popular places from the category Department store