Total Comfort
HVAC contractor Total Comfort, 8818 7th Ave N, Golden Valley, MN 55427:
220 reviews
of users and employees, detailed information about the address, opening hours, location on the map, attendance, photos, menus, phone number and a huge amount of other detailed and useful information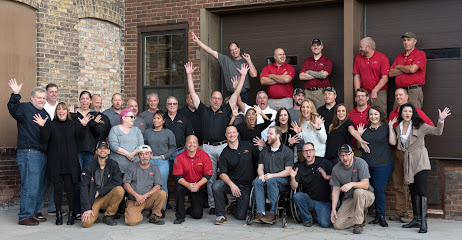 Address:
8818 7th Ave N, Golden Valley, MN 55427
GPS coordinates
Latitude:
44.9860959
Longitude:
-93.3916601
Location on the map
Reviews Sherrie Sykes
Through the entire process we have been kept up to date on what next step was, like a lot of other people, our AC was delayed by Covid, but we had the furnace and our new water heater installed one day and then they cane back later once the AC unit arrived. Installation went smoothly, they were very courteous and kept everything nice and clean. Piotr did an amazing job of explaining everything we asked about. We were very happy with both the service and how pleasant everyone was. We will be using Total Comfort to do our servicing in the years to come :)
4 months ago Tanner Summers
Our great experience started with a consult with Ray, who really took the time to get an idea of what our needs and expectations were before putting together a solution. He also took a great deal of time answering questions, no matter how dumb or silly they may have been, to ensure that we fully understood our investment. That experience only continued when Ryan and Jeff came to install our new furnace and AC. They worked quickly and efficiently to get everything replaced and were very welcoming of questions throughout the entire process. Overall, we had an outstanding experience with Total Comfort, which couldn't be said for the four other places that we received quotes from. We look forward to working with this team in the future should needs arise.
5 months ago Acer Donald
Attention to detail was second to none. Installed an A/C unit that paired well with my furnace. Installation made my furnace room look clean and tidy. Great job by Tony and Dylan.
4 months ago Daria Nadezhdina
Kevin came out to install two return vents. He was great, got here on time, walked me through what his plan was, got to work and communicated with me as needed throughout the day. He did a great job and was super professional!
4 months ago Keys Stokes
Do not go with this company. It's impossible to get a hold of them .. they didn't install properly so it damaged our house when the water started leaking inside. Took them 1 day to come out and fix it but over a month for someone to come out and look at the damage. Their guy who came out barely did anything, told us he could take the wall paper off but up new drywall and stick the wallpaper back on…. So had our own guy come out to look at it and said we have mold spore on our flooring now . Our guy has been trying to get in touch with them for over a week and keeps being put on hold.. company claims they have never gotten a call and they are responsive … If only that were true I can't tell you how many times we called. It's been over 2 months since this whole thing happened and nothing has been done by the company.
6 months ago Ashish Sharma
Many thanks to Scott and crew for the excellent work installing new furnace and air conditioning systems yesterday. Scott arrived on time and reviewed in detail the process he and the team would use in the installation. That gave my wife and me a chance to ask questions and verify that everything we expected would be done. His crew worked steadily all day and updated us on their progress. They all seemed to enjoy working as a team. At the end of the day Scott gave us tutorials on how to use the new thermostat and replacing the furnace filters. We highly recommend Total Comfort for HVAC jobs
5 months ago Kate Boyle
I took advantage of a great offer from Home Depot a few years ago to replace my furnace and water heater and to add a humidifier. Total Comfort helped me select the products that met my needs and did a phenomenal job installing. When my old AC unit stopped working during July 2021 heatwave, Bryan Nelson from Total Comfort immediately came out to assess. He explained to me what was wrong with the unit and helped get it running even tho I had already decided to replace because of its age and inefficiency. Until my new AC unit arrives, I have one that works during the stifling heat and humidity. I also know that the fixes made are going to be deducted from the cost of the new one. Bryan also helped explain the things I can do to help extend the life of my AC and furnace. I had been stressing my AC and furnace by not regularly hosing off AC. ???? I have never been this comfortable using a contractor. They truly took great care of me. New AC installed! Leonard Beavers was the ultimate professional…. Masking, protecting surfaces, making sure I understood what I needed to do maintain my AC. Installation was perfect….. work space thoroughly picked up. Outdoors, too. Friendly, thoughtful installers. Will use them again.
6 months ago Vera Andrews
Had them install a mini split i purchased through them. Allegedly they left the drain tube too long and that caused water to pool up and run down my walls. Now i have peeling wallpaper and molding floor and i cant get anyone to answer phone calls or even update me on when they are coming to inspect the damage they caused. It happened in april 2021 its now September 2021 and still no answers will never use this company again and will never recommend them to anyone. Absolutely disgusted…
5 months ago Carolyn Goff
Very professional, clean, great service. Would highly recommend. Replaced old furnace. Left the utility room cleaner than when the work began.
4 months ago earlie layton
We had a great experience with Tony, Bill, & Austin with Total Comfort. They went above and beyond to make sure everything was done professionally and went out of their way to make sure we knew what had been done and how to operate and perform future maintenance. We would highly recommend them to anyone that is in the market for an upgrade or simple repairs. Thanks again!
6 months ago Dalia Maldonado
Bryan was very knowledgeable on heating and air conditioning, and provided numerous suggestions on how to improve efficiency and save money. We were glad that we took advantage of this Home Depot offer.
4 months ago Zakaria Salem
Excellent service! A total of 4 individuals were involved in the sale and installation of my HVAC. They were all exceptional professionals. I highly recommend them and will not hesitate to use their services again in the future. I would give them zap stars if I could!
5 months ago ryan Knippelmeir
Had a great experience with total comfort. Installation and financing where a breeze. I will use them again.
4 months ago Maxie Weaver
Jeff Robinson was our salesperson and was wonderful. He was honest, friendly and professional. Scott and Jacob came to do the installation. They did a wonderful job and worked efficiently. Thank you for being able to come so quickly due to our air conditioning decided to quit working. Again, thank you so much.
6 months ago Tabby H
I chose Total Comfort because of their responsiveness in setting up an appointment to come and provide an estimate for a new furnace and AC. Jeff Robinson was very professional, informative and not pushy for me to make a decision. Pricing was very reasonable and right in there with other providers. The installation itself went smoothly and my utility room looks better than ever. The install team thoroughly explained everything to me. I would recommend Total Comfort to others.
6 months ago George Wade
The men were professional and took great care with our home, making sure nothing was damaged in the process of installing the heater and ac unit. They made sure everything was installed correctly and left us with instructions to insure a long lasting usage of the products. I wouldn't hesitate to hire them again in the future, if I need to.
5 months ago Alyosha Downing
Tony and his team were great! Very friendly and and warming and knew exactly what they were doing. They're customer service was beyond exceptional. Ray was another staff member that helped us out, and he was also great! His communication skills and work ethic was thru the roof. Total Comfort should be very proud! Very happy we went with Total Comfort.
8 months ago Steve Le
Excellent customer service. Friendly professional service.. Very knowledgeable and helped make me aware of things to do to take the best care of my new air conditioner and furnace.
4 months ago Matthew Wallace
They listened to what we were looking for to be able to get ample air flow to all ends of the house which previously was not working and have the air temperature upstairs the same as it was down stairs. They were very thorough when coming up with a plan for the right equipment and were very knowledgeable and spent a lot of time evaluating the situation to ensure our happiness for our home. We were given choices to accommodate our budget. We felt they really seemed to care about the comfort we were looking for to manage our home for all seasons. We never felt like we were just a sale for the day, and from evaluation to installation everyone was friendly and accommodating it was an amazing experience!
8 months ago Chantell Krind
Words can not describe how thankful we are for this company and the guys who all came out for our project. From the moment we contacted Bryan he reassured and helped us understand what our options were. We felt completely comfortable with the choices we made and knew we were in good hands and were getting great equipment. Scott and Jacob arrived promptly the day of the install and got to work right away. They did an amazing job and kept on going without missing a beat even when the temp starting rising. We couldn't have asked for anything better. The company, Bryan, Scott and Jacob were extremely professional, efficient and went above and beyond all of our expectations.
7 months ago Linda Cruciano
The crew who came out for our new installation were very professional, knowledgeable and respectful. Couldn't be happier with the job that was preformed.
4 months ago Maxim Shomov
Scott, Tyler and Koua were a pleasure to work with. They were on time, worked diligently to install our new AC, Furnace and Thermostat and always had a smile on their faces. They were willing to answer any questions we had, and walked us through the whole process. We would be happy to work with them anytime!
5 months ago John Pizner
Tony was a huge help installing my new HVAC system. He was incredibly knowledgeable and was able to demo my old units and install a new furnace and AC unit almost all in the same day; by himself! It was impressive. He was a great communicator and answered all my questions. Tony came back with Austin at a later date and finished the furnace hook up and calibrated everything. I highly recommend this company for its great products and great service!
7 months ago L Davis
I have been a customer of Total Comfort for eight years. They installed our furnace, duct work and an air conditioning system. In addition they have, on an annual basis, inspected our furnace in the Fall and air conditioner in the Spring. In all instances, I have found their work to be professional and well done. They clean up after themselves, are courteous and have always been on time. When I have had an issue with them (and this only occurred once) they have listened to me and we reached an acceptable agreement. I would recommend this company to anyone seeking this service from a reliable and professional company. Joe Reymann Eagan, MN
5 months ago Derek Bair
Tony and his team did a wonderful job with our AC, furnace and humidifier installation. Everything looks and works great. Tony also took the time to answer a bunch of questions and ensure I understood how to work the new systems. Definitely recommended for high quality work!
6 months ago Eric Stevens
I wanted someone to give a (late) seasonal checkup of my A/C since I'd just bought my place, and all of the providers my home warranty company used were not accepting new bookings. Total Comfort responded to my inquiry quickly, easily scheduled an appointment to check both my A/C and Furnace for the cost other places do only one, and were out within a week. They did the usual cleaning, pointed out a few features of the system I didn't yet know about, and were generally professional and efficient.
6 months ago Elvis Lara
Total Comfort did an excellent job installing my replacement furnace and central air conditioner. Very clean install, and took the time to walk me through the new high tech thermostat control. Very satisfied with the quality of their work and of the products they installed. My house is feeling the best it has been for comfort in the summer.
10 months ago Dan Thompson
Scott and Jacob did a great job installing my new AC and Furnace. They were on time and professional. Scott clearly explained all of the work he did in a way that even I could understand! He also educated me on the regular maintenance that needs to be done. I will continue to use Total Comfort for my heating and air needs.
6 months ago Denny LI
While their service scheduling department needs improvement, the installation and service technicians that did our job were all exceptionally good. They installed a new heating and air conditioning system as well as the follow up repair to our existing duct system. Each technician was knowledgeable, easy to work with and I think took the extra steps to make sure everything was done right. We are very happy we have our new heating and air-conditioning system.
6 months ago Steven Wolf
Overall I am pleased by the professionalism and timeliness of the services received from Total Comfort. I had a capacitor that went bad on one of the hottest days of the year and Total Comfort answered my call with same day service! The technician called about 20 minutes prior to coming out and was able to quickly diagnose the issue with my AC blowing warm air. He replaced the capacitor, ran diagnosis checks, and wrapped up within 45 minutes of arrival. He also respected my household safety by wearing a mask while inside. Overall, I would use Total Comfort again. My only complaint (one star off) would be the elevated repair fees for a capacitor change as well as not applying the service visit fee to repair work. Angis list estimates repair to average $170 and all said and done we paid over $500. That said, the timeliness and promptness outweighs the cost as we were miserably warm in the house!
8 months ago Irie Tree
I am very happy with my A/C and furnace install. Both individuals were happy to answer my questions and were very professional. From the start of the project to the end all involved were pleasant and knowledgeable. I feel confident in the quality of the Carrier equipment and I know someone will be there if I need assistance.
6 months ago Princess Eweka
1) Thee sales person was help full and saved us $1100 on furnace and other rebate, got everything done in 3 days - 2 days week end included. 2) Above all and for which I was completely Sold is the fitting Keith and Tyler did, the Sales guy mentioned I wont be able to open/ close the door to Mechanical room as the humidifier needed to go at that location, Keith and his team did-an awesome job, went above and beyond expectations and managed to fit the inline humidifier such that it's not in way of closing the door, he also cleaned and fixed all the loos piping from previously... Really very happy with these guys and worth every penny. The Picture I don't have the Before Picture but believe the first Image tubes and pipe were allover the place and Keith and his team cleaned it up without me asking. 2nd Image show the Humidifier placed such that I can Close the door and it is not in the way
1 month ago Deepali Garg
Had a great experience with whole team from total comfort. Andy our sale rep made the purchase experience easy and straightforward. Our installation team was awesome too. Scott, Jacob, Jeff, and Alec were very thorough with the installation process. We appreciated how great of a job they did and how they walked us through everything at the beginning and end. We'll be working with Total Comfort for many years to come.
8 months ago DogDog Wol
Very kind representative. Knowledgeable and great to have servicing our HVAC.
4 months ago Adam Shortsleeves
Ryan, Jeff, and Jason installed a new furnace and AC replacing my old equipment. They did a good job and were very helpful in answering all of my questions, doing what it is I asked for in the process. They were able to accomplish both installations in a day. I would highly recommend them.
5 months ago Pete Nelson
These folks were truly amazing. They came in and got right to work. They were on time and on budget. My furnace/laundry room was cleaner than when I left it. In fact I'm pretty sure they did a load of laundry for me. Leonard and Bill word absolutely a pleasure to work with. They even made my dogs feel at ease. Everything is working like a champ and I would recommend this company over and over and over again.
10 months ago Matthew Powell
Leonard and Bill were amazing. They got here and were honest and told me what they were going to do and got right to work.. it seemed effortless for them, but they worked hard and got it done.. they were very professional, clean and nice guys all around… Would definitely use them again when I need something.. Thanks again..
10 months ago Five Elements
We have used Total Comfort for several years and have been pleased with all sorts of services provided. They have been honest, kind and do a great job. I decided to put 5 stars since we met service technician Bryan Nelson. I request Bryan because I feel that he goes above and beyond to make sure we are set, safe, and comfortable for now as well as the future. He showed us the bad condition of our old water heater that we were completely unaware of and helped us with that and a few other future disasters. We have had a new furnace and A/C installed, water heater and softener, humidifier, air purification system and consistent tune ups. Overall we are very grateful and satisfied with Total Comfort for many jobs well done!
10 months ago Lindsay Sylvester
I am very pleased with the work that Total Comfort did in my house installing a new AC unit and furnace. They were very tidy, replacing a lot of the old and worn out parts, and they were very good demoing all of the old unused equipment. Very satisfied, would definitely recommend. Not to mention they are backed by Home Depot.
7 months ago Tiffany Curtis
Arrived as scheduled and did all work all scheduled. Answered questions thoroughly.
4 months ago Dishari Mondal
Every person I dealt with at Total Comfort was fantastic! They came out to look over my previous system, then explained each of my options for a new HVAC system and helped me come to my own decision without feeling like they were trying to push the most expensive option. The guys who came to do the installation were so friendly and efficient. My whole experience with this company was wonderful, I highly recommend them!
8 months ago Cherish Button
I had a great experience with Total Comfort. Jeff was the design consultant and he answered all my questions. Tony was the technician that came out and did the work. I had a new furnace, new air conditioner, new humidifier and and thermostat installed. He did an outstanding job. It took 2 days to get everything installed. The furnace was installed first then they made an appointment to finish the humidifier install and the air conditioner install. Tony called me before he came. He explained everything that he did. Everything was cleaned up nicely. After he was done, he made sure that he went over everything that I needed to know about maintenance, including how to use the new thermostat. I would recommend Total Comfort. Everyone was easy to work with.
8 months ago Ana GZ
You know me but you don't want to admit. We spoke. You cancelled on me without any prior notice. This is such a bad establishment. I will never use you ever again. You did not care about the appointment I had with you, waiting for a month then you had to cancel and even after I called you, you did not even care the world. I hope future customers will be careful before making an appointment. I believe you represent the bad apple in the industry.
6 months ago Monette Ortego
I had the most amazing customer service experience with Bryan he was caring, compassionate and professional! He was able to come and repair my ac in such short notice on a very hot day, he even explained to me all the details of the repair as he was going and also provided with advice and options for my appliance. I'm happy I called this company! 10 out of 10 and will definitely recommend to all family and friends. My summer is saved !
4 days ago Shivam Singh
Everyone I talked to was very professional. The response was very prompt, I had great service techs at my house within about two hours of when I called. The techs quickly assessed the situation and gave me some options. The techs were very knowledgeable and courteous, they wore booties in the house or took off shoes, and they cleaned up everything after themselves. Ultimately, I didn't have them perform all the repairs, thinking I might just upgrade the unit. My only gripe, and the reason for 4 starts rather than 5, is that the pricing is high, but in an urgent situation it's somewhat expected.
8 months ago Michelle Towers
Our AC wasn't functioning properly. Called Total Comfort and they were out the same afternoon to solve the issue at no charge. Covered under warranty. So grateful they came out so quickly. Super friendly service.
7 months ago EvilGriffonYT
When I initially had Total Comfort come out to my house I already knew I needed a new ac, what I was surprised to learn was that my current furnace was also not installed quite the way it should have been originally. Their sales staff was very knowledgeable, as well as polite and professional and answered any questions I had. Scott and Jacob were both very timely, professional, and did a wonderful job with my furnace and AC install as well as installing new vents and a return bypass to help the new furnace breathe better and be more efficient. They laid down cloths, and wore booties to make sure they didn't scuff up the house. I would highly recommend using Total Comfort, and I will be using them for my HVAC needs in the future!
10 months ago Joey Bracco
Total Comfort was a seamless company to work with. Leonard and Carson did the install of our new furnace and air conditioner. They were enjoyable to have in my home. Leonard was informative and personable with much expertise. Carson was kind and efficient. Both did great work. Would highly recommend them.
8 months ago jorge bryant
They installed central AC, a new water heater and replaced the furnace all in ONE day! They were professional, and arrived on time. The thermostat wasn't working later on that evening (my personal thermostat - not one provided by them) and I called in the next day, and they had a service technician out the same day. Very happy with the customer service provided. I would recommend to others.
7 months ago Kathy Hamre
Total Comfort installed a new furnace and ac for me. Leo, Andrew and Kono did an excellent job of installing the equipment and the process went well.
5 months ago
Popular places from the category HVAC contractor