Apollo Heating & Air Conditioning
HVAC contractor Apollo Heating & Air Conditioning, 1167 Viking Dr E, Maplewood, MN 55109:
220 reviews
of users and employees, detailed information about the address, opening hours, location on the map, attendance, photos, menus, phone number and a huge amount of other detailed and useful information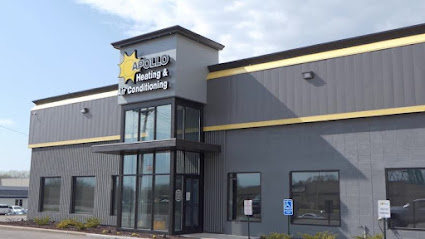 Address:
1167 Viking Dr E, Maplewood, MN 55109
GPS coordinates
Latitude:
45.0123413
Longitude:
-93.0514509
Location on the map
Reviews Zuko
Apollo has the best service and it starts with how they treat their customers! They are always honest and helpful. I'm always happy calling Apollo knowing they will take care of me!
4 months ago Chara chatzitoliou
Although it's never fun to have to replace an air conditioner, there's no company I'd choose over Apollo Heating and Air Conditioning when it comes time to do so. They are extremely professional and have great employees working for them. Andrew thoroughly examined all aspects of our old AC unit, and presented a well laid out plan of possible repair options ranging from a few hundred to a couple of thousand $$. There was absolutely no pressure to purchase a new unit, in fact as we looked over the repair options, it was us who asked how much a replacement would be. The new unit was installed the very next day, again with very professional and personable technicians. All said and done we are very pleased both with our new AC and the service we received.
6 months ago Sruthi Sekaran
Great service. Professional. On time. Reported what they serviced. Definitely use again. Very friendly technician
4 months ago Thereza Lituma
It was a busy year for contractors. It took some time to get a bid and get on the schedule to have work done, but the people at Apollo made it worth the wait. They did a great job, were responsive to questions and concerns, and delivered a great result. Would not hesitate to use them again.
5 months ago Alastair Smith
Wayne did an awesome job. He was very knowledgeable and thorough. It was discovered my furnace CO2 level was twice the allowable amount. This could have been very dangerous. He fixed the problem and now I know my family will be safe this winter. Apollo heating is the only Heating company I have ever used and will ever use.
5 months ago Ronald Mason
I will be having an attic ac installed. It has not been installed as of yet. Drew has been great to work with, punctual, returns calls promptly, explains things clearly, provides great customer service, and above all is honest. He worked with me so that I am able to have the service done. I appreciate that very much and will be passing his name on to others as the opportunity affords.
7 months ago Phil Hearing
Josh was a great tech and was able to solve issue, which was a blown transformer. Great up till this point and that's when he told us it was 569.00 for the transformer. I agreed as not much I can do to get my AC running. After looking up the cost of that transformer online, Apollo is marking up 600% the cost of it. The average cost was approximately 50.00. So I would say if you want to pay for extreme markups on replacement parts use Apollo or call someone else, cause I will never call them again.
10 months ago Willie B
Bill was awesome. Very honest & straight forward. Extremely helpful. Offered great advice on my next steps. I had him do a tune up on my furnace & air conditioner.
7 months ago Louisa Sanford
I called after hours as AC not keeping up with set temperature and this is newer AC. Not only did a "live" person answer my call in a few minutes, but a technician called as promised. Drew A. Listened to my concerns and said he would come to our home to help us even though it was after hours. He was on his way to a customer about an hour away from us. And said he'd come back out to us. Since it was so late, I asked him what part of town he lived in. I couldn't believe it!!! He was going to a customer about 20-30 minutes from his house- and was willing to drive an hour back here, then drive all the way back home about an hour and a half - all to help us!! He got here close to 10:30 or so pm! Solved the problem! Exceptional!!!!I can't say enough great things about Drew, and about Apollo. Great company! Great people! Thank you Drew.
8 months ago ramel datingaling
I couldn't be more pleased with the service provided by Andrew. He was very professional, thorough, knowledgeable and taught me things about my AC that I wasn't aware of. Great experience!!
5 months ago Sarah Froberg
Mike was very friendly, smart, knowledgeable & did a great job.
4 months ago michael ayers
Our AC began to fail yesterday during the hottest stretch of the summer so far. We are expecting 95+ temps for the next 5 days - so we were desperate for help. We called Apollo Friday night and Josh was there the next morning before 9am. He was an hour early - as we had been promised 10-12 noon. Josh was friendly, efficient and got the job done asap. He always answered all of our questions. We had cool air flowing by 930am.Just great service and we would call Josh at Apollo for help again anytime. Thank you. SWG
9 months ago Lisbeth Rodriguez
Technician was communicative, polite, friendly, neatly dressed. They answered my questions politely and intelligently. They communicated what they found, what they planned to do, how much it would cost and what they did. Have been satisfied with Apollo for years.
9 months ago Crystal
All people involved with installation of a new AC unit that my house where very professional. Inspection went well he found no problems. I would recommend Apollo Heating and Air to anyone.
6 months ago Kathryn Anthony
Apollo and Clay did a great job with our new AC install. They explained our options and quoted a great price within our budget. We would highly recommend using Apollo.
7 months ago Crystal Armijo
These guys are awesome, Clay, Alicia, Brin, Chris, Tony, Ryan and Alex, every person I dealt with was friendly, helpful and most importantly sympathetic that our AC was out right before a heat wave!! They came out within 24 hour and they managed to squeeze us in right before a long holiday weekend! I would have paid more for the last minute rescue but they were cheaper than other bids we had gotten. It felt like everyone went out of their way for us from the very first moment I called. I am a customer for life now!
7 months ago Crystal Howell
I've used Apollo for years and they always have professional, high quality service. Would recommend.
5 months ago Rusty Holsinger
These guys were awesome! They came on a Friday at 4:20 and had my new ac installed and up and running in a few hours. Super cool crew Ryan was the dude in charge and he is very knowledgeable and explained the process the whole time. Would recommend this company for sure.
8 months ago Nathan Datsko
Bill did an annual checkup on our A/C. He arrived on time and was very friendly, professional, and knowledgeable. Will definitely be using Apollo and Bill again!
5 months ago jim leger
Andrew are tech was very professional and answered every question we had for him. Shared info for us on future care of our furnace and air. We would highly recommend Apollo for your needs of heating and air. Thank you Andrew!
8 months ago Sebastien Shan
Brad was terrific. He checked all systems and was very informative, answering all our questions. He was very helpful, explaining the cause of our issue and offering advice to prevent a recurrance.
7 months ago Joe Cool
Working from home without ac has been a nightmare. I got my appointment the day after I called. We have been using Apollo since we moved in this house in 2003. We've always had great experiences with the techs and we will be continuing to use Apollo. Thanks!
8 months ago Maria Petrova
Installation was impeccable. Technitions were friendly and meticulous. They were on time and neat. They cleaned up when done.
5 months ago Joanna Uribe
Our Apollo technician was extremely professional and courteous. He kept us informed at all times and worked very efficiently to assess the issues and resolve them. We were very impressed with his skill and understanding of our system. Thank you very much!!
10 months ago Aisha Montgomery
Came early. Explained everything. Thorough. And even filled out the rebate information for us
6 months ago Derious Nichols
Professional, prompt and positively proficient. Great service and resolved our issue quickly. Would recommend to anyone.
7 months ago Cecelia Cook
Bill was absolutely amazing, he came out on Superbowl Sunday, was out in less than 30 minutes from the time of the call. He was able to quickly get my furnace back up and working. He was very professional, wore his make the entire time, and was able to easily explain what went wrong with my furnace in easy to follow terms. He also took the time to ensure that the heat was climbing before leaving the site to ensure that i would have no further problems. Great service, fast response time, and clearly articulated what needed to be fixed, and how to avoid that issue in the future. I would definitely recommend to anyone.
1 month ago Tracey Barbee
Mike did a fine job tuning up my AC. I would like to suggest that you review your automated text system as it addressed my by my last name. I prefer to be addressed by either my first name or Ms. in front of my last name. This situation happened twice and is offensive enough to me to consider other companies for this work in the future.
7 months ago Carol Boyd
We had a tech out for a maintenance check for our 15 year old high end Bryant 2 ton central air unit. Turned out the fan wasn't working and the condenser was in need of a good cleaning. Short story is we were told repairs would be in the $1500 + range with no assurance they would be effective or a new unit would run $5 -6,000. It appeared the the tech was steering us to a new unit. We declined and I went to work Researching options. I found G-HVAC in my area. Greg is a one man operation but his knowledge, effort and pricing is beyond excellent! He has my central air unit back up and purring for less than $750!!!!
9 months ago Patrica Cambell
Best people to work with .very high standards to doing it right the first time , Explained every thing very well !
5 months ago Celina Erubami
Drew the Apollo service technician who came to our rescue, diagnosed the reason for our AC not cooling our house, and did the repair work was awesome. Our AC went down at absolutely the wrong time, an extended 90F+ heat wave that no doubt did some damage to a lot of other AC's. Drew determined we had a coolant leak, refilled lines with coolant, and then returned a few days later to repair the leak and test vacuum on line. He was efficient, knew exactly what to do, was very cordial and then moved on to his next many jobs. Hat's off to Drew and Apollo for taking care of our AC issues in a timely and professional manner. Apollo will be the first place we call for any future AC or heating issues or periodic maintenance. Thanks!
9 months ago Madeleine Camacho
I had to go with the most cost effective company as I am a semi retired veteran with limited assets.
5 months ago Adam Lueb
Always quick and truly with friendly smile. Always a job well done.
5 months ago TerrI Cummins
Apollo was amazing, Tony was super friendly and answered all our questions during the quote process. Bill has been nothing but amazing coming out on service calls and walking us through the entire system. Highly recommend Apollo for all your heating and cooling needs.
8 months ago Patrick Mohan
Bill showed up early, diagnosed the problem within a few minutes, had it repaired quickly, and had the A/C up and running about 20 minutes after he arrived. Honored the warranty on the new furnace I had purchased from Apollo about 90 days ago. It was a good experience. Would recommend both Bill and Apollo.
7 months ago Patrick Theroux
Damico came to do an operational check on our recently installed air conditioning unit. He was friendly, professional and informative. We've had a positive experience with Apollo.
6 months ago Ginelle Mohrhardt
Firstly, Andrew followed all Covid protocol throughout the entire visit. Andrew was able to quickly identify the issue with my cooling system and even show me parts of it I never knew existed… which happened to be the problem parts also. I was given many options on what the next steps were and they even offered financing for the more speedy options if I needed it. No matter what I decide to do, I for sure will be using them as a regular service from now on. *edit* after writing this, I thought about how quickly he was able to take a quick look at the system and know every single detail of every pice of the system, including the type of coolant it contains. Seriously impressive; plus, that helps me be confident in the suggestions made by Andrew, when discussing repair or replacement options.
7 months ago Dawn Hofmaster
Thanks to the crew at Apollo heating and air for doing a great job on my new Lennox A/C install .
6 months ago bill wilkey
Chris was very nice and explained everything in great detail to my father. Sent three estimates for a new furnace. Arrived on time, very professional!
6 months ago Jason Kinsley
Bill was great and friendly! He showed me how to clean the vent fins on my AC unit to keep my compressor happy. Thanks for the great service! Katherine
8 months ago ROBERT WEILAND
Our furnace (blower motor) went out overnight, leaving us with a 58 degree house on Feb 14. We called Apollo's 24/7 emergency line at about 6am. We got a call from an Apollo tech, Brad R., who arrived shortly after the call to assess the overall problem. Brad was knowledgeable about our furnace and was able to discuss our repair options. He was prompt and helpful. We have been Apollo customers for many years and continue to rely on their expertise for our heating and cooling needs. Their sales reps and technicians are knowledgeable and have consistently provided solid, reliable advice.
2 months ago David Boyle
Guys did awesome work. Explained everything - were on time and professional for entire visit
6 months ago Emily Dorman
Apollo installed a new boiler for me! Outstanding service! Thank you all! Bill, Chuck, Tony and the guys are all awesome! The women are awesome too! ????‍♀️????
7 months ago Thomas Hulse
Great tech. Gave me good information on how to keep everything running good. Will definitely use this company again.
7 months ago ismail hossain
I like the consistency of this company. I see the same maintenance person each year and he remembers details about previous visits. When there is a problem they get us scheduled for a repair within a couple of days, if not the following day. All of their staff I've worked with have been pleasant, polite, and neat. In addition, they smile all of the time, even with their Covid masks on, so I don't mind them being here.
9 months ago Lino Brown
Lucas the salesman that came out to see me did a professional job and new his product well. He did a thorough investigating our home and had some very sophisticated software which accurately recommended a two and a half ton AC and a 55 to 80,000 BTU furnace. Unfortunately the Lennox product that he proposed to me was very expensive. I bought my equipment from another contract who had Carrier.
9 months ago Diana Callahan
Technician came out in the middle of a record heat wave and fixed my unit after less than an hour. Called in a Monday afternoon and was fixed by the next afternoon. Also was very helpful giving me some tips for AC maintenance and other household items (I am a new homeowner)…couldn't recommend enough!
8 months ago Shannan Ray
Andrew was great to work with. His photos and explanation of each was informative and transparent. Andrea was a true professional that is knowledgable about what he does and answered all of my questions in detail. Because of Andrew, I will continue to go with Apollo for any future heating or air services.
10 months ago Lenora Cook
Our 20 year old furnace stopped working on one of the coldest days of the year (of course!). We called Apollo and they had someone out to talk with us the same day to help us select a great new furnace at a very reasonable price. The next day, their very professional and courteous installation team arrived promptly at the promised time and installed our new furnace. Before leaving, they did a thorough job of explaining all of the new functions and made sure all of our questions were answered. We are now toasty and warm and loving our efficient and quiet new furnace. We could not be more impressed with the entire experience and highly recommend Apollo for all heating and air needs! Thanks for the great service.
3 weeks ago Shirley Thomason
Extremely responsive. Great customer service. I had originally called a different company when my furnace quit working in below zero weather. After being dissatisfied with the company, I called Apollo. Bill (the service technician) was terrific. He took the time to explain in plain language what the issues were with my furnace, which required replacement. He didn't leave until we had a plan for replacing it. No waiting until someone else called me to schedule. And he was able to get my new furnace scheduled for install the following morning, less than twelve hours later. The price was reasonable, the service was impeccable. Thank you.
11 months ago
Popular places from the category HVAC contractor