Target
Department store Target, 14333 State Hwy 13, Savage, MN 55378:
220 reviews
of users and employees, detailed information about the address, opening hours, location on the map, attendance, photos, menus, phone number and a huge amount of other detailed and useful information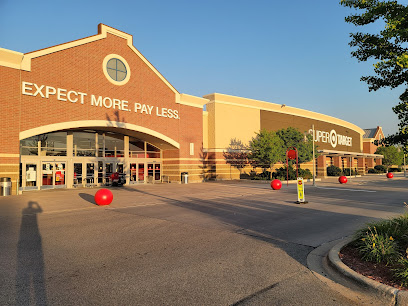 Address:
14333 State Hwy 13, Savage, MN 55378
GPS coordinates
Latitude:
44.7437151
Longitude:
-93.3770002
Location on the map
Reviews Stephen Megitt
I went in looking for pull up training pants and to buy a second training potty for a toddler. They had a decent selection of pull ups, even though I feel the prices were high. They did not have the training potty I was looking for, very limited selection. This Target is well organized and labeled and I think it was easy to find the areas I was looking for. The cashier was friendly. Clean store.
7 months ago Ben Tag
My cousin Max Jarman works here and he is the best worker ever
4 months ago Brandon Collin
I always order Drive Up at Target - Savage and never have any problems with anything! Quick pick up and I always get my products I ordered. They always have a great selection of products for Drive Up, specifically, seafood!
7 months ago gajal dhoju
Well stocked with items I prefer and cleaner/brighter than any other;)
6 months ago Ja W
always have everything I'm looking for at a fair price. Very clean, organized, love my local Target!!!
7 months ago mindy middleton
Target is my favorite store to shop at. The atmosphere, products, and employees are all wonderful!!
6 months ago Kyle Laethem
Great place to get food
5 months ago whitney groth
Use the Target mobile app to select your groceries/items and pay electronically. When leaving the house, let them know you're on the way, and then let them know you've arrived when you pull up (via app). In a matter of minutes - they put the stuff in your car! Bam! So easy.
10 months ago Chris Petri
Out of stock on common items, even before the pandemic. I'm not talking about toilet paper. I have to go to the BURNSVILLE store which seems to do a better job of keeping thIngs in stock.
9 months ago Jenn Fisher
The ordering process was accurate and quick.
6 months ago John Albright
Super easy to find items online, check out and drive up and go!
11 months ago Jordan Creed
What's going on with greeters here? She stares at customers at far distance while coming in from the parking lot, then quickly turns her head away the minute a customer walks in the door. No greetings at any kind whatsoever. What's her job then? If she thinks she is too pretty for this, she could just hide in the back and do something else. Get some friendly outspoken greeters, who know the store well, in case customers ask for directions, up front please. Getting paid just to stand there and shunt customers? Does anybody ever train them?
8 months ago MERCEDES LANCIOTTI
A most wonderful selection of organic foods, health choices, fresh produce and specialty proteins. It's hard to eat with restrictions when traveling, but this grocery store was beautifully supplied. Definitely a great place to shop!
5 months ago Kamran Jaffery
This target is constantly out of things. The shelves look picked over. Like, always. It's not even worth going to. Head to Burnsville.
8 months ago Kathy Fuller
Love Target! One stop shopping for.most of my family's daily needs. Convenient drive up and pick up options are great for a busy family.
5 months ago Sherry Mewbourn
I have been coming here since we moved Into the area a couple years ago. The whole family gets their glasses here. Tomorrow we have an appointment. Tonight a gentleman calls me to confirm my appt and says "you will be paying out of pocket since you don't have insurance?". I told him I did and they should have it on file from previous. He told me they don't have anything on me. I told him I would get the info tomorrow then when I get to work. He then tells me "if you don't call us before your appointment with the info we can't help you because we are so busy!" Seriously??? Must be to busy to assist me with all the rest of my purchases I make there then too. Will be canceling my target card tomorrow. Target has really gone down hill customer service-wise.
5 months ago capital jones
I love this Target. All these complainers on here need to get a life. Seriously.
1 month ago Heather Lee
Target is a very nice store and I can find most everything I need. The grocery prices are much better than Cub and usually the produce is fresher.
3 months ago Ahmad Arafat
Walked into Target and the employees immediately started throwing lemons at me while screaming "WHEN LIFE GIVES YOU LEMONS" before escorting me to the back to buy a TV. I don't need a TV. I don't want a TV. They made me buy it. I was bruised from the lemons and they made me drag the TV to my car. I was weak and tired, and they just laughed as I struggled to lift the TV into my car. I don't mind some good salesman's tactics with the TV, but the lemons were a bit much. I'm allergic to lemons, so I also broke out in hives. Great selection though!
3 months ago jackie whitaker
Great selection!
6 months ago Siyu Shao
Items in n stock. Friendly cashiers and stocking personnel.
10 months ago The scientist
Who doesn't love Target?!
7 months ago Tom Smith
Target should work on the interfacing of their online gift cards from email to Target app. Emailed gift cards lead you to sign into a web browser to view the gift card and does not load directly into the Target app. This made the cashier complain that I showed a screenshot of my giftcard since Target app only loaded promos from scanned items. Savage Target should also staff the cash registers more appropriately. Monday's at 5 pm is a very busy time, and my family waited 20 minutes in line when there were only a few cash registers open and a group of staff were chatting near the clothing area behind the long lines. Self-checkouts were also pretty busy, and there was only one customer ahead of us in-line so we decided to opt for a traditional checkout process since it was our first time using online giftcards. Please be aware of that these issues can be improved. Thanks!
10 months ago Donald Sherman
Quick pick up. Easy to browse up. Wish they had more options for drive ups.... Such as fresh veggies and fruits also clothing. Thanks.
6 months ago Jamie Ebersole
The person who checked us out was fabulous! She took the time to show me how to link my red card and use target circle.
7 months ago Tini Goedhart
I contacted Target Savage to inquire if they accept personal checks. (No debit card currently due to identity theft.) They assured me they did. I did my grocery shopping, went to check out and was informed they do not accept checks over $100 from customers writing checks for the first time. I offered to show them my checking balance after they asked me if I had the funds available; really?!! They said not and told me I could not check out with a check! I called Target Corporate, was put on hold for 31 minutes! They agent that I spoke with called the store and spoke with Jon (that's who I spoke with as well) and he told her they do accept checks but the check was declined. This was a very, very humiliating experience and a complete waste of my time!!!
5 months ago J Mikell
This store has top of the line staff - always helpful, friendly and attentive
8 months ago Sydney Kesler
Quick pickup, very nice.
1 month ago Saravana N
I will never recommend TARGET Baby Registry to hard working future mothers and fathers. I've got a duplicate baby item and the person that bought it didn't include the receipt with the item. It was on my baby register list. I had to return the item since it was the duplicate baby item, unopened and less than 20 days of purchasing it. The employee that worked at customer services/return department was very rude and she had very bad/heated attitude. I felt that she was judgmental towards me for trying to return the duplicate baby item without the receipt. I wasn't even able to get the free sample bag that comes with completing Target Baby Registry. The employee was arguing with me and wasn't very helpful to answer my questions and concerns. The employee laughed at MY FACE. I am deeply disappointed with my experience as a loyal TARGET customer. I will warn people about this and recommend WALMART! Date 10/26/19 time 08:06 PM
4 months ago April Pickard
Very fine place
11 months ago Joel Brach
It is convenient and I am sure the product is available.
5 months ago Amber Blakey
I was quite surprised with all going on not to see any spraying or disinfecting of the carts or the handheld baskets , as every one looked very dirty to me. from the bottoms of the basket to the gray handles smudged up. I see the two spray bottles on the table as you walk in , sometimes there's a person sitting next to them
5 months ago Nim Dvir
I swear the ratio of customer to employee is 1:3 at all times, and you're either getting run down by a cart or listening to one of their radios from halfway across the store. I get that they need to communicate but my goodness just turn it down a notch or two. Did you guys know that, as of 5:00 PM 12/8/18, they need 2 more cashiers up front? I do, because there's an employee roughly 200 yards away with a radio.
4 months ago Sangita Modak
Staff was very helpful store was clean and had what I was looking for.
5 months ago Andrew Aldridge
The answer is easy because I love Target so would always recommend it. What I don't like is the new store set up. The areas that are pods or in the middle of the store I am not in favor of. Takes up room in the store and makes more confusing to find things. It is a creative marketing approach and others may like it. I will probably lean towards buying online because of it.
9 months ago Michael Phelps
Poor customer service. I was lied to during this transaction.
5 months ago Ms B
Always quick end convenient place to most anything needed for everyday life. Many if the cashiers ate friends if my kids which makes soma visits more fun. Grocery isn't always fully stocked, but maybe I go at odd times relating to their shipments...its never bare, but I often can't get at least one thing I come for.
1 month ago Jessc Parkhurst
Great target ????
1 month ago Carletta McGlone
Pleasant and helpful employees in a bright, cheerful, clean and well organized store! A winning combination in a competitive business!!
10 months ago Sabbir Hossain
The aisles are crowded with associates stocking shelves and the selection is terrible. I will be doing my grocery shopping else where. The stocking of shelves should not be happening on a Saturday morning when people are out trying to do their grocery shopping.
5 months ago Grey Omyo
We do most of our grocery shopping at this location and feel like the prices and sales are pretty good once you cartwheel and b use the red card. They do have a terrible time keeping produce filled though and you have to go early to ensure they're stocked. If we wait till afternoon we often find that staple produce items run out.
1 week ago Thomas Morini
Meats and cheeses
4 days ago Lana Burdette
This is my favorite Target store in the area. It is typically very clean and well kept. The staff is friendly and pleasant. This store is out of the way, about twice as far from me as my local Target, but I prefer to go here and the parking is usually manageable.
11 months ago Nicole Contreras
I usually come here for my regular grocery shopping. It's clean and I get through fairly quickly. My only complaint is that the produce could be slightly better. But, overall not a bad place.
7 months ago Cristina Fernandez
The service has been great. My store is easy to get to, in and out in no time. Store pick-up is the way to go.
7 months ago Melissa Hayes
I have had good experiences at Target before. But today at the Savage Target the cashier was quite rude. I had a cart full of stuff and an impatient toddler. I forgot to put down the divider but I left plenty of room between my stuff and the woman in front of me. As I'm busy putting stuff on the conveyor I hear the cashier and woman talk badly about me not using the divider. They talked as if I wasn't there.
7 months ago farhad farzbod
Helpful, professional, attentive, kind service team. Target stores are clean, bright, professional staffed with the best Target service team. Thank you
9 months ago Jeff Lawler
Love target!!
10 months ago Ryan McGinnis
very easy.. she was great!
5 months ago Johanna P
I'm not a huge fan of this Target. The shelves often seem empty or disorganized like they haven't been arranged very frequently and I've had several items out of stock on multiple occasions. With that said, it's still overall pretty clean and has the grocery store attached so we still go here every now and then for home goods and such.
1 week ago
Popular places from the category Department store