Walmart
Department store Walmart, 13020 Riverdale Dr NW, Coon Rapids, MN 55448:
220 reviews
of users and employees, detailed information about the address, opening hours, location on the map, attendance, photos, menus, phone number and a huge amount of other detailed and useful information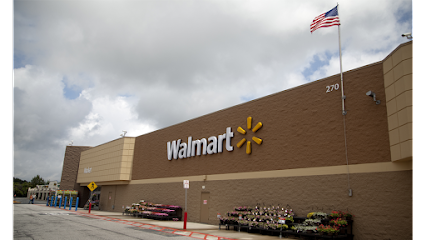 Address:
13020 Riverdale Dr NW, Coon Rapids, MN 55448
GPS coordinates
Latitude:
45.2069340
Longitude:
-93.3614770
Location on the map
Reviews anna syed
This walmart always seems low in Stock on just about everything I ever want or need. It's irritating. Even before the whole Covid thing. It's dirty too. Never looks clean or organized. Just seems as though it's lackluster so to speak. Dirty. Boring. Poorly stocked.
5 months ago Ahmedullah Aziz
This Walmart is super huge and the workers kept everything stocked up, this was the fullest (stock size wise) I've seen a Walmart! The cash register we had was very polite and helpful and respectively talked to us and had us laughing. I would go back any day & highly recommend it to everyone! LOVE ONLY YOU WALMART! ILL BE BACK SOON!!
5 months ago Yaguang Sun
So I called this store before coming in to verify how much of the product I could get. I was told I could get 8 total over 2 transaction from an associate. I made her check to be sure because I'm traveling from 21 miles away. Once I reached here, they denied me from purchasing and only said I could do 1 transaction and only 1 product. Their associates and policies suck. I don't recommend coming here. I'd give zero stars if I could. What a waste of time and mileage.
6 months ago Lewy Crabtree
Picked up my new eye glasses. Picked up some kitchen gadgets and found what I was looking for. The selection was awesome ????
4 months ago Patricia Gaucin
Everyone is so amazing and helpful and the employees are always willing to go out of the way to help you find things
4 months ago Carla Orosz
Sick of walking in this place and seeing everyone wearing their pants around their thighs. If they only knew how ridiculous they looked. People should have to be appropriately dressed. Guess what guys. It's not cool! It makes you look dumb
4 months ago Al R
Like the stores but my problems with them is #1. none of the stores are open 24hrs any more and #2. I Hate the "self check-out" systems in place of having someone at the register ringing up your purchases!! If I wanted to become a cashier, I would apply for a job (if the stores USED real live cashier's!)!! No one's ever around to help out when something doesn't ring up right and some machines are for "cash only", others for credit/debt cards only but are never marked clearly so customers would know which self check out to use. Dumb systems to have in place of hard working employee doing the job, not put onto the customers to have to check themselves out. Good luck with the lines during the holidays. I'll be going somewhere else that doesn't have self checkout only set-up!
4 months ago Robert Allen
Dude it's Walmart. Is anyone going to base their visit on my review? No.
4 months ago Daire Lyne
I will say this is a pretty calm walmart store. It feels "safe" compared to some other walmart stores. Maybe because of its location/neighborhood too I guess.
5 months ago Yannic Becker
This is easily the best Walmart I've ever shopped in. It's much larger than other Walmart stores and has a wider range of products in stock to choose from. The employees have also been very helpful and pleasant - especially those working in the pharmacy. A+
9 months ago Lisa Kreie
I shop here often the one in Roseville and I don't know it's all right the shelves are loosely always full the employees aren't too helpful but they don't speak a lot of English so you have to find an English speaking employee and then they'll help you other than that they're all right
7 months ago Torris Loucks
Good selection, however need to open more registers and stock more often
5 months ago christopher hunt
Went to find some moisture wicking shirts, they had a nice assortment, I just wish Walmart in general looked cleaner, doesn't matter which one I go into it is cluttered and just not clean like Target does.
6 months ago Sheryl Gray
Andover Walmart is our favorite the associates are actually really nice stores really clean and the produce is always fresh
5 months ago Jameson Weber
Made it in and out fairly quickly. Had to wait for someone to show up to get ink cartridges out of a locked case, then wait for someone to show up in sporting goods. Front of store was boarded up in anticipation of problems from the Chauvin trial.
10 months ago Cheryl Silvers
A customer service specialist (the new manager people) said it was not her job to make sure prices are marked correctly on items. Her reason was because she said "she was from another store just helping out and not her job to do things in a store that is not her own". Very rude and unprofessional and so was the customer service lady.
5 months ago Pamela Avery
Associates in electronics are hiding clearance laptops, chromebook! I went first thing in the morning to purchase the asus chromebook for my kids and it says in stock,Rodney from apparel was helpful, he scanned it and says 7 in stock, he even searched it even he wasn't in that department, but really couldn't find it. Guess what?! Before the day was over, all of sudden, got limited and out of stock! Associates hide it for sure, they didn't give the customer a chance to buy it. It's crazy! If there is someone you can rely for some help in this store, it's Rodney and Rob. They are very helpful.
6 months ago Anaiz Benavente
One stop shop get in and get out quickly as possible.My kind of shopping!
6 months ago Michele Henn
Its not the best walmart I've ever been in, and not the worst. Their variety in clothes can sometimes be nicer then the other locations. They do tend to have a number of missing items.
7 months ago Alif Marhaban
Usually this is my least fave Walmart but it was really nice today. Kudos!!
7 months ago Petrov Petrovi
Christmas Eve the store is packed not a lot of check out lines open not much Christmas clothing. Parking lot was packed. But the workers seemed to be in a good mood. I even got a Christmas shirt that says let's get crackin!
2 months ago Braulio Lopez
What can you say? It's a Walmart. However, it's always clean, well-stocked and the staff are friendly.
7 months ago Katie Kristiansen
Like how well stocked they are. Worth going a bit further for me
7 months ago Konstantin Korovin
Waited in line for 10+ minutes for a return. The ceiling in customer service was black and very dirty. The woman who helped me with the return was nice though.
8 months ago Brendan Hoban
A clean, well laid out store with great variety in their grocery section.
6 months ago Erin Whittey
Friendly staff and it's located on nice shopping area. Love that they are open late.
7 months ago Hank DeBoer
The only thing I have against this Walmart is that cashing my checks here are hit or miss. Seems like every other time I'm denied cashing checks. Either they "can't do anything money wise right now" (but can return money still somehow) or they try and they make an error on their end. I hate when that happens because they turn me down and give me the speech about calling the number or whatever. But that only happens with clearly inexperienced people. People who know what they're doing cash my checks no problem. I find it rude they just find reasons to turn you down instead of going the extra inch it would take. I waited 15 mins in line to be told no flat out. 3 other customer service people just stood around and never once hopped on another register when there was a line.
4 days ago Shawnasea Farrell
Its a pretty clean walmart the only thing that sucks its not a super walmart but they have a pretty good amount of variety.
6 months ago Cullen Rafferty
I love how it's still got that old walmart feel from growing up shopping there
7 months ago Mordechai Hoschander
Employees were friendly, store was clean, I couldn't get exactly what I was looking for but an employee helped me find a substitute.
5 months ago Az Solutions
Smaller store, not a Super Walmart, but it's a good thing for one reason customer service. Returns and checkout it sooo much faster! Sure selection is limited, but it does have most of your major needs covered. I was in and out in literally half the time!
8 months ago April Holloway
Store is great if you need to stop for something quick. Could be a bit cleaner and could use more cashiers. Pharmacy is great!!
9 months ago Jennifer Hall
Employees argue when returning with reciept from pick up order. Refused to refund me. Only allowed in store credit even though the app says to return to any store. Wasted an hour fighting with employees over trying to return incorrect substitutions. Will not be returning. Always an issue at this location and it's incredibly dirty.
8 months ago Bobby Mitchell
I am currently pregnant and needed maternity clothing and was feeling very overwhelmed with not knowing what sizes to purchase. Becky was very helpful in recommending what options I had and showed me a few different sections I could look at. I am so grateful that she was there to help out this mother-to-be.
2 months ago Paul Cederstrand
Able to pick up things I needed.
5 months ago Myroslava Dmytryshyn
I didn't go in... I waited in the car... Other than that it was great...
6 months ago Tiffany Elam
Has good organization and all products are in intended spot
5 months ago Jocelyn Hernandez
Its a bummer that I have to pass a couple walmarts to get to one that has associates that treat people respectfully. Thank you to the store manager for working with your associates to be so nice and respectful to the customers!
8 months ago Khadijah Burrus
Today was weird for a warm Sunday. It wasn't as packed as usual. Everything was fine.
10 months ago Morjorie Dickerson
Bought a $60.00 comforter/bed in a bag only to realize after looking at the picture on the bag that I was missing two of the throw pillows. I asked if I could take a picture of my bed so they could see which throw pillows was missing, just the two little pillows, and one of the associates was rude and said, you need to go home and take all your bedding and put it back in the bag with the one throw pillow and bring it all back to the store, I even have the receipt, I just want the two pillows that was obviously for whatever reason took out of the bag that they belonged to in the first place. I was an overnight supervisor/support manager in south Carolina for Walmart, many years, and my degree in business management, with that said, the customer is the one who pays you on payday. Good rule of thumb, try to assure your customer that you are there and show you care, go the extra mile, as that will ensure good fortune for you! ;)
2 months ago Omari Johnson
Dirty store with empty shelves. The door to the garden center, that has a sign saying it must be unlocked, was locked. Only one cashier and she was on a short line meant for small number of items. The lady ahead of me with a full cart had no belt to put her stuff on. I gave her my cart so she could load one while still emptying the other. In the mean time, about 6 people lined up behind me.
8 months ago tamara white
This Walmart is not stand alone like the others I have been to, meaning it's part of a strip mall. There are a lot of items just like the big stores and is pretty decent. I normally do not like going to Walmart and prefers Target's ambience but if I were to go to one it would probably be this.
3 weeks ago Joseph Merryweather
I'm only rating a 3 because they never have the generic children's melatonin or the kitten food I'm looking for. Overall I do like this store but they need to work on getting a better supply of some of there hot selling items
9 months ago Stephen Droll
Not many options for male shorts for my husband to choose from. Was kind of messy and unorganized. Staff were polite and helpful though.
9 months ago Christal Curtis
A far suburban Walmart looking no different than inner city ones. I know the employees work hard but it doesn't show when you have just been to a Target next door and then you walk into this place.
8 months ago ramzon
Always well stocked. Friendly staff. Clean environment.
6 months ago Eric Esqueda
Just so dirty and long lines. Plenty of workers but they're not getting paid enough to care..
5 months ago Chandni Patel
Very helpful on getting us a fishing license
5 months ago Lacretia Jackson
They were out of (or didn't stock) some of the things I usually find at other Walmart stores. It was a brief stop and wasn't impressed.
7 months ago Curtis Proctor
Good if you need cheap food
5 months ago
Popular places from the category Department store