Kowalski's Market
Grocery store Kowalski's Market, 440 Water St, Excelsior, MN 55331:
220 reviews
of users and employees, detailed information about the address, opening hours, location on the map, attendance, photos, menus, phone number and a huge amount of other detailed and useful information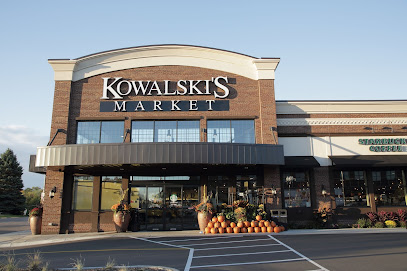 Address:
440 Water St, Excelsior, MN 55331
GPS coordinates
Latitude:
44.9006050
Longitude:
-93.5692689
Location on the map
Reviews Gage Furton
Beautiful store, laid out so you don't even know how much time your spending looking at all of the wonderful products. What I mean to say, even for non grocery store shoppers it's a great experience. And they had family sized goulash. My mother used to make goulash and it was one of my favorite meals. I've never seen it in a store before And if you're on a diet do not I repeat do not go by the bakery section it is totally wonderful. And I mean don't go because your curious or you will get just a teensy little sweet pastry or two, or three. Lololol! Like I did. And of course that's mostly all the pictures I took. So you won't have to look in the pastry shop. They also have wonderful soups, and pre-made dinners and sandwiches, for brown sackers and bachelor's and bachelorettes. Well I could go on but maybe you should go see for yourself.
10 months ago Steve Augello
Refreshing to walk into a unique grocery. Nice sit down eating area. Enjoy a meal from the deli or special beverage with fresh bakery goods. Room to bring friends. Service is excellent.
5 months ago Sail Racer
Manager Caleb is a Rockstar. He went out of his way to help me out in the deli. Then I left my salmon filet at the register. Caleb helped me out again and kept it up front for me when I returned. EXTREMELY nice as well as professional. Top notch service on as well as top quality food. 5 stars ALL THE WAY
5 months ago Igor Levchuk
Interesting layout and we'll appointed. Great gift corner with an excellent and varied selection of inventory. Lovely produce section. A really pleasant young man, Chris, a front end supervisor, took my groceries out to my vehicle. An all around pleasant shopping experience. The only suggestion I would have is to make the prices for your plants less excessive.
10 months ago Francisco Chatterton
Love this store. It smells so good. there is everything you can think of here.
5 months ago Dwight Simmons
Unsurpassed deli, takeout and bakery quality and convenience. Groceries too, of course. I'm jealous I don't have this store in my city.
5 months ago Brandon Rigolini
Everything sold in this supermarket was great. Customer service was top notch! Thank you for an amazing experience! Highly recommended.
10 months ago chaitra c
Very convenient. Great place to shop with awesome service!
6 months ago Markita Mills
Being they don't have many Black or ethnic shoppers Beware you will be treated without the same courtesy as others. They have one black cashier, I observed her checking out shopers and baking groceries. I voice my opinion to the male Supervisor. 4 others were standing near her no teamwork. When the Pandemic had the covid mask restrictions The male Supervisor would I also bring me a mask and I watched others he was intimidated to request them to mask up. I really enjoy checking out with Faith she is the hardest working and friendly to everyone. I mentioned she should check working elsewhere which would pay more. She said she was happy.. I shop at Lunds Byerlys, when I walk in Chanhassen or Navere. Everyone is friendly like faith. They ask how ive been or ask where, I've been. I am a valued customer there. However, at Kowalski the one and only gracious worker was asked why she was so friendly to me. Not with everyone else, as she is They pointed their finger with this Black shopper. My son is an attorney and said I should write this review before further action is warranted. Equal rights please. Try and smile and be happy to all regardless of skin shade. I've lived her for years My kids went to Breck, and Minnetonka. Today the male Supervisor walked out when I did. Then he turned around, ENOUGH OF YOUR POOR CUSTOMER SERVICE. SAY HELLO, YOU SEE ME EVERYDAY.
5 months ago Wesley Thiessen
I always say that Kowalski's is a lovely shopping experience! But the prices are really too high to ever make it a habit. It is a boutique market, not a grocery store. Stop in for an experience, but you can't feed your family from Kowalski's if you need value for your buck.
7 months ago Matthew Jacks
Ordered my Easter dinner on line and wrong location ( my fault). Shore view location, 40 miles out of my way. .Deli associate went out of her way to ask store Manager, Luke if we could accommodate for my order and error. He said they have a courier service that could drive my order to my home in the next few hours. Deli associate and store manager were so kind it touched my heart. Excellent Customer Service, Excelsior store is my favorite. Happy ???? Easter.
11 months ago luca michelotto
Great friendly service with a premium price! You will definitely pay more for food here. If you don't mind blowing and breaking the bank on food then Kowalski's in excelsior is the place for you to go and drop every last dime you have, especially excelsior!
9 months ago Agathe Lermuzeaux
I am always happy with the quality of the fish and produce. Pre made meals are nicely varied and the staff is extremely helpful and pleasant. Some things cost a bit more but I think it's worth it ☺️
11 months ago DEMANGE PIERRE
We have been going here since this location has opened. In the beginning Kowalskis Excelsior had everything from rabbit to rare dried pastas with fantastic quality control. Now the store seems to push their greed with at least half the building filled with kowalskis branded foods and half the quality control. Although if you pick the right thing it can be good, but it's never the same twice. Caprese salad for example : buy it one day and comes with fresh cheese , tomato, and perfect mixture of olive oil/balsamic . The next day it's all off, either all olive oil with no mix of balsamic, or it's a five day old tomato, or both. Homemade cookies are another example: One day they're fantastic and you go back to buy more and it's like they came from a completely different country, let alone a different person or a different store. The produce is terribly overpriced and never have what I need- had to run to a different to store more than once to complete a recipe. The meat department is great, but I can see the cuts are not as well sourced as they once were. If you shop here, be sure to read the dates before purchasing and skip the kowalskis branded /premade foods. We were so excited to have them here in excelsior, but it seems they're pricing their products according to its demographic location like many businesses do now. I, for one, will not play that game anymore for its subpar products and services. I will drive the extra few minutes to Byerly's.
10 months ago Rachel Gilbert
Easy to find what I needed. Loved the salad bar. The only complaint was the broccoli was stale.
8 months ago Laura Davied
Twice have gone and wanted bakery/desserts. Absolutely no one behind the counter. Other Kowalski employees walked by customers waiting at bakery/dessert area and never stopped to help.
11 months ago Colleen Walker
Pleasant shopping experience. Prices are higher than what you find at a regular grocery store, but typical of what I expect from an all-organic store. Employees are always nice and eager to help.
11 months ago D Buster
Nice family environment, very clean and stylish.
5 months ago Fausta Cabrera
Once at a Kowalki's market, you know everything is going to be in its place and high quality. This time, just at their Starbucks store. Quick and easy.
3 weeks ago Richard Vogen
The aisles are clean...the store is brightly lit....cashiers are friendly and efficient. They generally have wonderful sales throughout the store.
11 months ago John Gingerich
Best bread in town and they make some mean wings too
7 months ago Nick Major
Nice place some things are a bit spend but you pay for quality. Great Deli. Starbucks there closes at 8!
9 months ago Kim Cumming
I enjoyed the eclectic nature of the store, a fun experience
6 months ago Ingrid Jackson
Kowalskis is clearly a class act-- their store in Excelsior has not only given us a store, but great store! It's too expensive to do our stocking up on basics, but it has all the based covered when we want to pick up a dinner on any given weeknight! One of our faves is the fresh squeezed orange juice. You just can't beat that fresh flavor. May Kowalskis live on forever in Excelsior!!!
2 weeks ago Christoph Walsh
This is such a great local store. We were thrilled when they upgraded their produce section with fresh organic produce. So much better than the produce section they opened with. They also have a surprisingly well- curated gift section, fresh flowers, and an amazing soup and hot food bar. We feel very lucky to have this one-stop shop with a gourmet feel in Excelsior. We were also very happy to see that they just added a plant-based meats section! Saves us an extra trip across town looking for these items.
7 months ago Dayra Mendez
Beautiful, well-organized store with awesome staff. Great deli food and sandwiches. I love basically everything about Kowalski's.
4 months ago Mel Stevens
Very nice and calm place to do some shopping.
4 months ago Richard Allen
The best independent grocery chain in the Twin Cities!
9 months ago Pat Coleman
Beautiful and clean shopping experience. Lots of natural and healthy versions of food brands. Could have more organic fruit and veg options, but they may not be available. We visited in Sept of 2020. Lots of made-on-site savory and bakery items to enjoy!
4 months ago Corey Lau
Love Kowalski's Market. They have great prices and fantastic assortment of veggies and fruits. People always wear masks and no one seems to complain about anything. Enjoy your experience.
5 months ago Jim Pace
Beautiful, modern, and clean grocery store. There is a wide variety of gluten free and organic options. Lots of fresh produce, take-out options, large deli, fresh sushi, and baked goods. Generously sized salad and olive bars. Staff is courteous and friendly, and everyone is very mindful of social distancing and proper mask wearing during COVID-19. It's a little on the pricy side but it's worth it given the quality you receive. Located conveniently in Excelsior near downtown.
5 months ago Rich Palmer
I'm terms of quality of food this place is great.
11 months ago Kayla McNally
Quality strong, price is high...
8 months ago Justin Last
Really nice store, upscale, clean, attractive, helpful, specialty items, Starbucks, friendly
10 months ago A O
They have an excellent selection of fresh produce and meat. The employees are friendly and helpful. The prices are in line with other area stores.
5 months ago Brendon Griffis
Very friendly and helpful staff. Was my wife's first visit there and she was very pleased. You pay more than you would at other grocery stores but you definitely get your money's worth!
5 months ago Katherine Whitehead
Enjoy the fruits, vegetables and meat section
9 months ago Stefan SchnabsiX
Nice store. Nice variety of stuff. Bit high price. But al good
4 months ago tony kernats
The mask mandate has changed, but not at Kowalski's. I guess I won't be shopping there anymore.
10 months ago Danny Boyd
Great atmosphere however workers in check out are okay
11 months ago Jonathan akoetey
Good crowded too much merchandise in too small an area. Got the purple artichokes. Very fresh and cool. Like all other stores could use more employees serving customers and less in the back doing the cooking and making salads
5 months ago DreamShore Music
Amazing store. Amazing service. Amazing quality!!
2 months ago Liz Juarez
If you cook it's not very practical
8 months ago Force FUNK
Great shopping experience, footprint is just right! Very helpful staff, I am certain what I choose will be high quality. Just love coming to kowalski's and supporting such a great family owned business! They employ so many wonderful people. My happy place!
5 months ago Emma
Inevitably a bit more expensive for regular items you could find elsewhere, but I frequently find things that I'd expect to have to go to a specialty store for, which saves a trip and is worth the premium. Beautiful store, great bakery and deli, and it's nice to have unconventional grab and go meal items available when you don't want to cook but also want to avoid pizza and the drive-through.
10 months ago Tyler Grieve
Awesome store! Yummy food. Great customer service!
1 month ago Johnny Barber
Good prices for great food.
10 months ago James Franznick
Awesomeness, really liked this store's displays of fresh veg & fruits. I wish this store was near my home town! The fresh seafood and meats looked great
4 months ago vader Towley
You fancy huh?! Nice store
3 months ago arockia samy
Nice grocery store
7 months ago
Popular places from the category Grocery store