Bed Bath & Beyond
Department store Bed Bath & Beyond, 7961 Southtown Center, Bloomington, MN 55431:
220 reviews
of users and employees, detailed information about the address, opening hours, location on the map, attendance, photos, menus, phone number and a huge amount of other detailed and useful information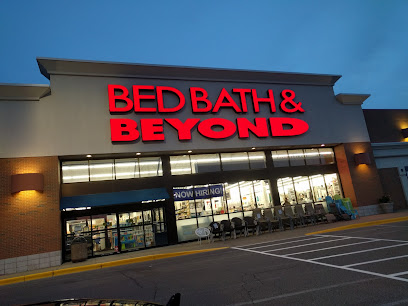 Address:
7961 Southtown Center, Bloomington, MN 55431
GPS coordinates
Latitude:
44.8592513
Longitude:
-93.3043903
Location on the map
Reviews Sandy Garrett
Well organized store. Lots to look at. Prices are a little high for my budget, so I'd usually choose to shop elsewhere. But they have a great selection.
4 months ago Crystal Franklin
Never saw an employee to help me on the entire floor. I needed to view a registry & could not find anyone to assist with that. Eventually pulled it up on my phone & located an item. I noticed a slightly larger & better Pyrex set than was being requested. No price on package or label on the shelf to help me decide if this was a better value. Big "Now Hiring" banner in the window...that is obvious to anyone shopping in the store.
5 months ago Valerie Rummery
We had terrific service from the employee Zach F! He was helpful and asked us how our day was. Will definitely be back due to the wonderful service!
5 months ago Chen Chen
Absolutely amazing experience today. I accidentally grabbed the wrong pressure cooker as they were closing. Noticed when I got to my car however they still let me on 15 minutes past closing to let me exchange and get the right product. So thankful and grateful for them ❤️
7 months ago Roman Liscenko
Lacking a lot of stock, pricing has definitely greatly increased
4 months ago game videos
Went there for towels. Now in a new (smaller) area. Sparse offerings Didn't have what I wanted. And the sheets - same problem. The manager I spoke with didn't seem too optimistic about when another shipment would be in. I can't believe all the Bed Bath & Beyond are in dire straits. If so they need to change their name.
6 months ago Derek Cook
I went to this location to purchase items off a wedding registry. I have shopped at Bed Bath & Beyond before but this was my first time at this location. I wasn't able to find everything at the store, so bought what I was able to and planned to purchase the rest online, which wasn't a big deal. The issue started as I was checking out. I had pulled up the registry information and code on my phone to be scanned. I asked the cashier about it as I had never purchased using their registry before. I was immediately scolded because apparently I should have printed off the barcode online and brought it into the store, according to the cashier. I was also scolded because I didn't tell her quickly enough that everything was on the registry (I bought ~6 items), so she had to rescan some items. I checked the barcode that she scanned at the store from the registry she printed and compared it to my phone. They were the same. Very poor customer service and training. Will not be returning to this location.
7 months ago Melissa Cornett
Great coupon's selection sales and deals!!! Very helpful staff and especially the store manager!!! Will be back soon!!!
5 months ago Erica McMahon
I like all the great choices of merchandise but are so many things not marked and can never find anyone to ask questions. I'm handicapped so it is not easy to do so much walking to find someone or walking to find the price checker. I am glad they stopped trying to push products on us when you check out. Good choice.
10 months ago denja fleming
I have been a patron of BB&B for years, in particular, its Bloomington, MN location. I am aware that its parent company is experiencing financial difficulties, 'has closed some brick & mortar stores. Amidst these difficulties, the morale of employees seems unchanged. Excellent service, wide variety of products. 5 stars!!!
10 months ago Susan Hearn
It's ok. Not enough staff. Disorganized. Product was laying all over. Definably not gonna be a place I frequent. Searched and searched and couldn't find the beyond section.
5 months ago Nicole Perez
The store itself a bit difficult to get to as it's in the back corner of the shopping area. Once inside, the selections are plentiful! Especially their cooking aids (pots, pans, utensils, etc.) and coffee makers and coffee itself. The store is actually bigger than it looks, so there's plenty to checkout and explore. The reason for four stars is that each time I've gone in and purchased something, it takes at least ten minutes to checkout. There's never enough cashiers. It doesn't matter what day or time of day. I hope this helps out. Cheers.
2 months ago Rebecca Davis
I was looking for a folding card table and I found one at Bed Bath and Beyond. I paid online and picked it up at the store. I saw several things that I might have liked to buy, but beware! if you've recently lost your job due to the pandemic: their prices are out of your league. They certainly were out of mine.
11 months ago Megan Collins
We LOVE Bed Bath & Beyond! They have some unique items, now and then, a variety of price points, and every location we've shopped at has extremely helpful and sweet staff! Of course, they don't have everything, but no business does. However, they will let customers use expired coupons! No other business, that I am aware of, honors expired coupons, in full. This is but one reason we continue to shop here. We'll always check here, first, for items we're looking for.
5 months ago Monique Bradley
Very helpful staff. Everyone was so nice and helpful. This store is so clean.
11 months ago Rodrigo Zelada
We like this store. It's nice & clean. People are friendly,helpful & nice. We enjoy shopping there. ⭐⭐⭐⭐⭐
1 month ago BecDixon
Nice selection and lots of stuff
6 months ago ali Hapali
Don't use this location for curbside! Doing you a favor from wasting your time! First of all I waited outside for 10 minutes for the tracker to say call an associate because order is "taking longer than expected" nobody picked up the phone. Then I go inside and wait another 10 minutes in line because there was a long line and only 3 cashiers that were slow. When I got to the counter I showed my pickup barcode (the system claims no code found) I told the cashier and while pointed at my curbside pickup order saying I'm sure that's my order right there on the counter and the girl helping me ran to the back to look and it wasn't there. I pointed to my order again that I literally can see the paper has DA on it for my last name and she looks and still seems confused and had to ask another cashier if it's okay to give it to me.... Umm that's my order ? The other cashier said hmm it looks like they're outside and pointed outside. I am right here!? I even said I'm here to pick up my order since nobody came and didn't even get an apology for my inconvenience. You can see on the pickup slip who's name is on it. I am just annoyed because it looked like nobody was even monitoring the curbside pick up option. Don't have curbside as an option if there's nobody checking or getting alerts that there's a car waiting for curbside. I usually never shop here anyways because it's never good service and I will for sure never return again. You should reconsider removing curbside if it's so disorganized and not even an valid timely option. I stood in line for a while and there was literally nobody going outside to deliver orders curbside because there were other cars waiting. It might smell good in there but not worth the bad service. I did notice there was some type of leader or whoever standing there just watching the cashiers so if they got time to lean then they got time to look to see if there's any curb sides waiting! Disappointed but not surprised at all. Bed, bath, and beyond annoying.
11 months ago Jeff Mayer
1st time at this location. I can't say it was great, but subpar with others I've been too. Like many other retailers their stocked seemed rather sparse.
10 months ago Mike Ashworth
Found everything I went there for....
4 months ago Shaunna Combs
Was unable to find any staff for help, but finally was able to locate product on my own
10 months ago Audio Electronics
3 cashiers and the check out line that goes through the store, the lines probably 30 deep and growing.
2 months ago Tonia
Great options at great prices. Even better deals when you sign up for their saving program.
4 months ago Jifyjif Ginu
Every interaction I've had with this location, and the company in general, has been awful. Today is 3 strikes in a row and you're out. I ordered online for in store pickup, and half my order was canceled (no notification). I called to cancel the other half so I wasn't driving for a $10 item and they told me that's not possible. I just have to wait 5 days and not pick it up, then they'll process my refund for the whole order. Soooo keep my money for 2 weeks just before Christmas when I need it.
2 months ago Carlos Oliveira
Very messy last time I was there. Not great selection, but not too bad. Average home store.
5 months ago Claude Bolduc
Compared to other locations this over is fairly well stocked. Check out however was very slow.
3 months ago Deb Tiji
This store is a little on the messy side, and the staff could be more friendly and helpful. Whenever I need help, there's no one around.
2 months ago Christopher Urbane
My wife and mom came in to the SouthTown store today to buy a few things. They looked around for help and eventually found a couple employees talking at a register in back. They asked for help and after being ignored for a while. The sales person said the item wasn't available in store and when asked about mail to store informed them they should just order it online and have it mailed home (not what they were asking about). When my wife and mother went up to pay for other items the cashier was not terribly helpful and didn't provide correct change. When asked for the missing dollar she replied casually and slowly "I will have to call a manager" she did and eventually the manager came up walking slowly and without concern. The cashier then crumpled up the receipt without looking to see what it was despite being asked for it. The whole experience was pretty bad. They went to Kohls next and were greeted by people who actually cared about the customers and they purchased items there instead of BB&B website. Can you guess where we will check first for items next time? In this time of Covid politeness and helpfulness is important if a store plans to remain viable. Most customers won't take the time to mention their experience they just don't come back. My wife used to love this store because of the service...
6 months ago YOLANDA VARGAS
Ordered curb side, showed up tapped button to notify them I am here, it did not submit online so I had to call in to let them know. They guy came out with the wrong item. I asked if he could return it and said yes went inside store came back only to tell me I'd have to come in for return because they need my order number. Got inside he asked for number but then said it's ok I got it right here as he is looking at slip order. Horrible curb side !!!
3 months ago God First
Normally we have a pretty good experience at this store but on this trip we were there to pick up the KitchenAid ice cream maker and they are very hard to find these days. Showed there was one available when we looked online and sure enough when we got there we did find it! However it was obvious that it was a return. The box was all banged up and once I opened it I could see that there had been no attempt to clean or put anything back together. It still actually had ice cream stains from the previous person's use... gross. So needless to say very disappointed and would have expected better from the store to clean up and make sure that any return that's put back on the floor is up to par for people to purchase and/or it's clearly stated to be a return or has been discounted for that reason.
10 months ago Alan Davies
I worked at BBB and the way this place operates compared to my store is disappointing. It's hard to find help and when you do it's hard to keep them. They have a lot of young boys working there and they are never knowledgeable about the products even though they are suppose to take classes to become educated about them. They also do not offer free in store shipping unless you press hard enough. (I could just order it myself if that were the case) Also, and this is a comment on the company as a whole, but why sell a trash can that requires a certain bag and then discontinue the bag. Lastly, anytime I order an item online the item doesn't even ship until after it is suppose to DELIVERED. I thought it was a one time thing but nope. I can see now why business has dropped so drastically.
4 months ago Michael Townsend
Although prices are steep it is worth it.
6 months ago Domingo Ngan
Staff are so helpful. Found everything I needed and then some.
2 months ago Shubhansh Gangwar
I had a really great experience going here with my wife. I'd like to give a special shout out to Mark, one of the workers on the floor. It was my first time buying pots and pans and he was able to provide expert advice that showed a lot of experience and knowledge, even providing answers that I couldn't find after searching online for over an hour.
4 months ago Richard Hussey
In an attempt to support retail I ordered my vacuum from this location for pickup. I had to go into the store even though they said I could have it delivered to my vehicle. It took four people 30minutes to figure out they screwed something else. All while I waited 20feet from a pile of the very vacuum I ordered. Do not go to this location. It is worth the drive to any other store. Or, order it through amazon at a cheaper price and have it delivered to your address.
6 months ago Ashar khan
Great people, clean, decent selection
10 months ago Sue Leverick
Good place to shop. Affordable. Well organized. Friendly service.
6 months ago Heather Ginger
Terrible service. I will not return
5 days ago Dyneisha Blacher
Nothing there I could use
6 months ago SR Cummings
Date of Visit: 10/31/2018 approx. 10:30AM - Rating a 2/5 stars purely for the treatment I received from the Wedding Registry sales associate, Summer. Summer was incredibly overbearing, wouldn't listen to us, and was very pushy. We kept asking to give us the scanner, we didn't need her to escort us throughout the store and show us all her favorite items, but she kept just saying, "Oh let me show you this!" and "Oh, let's now go look at this!" We found it incredibly irritating. Further, when we went to leave, she made us review our registry with her while she critiqued each item and asked us why we added that item, or why we didn't add a different item. Again, we found this irritating. FINALLY, when we were done, she couldn't get the printer to print the registry; we told her multiple times that we do not need a paper copy. Again, we waited for 30-35 minutes for her to get the printer up and running. The store itself was clean and organized (except for the bedding, which they were doing a re-set on) and the other sales associates I encountered while scanning my items for the registry were helpful, kind, and pleasant. In sum, if you're looking for a 2-3 hour registry experience, visit Summer. For us, we wanted a quick in-scan-out experience. We only scanned for approximately 20 minutes...the rest of the time was spent trying to get Summer away from us.
4 months ago vivek m
My shopping experience that was great I found everything I need it dawned on me that since covid-19 certain things you can't get like the Egyptian cotton towels so that was sad when I went to check out one of the ladies a older Caucasian lady was very disrespectful to me in my company but we did talk to a manager everything was an overall success
6 months ago Align Vortex
Everyone was extremely friendly and helpful to me. I was able to get a beautiful shower curtain that really pulled my bathroom together. The shower curtain that I wanted was on display and associate went the extra mile by taking it off the display when she couldn't find it in the bins. Great place to shop.
10 months ago Maria Modesto
I ordered online with an in store pick up. I went through the pick up line by the cashiers to get my item. Then I was asked to go back to the check out line and wait. What? I was JUST there with a cashier... now I have to wait for... ANOTHER cashier? Should have immediately checked out. Train your people Bed Bath & Beyond!
7 months ago Ruth Marland
They have some good deals
1 month ago demar mitchell
I tried calling to see if they had a product in stock at their store before heading out, the first line of callers didn't know what they were doing. Once they transferred me to the right place the guy hung up. I called again, she didn't know how to transfer me, and kept answering the same line I was on. After the fourth pick up she finally transferred my call and then the line disconnected. I'm screaming, it's the funniest thing ????. I'll try target or something.
6 months ago Kerry Lane
They're dated
4 months ago taylor marinovich
Too crowded when I went, but I love the sales
1 week ago Mirian Mendoza
I went to the store to buy towels and a few things to try making my own sourdough. Not much of a shopper, I tend to zip in and out of stores getting right down to business. I found this store to be laid out really well. The baking stuff was just to the left of the entrance. I could not find a large enough glass jar for my pickling so Mark at the service desk in back was kind enough to order it for me. Then I noticed a CO2 cannister and he explained how that machine makes fizzy water which my grandson really loves to drink. I keep hauling bottles from Trader Joe's so instead I got a fizz maker and he helped me choose. In the end we found a couple of more things to make both bread and pickles which I had not even thought of. The towels were near the exit and by then I had filled a basket of stuff, all useful. Great experience and very thought help. Thank you, Mark. Olga
4 months ago Romy Dhillon
I heard that Kohls and Bed Bath and Beyond stopped carrying My Pillow because Mike Lyndell shared his beliefs about the election.
1 month ago Elizabeth Howard
Service is slipping a little lately, hopefully with the COVID vaccine things will get back to normal
1 month ago
Popular places from the category Department store