Sprouts Farmers Market
Grocery store Sprouts Farmers Market, 1011 N San Fernando Blvd, Burbank, CA 91504:
220 reviews
of users and employees, detailed information about the address, opening hours, location on the map, attendance, photos, menus, phone number and a huge amount of other detailed and useful information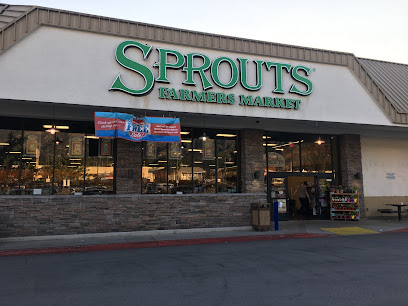 Address:
1011 N San Fernando Blvd, Burbank, CA 91504
GPS coordinates
Latitude:
34.1869820
Longitude:
-118.3185873
Location on the map
Reviews Jim Thomas
Super fun to visit this grocery store. I purchased scones and Devonshire creme! Amazing! Just plain fun walking the isles
1 month ago Mika Young
Love shopping here. You can find so many healthy food and so many vitamins to choose from. It deserves a 5 star for me.
5 months ago Kim Leonard
I love Sprout's. It's so nice in there. It's like being in a store out in the country somewhere. Their chicken noodle soup is to die for. I never leave without a quart and of a few dark chocolate peanut clusters.????
6 months ago hakan atmaz
I have been going to this Sprouts store for several years now. From seeing different type of trail mix, to chocolate Sprout has to offer. You also get to try new types of food. From Fig Bars (i believe they were peach fig bars individually wrap) to Irish Soda Bread to bake goods. From cheddar jalapeños bread, cheeses. You could also see the variety of fruits and vegetables from Rainbow Carrots to different types of apples. If you take the time to walk around the store without being in a rush you'll be able to walk down every isle or see the variety of trail mix, chocolates, candies, ground coffee. As for snacks you have pretzels, chips, to ice cream.
8 months ago Ziyad Tariq
Dude I'm not a huge fan of the commute to this place but honestly, i love this Sprouts. The closest other Sprouts is in Glendale and is tiny compared to this big mama Sprouts. They have a ton of selections, always the nicest staff and I've only had an issue finding something there a few times. Even if it's a trek, go to this Sprouts just so you can enjoy the vastness of this grocery chain. Never thought I'd review a grocery store but hey, Covid.
5 days ago shaqueza folk
Very nice selection, can find a lot of raw Indian spices here and international spices/cuisine. Good variety for vegetarians/vegans. Store has been enforcing social distancing and mask requirements for customers. Friendly and helpful staff. Accessible by wheelchair.
8 months ago Melissa Copeland
Like that you can buy bulk from the canisters where you control how much goes in the bag as well as pre-packaged products (ie. Cookies that I saw pre-covid loose in a cabinet where a customer ran his hand up, down, across the pastries. Btw--I did tell a cashier and she did nothing)
6 months ago George L
Great helpful staff. Fresh produce. Really good prepared foods. Great place for organic anything.
8 months ago Andres Mena
I always feel like a granola hippie when I go here.
5 months ago Chris M
Love this store. Great fruits and veggies.
10 months ago Kevin Youngblut
I like this sprouts because it has it has lots of healthy and nutritious foods and they have the best almond milk. But theres a huge problem that needs to be fixed RIGHT NOW! There's always a huge swarm of gnats near the meat and seafood section I would've added a video of them to this review but google maps doesn't let me add videos. They also have some flys that fly around the fruit and seafood. There's so many flys and gnats in that area that you could probably play a whole match of fly swatter tennis. It's disgusting and they need to fix it ASAP.
5 months ago AintThataBite
This is my favorite Sprouts - and don't kid yourself, I like Sprouts. The produce is delicious always in stock, the lines move pretty quickly, the deli and meat/fish counter is always full and the bulk bins and full of bulky goodness. Sometimes parking gets crowded, but not as hectic as the Trader Joe's up the street. I have no complaints....I give 5 stars without reservation!
2 months ago FUTURISTIC SHOW
This sprouts has some of the best people working here. The butcher was a funny and straight forward guy. Really is very knowledgable and sharp. After my great encounter with the butcher, the packet of blueberries I was carrying slipped out of arms and exploded all over the floor. There was a man who works there and he effortlessly had grabbed a broom to help. There was another man who helped with a basket. I feel like it wasn't just them helping, but more their strong character and hearts. I really appreciate your help and kindness.
4 months ago Travis Holcomb
One of my top go-tos for organic and local eats. The in-house branded stuff is done well and reasonable. Some name brand things can be kinda of pricey though.. so do some comparisons if you're on a budget. The organic fresh produce is much more reasonable than competitors and high quality in my experience. I love that they offer cotton reusable bags for their bulk dry foods, they're like $1 and I think I have about 10 for my usual grabs. It's great they're helping reduce packaging and I love them for this one move! I really don't like grocery stores in general so would probably never give one a 5-star review. But Sprouts is certainly top of my list in the category so feel like they're deserving.
5 months ago Ignacio Garcia
Sprouts is great! Its like Whole Foods bit with better prices and great sales. Every Wednesday is when the new ad comes out and they honor the last weeks and the upcoming week ad so its a double sale day. Sprouts has only the top quality vitamins and supplements and the helpers in the vitamin section are incredibly knowledgeable which is a pleasure. Sprouts has only high quality pet food and great conventional and organic produce as well as deli sandwiches, bakery items, fun bulk items section, natural makeup and skin care section, and everything a grocery store might carry only healthier. I love the seasonal gifts they carry, especially now at Christmas time because they are usually benefit the environment or some indigenous people or another good cause. A little bit of jewelry, some sun hats,cute reading glasses, books on health, refrigerated probiotics...you get the idea. All around a fun and great store. Big parking lot also
6 months ago Melanie Worthy
I like to shop from Sprouts market because they have good egg and milk varieties.
8 months ago Kimberly McCurley
Clean store, great oatmeal cookies along with nice selection of health foods.
10 months ago George Urban
This is completely false advertising. This s NOT a farmers market. Not a single farmer is there. It is a grocery store, plain and simple. What a shame they are able to falsely advertise what they are.
10 months ago jessica kaumfan
This place is berry unique and great place to shop for your favorite organic food and many other delicious foods this is what I got for my self
10 months ago Suzanne Parker
The store is well organized , and clean. The workers are very knowledgable, and friendly =)
10 months ago Debria Harris
Good prices, great selection, plenty of parking but tends to be a bit busy.
10 months ago Glynis Cranefield
Great place too share your day
6 months ago James Steinert
I love Sprouts! I go there especially to get Root Beer Ollipop. probiotics sparkling water that tastes just like root beer. They have other flavors too
1 month ago Susan Spencer
The chubby white guy fixing the carts is very disrespectful! I saw him chace down people that were even handicap, screaming go thru the other door smh. ---So sad cuz the people was already in the store, why even bother, I bet he's wickly races????????????????????
2 months ago Wendy Brand
Nice produce, helpful staff. Love the bulk items, although now they're all in little baggies.
3 weeks ago Michael McConnell
Sprouts is my favorite grocery store for healthy food options. Some specialty items you won't easily find elsewhere. Superior selection of bath and beauty products with excellent brands. Love their natural herbs and vitamin and supplements department. I usually compare their prices with those online and almost always competitive. There are a few items here and there that are overpriced. Wish they sold name brand toilet paper and paper towels. I shop at the Burbank and Eagle Rock locations. The Sprouts brand products are consistently good. They were not enforcing mask policy at the Burbank location. Three people in line had masks on their chins, the clerks did nothing. A Sprouts employee was wearing his mask under the nose, and I reminded him it's supposed to go over the nose.
7 months ago Carol Devery
Sprouts has some of the best prices for organic and natural product. Their holistic and homeopathic health section always has exactly what you can't find at other places. The snack selection is simply the best and the bulk foods are a bargain! I definitely recommend checking out.
7 months ago Del Coon
Other than the bulk foods and prepared meals, I prefer my local Trader Joe's. Their corporate culture is standard at all locations and regions.
4 weeks ago Phyllis Jackson
I want to give a big shout-out to Sal, the manager from Sprouts Market in Burbank, CA. He thoughtfully donated Sprouts plastic bags for Burbank School students. They were great to use for giving students the supplies they need for doing school activities at home during this unique time of Distance Learning. Thank you Sal and Sprouts Market!
4 months ago Ismaila Sani
Always good food and still affordable
5 months ago Christian Mendoza
Perfect selection and fast lines! Super clean and really helpful staff.
5 days ago Courtney Fog
Burbank sprouts is the best one out of all the others in the valley
8 months ago Jennifer Busone
They had exactly what I was looking for. Good selection in their health supplements too.
1 month ago Deborah Earle
This Sprouts was nice, but smaller than other Sprouts that I have been to. They did not have much in the bulk sections and had a very limited selection in the everyday items I was looking for. The produce was great though.
5 months ago Shanie West
Original cranberry juice the best one in the market..they have it
11 months ago Melissa White
This location has the friendliest and most helpful staff of all the sprouts I've been to!
1 month ago Anil Patel
Will never go back to this location. I'm usually at the location near my home, but had an appointment around here, so I stopped in. First, I had to wait in line in the heat due to the overhyped virus. Burbank is it's own city, so I guess things are stricter there. Glad I dont live in this town. Second, food is overpriced. Lettuce was pricey and it was starting to wilt, and lastly I didn't get the name of the young lady at the Deli counter, but the large bosomed young lady acted like she didnt want to be there, and made my sandwich with an attitude she spoke with through her facial expressions and tone, and to top it off, they were out of rolls, or that's what she said with an attitude, who knows if it was true. Never had such a bad experience in a grocery store, never will return here, I'll just go across the street to Ralph's next time.
6 months ago Roque Alvarado
I go to this Sprouts all the time for fresh groceries. Good selection and prices. I feel like they can always use an extra cashier though- the lines can be a bit long, but otherwise it's very convenient. The parking lot can be a little tricky as its usually very busy with cars and solicitors
7 months ago Matthew Powell
Decent Sprouts location. Their stock is pretty good, parking lot ain't too annoying, and the quality of the products is not bad at all. We had an unsatisfactory visit over a year ago provided by a cashier. Haven't seen her since though.
5 months ago Shakhzod Yovkochev
This is for the deli counter. I was shopping for another person and they requested sliced gouda cheese. I asked the lady working at Sprouts behind the deli counter and she said they don't have sliced gouda to look somewhere else. I told the person I was shopping for and she assured me it should be there at deli counter they should help me. After walking around store looking I went back to the counter and asked a different employee and she said Yes! I can get that for you. I asked her why the other lady could not get that for me, she said when I asked for gouda cheese she heard me and understood I asked for sliced gouda cheese but did not know that I asked or gouda cheese. This does not make sense and This was a waste of my time and the person behind the counter should get what the customers ask for
3 months ago Lindsey Bloomquist
Your products are very good.
8 months ago Tom Z
Very cool place to shop. Always friendly and nice staff.
11 months ago Artur Kaleta
Everyone's survival market!
5 months ago George T
Best sprouts in the valley! Has more variety of items than let's say the one in granada hills!
1 month ago Matthew Ringuette
Best produce for the price on the whole. Good selection, spacious aisles, carts available and product turns over pretty fast. Great core grocery for your organic perishables
5 months ago Lesego Evonia
Clean, everything stocked. Organic products are at comparable prices with other local grocery stores
9 months ago Anne Simone
Best Deli Sandwiches ever the girl that makes these awesome sandwiches name was Veronica any time I'm in the area I stop @ Sprouts Farmers Market
7 months ago Richard Combs
Crowded as hell more often than not. I think everyone in Burbank is a fan of quality organic produce. Still, the line moves quickly and the parking lot is only a little sweltering.
6 months ago Josh Gate
Lots of verity trusted supliments and vitamins, often has %25 discount on supliments
5 months ago Karen Wright
Great independent market with some great products not available elsewhere.
4 months ago
Popular places from the category Grocery store