BruMa Realty LLC
Real estate rental agency BruMa Realty LLC, 2129 Davidson Ave, Bronx, NY 10453:
220 reviews
of users and employees, detailed information about the address, opening hours, location on the map, attendance, photos, menus, phone number and a huge amount of other detailed and useful information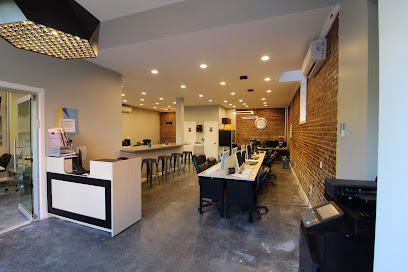 Address:
2129 Davidson Ave, Bronx, NY 10453
GPS coordinates
Latitude:
40.8560433
Longitude:
-73.9066535
reviews Paul Wainright
Hey Everyone, If you need cooperated, honest, clean and customer oriented realty company Bruma is for you. On other hand I have to mention the name of Mr.Yaakov who has grasp of good understanding about your needs and creates exact solutions. Thanks to him we found very different location alternatives with different qualifications.
11 months ago Debs Smith
My partner and I had been on the search for an apartment for months! before we got in contact with Ruben and the experience was a pleasure. He was very responsive at all times, he communicated and was very professional, always did his best to accommodate us and make us feel comfortable. Being that this is our very first apartment we had lots of questions and loved that Ruben was always available to us. The process was very quick and easy and the apartment was everything we wanted. I would definitely recommend Ruben to all of my friends and family.
1 month ago Rachelle Whitfield
Joesph went out of his way to make sure that I would be a good fit for the building. I'm a professional musician and we set up my guitar and amp to make sure the sound wouldn't disturb the neighbors before signing the lease. Very helpful to make to not leave the sound of practicing up to chance with a new apartment.
3 weeks ago Tejas Singh
Usher Kohn you are a life saver, you helped us find a place when we needed it the most. The application process was clear and smooth. Thank you from the bottom of my heart for everything you have done for me and my family! BruMa Realty, keep up the amazing work selecting amazing apartments to be rented!
11 months ago Melissa Murcia
Our realtor Usher Khan is the bomb! He really took the time to find us the right apartment to meet our needs. He was very easy going, answered all our concerns, and always kept us abreast on available apartments as well as the ones that didn't hit the market as yet (which is how we snagged our 2bd room beauty). He gave us a time frame on how long the approval process may take and everything went through according to plan and without an issue. Even after we got the approval and move in date he still kept in contact with us to ensure that we received our keys and that all was going well. Usher is truly a great realtor and I would definitely recommend his services to anyone I know who may be looking to move or find a nice place.
1 month ago Rachel Hildebrand
I'm very satisfied with the Usher Kohn service. It helped me a lot. From the first day I contacted him, he was able to help me and thanks to him I have a new home???? for me and my family. I'm a happy customer. thanks to Usher Kuhn????
3 weeks ago Amber Poland
Usher was a great help throughout the entire process. Whenever I had questions he responded back immediately. When I wanted to see an apartment that wasn't even on the market yet, he made arrangements with the tenants for me to view the place. Very patient and understanding with me since I work overnight. Overall, I'm very satisfied with my experience. Thank you!
3 months ago Tara Cawley
I had a great experience working with Levi. He understood exactly what I was looking for and was very patient with me. He kept me updated on places that would fit my needs as they became available and I found the exact apartment I was searching for. Couldn't be happier with it. He was very helpful with the application process. Many thanks.
2 months ago Stephie MGreeN
Usher is the man! He is a soft spoken gentleman and very mindful of prospective residents. He has a very calm demeanor and is very likable. Usher addressed every single concern I had and answered my ten million questions. I've moved 6 times in the past 3 years due to work and every time, I've been burned by landlords with not getting my security deposit back. And because of that fear, it was nice to know that RHINO helps replace the security deposit concerns, even if I was prepared to pay for the security deposit. Usher was transparent all throughout the way which is crucial in positions like his. Not everyone is as forthcoming and just wants to close a deal, get paid on be on their way. But Usher is not that person; he has stayed in touch with me even after his Job was finished. Kudos to anyone who works with this guy. BRUMA, you need more folk like him.
1 month ago Marc Clery
Usher was a wonderful realtor and made my apartment hunting process so easy and manageable. I typically dread "moving season", but Usher helped me find my dream apartment within a week and regularly checked in to make sure we were all on the same page. I'd highly recommend him to any friend or colleague.
2 months ago Jacob Parker
Usher was such a help. We had a few things setting us back and he helped as much as he could and we eventually signed on a perfect apartment! Response time was always quick and always helpful.
11 months ago Bruce Tormanen
Yaakov was extremely helpful, and worked hard to get me into my dream apartment! I am so grateful for his kindness, professionalism, and diligence. Would give more stars if I could!
1 day ago Quinlynn Porter
We had a great experience with Bruma, especially working with Usher. He was incredibly patient while our needs for the new apartment adjusted during our search and very responsive during every stage. He found us a great apartment that we're very excited about - couldn't recommend him or Bruma more for all of your New York realty needs.
11 months ago S Parent
As a first time renter/mover, Usher Kohn made the whole process simple for myself. He was very communicative with me, explained things I didn't understand in detail, very patient throughout everything and kept the professionalism to a high level. As a full time employee he also accommodated my schedule a lot and made time to talk things through whenever possible. Thanks to him, I now have a new home !
2 months ago Hannah Young
I worked with agent Usher Kohn and he was amazing! He was patient throughout the entire process of getting my new apartment and took the time to answer my many questions. I also appreciated that he was transparent with related costs and information, making the apartment process as smooth as possible. Definitely worth it and I would gladly work with him again in the future to find an apartment.
3 months ago SHAHID MAHMOOD
Working with Yaakov was such a great experience! He was responsive and honest and did so much work to enable me to find my dream apartment, even while I was living out of town for the summer. Even after I signed the lease, he continued to be an advocate and provide assistance and information.
1 week ago James Stevens
we like the excellent service provided to us by Usher Kohn. His service was outstanding from beginning to end. He displayed concern for his client needs which is very important and comforting in looking for an apartment and being limited with time. Usher value our time and ensured that he can find us the apartment we were looking for by him asking the correct questions. such as budget, location and footage. my wife and i are very happy with his services and highly recommend him.
3 months ago Nabin Bhandari
Usher was extremely helpful and attentive in assisting me with my move from Pennsylvania to NYC. He was detail oriented, efficient, and polite throughout the entire rental process. Additionally, he answered the many questions I had in a timely manner and was cordial throughout. I definitely recommend them as a reality company!
1 month ago Charlie Adorney
I was in need of a very last minute move and had seen some places that were put of horror stories. I lucked out when I meet Christian. He is very professional. He was there every step of the way. I am very appreciative and grateful for his help!
5 days ago blanca Chavez
Looking for an apartment was less stressful with this realty. Sadia was great! She helped me find a nice sized apartment for a great price and took care of everything. She was very responsive and polite despite me asking her a million of questions due to my impatience. She was always ready to answer any questions in a timely matter and I really appreciated that
4 months ago Kate Miracle
Contacted this company to inquire if any units in the building I was subleasing in had any upcoming vacancies. Usher Kohn reached out to me and I'm so thankful he did. The situation was very unconventional, I started the process of applying for the apartment I was currently subleasing. Me and my partner's combined credit history wasn't the greatest but that didn't stop Usher. He moved mountains and worked with management to create a situation where we were able to sign a lease for my current apartment. This isn't just a run down building, it's very nice with pricier finishes and appliances. To say we lucked out with being matched with Usher is an understatement, this guy worked a month straight to ensure that we were able to get this apartment. Times when we felt discouraged he was very reassuring. We are very happy to say the least. Thanks Usher!!!!
2 months ago Michael Robbins
I've lived in NYC my whole life and been a renter for about 15 years. I have never in my life had as easy and pain free experience with any realtor as I did with BruMa & with Yaakov in particular. Not to mention the apartment we saw was gorgeous. I have never said yes to a place so quickly. We literally said yes on the spot, because they deal in quality apartments. -The website to apply: easy, thorough, and responsive. No lengthy paperwork. -The negotiations: Clear, without catches, or issues -The viewing of the place: Quick, knowledgeable, thorough -Communications: Quick and responsive. Seriously, while we found them online, I would happily skip sites like Zillow & Apartments.com and go back to BruMa in a heartbeat. So thank you.
4 months ago Angela Brown
Levi was very informative and response in a reasonable time. He makes you feel comfortable and keeps you in the loop. I love my apartment. THANK YOU LEVI!!! You're awesome!!
3 months ago christine zoellner
One of the most amazing caring hard working broker I ever met made sure I got a home even if the first one failed she stood beside me and she don't know if anyone ever looking for one she the perfect one she understands very respectful patient and on time with everything thanks you so much Janette means the world to me what you did ❤️
1 month ago Thomes Donald
Ruben Espinal was very professional, helpful, and attentive all throughout my experience to rent my apartment. I would definitely recommend Bruma Realty and Ruben Espinal for anyone who is looking for an apartment to rent.
11 months ago Jonathan Rodriguez
Had a wonder experience with Israel. He guided me through the whole process. He really looks out for his clients!
11 months ago Seamus Currie
I was introduced to Cristian Gonzalez who helped me see an array of different apartments and eventually helped me find the apartment that worked best for you me and my family. Awesome attitude, great customer service, would recommend again
1 month ago Gloria Ritchie
Working with Usher was absolutely amazing! From the very beginning he was super attentive as to what my boyfriend and I were looking for in an apartment. He actually spent time on the phone with me, trying to figure out the best fit. Immediately after we got off the phone, he sent me 5 apartment videos for us to take a look at like he said he would. We were supposed to see this certain apartment on a Sunday, but he got us in to see it early on that Friday before. From there, everything moved quickly. We loved the apartment and asked to have an application that night. Saturday evening, Usher spent about 20 minutes on the phone with me, helping me go through the application and making sure everything was alright. Monday, my boyfriend and I met with Managment, and found out later that day that we had been approved for the apartment! We signed the lease and Thursday we picked up the keys! I've never worked with someone who is so caring and actually wants to find the best apartment for their client. 10/10. A+. And above and beyond! If I ever move again, you can be guaranteed I'll be working with Usher. And you should too!
5 months ago CastreyYT
Levi Pinson , was the realtor that helped me. I would recommend him to anyone. There was little obstacles that was delaying the process but he was very understanding and patient he really helped me out, and I am very much happy with my new apartment ????
3 months ago Hannah Alzamzami
Throughout the experience of getting my apartment it was a quick and easy process. We've manage to get the apartment in less then a month. They've helped us out on getting this apartment even if you got bad credit or low income they'll do what they can to help you get the apartment you want. Highly recommend working with this company to get a perfect apartment for you.
4 months ago Ana Ramirez
Yaakov was the best!! He gave me so much peace and answered my questions thoroughly and calmly! Thank you Yaakov!!
22 hours ago James Hall
He was very polite very attentive of what we needed he was considerate if I will have to recommend somebody for resale state I will recommend him usher. He always pick up your phone calls or answer all your questions.
1 month ago Parker Loring
I appreciate Bruma Realty so much. My realtor Sadia was professional, kind, responsive and quick from the first moment I met her. She found the perfect place for me on the first meeting. Everything went smoothly and she made sure to make herself available whenever I called. I would recommend Bruma Realty to any and everyone.
1 month ago Annie Askew
Usher treated me with the utmost respect he is very knowledgeable and awesome took his time to show me apartments that weren't on the market yet and was very patient with me, I really like the way this realty does business and I would highly recommend usher ans his team to any new applicants searching thank you for your service ????????
2 months ago Diana Chappell
Joseph was my realtor and he was a pleasure to work with! He was very attentive to what I wanted and he worked diligently to find an apartment that met my expectation. He was very patient in showing me different places, until I was able to find what I wanted. That was very important for me because this was the first time I had ever moved out on my own. He listened to all my concerns and worries, and walked me through it all. He made sure to explain everything to me, and to my family. I believe that Joseph is a highly recommended realtor!!! He will find you what you want!
9 months ago Claudia Howell
My partner and I had the worst experience. Our agent was Janette Melvin, for the love of god the attitude for no reason, we had placed a deposit and then changed our mind, the lady is going to give us even more attitude saying "you're not even supposed to get your money back" this sounded like a whole scam due to the fact that she stated if we put a deposit down it means no one else should be able to touch the apartment, then a few days later she's going to state well there's other real estate companies, so we decided to pull our money and application, who knows if that money she was trying to pocket. The attitude unbelievable especially for a so called professional agent. Never again. Do not recommend.
5 months ago Lawrence Jones
I had the pleasure of working with Usher at Bruma Realty. I was looking for my first apartment. My schedule is crazy because I'm a Dual Masters student as well as work 3 jobs. He made time to be flexible to view places for me knowing how difficult scheduling was for me. The first time meeting Usher, he was prompt and inviting. He took the time to get to know what I was looking for to redefine the search for my new home. He was very honest about the process for that specific apartment and would follow up when he said he would. To me business integrity, morals and ethics are huge for me. If you say you're going to do something I hold you to that standard. He did just that and more. He showed me varying videos of places and was not pushy. I had someone prior who tried to push me to sign papers before even viewing the place so this is big for me. When finally coming to the place I will be moving into, he understood what I was looking for and recommended places that were within my budget, location and what I required. Thank you so much for being attentive, transparent, and patient with me. I would highly recommend him to anyone that is looking for good service when finding your new home.
7 months ago Shin A
I met Radhimir about 3 weeks ago. I was looking for an apt and told him my credit score wasn't so good. He told me he had properties that were less strict so I asked which ones. He showed me one. I said ok I'll take it. Went through the whole process. Got everything he asked me for. I even payed $500 as insurance so no one else could view the apt. Only for him to tell me 3 weeks later that I need a guarantor and they only except people with 700+ credit and people making $140k a year. The agent knew my credit score from jump and knew I didn't make that much a year. That being said I've wasted time and other opportunities. This has been the worse experience. I will never deal with this agency again.
1 month ago Vickie Gibbs
As a first time renter, the renting process can be daunting, discouraging and confusing. Prior to BruMa Realty, we had been apartment hunting with no solid leads. Catherine was our agent, and eased the entire process with her experience, knowledge and attentiveness. Catherine responded to all of our questions with promptness and patience, along with being extremely thorough when explaining our transition process (utilities, insurance, general tips, etc). Our entire rental experience was smooth, and we are officially tenants in our first apartment. Thank you, Catherine! Highly recommended.
6 months ago Adel Akhoundi
It's my second time that I moved with Bruma Realty, and as always they are very professional. Usher Kohn is very attentive and responsible. I am very happy with my new apartment.
2 months ago Melissa Brown
Our process to getting our first apartment became so much easier. Usher was very helpful throughout our whole process and made sure our experience was comforting and smooth. After looking around for a few months he was able to help us a lot with what we were looking for. Well worth it.
8 months ago Candy Hooper
Usher was always on time and very responsive. He helped us find the perfect apartment and we could not be happier! Would definitely recommend working with him.
5 months ago Allison Harper
Gerald was great. He help me find an apartment with in two weeks. Was very honest and upfront with my situation. And did not mislead me . I would definitely recommend them. If you want excellent and quick service. Thank you once again. You have a very happy customer here ????
9 months ago Micah Horn
Recently rented an amazing apartment through BruMa Realty. Had the unique privilege of working with Mr. Usher Kohn. He listened to my needs , used his knowledge effectively to navigate the rental market, paid attention and resolved issues in a timely fashion, very patient and responsive, followed up with every detail, very engaging so I felt I was the most important part of the process. I truly was not expecting this level of service and I remain confident that BruMa Realty and staff, in particular Mr. Kohn, undoubtedly, is one of a kind.
4 months ago Andrew Stainbrook
They helped me find an apartment I really liked. There were some issues upon moving in but Usher constantly checked in with me and reached out to management to help find a resolution.
1 month ago Velma Stevens
My experience with Bruma Realty was fantastic. My wife and I were able to get a beautiful apartment for a great price and the service we received from Joseph was phenomenal. He kept the line of communication open and would always give us updates on the status of the apartment. Always available to answer questions and helped make this process seamless. Highly recommend Bruma Realty
4 months ago Mike Larynx
This is an excellent organization with even better agents. Usher, my agent was very responsive, professional as well as patient especially since my family was undecided with moving. He gave me a long list of different apartment listings and really made this process easier than I would ever had imagined. The process is very fast. If you are ready so are they. Highly recommend them and Usher.
10 months ago Chrissy Stevenson
Thank you Janette Melvin for all your help during my son's search for a new apartment! Professional, knowledgeable, went above and beyond and gave expert advice every step of the way! Very pleasant experience! Thank you again!
10 months ago Cedric Barr
My sisters & I were looking to move out as soon as possible.. We got in contact with the Agency & they were so responsive. Our Agent Joseph was professional & got us a very nice apartment in a nice neighborhood within a short notice... Good service you won't regret.. Thank you Joseph Silberstorm.. ???? Thank you Bruma Realty ????????????
4 months ago Dayuxinxin Xiao
After months of looking and not finding anything, Bruma Realty, Especially my Broker Shmaya was a God-send, he didn't turn me away or act like he could help and didn't, he found me an apartment that next day after we spoke, kept me updated and the process was smooth and easy. And he didn't mind how many times I called him asking for info etc. I highly recommend Shmaya for the Job.
3 months ago
Popular places from the category Real estate rental agency