Marshalls
Department store Marshalls, 7013 Hollywood Blvd, Los Angeles, CA 90028:
220 reviews
of users and employees, detailed information about the address, opening hours, location on the map, attendance, photos, menus, phone number and a huge amount of other detailed and useful information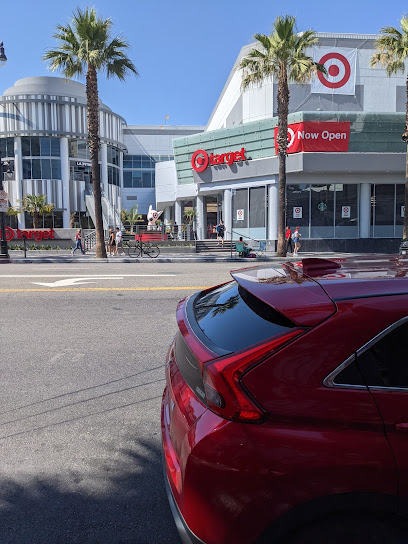 Address:
7013 Hollywood Blvd, Los Angeles, CA 90028
GPS coordinates
Latitude:
34.1017121
Longitude:
-118.3421691
Location on the map
Reviews Borys Pierov
As a reviewer, I'm always looking for great deals just to shop and review places. This place wasn't as good as I thought it would. The security was on his phone while monitoring me within less than 6 ft apart, I definitely felt alright but the fact that the young man was standing too close to me and not concerned about distancing I was concerned about what he was thinking or doing and why I happened to be the person he was standing close to. I felt a little threatened due to his height and his stance. The guy obliviously was monitoring because first he was standing 10 ft away from me looking in a different direction. I definitely am not surprised this situation because I'm familiar with retail and how the culture is. Anyhow, I felt very disturbed as regular customer that supports Marshall's a lot so I just got two items and walked to the cash register line. The wait was long for it to be very few customers in the store who had very few items to checkout. In addition to my experience with the security, As I started to walk out with my purchase the security guy also was standing at the door staring me down. I hope I wasn't being mistaken for somebody else nor do I hope I was being profiled. I am not happy of what happened tonight with my experience as customer. Video footage is only for evidence sake due to the circumstance. I do not want this to happen to anybody else.
11 months ago Andrea Black
This Marshalls has a nice, large section for beauty,home decor, & some furniture pieces. I do find the clothing and fashion accessories very minimal compared to other locations. No public restroom available.
6 months ago Julie Mccabe
The manager at this location needs customer service retraining. He lurks behind the counter with a menacing scowl like a South American dictator in exile. I was returning some unopened sheets with a receipt but was 3 days past their 30 day rule. The Marshalls website clearly says they offer store credit in this situation which I was fine with. After a long discussion with the president the clerk returned to say they were making a "one tine special exception" I replied, really to your regular policy?" Was going to make another purchase but not at this location. Staff never laughs or smiles like at other locations
6 months ago nightslayer work
Exceptionally clean and has really grad customer service. The store is very far from where I live but it's worth it. Had pretty much everything I was looking for and I look forward to shopping here.
5 months ago Somayeh Farneshan
It must be fantastic because I don't recall how the new duds magically appeared on my skin!? Maybe in a past life as I don't have a receipt ????
6 months ago Seelie Fae
Huge mistake taking the men's apparel out. Went from 8 racks to barely 3. Sure it was a corporate decision but honestly someone needs to be fired for this. I bought literally all my clothes there for the past 3 years and that section was always busy. I simply have no reason to shop there again.
8 months ago Juan Meraz
Some stuff is great. Clothing kinda disappointing. Alot of repeated fashions either too small, top large, or just plan idk, ????yuck lol. Pet stuff great, home and kitchen stuff great too. It's open to whatever you're taste is I guess. Some people can make it work (clothing).
5 months ago Adam Sterenberg
Was treated good by only 1 of the employees who worked at the Marshalls I went too and she was very nice, respectful and attentive. The rest of the staff made me feel like I was there to steal and was actually there to spend a significant amount of money $662.18 and my friend I spent $175.18 and even after I paid for my items the feeling and their attitude didn't change. I couldn't wait to get out of that particular store. The Marshalls on Hollywood Blvd. and Sycamore in Hollywood Calif.
10 months ago Bandir Nassir
The store was nice had lots of good things and deals. Employees are nice too. Beware of your surroundings if you go to the store at night especially when you leave because you can come across suspicious people that might be trying to steal your things in the area.
10 months ago Adrice Grenon
This Marshalls is the worst on men clothes and stuff. It's like it gets smaller everytime when I go. Only one very smallllllllll.... for men's clothes. Just 99.99% females clothes
5 months ago Kay McClary
Very convenient for tourists un the area
5 months ago Kristy Ibsen
While I was attempting to make a purchase, one of the items had a clearance price I loved. The coordinator, Ruben removed it and said that the numbers on the clearance tag number did not match the original tag number on the item I was attempting to purchase, so my immediate response was that I'd like to see it and he refused so I ask to speak to the manager and he lied saying he was. Coordinator is NOT manager.
11 months ago Karen Dellinger
Great selections of good bargains as usual.
10 months ago Vera Pool
Not only did this retail store provide us with the required goods, valuable products, and other items, but they also referred us to excellent customer service! They have everything I'm looking for! Thank you a lot!
10 months ago Melissa Border
A good place to go shopping for basic things. They also have an amazing selection of hair and beauty products in skin creams and the like, a huge selection
1 day ago megan stallbaumer
Very clean and crisp inside. Escalators take you up but there is an elevator. Men's shoes were a real deal. Standard Marshall's prices not raised for location. Plenty of registers were open. Also they have travel stuff reasonably priced if you're traveling from out of town.
4 months ago Thomas Schlieve
Be careful with RUBEN S "Coordinator". You can also see his name in other reviews! Poor and rude customer service besides other nice employees.
10 months ago Chris Davis
Really bad costumer service! Restrooms is closed for costumers, because they saving money, to not cleaning there! ????????????
7 months ago Larry Riley
Visited this location on a Saturday night. Many great deals and a bit unorganized, maybe because it was right before closing time? Even though I was a paying customer (purchase is in picture) there are no bathrooms for customers. Really???!? Make sure your bladder is empty before entering. "Nearest" bathroom is at Dolby Theater area.
8 months ago Eric Olson
Friendly staff and really comfortable store means that I go often.
2 months ago Casey Kelby
Got his leash and the chicken ????toy . He love it
5 days ago Nafea Samara
Beautiful view from this store, near the subway station
4 months ago David Pintos
Always number one with customer service. Very pleasant associates
1 week ago Anthony Rizzoni
We bought a travel bag at a great price
5 months ago mahi sharma
Best Marshalls! Great staff :)
1 month ago Jeffrey Kell
Good clothes- good discounts.
7 months ago Lisa Hyde
My favorite Marshalls to buy clothes and skin care products. All the staff is pretty nice and polite. Love that store! ????
7 months ago Chandler Boettcher
Not my favorite Marshalls a bit unorganized. Nevertheless scored some cool deals once I looked through everything.
4 months ago Kaylyn Walker
Designer labels at a fraction of the cost. Just have to take your time and also look closely at the material/quality. For the most part say 99% I absolutely love Marshalls/TJ Maxx/HomeGoods. Marshalls and HomeGoods also offer a wide range of food items,eg roasted red pepper in vinegar, vermont organic maple syrup, starbucks coffee and more. Most are average 50% off market prices and better quality. Including food, clothes, bedding and accessories for our four legged family members.
11 months ago Lilla Szenasi
44$ for Adidas boost I can't beat them????????????
1 month ago reena arora
Great service
5 months ago Kari Bradley
My home is 10 minutes walk. It is a good location. Love this place. You can find everything what you really want. This store is good for tourists !!! It is more cheaper than the most others stores in LA.
6 months ago greg bowden
This fine establishment has very beautiful and interesting items. The price is great, the hospitality is unmatched, and the quality of gifts is superb. I'll definitely be a long time customer.
5 months ago Linda Herring
Clean. Always. Racks are always in order with no clothes on floor. Best Marshall's & Very big. Love this place.
8 months ago Angela Haule
Nice personal, really clean place!! Also really good deals!!!
1 month ago Olivia Hazlewood
I always wanted to shop at Marshalls's! What a sweet treat for me! Right next to the beach too! I love this store! Better than Nordstroms! Same brand names on stuff but still love the feeling of coming in here! Thank you!
7 months ago Benjamin Harris
Lazy lazy lazy female employees
9 months ago Catina Batts
I usually have a good experience every time, but last time I bought a pair of pants that have some discount. I thought it was a good deal until I found the back pocket needed to be fixed by a tailor. The teller lady was nice and friendly, but the person she asked if I can get an extra discount didn't consent. At the end I took the item and paid for it because I needed it. Not a smooth experience.
6 months ago William Keller
Was weird having to wear a mask and social distancing but found some rad shoes and 2 new track suits so happy
5 months ago Banks Money
It was okay will they need to get a better
5 months ago Laniece Sims
Excellent for one-stop important essentials like under garments. Large range of quality and econimal clothing even though that wasn't my need. But, I couldn't help perusing the collections and new arrivals, as we women do.
6 months ago Steven Verburg
I love this store, is well organized, good deals, clean and the staff is friendly, I love to go with my frenchie ????
5 months ago Deidra Williams
Great place if your looking for name brand makeup or fragrance without paying the big price
5 months ago Kayla Lindsay
Beautiful new store! Clean, organized and as always, Marshalls great prices! My home is a five minute walk and now I find myself walking over about once a week to see what's new. So nice having a Marshalls in the neighborhood considering the Ross on Sunset doesn't even come close to pleasant.
10 months ago Trae Person
I like the store and the prices just nothing is really my style the shoes are great though they always have nice shoes for sell, organization is not the best maybe this is why i hate looking around these kind of stores with so many things its hard to find the sizes. But the prices are cheap the main reason im rating 3 stars is because no matter how many times i have visited this location they staff is always rude and standoffish which i don't like because when i come here i usually need help finding the sizes since everything is all over the place and i never ever get help but longs looks and finger pointers i hate it so much
4 months ago Royanna Jones
Best shopping place
2 months ago Shadin Turgidson
A regular marshalls but a little bit more fancy.
5 months ago Andrew Barwin
3 security undercover working the stationary section..impressive
5 months ago Markus Klein
Great prices and in my opinion better selection than Ross
4 months ago Jillian Stone
Good????
11 months ago
Popular places from the category Department store