Whole Foods Market
Grocery store Whole Foods Market, 110 Bloomingdale Rd, White Plains, NY 10605:
220 reviews
of users and employees, detailed information about the address, opening hours, location on the map, attendance, photos, menus, phone number and a huge amount of other detailed and useful information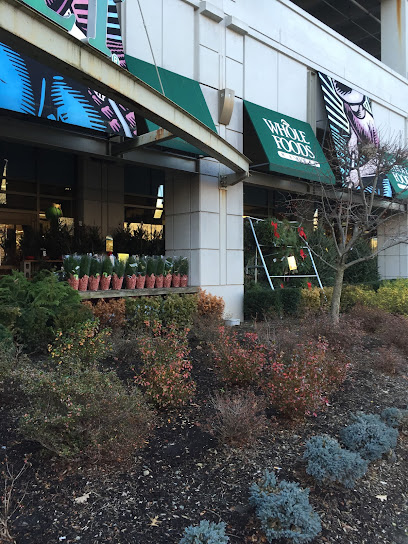 Address:
110 Bloomingdale Rd, White Plains, NY 10605
GPS coordinates
Latitude:
41.0285208
Longitude:
-73.7587531
Location on the map
Reviews Lynda Mathre
Poor customer service for pickup. I tried this for the first time today, but never again. They have two numbered spots designated for pickup but the numbers are completely blocked when there are cars parked there and not visible. When calling in to find out where to park, the service rep was irritated and curt, and transferred me. The next rep who picked up was also a little impatient, but told me to just park 'wherever and we'll come to you'. Ok. So I parked as close as I could to the entrance without being in the handicapped spots, and after 28 minutes and two calls to find out where they were, a teenager comes out with my four bags. I could have easily grabbed all my groceries in half the time without paying the packing fee. Not a 1 star because they do provide you with a ticket to get out of the parking garage without paying the fee. I enjoy Amazon and thought their food service would be worth a try. Next time I'm just going to stop and shop.
5 months ago Jeff Lucky
Parking is available and they pay for it. After my checking out the cashier give me a ticket for parking. The store is amazing. Food is organized. High quality products. Everything fresh. Well maintained and workers are very nice. They have all what I need. Bakery was soooo good. They have have cooked food also. Macaroni and cheese was calling me to take it was sooooooo good. You might need to go and check it out
5 months ago Gabriel Wahl
Excellent Customer Service. There are many choices of food products including organic and excellent tasting cooked food. The bakery is amazing. All items are very fresh and I highly reccomend Whole Foods Market to everyone. Customer Service and managers are always there to help customers to find items and give reccommendations. Parking is very convenient. Thank you Whole Foods for the best Products and the best Customer Service ! ????????????
5 months ago Jennifer Parnell
This morning was unfortunately the same experience weve been having for the last 18 months. Close to 9am - no bread, no seafood, many shelves unstocked, and where there are items left to compete with folks in Wholefoods aprons getting the last remaining ones. Sorry guys, not going to shop where I cant get simple items when you're open and compete with your internal staff to get it. Save the PR "we're sorry for your experience...." malarkey. Just fix it. I'll be at the Wegmanns until you do.
5 months ago David Rosazza
Went for lunch with a friend. Had soup - beef chili. Disappointing - it tasted burnt. The meat wasn't chunky like it should be - it was more like meat sauce. I guess I was hoping it tasted better than it looked.
6 months ago coco mnz
They used to have a better flower selection. But I still love this store. Always able to get good stuff at a decent price and I like the Amazon extra discount on stuff. The fruits and vegetables are always in the best from they don't leave out any 'bad ' produce. Always looks fresh. ????
4 days ago Sally Greenhouse
Convenient parking, which is validated at check out. They carry no sodium products. Plainview no salt turkey (amazing alternative for high sodium lunch meats) As well as a few brands of no sodium sliced breads. If you eat clean. You really should take advantage of the healthier selections offered at Whole foods. Not really any difference in cost of goods. If anything, it's cheaper. They stock these products on a regular. Delivery is conveniently offered via Amazon prime. ???? Everyone can use some clean eating. Whole foods would be a good start! ????
8 months ago Marion E
Expensive place for fruits and vegetables...prefer other places. For regular grocery this place is fine and COVid arrangement is good.
5 months ago dan cheung
Expensive prices and stale sushi. We paid $9 for something that would be cheaper in nyc and the rice was old
8 months ago Jennifer Bockenstedt
Best place to find expensive food ???????? But the good is always fresh.
5 months ago Mackenzie Sheffield
Linda the florist was professional and so kind, very friendly. She arranged a Beautiful Calla Lily Boutique for my Aunt 85th Birthday Celebration at the Cheesecake Factory. Thank you Linda! She's a keeper!
7 months ago Lead Guitarist
Apricots were moldy and chat service wouldn't help, suggested I go back to the store which is a 50 minute round trip. Very surprised by the lack of quality and lack of willingness to correct. I've always been very happy with Whole Foods.
6 months ago Tharani S
This woman loves whole foods she an extremely healthy eater me stu Leonard is fine
6 months ago Carlo Lee
Still great for fresh items, but several groceries I always buy are no longer carried or perhaps discontinued. Less of a reason to shop here.
8 months ago Chad Butler
Found some aluminum free deodorant you really can't get it just anywhere. I bought some 100 grass fed Porter house steaks. I also stopped by the bakery and purchased some chocolate strawberry ???? cake....
10 months ago Addy Harris
Great place to shop and eat. Very good customer service and delicious options. Lots of healthy eats and some guilty pleasures but you cant go wrong. The facilities including the restroom is kept clean. Validated 2hr parking as long as you spend at least $10.
1 month ago Dean Sofer
Everytime i go into this whole foods its always clean and organized. It had the selection of items i was looking for. Its well maintained and def would recommend shopping there. It has several options of brands, including a salad bar.
10 months ago Adri B
This is one of my favorite Whole Foods. The produce is always fresh and the sales associates are nice. Two thumbs up!
3 days ago Connie Davis
Great place to get fresh fruits and vegetables!!
6 months ago Sydney Shatz
Clean, well lit, large, good variety Edit - kinda putting words in my mouth there, huh? It's a very good store though, so I guess it's okay.
10 months ago Tonia
Best products at competitive prices and a knowledgeable staff who are helpful as well.
10 months ago Julie Villa
Place has a lot of different varieties to pick and choose from. However, it may be difficult to actually do so, considering the fact that there are many empty shelves. Further, only two staff members were actually helpful in directing me to items I needed, on the other hand, many others may need to work on that aspect of what it means to be a helpful employee.
3 months ago Tim Orris
Fresh vegetables. Free give away. Free parking with receipts Great friendly service Clean bathroom.
10 months ago Dawn Hourigan
Enjoyed shopping their produce dept and meat dept. Overall it is a great shopping experience.
11 months ago Salinda Howell
it changed quite a bit since Amazon took over and not necessarily for the better. Whatever atmosphere it used to have is gone as you bump mostly into staff filling carts for online customers. Still great products.
2 months ago Brian Bruno
prices are too high for the quality of the products, produce needs to be organic & properly cared for if your gonna charge people those prices.
4 days ago Carolyn Maches
Great location. Validates parking. Mclean bathroom. Friendly and efficient staff. The fish guy is Peruvian so he definitely knows his stuff. All staff are always helpful. Busy during the weekends. Best to go in off times but even in busy days the lines move quickly. Parking may be an issue if busy you might have to park in the second floor. Clean bathrooms in site. Food well cared for and good quality.
7 months ago Artur Khoperiya
I love shopping at this whole foods market.
8 months ago John Wenworth
So I'm cooking for 20 elderly people in my community a whole Thanksgiving meal. So I'm using all to go containers. Anyway I came in today to talk to a manager to see if they can donate or sell me little individual pastry containers for the pumpkin pie. They said they couldn't do it. Wow a company that is owned by Amazon can't sell pastry containers someone doing a good deed in the community. Wow! At least companies like pf chang and Shop rite did great in donating the entree to go containers when I was willing to pay for them. 2 great companies and awesome managers for understanding and willing to do good for the local community. SHAME ON WHOLE FOODS WHITE PLAINS AND ESPECIALLY FOR THE MALE FLOOR MANAGER WHO CARED LESS. ITS SO SAD CAUSE I COME HERE EVERY WEEK TO SHOP BUT ID RATHER GO SHOP ELSEWHERE
3 months ago Sylvain Henaff
Love the store, and the freshness of the products.
6 months ago Amanda Marie
Solid grocery store, good food and everything at good prices for what you're getting.
11 months ago Manuel Puente
I had a good experience at Whole Foods. They had everything I needed and I love the fresh breads.
4 months ago Federico Meade
Whole Foods is awesome. From their chocolate cake to the shrimp cocktail...Yum. I haven't been grocery shopping in awhile and I was happy that my friend brought me there.
3 months ago Meredith Turek
Always very fresh and very friendly customer service. Best produce in area, great meats and fish too.
1 month ago Kellie Merritt
It's good but Whole Foods in Port Chester is better. Also, Wegmans in Harrison has a much better selection and you can get everything you need there instead of making multiple trips to the other supermarkets for cleaning and paper goods. Whole Foods better up their game! ???? It's hard to believe they have Amazon behind them and they can't do better than this!?
6 months ago scott gonzalez
Best place to get healthy food in the area. Helpful staff and great prices when there's a sale. I also appreciated the fact that they suspended paid parking when the pandemic began. That was nice and thoughtful.
6 months ago Diana Bello
Always an adventure to shop at Whole Foods White Plains. Today I bought their ChickenTikka Masala from the prepared foods, and it Was The Best I Have EVER had anywhere. Just awesome! Freshly made. So glad I took a chance on it, because I can't handle too much spice/heat.
3 months ago Philipp Buechler
Good but pricey
6 months ago Tara White
Great place for healthy food
8 months ago martin venegas
Just a quick shout out to the really great people who work at the White Plains Whole Foods. It became my local grocery over a year ago when I moved nearby and during COVID I've been so grateful for a continued pleasant shopping experience, ability to find what I need and a friendly, engaging interaction with everyone from the fish department to check out team members. It's made a huge difference to me to have a positive experience doing something I used to take for granted as not much is "normal" anymore.
6 months ago Dana Beasley
Only place I trust to buy fresh vegetables, fish, meat & eggs & bagged beans, lentils, oil, vinegar canned saouce❤
3 weeks ago Traci Siegel
Terrific store with a huge selection of organic products. They have a superior meat and fish counter offering everything you can ever want. Rarely have I had to wait in line, and the staff are professional, organized, and friendly. I never fail to spend a fortune here...but it's worth it.
5 months ago steffi morillo
Very safe. As you enter costumer service make sure that you are protected..Very nice personal. Is one of the most complete that I have visited.
5 months ago Hanna Ivanova
It was okay. The workers looked very tired at 3.26pm. There were shelves not stocked up. It looked different from the other whole food we shop, not in terms of setting because we god Long Island, many locations in NYC and the one in Ridge hill. Also the cashier did not tape the eggs and olives. When I asked her, she was not happy about it. I wonder why there is no motivation. Hope Amazon is treating the right or it is just this location.
10 months ago Austin Beine
Fully stack ,the store have a lot of employees everything looks appealing!
4 weeks ago Ghael Mendez
Expensive but you get what you pay for. Helpful staff and parking validation helps. Good experience.
7 months ago Rosa Salcedo
Clean store good parking Like selection vegan prepared meal Store personnel helpful and pleasant
4 months ago Gerardo Pozo
Whole Foods is a wonderful place to shop. Definitely in the top three of supermarkets. Store offers a wonderful selection; friendly and knowledgeable staff; and a second to none experience.
10 months ago Toni S
I visited the store on Wednesday. Later found out that the store validated parking tickets on Tuesday, Wednesday and Thursday. The cashier should have been trained to ask if I needed my parking ticket validated. POOR MANAGEMENT.
7 months ago Nic Jooste
I love the great selection of foods, great vegan options, organic items, friendly environment. Can improve on more things in stock for customers. Otherwise, great place for lunch/dinner. Prime deals too!
5 months ago
Popular places from the category Grocery store