Nordstrom Rack
Department store Nordstrom Rack, 227 N Glendale Ave, Glendale, CA 91206:
220 reviews
of users and employees, detailed information about the address, opening hours, location on the map, attendance, photos, menus, phone number and a huge amount of other detailed and useful information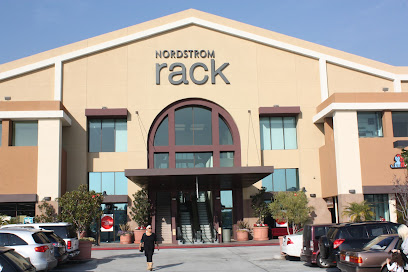 Address:
227 N Glendale Ave, Glendale, CA 91206
GPS coordinates
Latitude:
34.1494592
Longitude:
-118.2476400
Location on the map
Reviews Marcus Sherman
The service here is amazing, and the selections of shoes are amazing as well, there is so much stuff you can choose from and it's usually a lot cheaper than the regular Nordstrom store. I would definitely recommend to come if you have a baby shower or formal event to attend that is a little bit more dressy. It is also in a really nice plaza where there is a lot more options too. My favorite thing about the store is the accessories that they have I really like the hats and a lot of the belts that they have, as well as a wide selection of shoes. They also have make up brushes, and food here that are really good healthy snacks, and you can also give somebody a gift card here from Nordstrom rack.
7 months ago Richard Tarvin
I found some great outfits for myself and my kids. They also have designer shoes which I didn't know, or on the other side of the store a clearance section. Something for every budget. Cute stuff regardless.
5 days ago Kaiden Vlogs
I will give it another try it just seems so unorganized I don't know Maybe the layout? maybe I'm just used to the one in Pasadena. the cashier and another employee very nice very helpful
5 months ago silvya manquero
This NordstromWack, I mean Rack is bad. I found it to be unorganized, it lack variety and compared to the Nordstromracks in Culver city and Torrence this one in Glendale leaves a lot to be desired.
5 months ago Shanon Fraser
This location is so much better than most
5 months ago Theodore Roper
Great place to shop. Im glad they are open. You can always find great stuff here. I usually come here for a specific thing and end up coming out with a lot of other gear. They have everything you need at a great price. They also have sanitizer at the cash registers and all people are required to wear face masks. Would recommend coming here if you love saving money.
5 months ago WOODARICH
I found a nice nike suit jeans are nice
5 months ago Mathijs Stultjens
I love the Glendale Nordstrom Rack because this Rack in particular has such a great selection of high end makeup that it's worth a trip just for makeup. They also usually have a very nice selection of Home Goods items such as pans or drink ware or bedding and seasonal decor. This Nordstrom Rack also has a little section with some pet items, which is always fun to peruse and a few sporting items for athletes. Definitely worth a visit
3 weeks ago Tim Foss
I love my Tory Burch sneakers
7 months ago Emma Nation
Check out their private designer collection,need to call for attendance it's unique designer watches ,ferregamo Fendi gucci and more ,selective occasional very designer purses and belts and wallets 500 to 1500 and up .scarves shoes and customjewelery at a discounted price...good quality athletics and super comfy selection of sportswear for ladies and gents. has its own elevator to the underneath parking ,no walking needed after shopping ,this is perfect for the spoiled Glendale crowd of shoppoholics ,very polite young men workers ,ready to help and guide with patience ....it could be very hot sometimes as it gets crowded and not that easy waiting long lines on holidays but overall it's so worthed it has a lot of so many pluss ' where would you find such selection of everything and plus houswear linens and bath and on top children's ????????????also alterations and special fitting ,,,Taylor will adjust details and custom size anything you desire!!! Please ????????????you can't ask for more ,, it's really good quality of merchandise I'm hoping it would be discounted some more during the holidays and make more room at fitting rooms,the ladies are a little Grouchy as they are bombarded with tons of pieces without hangers which is not their job I'm assuming since I got a flag for not turning it in properly adjusted ,,,,,it kinda defeats the purpose of shopping designer with venduesse giving you instructions on how to fold and hang which was a little odd .can use some improvement specially with the Glendale spoiled clientele that will not tolerate that tone but I'm sure they are working to better their service . menswear is more relaxed and more room to pick and choose,help yourself because you will get the same answer if you ask so see you at the cashier .. easy access to escalator or elevator to underground parking or street level parking lot,,,,,you ll need your cards and there are two banks inside the plaza It's right above Petco and Ralphs supermarket down the escalator underground..we are blessed to have this store specially when u are pressed for time and need holiday shopping !!! The finnest shoes and men's designer dressy suits and fun sportswear,,, five star collection and four star service!!! at a fraction of their original retail price tags . cashier's are fluent In couple languages including Armenian and spanish ,,,,..it's nice to be there and my compliments to the owner and ceo from our community it's a pleasure please bring more watches and purses inside the glass cabinets????
5 months ago Joshua Foster
Great parking, loads of selection of things your looking for. I tend to go for certain items. Checkout is fast and better when you can find the employees who can do it on the sales floor. I'm sure you will walk in looking for one item and leave with s couple more! Thanks NR!
6 months ago Jacob Lulu
I love my Nordstrom's rack. I had an online order to pick up which is awesome they offer that online for free and you don't have to pay for shipping and I looked around also inside before I picked up my order.
1 month ago Tianna McKeithen
As usual, always is fan for me, to shop at nordstrom rack, because, always I found something interesting to buy.
11 months ago Jeremy Plasse
Thank you for being so fast with returns and having a designated area for returns and pickups.
1 week ago Jimmy D
I returned some shoes at by mail and returns we not problem that staff store help me
2 months ago shansonette Gibson
Very nice collection of Gucci and coach watches
9 months ago Alexa Barretero
Friendly service a little crowded. They needed a few more registers opened.
2 months ago James Akers
I had to make a payment during my lunch break and the "return items" checker was kind enough to take my payment rather than having to stand at a longer line. Thanks for your help. Great customer service.
4 months ago Dennis Logue
Not bad, it was nice to see a variety of styles in clothing. Carry all brand names for men and women. Nice selection of shoes.
4 months ago Morphicelus
Good service.
5 months ago Quanna Griffin
Overall it was a pleasant trip. Got a couple of steals ????a dress and a skirt at 11 and some change each . These types of stores tend to be chaotic and unorganized, but surprisingly this store was organized even at the time I went (which was 15 til closing). Oh and the checkout employee was Nice and very friendly. She didn't rush me out ( by the time I got to pay it was 20 min after the closing time) and she even signed me up for the store rewards program ????
5 months ago Lexi Bustle
One of the most visited places.
9 months ago Jillian Bakke
It was okay. I didn't find anything I was looking for.
6 months ago sot psev
Pretty good store. Many brand name items, some at reasonable price. The checkout lines could be long.
6 days ago Enrique Mercedes
Great customer service!
4 days ago paul matako
The line is always so loooooooooooong!
8 months ago Anthony Chambers
This has never been a favorite of mine. It is one of their smaller stores and has very limited offerings in both volume a options.
1 week ago David
Good prices
5 months ago Analese Chaffe
Meh. Selection is meh. Service is meh. Prices are outrageous.
3 months ago Mark Leadingham
Shoe selection at this location is, ok. Downtown L.A. and Pasdena seems to get more variety of styles .
5 months ago Hari Guduru
Returns and purchase lines were painfully slow
9 months ago Yang Xue
Service was great especially the way the whole store was set up. The social distancing guidelines were outstanding. Staff was friendly.
7 months ago Denys Zhuravel
My favorite store ???? Good service....????????????
6 months ago Mariam Haidar
Nice and great prices
9 months ago Lorraine Smith
Great store with lots of actual bargains. Store organization is good and makes it easy to find what you are looking for. Staff friendly and helpful. Item pricing is very clear. The variety of goods and sizes makes it easy to get what you want. Definitely will be shopping here again in the future.
4 months ago John Moyers
Yes I have shopped here. :/
12 hours ago Max Milky
I love to shop from Nordstrom Rack????????
1 month ago Julia Jackson
Loved this place. Opens into the mall in Glendale, and takes up to blocks in the middle if town. I bought a pair of brown wingtips for $90. For such an upscale store, the prices were quite reasonable. I bought four pair of dress socks for $20. That is low in any store. I shopped four two hours and spent half of what I had limited myself to. I will visit again when I'm in town. It is a good feeling to shop in such a nice store but pay as though you are in a less celebrated clothing provider.
10 months ago JoAnn Cominski
Prices are still very high for clearance
10 months ago Lazindie Hager
Customer Service was wonderful! One person helped with a lens cloth that I needed to check out sunglasses. Another customer service person helped on scanning sunglasses that did not have a price. Found out they were red tag sale!
6 months ago Laura Adams
I've been here several times I like how clean it is and organized it is. Customer service is great and they are very helpful here. The employees know how to accommodate your purchases by making helpful suggestions that one might want to keep in mind. I do recommend this place to everyone however it is on the pricey side so be ready to spend.
4 months ago naomi justdontcare
Great products great prices bus direction can get. Clearance sale has amazing deals. Just take the time to go through
7 months ago Sich Diaries
This store is located upstairs and has only one level, I mention this because many people have trouble finding the place and think there are multiple levels. The store itself is nice, well kept, and now they have a quick check out (card only) that helps get you out of there fast. My only issue is that the prices can be unreasonably high, and the shoes they have are very limited in selection. Their clothes are nice but you can get the same clothes elsewhere for far cheaper prices. They do however have good deals on belts and shoes (if you can find any that fit you). Personally, I wouldn't shop here for anything, the last time I went I couldn't find anything half decent to wear.
7 months ago Deepthi Lakshmi
I recommend this place especially if you're looking for deals... Customer service is wonderful BUT, only if you can find someone who actually works there. When you do, they are friendly and very helpful. last time I was there (11/25/2018) my mother spent almost $800 on my twins!.... so, yes I'm going back, but only with her ???? and by the way we were there for over an hour to find all the products in the price range we wanted
7 months ago Lacey Lane
I rarely find stuff that fits me well, but this place was great for me. I got some good shirts and pants at a great price. The service was amazing; i was asked a few times if i needed any help. The store was neat when i went.
4 months ago levi payne
Great pricing with a large selection. The place is clean and tidy. the dressing room sure well-maintained and staffed properly. The kiosk check out are the way to go quick and easy.
6 months ago Sheryl Curtis
The worst Nordstrom Rack I ever been to. Horrible selection. ALWAYS A MESS AND UNORGANIZED. I live in Glendale but I drive to Pasadena Rack because it's always clean and they take pride in their store. I'm not going back here. It's a horrible experience. If you like to shop with mess and employees that do not want to help this is the store for you!
5 months ago Elena Sosnovskaya
I always get quality clothes for the fraction of the retail price. Also, if you look carefully you don't have to wait in the long line that's usually in the front. They now have mobile registers in the men's and women's section of the store. I always use them and I'm in and out of there in a minute.
10 months ago Chucky
Really unorganized!
8 months ago Todd
A bit messy
10 months ago
Popular places from the category Department store