McKendree University
University McKendree University, 701 College Rd, Lebanon, IL 62254, United States:
25 reviews
of users and employees, detailed information about the address, opening hours, location on the map, attendance, photos, menus, phone number and a huge amount of other detailed and useful information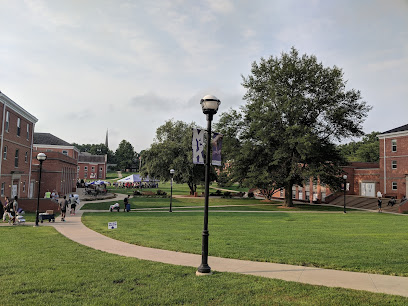 Address:
701 College Rd, Lebanon, IL 62254, United States
GPS coordinates
Latitude:
38.6077977
Longitude:
-89.8155938
Location on the map
Reviews Alex Gaiduk
I love McKendree University! I worked first at the Physical Plant, and then at Ames cafeteria as Lead Grill Cook. A wonderful learning institution. The campus is much like a park, trees and fountains, birds, and squirrels. I throughly enjoyed working there.
6 days ago Brian Atkins
My great grandmother graduated from here with a bachelors degree class of 1958. Good school I suppose despite claiming to be broke now
10 months ago Lance Churchill
Don't know about the University, but their fountain sure is fun for kids!
3 months ago Scott Griffis
Love this school. It's a small school. They are very responsive when you call or email. The campus is beautiful. Staff and students are very friendly.
3 months ago Candice Kitchens
Looks like a very nice college
10 months ago Craig Doman
Campus Bookstore kicks - good selection of clothing with more on the way. Employees helpful.
7 months ago Lynn Snively
Great University wonderful education
11 months ago Joe Carli
Great place, nice people!????
3 months ago Kerill K
We were recently in St. Louis for a volleyball tournament with my high school son and the McKendree sports staff offered us tickets to see their men's team play. What a nice gesture. I was very impressed with the campus, gym and school spirit. We had a fantastic time and are very grateful! And their volleyball team is very talented. I am now a huge fan of Head Coach Nickie Sanlin. Looking forward to attending another game soon. Go Bearcats!
3 weeks ago Kaitlin Bankston
I took my evening walk around the football field
5 months ago dawn strodthoff
I went in the summer of 2015 to a running camp. We stayed in an old dorm and spent the week working out and exploring the campus. The workout area was pristine and the track and turf was very well-made. Not only that, the dorms are comfortable, the food is excellent, and the theatre is beautiful! I plan on enrolling this fall 2018. Very excited!
9 months ago Anu Chitrangana
This rapidly growing campus is nestled in historic Lebanon, IL. Hopefully, parking space will catch up to the number of buildings and students soon. If you are in the area, it is a great place to take a walk among the massive oak trees and historic buildings or take in a show at The Hettenhausen Center for the Arts, southern Illinois' premier performing arts venue which presents world class dance, drama, and music.
9 months ago Josh Pierce
McKendree University is more than an excellent university, it is a wonderful home, a community of engaged students, faculty, staff, and alumni. I transferred to McKendree from a large state school which happened to me the best decision of my life. After having experienced class sizes of 500 or more, I realized the big school life was not for me. The McKendree community welcomed me with open arms, not just the faculty and staff, but the student body. My experience at McKendree has molded me to be an intellectual and to be an engaged learner. It made me see a bigger picture, an opportunity to strive for a greater good for those around me. My McKendree experience has driven my desire to teach at the university level, to be a professor, a mentor, and a friend to the student body just as my professors were to me. Although I graduated a few years back, I know I will always have a home at McKendree University and that home will always have a light on for not only myself but my fellow alumni.
5 months ago G Easy
I attended McKendree College, entering in 1966 when it was unaccredited and graduating in 1970. Thanks to Professor Eugene Seubert I went from a high school remedial English class to an honors class my second semester. Mrs. Hopkins was my major teacher and advisor. I will always be in her debt for teaching me how to think about literature. I now am finishing my dissertation for my third doctorate. I have three master's degrees and my B.A. from McKendree. I could not have done what I have without this wonderful place. I was in the ministry for 33 years and university teaching for 24 (doing both at the same time for some of those years) and at 67 I am still learning. C. (Cecil) Ray Penn, '70
6 months ago Saeed
Beautiful place. Heard great things about the programs.
9 months ago Stephanie Yung
No chicken nuggies available at band comp. Very disappointed
2 weeks ago Nicolas PINAULT
Don't come here simply because of the Wifi
6 months ago Olivia Watts
The music department experience was very disappointing. The only thing i learned is that I wanted to change my major.
5 months ago Emily Milam
Visiting Taylor @ McKendree University
3 months ago d fischer
I was at Mckendrer 1984
3 months ago Cashton James
very shallow students...sorry to say, but that is my experience meeting them.
1 month ago Brad Graham
Great school
3 weeks ago Leo Nicolet
Cool
4 months ago Iolanda Iandolo
jurnalnya bisa dipercaya nga bhang?? hehehe
9 months ago Chris Lewis
Ewq
3 months ago
Popular places from the category University