Shocker Pools
Swimming pool supply store Shocker Pools, 832 N Webb Rd #400, Wichita, KS 67206, United States:
38 reviews
of users and employees, detailed information about the address, opening hours, location on the map, attendance, photos, menus, phone number and a huge amount of other detailed and useful information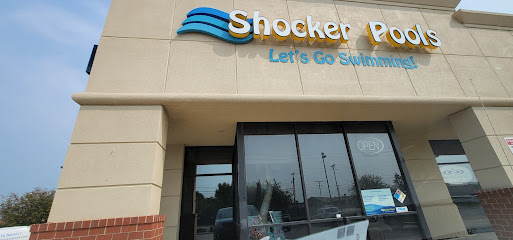 Address:
832 N Webb Rd #400, Wichita, KS 67206, United States
Website:
shockerpools.com
GPS coordinates
Latitude:
37.6985080
Longitude:
-97.2256118
Location on the map
Reviews TerrI Cummins
Shocker definitely shocked us with their low pricing for pool repairs. They came in lower out of 4 bids we got and they did a flawless job. Everything from start to finish has been a wonderful experience. We live on the lake in Wichita so we needed to have it looking perfect. Thanks again for repairing our pool.
2 months ago Letitia Taylor
Best wichita pool company imo
3 months ago Anil Dwivedi
Got what I needed for hot tub chemicals very helpful, very knowledgeable. Very nice ????
10 months ago Lizao Li
They are great to work with even when they are very busy. Appreciate their advice in taking care of pool. Very knowledgeable.
2 months ago THEVENY Laura
Great place. A+ recommended. Fixed our pool and did some great work. Price was reasonable.
2 months ago Hongye Zhou
Great work done on our hot tub. They were able to fix it for us and save us some money too.
1 month ago Andrea Vallejo
We called these guys for closing our pool for the year. They were easy to work with. AA+
1 month ago Arthur Giangrande
Awesome service. Our pool cover was stuck open. We called several places trying to get someone out ASAP as we have small children and use the cover for safety reasons. Two other companies came out and wanted to all but completely rebuild the pool quoting in excess of $3K. Shocker spent the time and found the right parts for the motor. Saved us a ton of money. They were worth waiting for! Thanks Doug.
4 months ago dulce rivera
We needed some replastering done our pool. Called up these guys first. I heard good things about them and I was pleasantly impressed.
2 months ago Beth Kailukaitis
I called about a repair on my hot tub. They fixed it. It was cheaper then other companies I had quoted us.
1 month ago Mikael Merritt
Everyone was so knowledgeable and helpful. Answered any question I've had. Some of the best customer service. Its such a friendly environment. I definitely recommend them for any pool and spa need.
8 months ago Debbie Guertin
We had storm damage and they fit us in quickly. Highly recommended.
2 months ago Major Bonner
Purchased a new liner. Great experience with Shocker Pool
3 months ago Genevieve Messenger
This company doesn't return calls. They have booked two appointments and then no one showed up. Obviously, they aren't interested in new business. Very disappointing for a family wanting a new pool!
11 months ago Ken Yanun
Doug and Candace did a great job of installing the permanent pool cover. Very neat and organized, all pool items were put away and the pool looks like it's in perfect shape now for the winter. Thanks so much for that and thanks too to Jerry who originally suggested this type of pool cover. He was totally correct in that it solves a lot of problems.
11 months ago Tadeu Sobreira
I've used 4 different companies in Wichita. And they all had the same problem it seemed like they were all about the money. Jerry at shocker pools was very knowledgeable and really made the experience pleasant. He saved me a lot of money with his suggestions on upgrading my system. It really feels good having a pool guy that isn't all about $$$
9 months ago Hari Jang
Great service and had everything in stock
2 months ago Terry Crozier
We recently moved into a new home with an in-ground pool that was neglected for a few years. Christopher at Shocker Pools did an outstanding job with the help of trusty side-kick, Ashton! They finished working for about a week to get my pool turned around and I couldn't be happier. He taught me how to run and maintain the pool and have been extremely helpful. I highly recommend Chris. This guy knows what he's doing and is phenomenal at explaining everything. Well done guys and thank you so much! I also want to thank Doug, the owner. He got us taken care of within a week's notice. Life-long happy customer here!!
9 months ago eric mckenzie
Shocker Pools knocked it out of the park. 1st class pool build and service. These guys do what they say and more. I would highly recommend them for any new builds and I'm sure their service will be second to none. From our pool preplanning, to excavation and install, right through pool school, these guys were patient and upfront about what to expect and they delivered on every promise. First rate!!
11 months ago Priscilla Llerena
Chris with Shocker Pools did a fantastic job servicing and fixing our pool this year. After all the rain we had, we couldn't get rid of the green algae that had started growing in our pool. He came out and checked it, cleaned/vacuumed it, and serviced it 5 days in a row until it was totally like new. We have been using Shocker Pools for 4 years now, and wouldn't think of using anyone else. They truly care about helping their customers. TJ and Candace, and the whole team there are very personable, and have always gone above and beyond for us. Thank you Shocker Pools!!
11 months ago Lily Hallock
I have used many pool companies throughout my many years of owning a pool. Shocker is by far the best. The customer service is amazing and the quality of their work outstanding! TJ and Candace are the best!
10 months ago Miss T
Worst pool company ever. You are better off filling your pool in with dirt than hiring this company. The retail store is just as bad. No real pool knowledge. I would give 0 stars if I could. I'm surprised actually to see they are still in business. Just a matter of time.
1 month ago Ken Sparks
What a great and knowledgeable company. Doug and TJ took care of pool issues. What a great company. Doug has to be the most experience pool guy in town and believe me I've gone through a lot of them. They do what they say they are going to do.
9 months ago Aditi Agrawal
Shocker Pools has been the best swimming pool contractor we've ever dealt with. After debating on the specifics of our project, we finally settled on a final design for our pool. The pool building team at Shocker was incredibly helpful and knowledgeable throughout the entire process. Our backyard isn't always the easiest for any kind of contracting or building work, so we we're nervous when we started looking around for a swimming pool contractor in our city (Wichita). Thankfully, a friend of ours recommended Shocker Pools and boy are we glad we chose them. The pool came out absolutely amazing and we couldn't be happier with how our backyard now looks. Now, even though they built this pool for us last year I still wanted to make sure I came on here and left them the amazing 5 star review that they deserve. We've also visited their pool store for any of our chemicals or pool needs and are always given a ton of help and insight. Thank you thank you thank you for making our swimming pool something all of our neighbors are jealous of. Couldn't be happier thanks to an awesome swimming pool contractor in Wichita.
11 months ago Ahmad Maarouf
If you are thinking of having Shocker Pools replace your pool liner, we would be happy to show you ours as a reference. HORRENDOUS! Nothing like spending all that money for nothing. They didn't even bother sweeping out the debris before putting in the new liner. What a joke of a company. AVOID!
11 months ago frawldog
Shocker pools is the best pool company in town. They installed our new liner. We are so happy with Shocker Pools. What a great company.
2 weeks ago Jamie S
For the love of god avoid this company at all cost. It is a nightmare dealing with anyone who works there and the actual service when it comes to fixing ur issue will not get resolved. Please don't hire this company
10 months ago Deunte Levine
Proud to let anyone know that Shocker Pools was the company that we chose to have our pool installed. They were professional and up front and honest throughout the complete process. Dylan is absolute wonderful to work with and Very, Very knowledgeable about their products, the way everything works and was very patient when explaining everything to us "newbies". Could not be more satisfied from start to finish. Thanks, Dylan and your crew! Keep up the good work!
2 months ago Steven Douglas
Did a restoration on my vinal pool and I'm very happy. Great prices great quality and got it done in 3 days.
11 months ago Damian Simmons
Candice at Shocker Pools was very helpful during my visit to their store yesterday. I was looking for a new basket for my skimmer that had broken and she was happy to help. They did not have the type of basket that I needed on hand, but happily had an employee pick it up from a local distributor and even delivered it to my house only a few hours later. Thank you!
3 months ago Paul Parda
I waited till rather late to open my pool this year (as I learned a lot of people did because of the cold weather we've had) and I had a difficult time finding someone to open this late for me. Shocker Pools worked me into their busy schedule very quickly. Aaron and his helper were great and they even found a leak I didn't realize I had. Fixing that leak will save me money and trouble in the future. I was super pleased with their service and will use them to close my pool this fall.
2 weeks ago sumit malviya
Told me exactly what I needed and was very helpful and exactly right!
11 months ago Ben Kibler
If I could give a Zero I would. Bad customer service. No communication had appointments scheduled since 4/28 and never called to cancel just never showed up booked 4 appointments and finally showed up. Poor quality horrible communication and service and knowledge no one seemed to know much when I asked a question. Worst ever!!!!!!
9 months ago Derrty Mo
Excellent knowledge and service. I highly recommend giving them a try for all your pool needs.
3 months ago Peppe Ragusa
Just wanted a simple pool opening-cleaning and a small patch. They show up with no vacuum and no net. Took 3 visits before they could finish the opening. Used a bright blue patch on a white pool liner. It looks ridiculous! They don't care about quality service, being on time and they smoke cigarettes while working! AVOID!
1 month ago Rohan Pandey
Greg is the absolute best when it comes to customer service!!! He knows his stuff and goes out of his way to provide OUTSTANDING customer care!!!!!
1 month ago James Gamrod
Christopher (and Ashton) took their time and explained the problems, solutions, and recommendations for our pool issues to our understanding. We will continue to use Shocker Pools for future needs.
11 months ago Josh King
Great place, knowledgeable and friendly, eager to help and prices are fair.
2 months ago
Popular places from the category Swimming pool supply store