Association or organization Chapel Hill - Carrboro YMCA
Association or organization Chapel Hill - Carrboro YMCA, 980 M.L.K. Jr Blvd, Chapel Hill, NC 27514, United States:
26 reviews
of users and employees, detailed information about the address, opening hours, location on the map, attendance, photos, menus, phone number and a huge amount of other detailed and useful information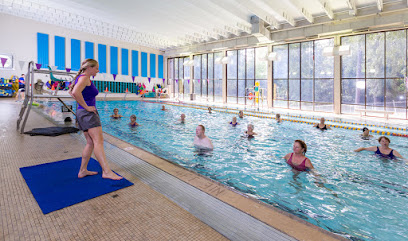 Address:
980 M.L.K. Jr Blvd, Chapel Hill, NC 27514, United States
Website:
ymcatriangle.org
GPS coordinates
Latitude:
35.9339749
Longitude:
-79.0543672
Location on the map
Reviews Dan A
The app let me sign up to swim today, but the Y was closed. No signs about today's closure, Disappointing.
1 month ago Madeline Murphree
My special needs daughter and I use the indoor walking track frequently. We have always enjoyed our visits. Patrons are extremely kind when my daughter acts out. It is a very fun experience to observe activities on the separate basketball courts. We have never had a poor or bad experience with staff on our hundreds of visits. They have always been kind and supportive. I look forward to tomorrow's walk!
10 months ago Mathew Grimm
Been pretty happy with my local Y. I especially love attending classes here and utilizing the childcare to have some time to take care of myself. The only drawback is that some of the front desk staff are very young and not super professional. It's clearly the first jobs some of them have had. This can sometimes cause wait times at the desk or trouble getting equipment. A little tightening up would make this a five star branch.
10 months ago Henger Ydrogo
If you are a swimmer and or use the pool for a disability or health issue this Y is not conducive to your working out here. They will not tell you this when you sign up, but you'll need to ask specifically to see the pool schedule for the entire year to gather this. The swim team that is nationally known is of utmost importance at this facility and you will need to look elsewhere for a place that looks to serve all it's clients equally.
10 months ago Serena Fan
Like the outside set up for strength training
3 months ago Joyce Rychly
Great place to work out, though the swim team takes up a huge chunk of time on the pool
11 months ago Caroline Adcock
Great staff. I am always pleased when I pick up my kid from after school care. They take good care of him and wear him out, mostly! Thanks y'all!
3 months ago Jason Wallace
Amazing swim team (YOTA) with state of the art workout machine. Yearly challenges and lots of motivation from staff. Simply amazing!!
3 months ago Linda Czerwinski
Jennifer Hartig harassed my friend and made us feel very uncomfortable and unwelcome at this establishment.
1 month ago Juan Soto
really unfriendly staff and very very ignorant fitness director Jennifer Hartig.
10 months ago Joi Taylor
Came to YMCA as a workout facility before work at 9, suddenly both locker rooms went under renovations (projected 4 months). Talked with aquatics director who was very understanding, but unfortunately couldn't help with refunding membership due to lack of shower services. Love the YMCA but the building isn't operational.
3 months ago Graham Turner
The downtown Durham YMCA is larger, has better hours (and better pool hours), and better service, including towel service. But then Chapel Hill is half the size of Durham. The renovation to the weight and cardio areas has made both of them much more functional. The pool hours are quite restrictive, and the pool can get crowded. I haven't had problems with the staff, though others seem to have, based on the reviews here. One thing I admire about the Y as an organization (as opposed to the Y as a facility) is its strong role in our community. The youth sports director, for instance, is a positive force for good. The Y Guides program connects dads and daughters to one another and to other dads and daughters. The Y is also very inclusive (though could do a lot more to include low-income people in our town).
5 months ago Jacinta Jones
Rude staff - will not be returning.
10 months ago Jose Medrano
Everything you need under one roof, but there are a few minuses. The hours are not the most convenient, especially if you go at night. No towel service. Otherwise a nice little gym.
3 months ago Miles Cowdry
Friendly staff. Everyone wants to help
10 months ago Kinjal Dasbiswas
A mediocre membership for a premium price. I would have preferred to have rated them 2.5 stars, but that option is not available. I wish for the day when I can speak of my community Y with words of high praise, but to recommend them without warning readers about several significant problems would be misleading. My life circumstances often dictate that I work out later in the evening. This Y is not well-harmonized to this need. Evening staff here have always had the annoying tendency to want to close early (up to 15 minutes early) and to be unpleasant about it if that doesn't square well with your needs. Weekend closing times are far too early. Holiday hours are inadequate and involve very early closing times that are not advertised on the on-line activity schedule, or even available on their telephone message that lists hours (i.e., expect to gear up and drive over only to find the place closed--after you called and checked the website). Aerobic machines are always quite inadequate for crowds earlier in the evening and are often in poor repair. Weight machines are often broken for long periods of time. The machines they have cover only large muscle groups and are insufficient for a complete muscular workout. Courtesy is poor in the workout room. Time and set limits are very frequently broken, resulting in frayed nerves and unnecessarily lengthy workouts. It is not uncommon to wait for 10-15 minutes for a weight machine, or for someone who has been violating the one-set rule to become testy and territorial if you ask to work in with them. Attendants are disinterested in encouraging rule-abiding machine usage and won't intervene when someone wishes to dominate a machine. I think prospective members need to know that aggressive encounters in the parking lot are not uncommon, especially following basketball games. Some of the encounters I have witnessed would make many people uncomfortable and feel unsafe. Staff often seem disinterested when incidents are reported. In my experience, concerns memorialized in telephone e-mail messages are never returned. I wish my perspective of staff here was as sanguine as one of the earlier reviewers. There are certainly nice people working there. There are also plenty of folks working there who are not yet well-suited to positions involving customer relations. In my experience, the ratio is about 60/40. In the final analysis, if you are looking for a place with a pool, a basketball court and a racquetball court under one roof, this might be the place you have to go. If you are looking for a good place for weights and aerobics, go to O2 Fitness.
3 months ago Ruby Bretherton
We have done basketball for our sons here. Plus afterschool care. Top notch programs. Friendly staff. A community treasure.
2 months ago shekinah kim
Great people and amazing swim team GO YOTA
11 months ago Stephanie Nam
Aquatic director: abrasive, offensive and brusque. Highly recommend choosing another pool/workout facility
9 months ago Elizabeth Kingston
Friendly lifeguards, Poor management, Not worth membership fees especially during the renovations, No showers.
1 month ago Cynthia Suffern
Older gym that hasn't been updated in years.
9 months ago Virginia Boertlein
Mean staffs no equipment
1 month ago Paul Jerskey
The name is misleading.
3 months ago valentin markin
I love the y
6 months ago Joseph Meraglia
Best place in the world for youth growth and enlightenment.
3 months ago James Curry
Wooooo
5 months ago
Popular places from the category Association or organization