American Security Systems
Security system supplier American Security Systems, 5-25 46th Ave, Long Island City, NY 11101, United States:
20 reviews
of users and employees, detailed information about the address, opening hours, location on the map, attendance, photos, menus, phone number and a huge amount of other detailed and useful information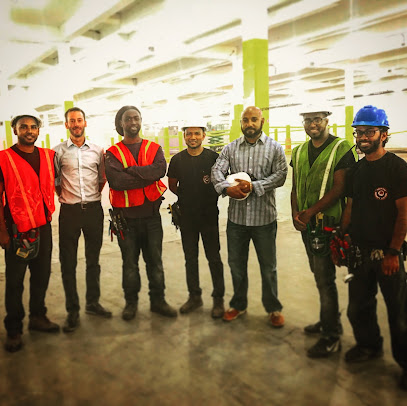 Address:
5-25 46th Ave, Long Island City, NY 11101, United States
Website:
americansecurity.com
GPS coordinates
Latitude:
40.7472406
Longitude:
-73.9532976
Location on the map
Reviews Jay Peters
I had the pleasure of working with Allan and his team. He is a nice gentleman and assured me to fix my issue with my intercom and cameras. The installation manager Lily Rose was so sweet and so patient with me as I called her 2x a day just to get an installation date. She handled it well and professionally and answered some of my questions. The technician who went here he was a soft spoken gentleman i think his name is Jay. He is very respectful and serious in his work. Great people. Wishing the best for the company for having people like them.
10 months ago Kerry Lane
Angela Sapp was very prompt and handled my request within a few hours. Very professional and sweet! Mike Carter was also very accommodating and I was so pleased when I found out he was sending me his personal key copy at no charge. I would definitely recommend their company to anyone and I will use them again when in need! :)
3 months ago Simon Kuria
I have been with American Securities 5 years with 2 different properties. And I will say that the team at American is second to none. I have dealt with other companies no mentioning any but the customer service I've received is great starting with Maritza Hernandez. She is friendly and professional. She makes things happen when there is doubt. She is always there when I need something even when I called her while she was in vacation although I didn't know she was, she still took the few minutes to talk to me about my concern. She is a big reason I wanted American Securities at my building when we opened. I have to mention Rishy and Vinny who are great at what they do. They never give me a runaround with answers. They get the job done and that's what is important. They too are both friendly and professional. I know my life safety devices are in good hands when either of these 2 guys show up at my building. These 3 individuals are definitely assets to American Securities. I hope they get the recognition they deserve. Luis Torres HGI 6 Water Street
10 months ago Steph
Only Rose and Angela were the only ones who always answer my calls, emails and I remember Rose went above and beyond her duty to deliver the parts to the tech here in Manhattan. One time I was so frustrated that the tech was late for 2 hours (I dont know how this company schedule their techs) I called Rose and Angela, they handled my frustration well. Thankfully, after a month, my system was installed. My advise for the company: Be thankful of employees who do great efforts to control a crisis situation under control and understands that this kind of business is no joke.
11 months ago Natasha Montiel
Maria Santiago has been amazing, in handling several situations with security in our building. She shows patience and excellence as a customer service provider. American security is lucky to have her. Thanks Maria for all your help.
1 month ago Rain Dog
Maria was very helpful when it came to walking me through the process of viewing and editing the cameras. She was thorough and personable. Happy Customer =]
1 month ago Greg Ratti
great security company. especially ismael and yuri on the service end, and frank bell on the corporate side. highly recommend.
11 months ago Kurt Philip
I have worked with them a few time and each time I have had a stressful experience. There is no coordination between those in the field and those in the office from what I can tell; they have a serious manpower issue that they can't seem to resolve with either too much or too little; and they promise more than they can give. Not once have they been able to smoothly enter an inspection without serious issues in the last weeks. The guys are great people but somehow as a whole they fall short when it counts the most.
9 months ago Kevin Curtis
Maria Santiago is by the far the best Customer Care Representative you can ask for. She will go out of her way to make sure her customers are satisfied with their service. I can always depend on her with my buildings security needs. Thank you for all your help!
10 months ago Sami Salman
Chris was such a great help with my mother. He never lost his cool when my mother's email wasn't working. He was very understanding and very calm with the whole installation of our alarm system. Thank you Chris for explaining everything to me and my family . I appreciate your demeanor and your kindness.
1 month ago Scott Crabb
I just want to share my experience with American Security last onsite visit . I called Maritza around 9am and explained the issue what I had with our fire alarm system . She put me on quick hold and set up service visit on the very same day . Technician Brandon Walker show up a few hours later ,found the problem and fixed it within an hour . Thank you Maritza and Brandon for an excellent service . Matthew - The Ludlow Hotel
5 days ago Gretchen Turner
The customer experience has been great -working with Maria Santiago
10 months ago Dean Eilers
American Security System's operational staff and technicians are very knowledgeable, skilled and friendly. A Special Thank You to Maritza Gonzalez, Vincent and Richie... A++ Thanks!
10 months ago Unique Freeman
Very good follow-up with resolving several FDNY paperwork issues at one property, although had some challenges at first until one employee (Maritza)took ownership and took care of it.
10 months ago Samantha V
I don't know what I would do without Maria Santiago and Angela Sapp. They are patient and understanding whenever I call. They are truly assets to American Security Systems.
11 months ago Patricia Maguire
Thank you American Security and Maria Santiago for your fast and efficient service of our clients needs!!
1 month ago Anthony Cortigiano
This is the worst company I have ever worked with. DO NOT SIGN A CONTRACT WITH THEM!!!!! they tricked me into signing 5 year contract, without even asking. Then start a legal action against their client. Please stay away. They ll secure your property, then will rob you from behind!
11 months ago Jason Fritz
I am having the worst experience getting service from American Security. We had an authorized person enter our building and vandalized our basement lounge and I have been trying to obtain footage of the dates and times the person entered the building for over two weeks. They continue to send us footage that doesn't cover the period we have requested. I have asked for list of key fobs that were issued to the 14 apartments in the building and can't get that information either. I have sent two emails today requesting an update and again all you hear is crickets. I would not recommend them to anyone. Stay away from this company.
9 months ago jacqueline mitchell
She gets it done!.. the right way! Thank you
1 month ago theraperance
STOP YOUR FREAKIN' TELEMARKETERS FROM CALLING ME ON MY CELL PHONE AT 8:30 IN THE MORNING!!! THEY HAVE BEEN TOLD TIME AND TIME AGAIN, AND EACH TIME USE DIFFERENT PHONE NUMBERS. THEY ARE ALL BLOCKED FROM FUTURE CALLS!!!!
1 month ago
Popular places from the category Security system supplier