Medvisit Home Doctor Service
Home health care service Medvisit Home Doctor Service, :
20 reviews
of users and employees, detailed information about the address, opening hours, location on the map, attendance, photos, menus, phone number and a huge amount of other detailed and useful information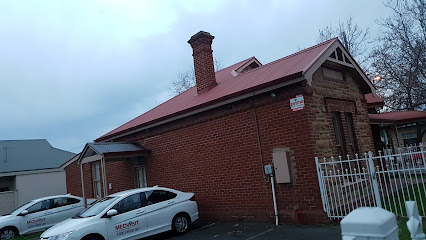 GPS coordinates
Latitude:
-35.0007670
Longitude:
138.7430957
Location on the map
Reviews CE Behr
Would give 0 if i could lied about not having a doctor in my area. Then my literal neighbour in the same unit block called them and got a doctor. And they said they were booked out another night. Same thing. Both time neighbour called them AFTER me. Worst liars on google.
11 months ago Christine Mann
No Doctor available Useless service. Never again
1 week ago JK
The Doc arrived within 3 hours and was very polite and professional.
8 months ago amir hamja
Such a an amazing team of management and doctors, Dr. turned up on time and gave good medicine and advise on my situation. Always had a great experience and credit certainly goes to the drs and especially the management who organizes their team efficiently which makes Medvisit stand tall from others
3 weeks ago Kerrie Busteed
Got told hours later no doctor was coming..worst service ever do not bother contacting
11 months ago Casey Jensen
Very poor. Waited for 3.5 hours only to get a call that the doctor had to attend an emergency at a hospital andno one would becoming to our home. Surely a rostered doctor should NOT be working in a hospital as well as being a locum. Hopefully this patient will survive
2 months ago Mike Stephens
Got told no doctors in my area today and that's discusting when I have a 1 month old child
1 week ago Andrea Roque
Excellent Service. After making a booking, the doctor gave a call letting me know how soon he will arrive. Doctor are very friendly. Save me a lot of time and strength to go out while i was too weak to do so. Would strong recommend everyone to try out.
10 months ago Dakota Holcomb
If giving Opiates out to patients who should not have them is your idea of good medicine, then please do not continue to work as after hours Doctors. You are Doctors with a sworn responsibility to practice to high standards and if an after hours Doctor hands out S8 scripts there needs to be a good reason of which there are very few.
3 weeks ago Shashi Tiwari
I requested for a doctor visit at 9am, they phoned at approx 930 to confirm a doctor would be sent out to my home within 3 hours. At 2pm no doctor arrived, so I phoned again to ask why it's taking so long. The lady on the phone said that they would message the doctor to call me to confirm what time he/she was coming. An hour later at 3pm, I still have not heard from the doctor or the service. Expect to wait all day if you want this service.
5 months ago michael carter
Slow to answer the phone. Asian doctor crashed into my car
11 months ago Annette Reichling
Rang and got straight through to bookings person in 2 or 3 rings. Process was fast and logical. Doctor turned up within an hour, and his advice and treatment were very practical. Only negative was no message about when coming. I also booked …
6 months ago Jill Wells
Discuting service!!! I called for a locum for my pregnant wife at 3pm today. Booked it and was told they would confirm a time by txt message. After 3 hours of hearing nothing I called only to be told that the doctors don't start until 6pm, …
4 months ago MyNameAZeus
After what can only be described as one of the most frustrating phone calls when trying to communicate with someone who's English is obviously their third language, was then told after 10 minutes of some weird attempt at an alternative …
10 months ago Lindsey Compton
Waited over 4hours only to receive a phone call to say that the doctor won't be able to make it tonight!! Disgusting customer service!
11 months ago meagan
Disgrace of a service! Was told 2-3 hours when I called at 6.15pm and then received a txt at 11pm saying Dr will come between 11.30pm and 12.30am. I called and cancelled. Will never waste my time calling them again. Update.... Dr came at 11.45pm and was extremely apologetic so that's something
3 weeks ago AD
Efficient and quick, respectful doctors who genuinely care. Would recommend and have to family and friends! Great job
6 months ago Niki Foley
Two years ago, doctors didn't mind visiting my area but now they just don't want to travel. It's not as though I live out in the country - 25 km from the CBD is hardly Woop-woop. Yet the receptionist uses the lame excuse that the doctor is …
2 months ago chad rozelle
Excellent service, amazing doctors , highly satisfied with their services. Highly highly recommended to everyone
3 months ago alexander greenwell
Terrible service, waited 2 hours to get an ETA with no luck. I called back for an update and was told I would get a call back in 10 minutes. Half an hour later no call back so phoned again. Again was told I would get a call back in 10 …
5 months ago
Popular places from the category Home health care service