McDonald's
Fast food restaurant McDonald's, 537 Broadway, Bayonne, NJ 07002, United States:
220 reviews
of users and employees, detailed information about the address, opening hours, location on the map, attendance, photos, menus, phone number and a huge amount of other detailed and useful information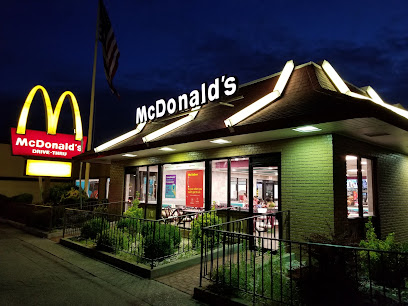 Address:
537 Broadway, Bayonne, NJ 07002, United States
GPS coordinates
Latitude:
40.6656047
Longitude:
-74.1172104
reviews L Black
Still the same food as a little kid Karen has certain things are good other things
6 months ago Evan Wilhelm
From the first moment you arrive in that place the personel give you an enjoyable feeling. Very hospitable stuff, it is a kind place to hang out with friends or with your date. delightful cuisine, qualified chef de cuisine, reasonable pay and excellent service. Highly recommended.
7 months ago Jessica Berger
This place is great! Convenient prices, large portions and the staff are regularly very kind.
7 months ago Melissa Cahall
For the money, it's a great place. They need to fix a few things, but it's a good time for the kids
8 months ago Harrison Hecht
The food is fast and ready but they do not follow safety Precautions during this pandemic. Most of the workers don't wear their mask correctly or at all. Just because you feel healthy and okay doesn't give you the right to not follow simple guidelines on how to keep the customers and other fellow employees safe smh.
3 months ago Casey Simpson
You keep messing up my order this is the 3rd time now. Being the closest McDonald's to my house it's a convenient location ,but I'm done going there if your making it a inconvenient experience you never get my order right I pay for items to …
11 months ago Clarissa Cooper
Fries are never crunchy and fresh. Always soft and taste like they pre-make them and have them sitting under the hot lamp for too long.
1 week ago Darlene Moore
The best fries I've ever had so delicious ???? 100% DEFINITELY FO TO McDonald's
11 months ago Katie Kopp
Children work there and there importance is socialization not customers.
9 months ago rex naddeo
The place was pretty empty and the food was the same as usual... But I got excellent service from them and I'll definitely be returning!!
3 weeks ago thomas mantel
The restaurant is closed and without a sign. I hope they reopen soon or at least to publish that they are closed!
8 months ago Behzad Lavian
It's a McDonald's. Nothing more nothing less.
6 months ago Edgar molina
The place is pretty clean and the orders arrive fast. Using the mcdonalds app is convenient and is availavle for use for this branch.
4 months ago Douglas Shaffer
I have never EVER seen a McDonald's where a simple meal costs $15... this is Bayonne, NJ for goodness sake. Extremely overpriced for everything and service is sub par
4 months ago Tim Robbins
French fries always cold, the last time food I paid for I didn't get it. I called them several times but no one picked up.
9 months ago andras szita
Quick service drive thru.
10 months ago Daming Yu
Worst McDonald's experience ever, had to wait over 10 min just for their so called fresh fries!! Come on McDonald's must always have fries ready, especially on lunch or dinner time. Poor management, poor customer service and extremely high …
5 months ago bee gee
I had to pay for water. No not a water bottle- What McDonald's do you have to pay for water. Other then that the food was good, and they had my order done quickly
5 months ago khaos theory
This McDonald's is extremely overpriced a 10 pc nuggets Vallilla shack and fries is almost $20 and im from NYC and have been living here for 5 years so I have been to a million McDonald's ordering the same thing for less. They are also more …
1 week ago Alexander Korkunov
I can get McDonald's cheaper in Manhattan. Might as well just get takeout from a restaurant for the price you pay here.
9 months ago Jordan Powell
I drove for nothing. This place is shut down.
9 months ago Melissa Renacker
Every one is speaking Spanish no one knows English smdh
8 months ago Roy Kimchi
Fast friendly service
8 months ago adem karakum
Great place to relax.
9 months ago Neha Bhardwaj
very slow service. waited 20 minutes to place order. then another 10 to get it. drove off to find out they got the order wrong. i must of got somebody else's order. not to mention i paid almost double what i normally would pay at other McDonald's.
5 months ago Merry Mariano
Order was done even before I got to the windows. Everything tasted amazing, great service. 5/5
3 months ago Noobbreakdown Torres
The McDonald's that I went to was excellent. The staff was outstanding and so helpful I give them 10 stars!!!
3 months ago tony kernats
Mediocre service and one of the most inconvenient drive-throughs I've ever seen. You have to enter the back parking lot and loop around which leads to confusion on who is in line and who isn't. The food was poorly prepared as well and my order was missing items, though I had no interest in waiting in line again just for an apple pie.
3 months ago Debs Smith
Their prices are absolutely ridiculous. $14.00 For one person to eat lunch
3 months ago Rhianna Pollard
I have been to many bad McDonald's in my time, but this is by far the worst. everything is overpriced even compared to Brooklyn and Manhattan prices. One Egg McMuffin cost over $5 just for the sandwich. I used to be able to get that for $4 in Brooklyn. I will never come back here again.
4 months ago Lashanda Tompkins
Love to come here for my chocolate chip frappe.
8 months ago Jayashree K
I asked for meals yet they charged individually. 2 breakfast sandwiches came to $20.00.
2 weeks ago Susan Bolton
They have a drive thru but everytime you order they make you pull to the side to wait for your food. Its supposed to be fast food i don't wanna wait for it.
4 months ago Lisa Rossetti
Every now and then, I need to have a burger and fries. I like going when the kids aren't making a lot of noise. I don't mean the little ones. I'm speaking about the teenagers. They still have great coffee!
8 months ago Candy Stone
Never been here but it's mcdonald's
10 months ago lou crabtree
Its pretty disturbing during these times to see all your drive thru workers with no gloves on. Touch the cups my credit card everything then handing it back. What kind of business are you running if you bother to run it at all
3 months ago Samuel Avila
Ordered the new quarter pounder meal. Was over 12 bucks with tax. Completely not worth it.
1 month ago valdy satria
Terrible service. The people taking your order are always RUDE. It feels like ur always being rushed. The prices are ridiculous and the food preparation is very messy. I would rather drive to the McDonald's in JC!
3 months ago Vic R
$14 for big Mac? No wonder there are no cars in drive thru. Should be called VIP McDonalds.... No wait time ????????????
5 months ago Luke Hill
Its the best American McDonald's ever! I've eaten McDonald's in other locations in Florida, Virginia and New York, but they never tasted so good. The service here is very friendly indeed.
7 months ago Jon Mullins
Great food, clean
8 months ago Richard Douglas
Fast service and fast food.
2 months ago Eric Gwyn
They always get something wrong with my order every time I go there. I refuse to return there ever again. I'd rather take the time to go to the other McDonalds by the DMV.
2 months ago Josh Moats
The worst customer service! They will purposely mess up your order, charge you for the wrong order, and refuse to take any responsibility for their mistake. The will even keep the wrong order you brought back, leaving you empty handed along …
8 months ago Tassi Hendricks
Very nice and courteous staff.
4 months ago Igop G
The service here is absolutely terrible. It's always been. The fries you get are soggy and not crispy at all whatsoever. It's not COVID-19 causing these issues because this particular McDonald's has always been like this!
5 months ago Mike Simons
Fast service.
2 days ago Brian Wilkins
How do you charge $6.95 for a big breakfast without pancakes??????......all other McDonalds charges $3.99 to $4.29.
7 months ago Stoney Royal
Cant even get a simple order right. I order 2 things and they asked me if I wanted fries. I didnt even asked for fries and wanted to charge me for them. Total came out to 5.50 for 1 Mcchicken and 4 piece nuggets. When I explain to the girl …
5 months ago Maggie Glanowska
Terrible service, I waited 30 minutes to order 4 piece chicken nuggets. Also, I asked for a cup of water (which was free at that time) and they charged me 50 cents. Me and my friend went there and left a soccer ball and 5 minutes later we …
8 months ago
Popular places from the category Fast food restaurant