Bassett Caterers
Caterer Bassett Caterers, temporary at, 3000 Emmons Ave, 11235, United States:
220 reviews
of users and employees, detailed information about the address, opening hours, location on the map, attendance, photos, menus, phone number and a huge amount of other detailed and useful information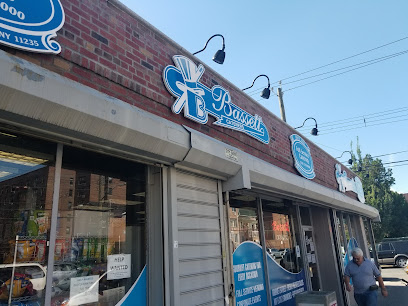 Address:
temporary at, 3000 Emmons Ave, 11235, United States
GPS coordinates
Latitude:
40.5834393
Longitude:
-73.9382371
reviews Tuhin chakraborty
Catered two parties in the same day. Logistics went smoothly. Everyone was helpful from delivery people to people in office on phone. Food was delicious and PLENTIFUL. Guests left with tons of left overs and everyone talked about how great the food was.
7 months ago Vamsi Mohan
Established, low key eatery tucked away in sheepshead bay away from the strip. A spot for locals, the food is unbelievably amazing and doesn't break the bank. Hidden gem that's been here for years.
7 months ago Clifton Graves
They sell cooked food... it's good. I'll take it over fast food any day.
6 months ago Charles Taben
Always my go to place for everything! Whether I just need mozzarella or stocking up on prepared food for the week, Frank makes it the place thar can't be beat. Oh. And their skirt steak is to die for!
11 months ago carl rohleder
Tuna with salad..mmmm good
3 months ago Louisa S
We used Bassett catering for our rehearsal dinner and wedding after we had to switch our wedding plans to a small backyard wedding due to COVID-19 restrictions. We asked around for caterer recommendations and heard great things about Bassett. It was one of the best decisions that we made choosing them. James was amazing!! He helped every step of the way. Before I even tasted the food, I knew we chose the right place. Everyone at our wedding asked who the caterer was because the food was DELICIOUS! It beyond exceeded my expectations. The server/chef were sooo nice and talented as well. I highly recommend Bassett and will be using them again in the future.
11 months ago Martin Khad
It says the hours were updated and they close at 3pm on Sundays however i just left the location and they are still closed due to the fire! Yet they have a sign outside that says go online and check the website for updated hours... very disappointed I traveled for nothing! Expecting food!!! Please keep us updated with REAL Information!!!
2 months ago Kiza Zika
Good food. Don't know about them wearing masks indoors, they probably think the virus is a hoax. A lot of the patrons probably support Donald Trump but don't let your politics stop you from eating here. The food is as flavorful as liberal tears and they are truly making America great again.
11 months ago Benjamin Moore
Could eat their food everyday of the week n prices are reasonable love this place
5 months ago Fox Terrier
The food is always fresh. Everyone very nice that works there. Food is delicious the grilled skirt steak my favorite.
1 month ago Grewe Family
Friendly staff & portions are great for the price!
8 months ago Kari Bluff
Very good food and sandwiches. The owner is a good person
8 months ago Carina Martinez
Can't really share what the place is like because it burned down about a week ago
6 months ago Lauren Cipriano
The people and the store are great they have a large variety of cold cuts and some cooked food also like rice balls, fried eggplant, and croquettes
5 months ago Thomas Marstein
Great plentiful food, wonderful choices, packages, customer service, delivery and crowd pleasing. Had the Italian sub, salads a package including penne, chicken , shrimp, beef, egg plant, potatoes, appetizers and deserts. Can't wait to order again!!!
1 month ago Ben Zunun
Excellent food and service I had a sausage and peppers hero that was out of this world !!!
10 months ago Cherrie Shofner
Delicious and huge heroes on perfect Italian bread. Low prices.
7 months ago Jim Tedone
My daughter's 10 year birthday catering was great! Carnivores actually told me the salmon was the greatest, not mentioning the skirt steak. Highly recommend to anyone. Packages are flexible and on point service.
5 months ago Nichole Kosco
They have delicious food but are allowing people to come into the store without masks.People who do not wear a mask should not be allowed in the store manager or owner does not say anything to them do not feel comfortable being around people who do not respect other people by wearing a mask
7 months ago Wylie Burt
We would get Bassett every Friday for dinner best food ever we moved to fla can't find a good meatball sandwich or anything like bassett we miss you
1 month ago Lilian Locklin
We ordered Thanksgiving for 7 & the food was great
6 months ago Ron Bolender
Friendly staff. The eggplant parm was on the small side and although they give you a nice portion of chicken cutlets they were salty.
10 months ago Javier Chano
Thanksgiving is my favorite holiday to cook. However, this year was particularly hectic and so I decided to give Bassett a try for their Thanksgiving catering menu. Bottom line, I will never cook for Thanksgiving again. They made the process so simple from pick up to warm up and the food was so delicious that I'd be crazy to go back to cooking for days. If our group gets bigger, I might just add one or two of my homemade sides, but other than that, it's Bassett all the way! Thank you, Debbie for your assistance. And thank you Bassett for the best!
4 months ago Brent Johnson
Great as usual no complaints ,good food been going there for many years????
2 months ago Sandra Ussia
I am a vegan and I think I just had one of the best salads I've ever had at Bassett. It was fresh and delicious. This was my second salad from Bassett and they are consistent. The staff is friendly as well. I will definitely return.
3 months ago Peter Deleon
The best creme brulee!!
9 months ago JASON NAYLOR
Best of The Best & Stayed True to old school hero's (no one makes it like they did before the gentrification) Bassets Does! & Staff is awesome. Prices are right & worth traveling for....
3 months ago Erin Hutt
Not professional, poor quality and Horrible service from A to Z.
9 months ago Ev Ruch
Food was delicious. Fast and courteous service. Adhering to quarantine rules.
5 months ago Kim Cannon
Good and Plenty! My chicken franchise was delicious. The mixed veggies were tender and well seasoned. Definitely worth every penny.
2 months ago Steven L
Best sandwich in Brooklyn! I don't about the catering, but just the walk in service is fantastic (when they get your order right). There is a shorter guy that usually takes our orders and it's always perfect, but this most recent time it was someone else who got every thing wrong even though I doubt confirmed it for him and was standing right there in case he needed a reminder.
3 months ago John Truly
Hidden treasure- best Genoa/provolone sandwich made to order and a pleasant place to sit. Peaceful. Also taking a delicious traditional rice ball home for later!
5 months ago Jackie Misa
Old school neigberhood place with great food
1 month ago KRISTIN GIMIGLIANO
The best at what they do
7 months ago Adam Nyholt
Good food had a turkey with the works. I had it twice it was so nice. A bit pricey but it's worth it.
3 months ago Simnikiwe Mazula
Great food home cooked taste
3 months ago Neil Crisp
Great old school place. Real fixture in the neighborhood being in business for decades. Street parking is a little tough. Watch the alternate side of the street. The DOT in the area concentrates on the surrounding block knowing people are there to grab food quick and they don't care. Typical. Great selection for dining in, take away and catering. Never a bad choice.
2 months ago Miss T
We ordered Bassett for Christmas and Christmas Eve dinners. Everyone loved the food! Roast beef, chicken parm, tilapia, rice balls - everything we got was eaten with enough leftovers. Pickup takes bit of time but convenient, and delivery is prompt.
3 months ago Redd Foster
Good food.. good price. If you need catering go here. I drankso much last night.. I'm going back for 2nds.
4 months ago Alana Daunis
Excellent food great choices. The people their are so nice and helpful
7 months ago Carl Smith
Amazing, reliable and most important delicious food. No need to go anywhere else. They are affordable, they offer seasonal packages, they include all the paper and utensils & delivery. Weather u order in person or over the phone...your guaranteed quality and on time catering. You'll thank me! ????
1 month ago Traverus Moore
Great food at a reasonable price. Always fresh and fast
3 months ago Rachel Miller
I purchased the tuna and shrimp scampi....excellent for.next day work lunch.
5 months ago Cahandra Wilbourne
this place has really good salad, sandwiches and rolls. however it is s 4 star rating because they do not have pizza anymore
4 months ago neabud
Food is tasty, fresh and always good. A variety of dishes, including sandwiches, pizza too. Can get cold or hot food. Staff is friendly. Place is clean including restroom. Can dine in or take out.
9 months ago Ronald Schneider
Great food for great prices. Staff are friendly and everything is always fresh. Highly recommended.
7 months ago Elisha Rochell
The Thanksgiving Special and a few extras that we catered for our Thanksgiving Dinner for 26 , was absolutely amazing!!! It was as if I cooked it myself!!! Starting with the delivery with Ryan to the way everything was packaged, especially the turkey, I was very impressed!!! Everything was delicious and plentiful!! I felt guilty sitting on my couch Wednesday night at 8 pm :) I would definitely do this again. Thank you for making Thanksgiving Day effortless..... now if you could just do something to help with the clean-up!!! :)
9 months ago Richard Labone
They catered my baby shower food was delicious had more than I expected they will cater all my events
3 months ago adrian yujiro
Love this place been coming here since I was a young man. If you are in a pinch and don't feel like cooking i usually stop here. I've used the catering before about a dozen times and they have never disappointed.
7 months ago jarred talbot
Their food is pretty good and they're actually consistent with their catering. They also do sales for cold cuts that are always forgotten by everyone in the neighborhood.
2 months ago
Popular places from the category Caterer