Potbelly Sandwich Shop
Sandwich shop Potbelly Sandwich Shop, 501 7th Ave, New York, NY 10018, United States:
203 reviews
of users and employees, detailed information about the address, opening hours, location on the map, attendance, photos, menus, phone number and a huge amount of other detailed and useful information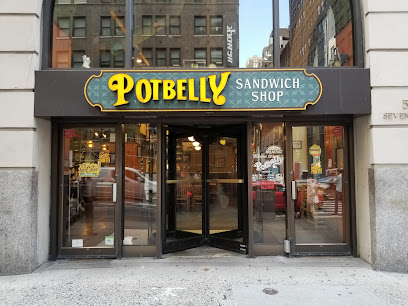 Address:
501 7th Ave, New York, NY 10018, United States
GPS coordinates
Latitude:
40.7529796
Longitude:
-73.9889565
Location on the map
Reviews Bori Bori
Great chicken pot pie soup,indoor dining Pandemic guidelines observed, locked bathroom w key for patrons, but soap dispenser malfunctions! No soap is incongruent to goals of Hygiene in this Pandemic. Careful what one ingests without good 20sec handwashing
9 months ago Betty Jones
Love their sandwiches and milkshakes here. Usually during lunch time it's gets busy. So go after lunch or before lunch. Their soups are good and hearty. Staffs are nice and friendly but they work really slow. Overall great sandwiches and will be coming back soon.
11 months ago Paula Jean
Why did the door guy take my temperature, have me add my address to the book to dine in and then allowed a homeless man to walk in and the man was loitering with his mask on his chin!!! He was just standing there, watching people. Nothing was said to him by any of the staff! No one seemed to care that this man was loitering with his mask on his chin. I will not go back there because of the uncomfortable environment.
1 month ago Maddie Bonds
Love this place! One of my favorite places for breakfast. Sausage egg and cheddar on flatbread.
3 months ago Michael Meartz
Love Potbelly. Store is in great location and quite large with upstairs seating as well. Has good options for sandwiches. Just go there.
11 months ago Jus Me
I love their fireball sandwich (meatball plus chili off their underground menu). That and one if their always soft sugar cookies, is a perfect meal. The only downside is that it's a but expensive (upwards of $10 just for the small version of the sandwich) so I can't get it too often, but that just makes those rare times I do a special treat!
9 months ago Brittney Wilson
Got there about one, it wasn't busy. I'll return with my coworkers. Kinda of like a place in Houston that I enjoyed.
4 months ago Adam K
Sandwiches are ok. Soups, salads, mac and cheese and chili all on the menu
9 months ago Jan Wier
Sandwiches were good. Broccoli and Cheddar soup was great. Price is average. Nothing special but a good place to stop and grab a quick lunch.
10 months ago Eric Yang
Best loaded baked potato soup ever
7 months ago Dhanesh Jagtap
Perfect place for breakfast/lunch. Not too expensive, and their sandwiches are really good. Staff is very nice, and effective. Also, on this place toy don't leave tips. The cashier told us they don't take it, and that's nice to know when you are a tourist from Europe. I really recommend this place both for the food, and the nice people working there.
11 months ago Kristin Steinmetz
Potbellies is always a good lunch pick. But wanted to take a moment to highlight the staff at this location. The whole crew was friendly, funny, kind and thoughtful. I was definitely not expecting this kind of reception at the lunch rush in midtown Manhattan. Visited 7/29 midday.
9 months ago Rain Dog
Great sandwiches, The Wreck is like no other and if you don't get a shake you're completely missing out, but this place looked like a tornado swept through behind the counter. No trash cans?
9 months ago Scott Haynes
Pretty good, we randomly stumbled in for a quick meal. I had the chicken pot soup and my husband had the meatball sandwich. Both were delicious.
1 month ago espartano J
I was about to get on the Sprinter Bus for a 7 hour ride and I needed something to eat. I looked across the street and there was Potbelly sandwich shop. I ordered the pulled turkey with bacon, lettuce and tomatoes. The sandwich was simply moist and delicious! The ladies at the shop quite confidently stated I would not be disappointed. I enjoyed every bite from the Lincoln tunnel to New Jersey. Can't wait to eat there again.
8 months ago Bren Loftin
Potbelly sandwiches are really good and made to order. The toppings are unlimited, so choose the ones you want. The sandwich sizes are just right, not too big, not too small. The soups are generally good as well. I would go here all the time when I worked in the city, and now like to stop for a quick bite when I'm nearby.
1 week ago Susan King
good serviece and i really like he chicken salad toasted with peppers
8 months ago Heather R
Very convenient location and comfortable setting. Online ordering makes pickup a breeze. Late hours allow for a late dinner or snack, especially the reasonably priced shakes.
9 months ago Hannah Zweizig
Love this place
8 months ago Hyungho Kim
Louis the manager is a great ???? guy. Very attentive and pleasant. I'd definitely go back. Cool set up and bathroom were very clean.
8 months ago raymond meyer
It's potbelly so the food is good but the staff here is extra incompetent and all seem to hate each other. They're arguing loudly with each other every time I'm here.
9 months ago Andrea Merrill
Had a great experience here. The food is good and Kedesha and the staff were so nice to fix a mix up with my order.
10 months ago A W
I love Potbelly. Sandwiches and Dreambars are awesome and the staff is always extremely well skilled. This location has more seating than many others, but it is also more busy. They have more seats upstairs.
9 months ago Monica Geurin
Went her after the usual lunch rush and service was super slow and the 2 people working here spent more time talking to each other than moving the orders along. Also the food was just ok and not worth the price tag of $20 for just 2 sandwiches. A trip to a local deli or a Subway would have been a more fulfilling experience.
9 months ago Kadir Galgalo
Really love their sandwiches, mushroom one is the best..not a lot of vegetarian options available but I am okay with it as I order the same sandwich each time I visit.. they should perhaps consider making sandwich size bigger for the amount they charge though.. a bit overpriced for franchise sandwich place!
9 months ago Keith Bradley
Tasty, reliable sandwiches, shakes, cookies and self-service fountain drinks. Clean, cozy, and comfortable. Staff are prompt, welcoming and attentive. Very reasonably priced, not an easy thing to find in Manhattan. Highly recommended!
10 months ago alexxgss
Consistently bad. This place can't get a simple salad correct. The dressing and chicken was missing, I said no onions and there are onions. I had stopped ordering from here last year after several similarly bad experiences, I thought I would give this place another try, that was a mistake!
10 months ago Matt Rawson
Great food at good prices very nice staff definitely recommend it
9 months ago Mary Wallen
Good food. Easy in and out. Good service.
10 months ago Kelly Crawford
Run-of-the-mill sandwich shop ala Subway and Blimpie. The food is good but the prices are ridiculous--almost $9 for a small chicken and cheddar sandwich. I understand it's Manhattan, but come on, guys, don't gouge people. I'll stick with Subway for half the price.
7 months ago Caitlyn Kinder
Dawn is awesome! Full of energy and efficient personality ! Just what I needed :) truly made my day
10 months ago Dennis Cronkhite
Discaimer, I usually have a good experience here this review is strictly for the customer service or lack of that I received over the phone. I come here often usually for soup. I was there recently 10.12.19 once again for soup. I realized the next day I hadn't my wallet and because my last use of it was at potbelly I gave them a call. I called 3 times in a row just to be left with this rude answer "excuse me sir I don't know nothing about your wallet" the end. Almost sounded as if she found it and decided to keep it herself. First time I called I was hung up on immediately after being told to hold. Second time I called I was left on hold for a good 8 min, where i just hung up and called back for the 3rd and last time.
8 months ago Jimmy Ramirez
These sandwiches are better than subway and the ladies who work here are awesome
9 months ago Luke Soojian
Great chain. Soups, salads, sandwiches and desserts are yummy!
8 months ago Mut taqin
This place is AWESOME! A wide variety of sandwich options and salads. Reasonably priced. Good natured employees. Great experience all around.
10 months ago Chad Baker
Absolutely delicious food!!! Had the chicken mozzarella on multigrain and chicken pot pie soup.. great fast service and friendly..
9 months ago Nolan BELLENOUE
Good place for a quick bite
9 months ago Rob M
Dawn was awesome at the 7th Ave location. She is soooo sweet and helpful. I'll be back!
7 months ago keith parkhill
Good prices, good food, good service!!
1 month ago Sandra Acosta
Awesome place with lots of history. Definitely on of the better Potbellys
9 months ago Amy Beatty
For it to be a fast food restaurant sandwich shop it was pretty delicious
10 months ago Leslie May
Sandwiches are great, but when the person making them cares about the sandwich, it makes it 100% better. I didn't catch her name, but the young lady making the sandwiches at this location, definitely got it going on. These the type of ppl that you make managers.
3 months ago Sara Perry
Good people nice service
3 months ago Clint Shedd
The best, cheap flatbread sandwiches hands down!
9 months ago Greg Spora
Relatively quiet place to sit in NYC Food was decent
11 months ago Harshal Gajjar
Decent sandwich. I ordered the grilled chicken im glad it wasnt overly greasy, but it was a little salty
8 months ago Nedda M
Great meals - oreo milkshake (heavenly)
9 months ago Franco Bohorquez
Nice and friendly staff. Quick service and great food
7 months ago Rebekah Hancock
Their classic grilled chicken sandwich is delicious! Would recommend their biggest sandwich size!
10 months ago Nic Wainwright
This place is great this is a real deal hero shop plenty seating. The breads an meats are top notch . Definitely one of my favorite spots for lunch
11 months ago
Popular places from the category Sandwich shop