Local Restaurant Equipment Auctions NYC
Auction house Local Restaurant Equipment Auctions NYC, 37 W 47th St Suite 1427, New York, NY 10018, United States:
20 reviews
of users and employees, detailed information about the address, opening hours, location on the map, attendance, photos, menus, phone number and a huge amount of other detailed and useful information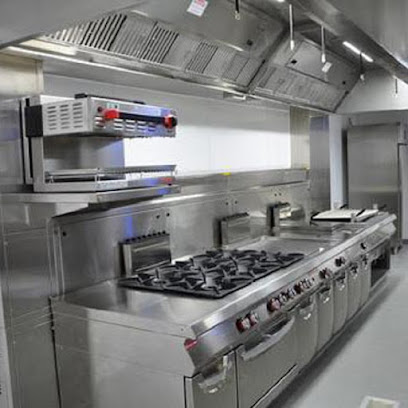 Address:
37 W 47th St Suite 1427, New York, NY 10018, United States
GPS coordinates
Latitude:
40.7575688
Longitude:
-73.9804527
reviews Betty Miles
I have been to many restaurant supply auctions and this is one of the best. The staff is super friendly and helps you load your items as part of their service. Love the items and prices I get things for. They are top notch! My favorite hands down
5 months ago Joachim Grenzer
Always a great restaurant supplies auction service. Professional, courteous and personable. I make the five hour drive from Virginia for every auction -- they're that good.
4 months ago Melissa Lafond
As a restaurateur, I've been to a dozen of restaurant supply auctions over the years. This is the best one. They are mostly for restaurants but it's good for household purposes as well. The quality of products is excellent.
8 months ago Major Bonner
Great kitchen supply auction place to bid on commercial cooking merchandise and everyone there is always super nice and friendly and will help you if you are in need great place nice atmosphere just another great day to have a little bit of fun and get some great buys
6 months ago Mari Vasquez
We were remodeling our restaurant's kitchen, which was a massive project. Local Restaurant Equipment Auctions worked with us at every step, making suggestions and accommodating our ideas as well. They ensured we got what we want and at affordable prices.
4 months ago TheOGJosiah
Local Restaurant Equipment Auctions is the best place to sell unwanted restaurant equipment. We had to close our restaurant on short notice and vacate the property. One call and they took everything and sold it for a good price at auction. We never could have made this happen without their help.
8 months ago Dor Morag
Unfortunately we had to close our family business and chose Local Restaurant Equipment Auctions to auction all of the contents. It was a difficult time but they took the time to explain every detail and were very prompt with emails. The owner spent an entire day cataloguing every item and assured us that everything would go smoothly. The preview and pickup day went smoothly and their staff worked hard to make sure that all customers were happy and that no one had to wait long. I would not hesitate to recommend them as restaurant auctioneer. It was a real pleasure to work with such professional auctioneer business
5 months ago Derek Cook
Local Restaurant Equipment Auctions is the new go-to source for my restaurants. I'm renovating my restaurant and hired them to liquidate some equipment and provide more. They made the transition easy..
5 months ago Zack Tully
This kitchen equipment auction is fantastic if you are into the restaurant business or if you just need some industrial style hardware for your kitchen, they also sell previously used machines.
4 months ago Asma Ali
Thank you to the team at Local Restaurant Equipment Auctions!!! We purchased for the first time today and were very impressed with their organized system. As frequent online restaurant auction buyers, this company provides excellent customer service, very detailed invoices the several ways to reach and connect with the office and staff working pickups. They are very fast to reply, I was able to connect by email and had a response in less than 10 minutes!!! Great experience, highly recommend....
6 months ago Teresa Guillen
One of the best industrial restaurant equipment auctions. I really appreciated the best customer service regarding selling some commercial freezers and overs. I couldn't have been happier! Thank you very much!
2 months ago Lexi Bustle
I had a wonderful experience at this restaurant equipment auction house. Kim was great to deal with. i had no appointment, just walked in looking for certain items from a previous auction that I missed. She took the time to show me around and I found everything I was looking for. I would recommend Local Restaurant Equipment Auctions to anyone looking for great friendly service. Thank you again. I will be back.
7 months ago Mike Martin
These auctioneers were very helpful when we shut down our restaurant! They came to pick up the items that we deemed valuable enough for commercial restaurant equipment auction, and within a few weeks I had a check from the sale of those items. They were fair with their payment, and I was very happy to have been able to use them! Thanks!
8 months ago Robin Stansell
This is the best restaurant supplies auction to by quality equipment at the best prices... We purchased two commercial slicers and a steam table for what it would cost for one new slicer. Why spend a lot on brand new equipment what you can save so much at commercial restaurant equipment auctions. We are going to need furniture for an expansion and this will be the first place we will try..
5 months ago Exciting Productions
Not only have I bought restaurant equipment here I have also sold thought this restaurant auctioneer when my equipment was no longer useful for my latest venture. I was very pleased with the price I was paid.
4 months ago Sasha Beverly
I recently participated in the restaurant equipment auction. It was the first time I have participated in any auction and I was impressed with how easy and smooth the process was. The customer service was friendly and organized and I love my new steam table and salamander! I'll definitely be keeping an eye on their auctions for other equipment needs.
5 months ago Ben Tag
Great service! Never used a restaurant equipment auction before to purchase anything.. Would do it again without hesitation.
7 months ago Torix A
I was given a very short turn around time to be out of my pizzeria location... I contacted this restaurant auctioneers and within an hour I had been emailed an agenda of exactly how they would conduct the proceeding and answering all of my questions without me asking... Truly a positive restaurant auction experience during an extremely stressful time for me
10 months ago Stephen Bosco
These kitchen equipment auctions I have found to be absolutely amazing.. Excellent experience with when I liquidated my restaurant business.
2 months ago binod karki
When I closed up our pizzeria in NY I had to sell two Bakers Pride pizza ovens. One call to local Restaurant Pizza Auctions and the problem was solved. They came with a truck and hauled them away the same day. They went into the next available auction and sold! I could not be more pleased to not have to haul and store that stuff.
4 months ago
Popular places from the category Auction house