Manufacturer Anheuser-Busch Co
Manufacturer Anheuser-Busch Co, 200 US-1, Newark, NJ 07114, United States:
187 reviews
of users and employees, detailed information about the address, opening hours, location on the map, attendance, photos, menus, phone number and a huge amount of other detailed and useful information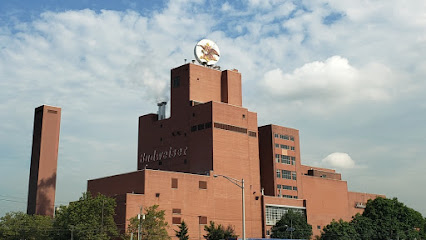 Address:
200 US-1, Newark, NJ 07114, United States
Website:
anheuser-busch.com
GPS coordinates
Latitude:
40.6950322
Longitude:
-74.1904732
Location on the map
Reviews alexis fuentes
Got a dispatch at 0713 to pick up at 0800 same day and was over 6 hrs away. Told broker eta was 1400. Upon ariving at 1400 was told they were not loading until 2300. I was out of hrs at 2300 so I had to sit until 0200. As a company driver I …
6 months ago Jerry Rable
Loaded in 3 hours during the night.you better come to check in at least 1 hour before your appointment time cause it's gonna be a line of trucks here.check in process kind of slow
7 months ago Catmar
It's basically by appointment only, but they will allow you to check in 2 hours before your appointment time. It's a 50/50 chance of getting loaded on time. The most time I've spent there was 6 hours. Most of the time they are accurate.
8 months ago Richard Chaplin
One of the worst places I've been to. Checked in at 6:45a it is now 1:15p and was told they would start unloading within an hour. Also told by a worker if you are bringing a load and they have a lot of product inside the warehouse, they …
6 months ago Mellanie Large
Easy check in and quick loading
1 week ago LOvepreet singh
Checked in at 5 pm for 7 pm pick up. Got door at 5:10 pm, loaded by 6:20 pm. Was scared after reading all the reviews, seems like today's my lucky day !!!!
7 months ago Lee Boren
If I could give this place zero stars I would. Everyone is lazy including the "managers." I've been waiting here for 2 days so far and now being told it's going to take another 10 hours... These people all need to find other jobs if they don't like their current one. Absolutely trash employees and warehouse. DO NOT DELIVER HERE
8 months ago Cheskel Hirsch
People were nice but ran out of hours, then weighed bobtail 3 time before they finally recorded my weight. The Lady that helped me was off, then returned back next day, I was still there. They need better communication with each shift!
4 months ago Kelli LaPoint
It was my first time here on January 3rd 2021, I didn't like the fact that they did not have a bobtail lane, I took an empty trailer in and then they had to weigh me and I had to wait behind a bunch of trucks trying to leave with loaded …
11 months ago Naomi Kraus
No professionalism to be found anywhere inside the fence. 7 hours to unload a truck whispers to be loaded that day too but not told come back tomorrow we don't have enough time today I can see why if it takes 7 hours to unload
1 month ago Chris Brown
Atention drivers don't come here this place is the worst place you can ever pick up or deliver unprofessional and disrespectful people work here they don't care if you are hungry or if you run out of our or what ever you can stay here …
6 months ago Andrew Batz
These guys in the warehouse literally just driving around looking like they working but we all know it doesn't take 5hrs+ to unload a trailer. You playing with people's money smh
7 months ago Khadijah Beyah
Got here a day early and got me unloaded. 4 hours to unload but I was early so I can't complain to much
8 months ago Kate Wiley
Good pick up experience. Efficient shipper.
2 months ago Ethan Yang
Appointment was for 6pm didn't get out of there until 2am. Hope ya'll don't mind sitting
8 months ago Benjamin Anton
They stopped doing live loads. Had to wait for 6 hrs to be loaded. No organization had to get in line 3x just to find out what going on. However the employees were very nice and helpful when they got information
4 months ago Joe Dank
Worst ever place for truckers. They took 5 hours to get loaded. Avoid doing business with them
10 months ago Bobby Banks
Came here in 2014 and come back today February 12,21 nothing change. It's been 5 hours and I'm still waiting to get loaded.
8 months ago esmail anwer
Are truck drivers I picked up at Anheuser-Busch Newark New Jersey on September 24th my appointment was at 2300 at evening I pulled up under the scale I have 20 to 30 put my information in the kiosk machine got a doc right away they started …
8 months ago Amer Alowdi
Factory were bad 6 aver gov still welting for delivery
6 months ago Christina Serna
They unloaded me quick in an hour.
9 months ago Seth Bontrager
Lot of miscommunication had to move doors multiple times and very long wait
7 months ago melanie bleisch
They wasted No time getting me loaded. 2 thumbs up
10 months ago Grant Rogers
Interesting place to get into. Weigh in is actually off to the right inside the building and not the hosts shack on the immediate least... That's the scale where you check out. Oddest thing was exiting and being asked do I want a seal on the load?! Uhh YA
6 months ago Ines W
Terrible place to deliver. Wasted 2 days there.
9 months ago Brander Thirnbeck
Before you arrive make sure that you have a permit. My dispatcher and broker did not know about this, which would save time do in advance.
4 months ago Sultan Alneyadi
Slowest working people terrible terrible people to have a business never coming back here again!!!!!
7 months ago sonia deep
Got in and out quick staff was cool
7 months ago Pam Carvalho
Very bad place no body come here deliver & pickup almost 10 hours latest experience 2-12-2021
8 months ago Kris Martin
They have stepped there game up in Jersey they have quick check in. Excellent work Anheuser
3 months ago sonia arora
Horrible, a nightmare. Each time you approach the scale it is about 30 to 45 minutes line to get up TO the scale. 1st strike 'permit not sent'(even though it had been bought)....time wasted. Turn around, kicked out to the staging area( but …
1 day ago Jackie Sivert
Too much playing at check-in. 3 appointment got at the door 4:45. Loading pretty quick.
7 months ago James Symonds
Just checked in for a delivery. I put the seal number in and then it tell me to open my trailer doors and wait for assistance at the rear of the trailer. Security guy waved me to him and said I was only supposed to put the seal in the kiosk …
1 month ago Nauman Safdar
Picking up some ????
7 months ago Nicole Gauthier
I check in here 3 and unload me 1o clock night time , this take long time I wait here 9 or 10 hours here , too slow
9 months ago Andrew Nash
Soon as I checked in it got a door got loaded in 45 minutes and it was out
7 months ago Wyatt Page
sat from 10 pm to 9:41 before we were told it was a TONU, this place is a joke The check in and lines are rediculous! you come here bring your lunch and a potty you will need it!
3 weeks ago Cortney Stroud
Head security girl is lazy and incompetent. After waiting for her to finish a facetime call, she made me leave twice before allowing me to check in 5 hours after initial arrival. Once for scale issue, once for incorrect pickup number. …
4 months ago ANDY Francis
very rude the person who works at the weigh station should have people with a little more education very annoying
1 week ago Stephen Albers
Cut seals on the ground with extremely sharp points that could cause flat tires. *WARNING* OUTBOUND
6 months ago luana gregorio
Easy from 21 N to 1-9 S. After you take 1-9S on R is the entrance for ALL vehicle. Also must have NJ alcohol permit, easy to obtain at Comdata permit website, $25 + $14 fee.
2 months ago said karim
People were really nice its just the process takes forever but thats the way it is for beer pick ups very heavy loads. I would get it scaled out after you leave dont just trust the scales there. Overall good experience
7 months ago Anna Knight
Hey guys just be careful don't miss this entrance
2 months ago Laura
ALWAYS CHECK UR BOL WEIGHT BEFORE SIGNING. Do not trust the guards they lie... Worst Freaking company. AVOID!! AVOID!! They will over weight load you then they will not take off extra pallets that os causing the over weight. They will tell …
11 months ago Robert Johnson
15houts after appointment time still not loaded , not worth coming here waist of time and money. Horrible place .
3 weeks ago Analee Paisley
Quick check in. the doors gave right away. loading the trailer for one hour. security papers are issued at the exit after weighing. Be careful the load is always with an advantage on the axis.
6 months ago Kriss Foley
They have a sign with a long list at the entrance, about what they expect you to do or wear in their premises. They won't let you know until you go down to the building on your right, and check in, that you need a New Jersey alcohol permit, …
1 month ago Richard Fessenden
Very professional and productive
8 months ago Hamada Yehya
its super disorganized Poor logistics management They should fire immediately the person who is responsible for shipping
5 months ago Joshua McCusker
Very bad employee and they don't speak good with you. I don't recommend come here at all if you don't wanna stressed out.
7 months ago
Popular places from the category Manufacturer