U-Haul Moving & Storage at Barksdale
Truck rental agency U-Haul Moving & Storage at Barksdale, 4100 Barksdale Blvd #108, Bossier City, LA 71112, United States:
22 reviews
of users and employees, detailed information about the address, opening hours, location on the map, attendance, photos, menus, phone number and a huge amount of other detailed and useful information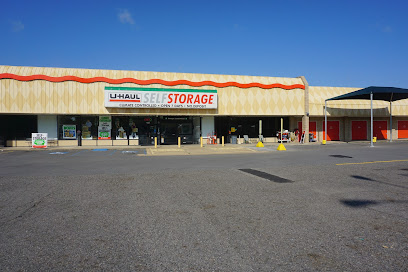 Address:
4100 Barksdale Blvd #108, Bossier City, LA 71112, United States
GPS coordinates
Latitude:
32.4774523
Longitude:
-93.6758430
Location on the map
Reviews Rebekah Hanski
Went over to rent a small open trailer. A $24.95 a day 4X7'. I get there and back up to the trailer I want to rent. A nice man walks up and ask if this is the one I want to rent. Yes, sir it is. he said I will have it hooked up to your car while you are in the office doing the paperwork. Great! I go inside filled out everything then the lady tells me she is unable to rent me this trailer due to the fact I'm towing it with my Ford Explorer. The lady tells me corp office will not allow this due to the Ford Explorer being involved in too many rollover accidents. No where on the web page is this information available. I spent time and money just to learn I have waisted my time and money. This is no way to run a business. I will never use this service again.
4 months ago Toreva Marshall
I've rented a variety of trucks and trailers several times from this location. Staff is friendly and knowledgeable. I appreciate dealing with professionals!
10 months ago Anne Schmelzle
Rented a van I picked up with 1/4 tank of gas. Returned it with 3/4 of a tank but not a full tank. Tried to charge me for not bringing it back with a full tank of gas! They got an extra 1/2 tank of gas out of me, and still tried to charge me an extra $58!
4 months ago Sarah Reiss
This business is by far the worst run I have ever encountered. I rented a storage unit about two years ago. At the Barksdale location in Bossier City, Louisiana. In February, 2019, my credit card information was skimmed while on a business trip and I had to get a new one. I went to the store and gave them my new number, because they had me set up on autodraft. The employee who took my information assured me that my information was saved. Guess what? It wasn't. And again, my credit card information was skimmed (do not use the pay at the pump for gas), and I had a new card. And again I went in and gave them my information. Was it saved this time by the manager Wanda? No. Then, when again I was informed that my storage building was in jeopardy of auction, this time I emailed Wanda my credit card information. Twice. On 5/1/19. She said she would run it on 5/3/19 "when she got around to it." Did she? No. I've spoken to the corporate office Administrative Assistant Kristi twice. I finally asked her to just allow me to empty my things and we simply part ways. She said she would agree, if I paid $190 and was out in 2 days. I countered with $150, which was more than generous considering the treatment I had received, and my good faith efforts. And a move out on Friday (this is Monday) since I have a broken foot and all... She refused. Well, now my unit still has not been paid for, in spite of UHAUL having my information since 5/1/19. And I'm probably going to have my unit auctioned. So, do not use this location. They are almost comically incompetent. The staff has changed every time I have been there. And I cannot convey the level of rudeness and poor customer service I have experienced. It's worse than anything I've ever seen or heard about.
6 months ago CARLOS HOENICKA
Usually the manager is there and she is a sweetheart but this evening I returned a day earlier. She wasn't here and the young man told my daughter to unhook the trailer yourself, this is Uhaul you should be able to work our equipment while he helped a caucasian women put her equipment on the backn and come back tomorrow to get a receipt. The WORSE SERVICE EVER !!! To busy flirting to to take care of business.... Now he refuses to give his name but he was working at 6pm on September 9, 2019.
7 months ago Charles Moser
Beware: we were incorrectly informed multiple times on payment policies. Not to mention- 2 days after we paid our balance in full, the staff had failed to remove the lock they had placed on our unit so when we attempted to get our (time sensitive) possessions out after 7pm, we were unable to get to until the following morning causing us to have to go to a hotel for the night. We were offered no remorse or compensation for their employees carelessness. We were also told that if we turned the locks in early that we would pay a prorated amount for the month. Not the case. A storage unit that should have cost us $125 a month ended up costing us about $200 bc they charge you late fees every couple of days. You would think a company operating around people and families who are in the middle of cross country moves/job relocations/divorces/etc. Would be a little more considerate and compassionate of the struggles all of those scenarios come with. I also expected more professionalism and consistency in such a well known company. We have used over $2,000 of uhaul services in the last 3 years and we will never use them again for our storage or transport needs.
8 months ago Murray Thompson
When moving from Shreveport to Chicago for temporary assignment U-Haul provided me with excellent service, advice and the right sized space to store my items. Great staff.
1 week ago Anthony Santos
I already submitted a review but it was easy to rent the truck and didnt have any major problems
7 months ago Paul Gruenwaldt
I rented a car dolly from this location and found that the manager and staff were friendly, helpful, and courteous. I can't speak more highly of the professionalism they displayed - much different from the help I tried to get from the U-Haul in the 3100 blk. of Barksdale Blvd.
11 months ago Alan Findling
Pricy, and didn't have my reservation that I made online. However, the woman at the desk was awesome to work her magic and it all worked out in the end.
6 months ago Stacy Cappadona
Great service. Go in person, don't reserve online - inventory doesn't match
1 week ago Skylar Barnett
Rude as all get out!!! Took a card to make a complaint and turns out it was their GENERAL MANAGER who was the one trepaying me like i was an inconvenience!!!!! Wanda Evans needs a attitude adjustment!! I wouldn't rent a unit here if they gave it to me!!!!!!
1 week ago Connie Timmons
Was in and out in 5 minutes renting a trailer. Quick and easy
6 months ago kamya yadav
Clean and the staff I have dealt with each time has been super helpful.
1 week ago piano songs
Totally secure indoor storage. Clean
6 months ago Vincent Tanner
Very nice staff clean facility air conditioning and​ heating.
10 months ago Heidi A
Easy to pickup and return!
6 months ago Christopher Bird
Uses them when moving back...the manager there rocks
3 months ago Trevelle Thomas
Love Ms Wanda
1 month ago Jianing Ding
Great service
9 months ago Samuel Wilkins
Great experience
3 months ago Angie Hoskins
Great staff, clean rooms
1 week ago
Popular places from the category Truck rental agency