Jimmy Granger Used Cars
Used car dealer Jimmy Granger Used Cars, 1010 Shreveport Barksdale Hwy, Shreveport, LA 71105, United States:
141 review
of users and employees, detailed information about the address, opening hours, location on the map, attendance, photos, menus, phone number and a huge amount of other detailed and useful information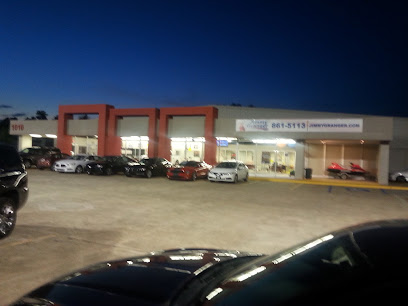 Address:
1010 Shreveport Barksdale Hwy, Shreveport, LA 71105, United States
GPS coordinates
Latitude:
32.4842213
Longitude:
-93.7104991
reviews Art Guess
Mr. Don was SO AMAZING! He really made my first car buying process go by SO easily. He got me into the car I wanted and got me very close to the monthly payment deal I asked for. I really appreciate him so much. Very nice to my husband and I both. He was very easy to talk to and deal with overall. THANK YALL!
10 months ago Gloria Trujillo
Larry and Kirk were great to work with. They found options of vehicles and budgeting that worked for me. Patient, friendly and quick on sale, forms and service. Larry and Kirk also made sure I was happy with everything. Go see them and have a great experience instead of being stressed at many other location I visited!
9 months ago Seth Bontrager
I had a wonderful experience here. Curt was my car salesmen and he was awesome!!! I called them and told em what was going on and what I was looking for and they were able to put me in an awesome 2018 Toyota Corolla!! Awesome place and awesome people!!!!
1 month ago Anthony Aussel
There is an excellent car salesman at this dealership who is helpful and kind. I highly recommend working with Kirk Blake to find the right vehicle for your needs. He is attentive when listening to what you are looking for and will take the time to help make sure you are satisfied with your purchase. ????
5 months ago Jeff Cox
MR. BRUCE WAS EXTREMELY AWESOME HE DDNT GIVE UP UNTIL WE LEFT THERE IN A CAR????????
11 months ago Chris Fuller
We had the best service at Jimmy Granger! James Chaney went above and beyond and made our car buying experience very easy. We love our 2018 Ford Escape. It is perfect for our family.
2 months ago Max LeaVesseur
Kelly and Tommy at Jimmy Granger were amazing to my husband and I. We had so much fun getting through the process and walking through everything. I literally could sit here all day and chuck it up with them! They gave us an amazing deal and we left with no regrets. Kelly made sure to keep giving us clear & conclusive reassurance after every conversation. I certainly will send any friends of mine here. And hope to do more business with them in the future!
4 weeks ago Jon Probst
Salesman Kelly Dial and The "General" Manger Tommy is the BEST. The two together worked very hard and diligently to SATISFY my daughter at getting her a car. Their words to her was "YOU WILL LEAVE HERE SATISFIED AND WITH A CAR" That's what I call men of their words. JIMMY GRANGER THE BEST PLACE TO BUY A CAR !!!!!!!
3 months ago Nash Magnum
My experience with jimmy granger on may 23 was the best and amazing experience... the entire staff was nice and very pleasing...I recommend any one to go to jimmy granger to purchase a vehicle they have very high quality cars alone with their customer service...I just want to say thank each one of you for helping me...I mean this from the bottom of my heart....much????
2 months ago Sam Wang
Carlos Hartwell is the right person to go to when you're looking for a car that fits your financial situation. He's understanding and he'll work with you. Carlos is a great person and businessman. Go to Carlos and he'll point you in the right direction.
1 month ago tara jean
Flip is the worst smh
1 month ago Frank Lui
When I bought my car, I recently worked with Kirk who was very happy to help me find my perfect fit at Jimmy Granger. The whole process went smoothly; I'm very satisfied and very glad that I bought my car at Jimmy Granger Used Cars! Thank you all!
3 weeks ago Adam Salah
I thus far have had a great experience. I live out of town and was worked with very nicely through calls, texts and emails at my request. However, I've only had the car for days so I can't comment of the overall quality but for now it seems like it was a good options and everything went smoothly. The staff was polite and helpful. So I would definitely recommend someone using them or I would definitely use them again for my next purchase.
3 months ago Christyl Clyr
Loved my experience! I would recommend anyone to James Chaney to purchase a vehicle! He was awesome and gave me a great experience buying my first car!
2 months ago Jack
Jimmy Granger on Shreveport Barksdale is a great place to buy a car! And James Chaney is a great salesman to help you do that! He treats each customer with such respect and is just a great guy!
1 month ago Caleb Hawk
Great place for used and new cars. Dealers are friendly, courteous, and extremely hospitable ( Southern hospitality at it's finest). For a first time car buyer or if your accustomed to the process, the experience is still one to fond of. I financed a 2015 Kia Rio with a low interest rate. Carlos Hartwell was very helpful and generous during the process, took care of me the whole way, every step. All in all Jimmy Granger is the best car lot I've been to in Northwest Louisiana and that's saying a lot. Give em try, they won't disappoint
5 months ago Buddy Walls
It's a great place to buy a car! They are helpful and caring. I would recommend anyone to this Dealership! Go Check Em Out!!
2 months ago Scott Crabb
Its always been said to not trust politicians or used car dealers. However James Chaney, and the crew of Jimmy Granger in Shreveport changed the way I think. James was amazing from the start. He went above and beyond to help me get the vehicle I wanted. It wasn't the way he started our venture it was how strong he finished that changed the way I think about used car sales. James promised me at the close of the sale that they would fix a minor issue with the front bumper. The first couple of attempts didn't work out very well but he never left me hanging! James stuck by me till the end to keep his word until it was properly fixed. I would recommend anyone looking for a car to go talk to James Chaney for his outstanding service from start to finish. P.S. James deserves a nice bonus MR. Granger!!
1 month ago Alexandria Collymore
I just recently purchased a car at Jimmy Granger Used cars. The staff was friendly & personable. My salesman, James Chaney, made the process quick & easy. I would highly recommend them to anyone that is looking to purchase a vehicle. I love my 2018 Chevrolet Malibu.
4 weeks ago Antonnacio Clarke
I'm in love with my 2018 Nissan Rouge. James Chaney was such a wonderful help, made my buying experience easy. I would definitely recommend Jimmy Granger used cars ask for James Chaney.
1 month ago Mike Merulla
Jason Chaney did an awesome job helping us get back into a Ford truck. I would recommend anyone to go talk to James or any of the staff at Jimmy Granger!!!!
5 months ago Miguel Racelis
Jimmy Granger is a great place to purchase a vehicle and James Chaney is so personal. He makes sure you are truly satisfied with your purchase.
1 month ago Yuji Shen
Worst place to buy a car don't go there they are crooks
11 months ago Chris Brooks
James is a great salesman to work with. He will go above and beyond to make sure you get the best deal.
3 weeks ago andrew luther
Had a smooth experience buying a new car from Carlos Hartwell! Very friendly, helpful, and made the process easy! Looking forward to doing business with Carlos again!
5 months ago Susan Abbott
Why purchase a car from a place that doesn't even honor a prize giveaway. Won $2500.00 and they said it expired but maybe we can give you a deal on a car. 100% scam
2 months ago Karen Stuart
Sold me a 2011 BMW without telling me it had previous frame damage in the car history, drastically decreasing the value of the car. And they sold it to me for a above market price even for one in perfect condition! They never returned my tag to my home state DMV costing me over a 100$ in fees. Do not do business with these guys. biggest mistake of my life
5 months ago Jacob Frank
Sharon Allen,I bought my car a week ago and I am in love! My salesman James, and Karen was awesome and so attentive. They made the process so easy. I was so pleased with the whole experience! I would surely recommend James and Karen at Jimmy Granger to anybody!! Yall go check them out for any of your car needs!!
1 month ago michael giguere
I Give Jimmy Granger's five stars. I had an amazing experience buying my car with them today. Karen was awesome and very helpful. Also I would like to send a shout to Flip and Don they were also amazing on making sure I got the vehicle that was the perfect fit for me.I will definitely be doing more business with them in the near future. So everybody please go to Jimmy Granger's in shreveport and let Karen, Don, and Flip get you right. Keep up the good work guys!!!
4 months ago Lynn Stephens
I was looking to buy my first ever car, and when I first went to Jimmy Granger, they were immediately helpful. I was helped and assisted by a very experienced and polite salesman who helped me find a car within my budget, and worked with me throughout the entire process. Overall, awesome experience and I'm very happy with my 2015 Nissan Sentra! A special thank you to Larry Paddie (my salesperson) and the entire team at JG!
5 months ago Heena Patel
Amazing experience! James was so so helpful and helped me find the PERFECT car. The new manager Tommy is wonderful and really accommodated a great deal for me. All in all, THE car buying experience you want to have! Thank you thank you!
2 months ago Steve Sheinkopf
James was very helpful finding me the F150 I was looking for. I would definitely use him again in the future.
3 months ago tim hayes
James made the purchase of our Ford truck a very easy and comfortable experience. He followed up after the sale to insure everything was good.
11 months ago Keith Weakley
I had the honor of purchasing a car from this business and from the online application to the paper signing was such a wonderful experience. Everyone was very warm and friendly. The manager Tommy and my salesman Larry went above and beyond to make sure I received the best car and with a great price.
7 months ago Sara Smith
My experience at Jimmy Granger Used Cars was wonderful. The staff was very professional. My Sales Consultant James S Chaney was very straightforward. He explain everything to the best of his knowledge, and he was very reasonable. If you have good or bad credit go over to Jimmy Granger Used Cars I promise u want be disappointed.
3 months ago Steve Coe
I had an awesome experience from start to finish! James and Karen were very helpful! They made the whole process easier by being available anytime I called or text. They had everything ready for me when I got there and they were super friendly! Thanks for being awesome guys!
4 months ago Matt
Bought my first vehicle from this dealership and have absolutely zero regrets. The sales consultant working with me was James Chaney. Absolute stand up guy and was very helpful throughout the process. I couldn't be happier with my purchase and thankful that James was the salesman.
1 month ago Tin Ho
Recently bought a vehicle from Jimmy Granger and I'm so pleased with my experience. James found me exactly what I wanted and was so personal during the experience.
1 month ago Jonathan Kerr
The Granger experience is great at this location. Everyone here is helpful and very professional.They will do everything they can to make you happy with the car you want. It IS a great place to buy a car. Go see Carlos, he is awesome.
2 months ago Jonathan Klate
Don't come here!!! They will screw you over completely. Make sure you read your paperwork before you sign it because they don't care about anything to do with you, only about making money.
4 weeks ago Brad Coons
Karen and James went above and beyond and to get me driving again. These guys made the impossible possible. Thanks guys for everything that y'all did to help me. I greatly appreciate it. I highly recommend these guys if you need a car ???? T Thomas
2 months ago Dhyogo Photographer
I drove from Alexandria,la to Jimmy Granger Shreveport ,la and my salesman was Carlos Hartwell. Mr Carlos helped me to purchase a vehicle in Alexandria, la also I liked the way he treated me with his good salesman skills.Then so I was interested in purchasing another vehicle so I contacted him and he told me to come see him so I drove to Shreveport,la and purchased my new 2015 Caddillac Srx. Carlos is awesome salesman and he have gained my business and I will be sending more people to shop with him. Team Carlos
2 months ago Cyprien D
They like to waste peoples hope and time by sending out deceptive Winning cash giveaway drawings by mail. Karma recognizes greed and lies
4 weeks ago Sabrina Orte
Always a pleasure to visit Granger. The staff is very professional and friendly. And if it wasn't for Carlos I wouldn't be driving today.
2 months ago Porter Farmer
I'm so satisfied with Jimmy Granger and especially James Chaney. Thanks for all the help.
4 weeks ago Rachel Pitcher
Larry Patty and Tommy(manager) worked for 2 days to get us the best deal on my husband's new truck. The staff was very friendly and made us feel comfortable. I will definitely be going back and referring my family.
11 months ago Finesse Moore
James Chaney is an excellent salesman who will help you find the perfect vehicle.
2 months ago Anes Aickareth
Great place friendly service there is no better place to buy a car!!
2 months ago Amaya Singh
James Chaney is an honest salesman that can help you out. Go see him today.
4 weeks ago Jake Coker
Mr. Carlos Hartwell was a great help ,and he showed outstanding customer service to me and others as well. If you want a new vehicle and you're tired of driving your old vehicle, Carlos is the man to go to.
3 weeks ago
Popular places from the category Used car dealer