Arena UNO Lakefront Arena
Arena UNO Lakefront Arena, 6801 Franklin Ave, New Orleans, LA 70122, United States:
214 reviews
of users and employees, detailed information about the address, opening hours, location on the map, attendance, photos, menus, phone number and a huge amount of other detailed and useful information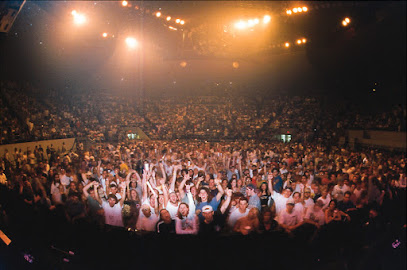 Address:
6801 Franklin Ave, New Orleans, LA 70122, United States
GPS coordinates
Latitude:
30.0302491
Longitude:
-90.0504922
Location on the map
Reviews Vashminee Seepersaud
I love this arena but it's time to upgrade the outside and how you enter the building. Ridiculous walking up multiple ramps from a gravel parking lot. The inside has great views to the stage wherever you sit and it's not cramped seating.
2 months ago GC M
We attended for the Christmas Cantata tour 2018 A beautiful experience the seating was okay. The atmosphere was nice just becareful as the stairs were a bit steep. Parking was ample.
8 months ago Anita Jackson
Great mid-sized venue, rarely used in Nola. Always great sound and great sight lines.
4 months ago Ans Bekk
Had a great time here, seeing lauren hill! She is amazing! The seats were great! I dont think there is a bad seat in the house! Sound was great as well!
1 week ago Pedro Tellez
Been doing the Blues Tour there for over 10 years. Always a great audience and time! Catering is awesome as well.
8 months ago Ruben Pina
I enjoyed the Lauryn Hill concert here with my sister. Met some new people and we had a ball
11 months ago Dhruv Kota
Nice events hosted here ... tickets are reasonable...but once you get inside anything else you pay for ...food , drinks ect are overpriced and of low quality
3 months ago Thania Rodriguez
Was there for the 2018 sunbelt championships, nice spacious gym.
1 week ago Karen Kestner
It was a beautiful feeling, to see my family, walk across that stage
6 months ago Alyshah Mohammed
I bet this place is also great for concerts. It was perfect (nearly) for the basketball game that I attended.
8 months ago William Bullock
Lauren Hill's performance could've been better
8 months ago Brett Huffmaster
This a great place to see a show. Parking is easy. The venue has a great sound and this is where widespread panic plays the NOLAween show.
1 week ago Cindy Lorenz
Went to see Widespread Panic @ the Lakefront Arena. The show was awesome???? However, it was confusing getting through Arena security & there were lines for everything⌚ We got wristbands for the floor which was great (2+ hours in line) but …
8 months ago AD Cabral
I went to see the blues concert with pokey Bear and others at lakefront arena, I Gave four stars because someone was smoking in the arena when the place was supposed to be a smoke free area,other than that, parking was great, the people …
7 months ago Teresa Tapia
Had a very nice time the food was good the staff was great ???????????? as well.
8 months ago Andy Sherman
Easy to get in and get out for events. Acoustics and facilities on point
6 months ago Kelvin Pride
Good atmosphere
8 months ago Omar Khan
I've been to a few shows here and for the most part have had a positive experience. As a medium sized venue... Nice semi comfortable seats. Pretty good parking. Not a bad seat in the house... Parking for events like graduations should have been free... Concession stands were closed.
6 months ago Marks Stevens
Goo location on Gently /lakefront area. Lots of parking. Arena itself is a very good venue. Only problem...if you have to park in the 2nd lot, you will need to walks most half of the arena to get to the ramp that takes you into the …
11 months ago Sameer King
My son's graduation was wonderful as Brother Martin students and families filled the arena for such a lovely event. The lighting as well as atmosphere was wonderful...
7 months ago Amy Venables
Went here for the Roller Derby World Finals. The prices for everything was too high, but it was pretty good. The staff there was very friendly and helpful. Great place for any event.
10 months ago Robert Laudun
Parking goes smoothly along as you pay attention to the parking attendants. They try to get everyone in as quick as possible. It's only $10 to park. But get there early if you want a good parking spot if not you will end up in a grass field!
6 months ago Chris Dunbar
This is the weirdest arena I've ever been in. The ticketing window is on one side of the building and the entrance is half way around and up 3 levels of ramps. I tried to justify it in my mind that they do love their football in the south, …
10 months ago Renee Gardner
It's an okay place. Generally friendly staff. Although there are no clear signs of where the box office is located so you need to drive around the building and look for the very small sign. Also, if you have a voucher for an event they give …
9 months ago Eva Williams
We we're there for the Gracias Choir Christmas Cantata. Tho parking is plentiful, for an event of this level, the walking from parking to the building was a trip in itself. The inside was a bit chaotic. The set up of the arena was very …
6 months ago ANGELA NELMS
Very simple venue which I liked. Beers were pricey and there were massive lines for men's bathrooms. I think they might need to build few more stalls. First time I saw a line to men's bathroom and women one had no line.
9 months ago Casey Bennett
Pretty decent arena. Parking could be better. Went here for the sunbelt conference championship!
6 months ago Ahmed Naushad
It's nice
1 month ago Ken J
Some times they host air shows and I attended a wedding reception at Messina's in the original terminal. It was wonderful. The food was delicious and they even catered to my mom's special diet on the fly. The bathroom stayed clean. Very attentive staff.
8 months ago Dan Malloy
I went for the RBRM concert. It was a great performance. I wish the seating was better explained, or more detailed prior to my purchase of tickets. I would've chose better seats for the same price. The rows are too close, so it feels like …
9 months ago Amit Talekar
Large arena. Holds a lot of events and graduations. Clean restrooms, decent staff members, lots of parking.
8 months ago keya das
The arena is comfortable. You are reasonably close to performers. The concession menu is small but the prices are eeasonable and the service is swift. Security is adequate and not intrusive. Parking lot is adequate and close.
8 months ago White Tea
Went here for a college graduation. The speakers don't clearly project sound and it is one of the ugliest arenas I've ever seen. Just completely bare-bone. Parking is also a serious issue. It's easy to tell that this wasn't well designed. Other than that, it is functional.
6 months ago Jason Nelson
They really need to work on more obviously labeling the sections. Had the event I attended been more full, it would have been a nightmare. Usher who assisted folks decided to sit while patrons stood in front of us and blocked our view for 5 minutes.
11 months ago Adrian Castillo
Wished the general parking area was paved. Has th capacity to do large events. It's a little bigger than the smoothie King center and has a pool attached
8 months ago Michael Khan
The walk up ramp could have been swept. It was a little bit dirty. But our overall visit was good. Had a lot of security which was also good.
8 months ago Shyam Khandelwal
Had a great time at the circus with the family!
8 months ago Sharon Williams
Clean restrooms, polite staff, great bartenders, easy parking
7 months ago Wendy Westbrooks
I work at the arena, and I love the venue. I would recommend going to the UNO for events. I'm sure that it would be a very enjoyable experience!!
1 week ago Vanessa Sanchez
Went to see a roller tournament, this arena might have better food vendors others days but for that event only one person was selling coffee. The three stars go to the event and the fact that this place has some of the greatest stadium seating.
2 months ago nancy axelson
They ran out of food during the blues concert parking is bad
7 months ago Jose A
A great venue to enjoy high quality, college basketball. Tickets are cheap, the pop corn is tasty, every seat in the house is a good seat, and the UNO Privateers are a fun team to watch. Go Privateers! #UNOPROUD
8 months ago Jerome Haines
I was here for a work event. The build was very clean... The bathrooms we're spotless. Would definitely visit again.
9 months ago Sheetal Takawle
Love the arena. It's nice and clean. However they are very overpriced on food and drinks. A 20oz coke is $4.50!
9 months ago Jessenia Martinez
Appears to be a nice university. The auditorium is not real big, but well kept. The parking lot needs improvements, otherwise it seems to be a good little place.
1 week ago Kalua Kaululaau
Getting in and out of the parking lot is a nightmare. Food and drink lines are always long long long. So long you'll miss the show or whatever you came for. Not enough workers I'm all concession areas. Ushers send patrons to the wrong …
6 months ago Vicki H
The arena is great but maybe eat before you get there.
8 months ago Jerre Hoffman
Nice clean place, great event, hope they have more because the location and access is convenient. The manager Marco is always helpful and courteous.
1 week ago ali ggefd
Lil Weezyana!! We had a blast
1 week ago Mallory Mahoney
Nice venue. Need more elevators....ramps are tough for many.
7 months ago