Staples
Office supply store Staples, 105 W 125th St, Harlem, NY 10027, United States:
122 reviews
of users and employees, detailed information about the address, opening hours, location on the map, attendance, photos, menus, phone number and a huge amount of other detailed and useful information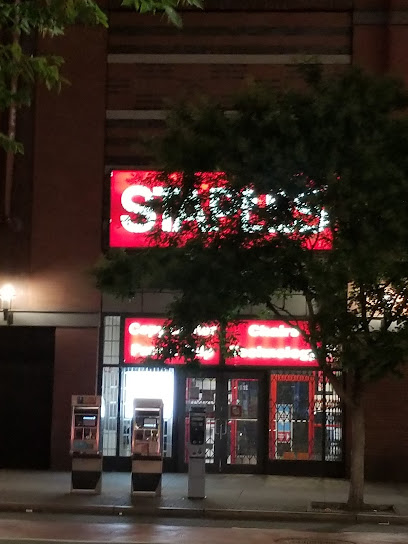 Address:
105 W 125th St, Harlem, NY 10027, United States
Website:
stores.staples.com
GPS coordinates
Latitude:
40.8082030
Longitude:
-73.9460310
Location on the map
Reviews madhavi naredla
Disappointing service at the print/copy center has been one constant at this location. I went out of my way to go to a Staples outside of my neighborhood. Once I discovered laminating a lightweight paper was possible I went to my local …
7 months ago Thai Somkul
The computer work stations are a scam. They over charge you. And when you print items out they end up at any printer. You don't know where your stuff is printed at. And others are in your business.
10 months ago Brett Bowman
They have their supplies organized very well. They are also one of the friendlier stores of nyc. I can always find what I'm looking for, and if not, there is always someone there to assist me.
11 months ago Sassy Sashimi
Went to the Printing Center and spent about 30 mins there. Ryan was a big help and was super courteous to myself an other customers while I was there. Everything was easy and convenient and they have solid covid procedures in place. Appreciate the help!
2 months ago David Harap
Always a great store with knowledgeable and helpful staff.
11 months ago Flavia Barisonzi
Yeah I farted and the manager said it was ok ????
8 months ago Marilyn Robison
Nicole was great!
6 months ago Krishna Patel
Weekend morning service...I wasn't expecting to get in and out so quickly.
10 months ago Kelsey DeMull
First off I never leave reviews but I have to take the time out to say Ricky and Jeff I am so sorry if I'm messing up your name guys but the two men who worked copy and print center on 7/12/2020 omg I had the most beautiful blessed …
4 months ago Ese Ese
Did "hour pick-up" which was ready in 15 minutes. All the staff who I interacted with were kind and helpful. My many thanks to the whole team for their work during this difficult time and for providing these crucial services.
7 months ago Derek Fritsch
FANTASTIC Staff! I went during back 2 school time and very close to closing hours and everyone was extremely helpful. Walking with me to hell me find things and the cashier was helpful also. The manager Monifa was very nice and personable. …
8 months ago C K
Cant even complete a simple task like a inventory search fire all of them
1 month ago Mike Bales
Place is horrible, no staff at all! They can't even let you print your stuff out without a Hard drive which is ridiculous any other staples you go to simply lets you email and print. The computers didn't even work today.
10 months ago Katie Harsch
The card readers were not working on 2 machines. Tried printing 3 times and nothing came out but I was charge each time. 4 staff members and only 1 seemed to care and actually tried to help.
9 months ago AJ Roberson
I want to start out by giving a big THANK YOU to Brenda, the manager that was there Saturday night Dec 7th. I received a call from my husband which is currently on Parris Island, So his phone call was extremely important. I went to scan …
7 months ago Tracey Bowers
The printing services are mediocre. Ink is low quality, and business cards are not aligned properly. Great customer service though!
8 months ago Kevin Lee
Ordered invitations for my mom's 90 th birthday party Rick in printing walked me through the process even suggested some ideas. Rick was professional and attentive...
9 months ago Nicolas PINAULT
Rick and his team personify customer service because on numerous occasions they have made the impossible possible. I presented them with two rush orders and they exceeded my expectations by completing the jobs in a short time span and with …
2 months ago yolanda Colon
I was looking for a label maker which showed in stock but they couldn't find it. Instead they suggested a similar model which worked perfectly, and found labels cheaper than the ones I was planning on buying. Very helpful staff.
9 months ago Grace Noble
The longest lines of any Staples in the country. The managers could do much better staffing correctly to match busy times like back to school.
8 months ago Alex Neighbors
We been at this location now 2 times and both times there was someone helpful on the floor. Keep in mind we are at the store when it's almost empty and not peak hrs. The store is clean and organized. The register personal is very slow. Expect a long wait for 1-2 registers open.
1 week ago naslin pavithra
I'm very happy with my service at Staples...the customer service representatives are super helpful and very pleasant. Staples selected some great employees for this location.. Thanks for a easy experience!
1 week ago Mike Flo
Horrible customer service first and last time going to this location both managers were rude and very unprofessional monifa the general store manager was very rude unprofessional and ghetto like I no it's 125st but she didn't have to have …
6 months ago Margaret Rice
*************UPDATE 3.27.2019************* After quite a bit of time, and some changes in management, this store has turned around, especially in the Print and Marketing Services department. Customer service has greatly improved, and …
11 months ago Paula Pena
Great customer service. Friendly and helpful. Quick efficient service. I'd highly recommend this location.
10 months ago Mya Page
Great service! As soon as we entered the store we were directed to where we needed to be. Found what we needed really fast. The employees were also pretty patient considering I take forever to make decisions. And like any other staples, great place to get school/office supplies.
2 months ago Michelle Rodenburg
Near transit. Nice DIY area for copies, etc.
8 months ago Angelique Rivera
The staffmohamad is great all the time no matter how's the day going wishing they had more ????
1 week ago Madhu Bangre
Came in to buy a flash drive and had to wait almost 10 mins before someone could come and unlock the case. Pleasant service at the counter, but not much else.
9 months ago fawad haider
Great experience nice selection of items quick service at the cashier
10 months ago Cole Higin
Was looking for graph paper but there wasn't a good selection so I didn't get it. But the staff were friendly, knowledgeable and the place was clean.
6 months ago Brooke Maier
I had the best service today courtesy of Gabrielle. She was fast, pleasant, and attentive to my needs on both my trips to the store today. She made a what could have been a day of dreary errands into a day of positivity and productivity.
1 month ago Lindsay Sylvester
Nice courteous peeps. Got a good deal on an open package.
11 months ago Dan Nicholson
I went to the 125th Harlem store. The service guy Emanuel is wonderful..so helpful and knowledgeble on how to get your work out and printed. It said they were open at 7....and they really were!!
6 months ago Theresa Johnson
Was there to pick up an order. Fast, friendly and convenient.
11 months ago Electric Garbage
Organize clean n staff esp cashier helpful
11 months ago Maartje Kluiters
Associates were awesome greeted as we entered staples Kenneth helped us he was amazing , polite, very courteous
6 months ago Christina Garcia
This Staples has a very unprofessional staff compared to the Palisades Mall. Looking at the location, I can see why. I called, looking for a particular gaming chair, and the woman that picked up, hung up after I enquired about if they had …
6 months ago Joel Sheakoski
Very good attendant help me with my making copies!!!
6 months ago Luxury Consult
first of they seem to make the computers slow so that the bill will be higher. This morning about 10.30 am i printed 1 page which is 1.14 but it did not print at the printer next to the computer which was out of ink. I went to the clerk who …
9 months ago Patricia Prieto
Everytime I come here I receive great service. I also would like to Thank Manny for his excellent customer service.
8 months ago D Hanson
Want to do anything at this store? Give yourself at least 30 minutes. Even if you're looking for something specific and you already know where to find it. Even if you've placed an order online and you're literally just going in there to …
1 month ago LeAnn Nichols
Has a large inventory of a variety of office supplies. Store itself is well maintained, I feel better than ones I've visited downtown.
8 months ago Kevan Anderson
Staff is very helpful. I would recommend this store to family and friends.
11 months ago Brianna Tipping
Copy service went well. Left docs but Staples staff retrieved & held them for me. AWESOME!
1 week ago Diana Dietz
Definitely the worst service at any Staples that I have visited. I think that this store is a victim of lackluster hiring practices, unbelievable turnover, as well as a habit of receiving lackluster customers who expect nothing more than to …
6 months ago Conner Marston
Shadaya at 125 staple has great hospitality...
8 months ago Umesh Gautam
Is a good school supply, but the employes not really help you.
6 months ago Theresa Lawson
Save yourself the hassle, go elsewhere. I always print at other staples my construction plans, here "both supervisors" said that "you can't print that here". Both supervisor seem to be having a great time in the back while the line grows longer
2 months ago David Putnam
Helpful staff. Inventory accurate to what was shown online
1 week ago
Popular places from the category Office supply store