Ferry Wireless
Electronics store Ferry Wireless, 102 Ferry St, Newark, NJ 07105, United States:
66 reviews
of users and employees, detailed information about the address, opening hours, location on the map, attendance, photos, menus, phone number and a huge amount of other detailed and useful information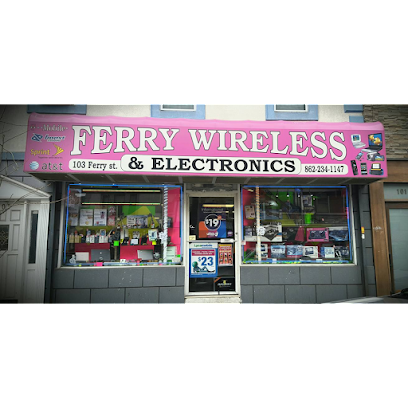 Address:
102 Ferry St, Newark, NJ 07105, United States
GPS coordinates
Latitude:
40.7308386
Longitude:
-74.1609061
reviews Wayne Ferguson
My wife went there to fix her phone. Phone came back missing a few screws and broke after a few weeks again. My brother's laptop not only missed screws they also lost the charger. Do not go there.
5 months ago Keisha Pryor
Horrible experience I have on this place. One of their employees damaged my phone, did nothing on my laptop and charge me 68 dollars for that plus 50 dollars for the phone screen protector that was Horrible and misplaced my tablet, and 2 chargers. When I complain another employee was so nasty that I had to call the police on they, still waiting for my tablet and accessories ????
5 months ago Hadez Guti
We been coming to this store for years. Love the people working here. Thank you for always taking care of me.
4 weeks ago Mike Skeens
A really bad experience, the person supposed change the screen , it was perfect working just the creen was broken and he call and said the iPad is not turn on any more is was going to cost me 180 more , i was pay 180 to replace the screen, he asked me for 180 more , if they cannot do the job why you are on business
10 months ago Eugene Cater
SCAM ARTIST!!!! the worst experience I have ever had!!! I went in to get something fixed and walked out with a phone that won't stay charged a sensitive screen and can't hear unless my phone is on speaker. They took my hard earned money and then tried to charge me more !!! KEPT MY PHONE FOR 2 WEEKS AND DID NOTHING TO FIX IT . Don't bring anything to this store. SCAM SCAM SCAM SCAM SCAM
1 week ago Enoch Mbatiah
GREAT SERVICE AND CUSTOMER APPRECIATION. I VERY MUCH RECOMMEND THIS PLACE. JUST BEWARE OR THE NO CASH/CARD REFUND. THEY WILL GIVE YOU ANY SOLUTION POSSIBLE AS TO WHAT CAN BE DONE.
4 months ago Eve Kelso
Hi, this establishment does not offer money back. The product they bought was not one of the features they offered, they should be more professional at the time they make a mistake and give them the possibility of a refund. I own a very similar business always offer my clients the possibility of refunding money. When I went to this place I saw several confused customers seeing that there is no possibility of reimbursement. or a small penalty for the return of the product.
9 months ago Kevin Bow
Good service
6 months ago Phil Santopietro
I come to this place often the workers are very knowledgeable and helpful. I've purchased a few items there and they worked as described. I've purchased a phone and a table there that I got a good of price as on Amazon and I was able to have hand's on inspection and didn't have to wait. All and all excellent.
7 months ago Mike Simons
Love this store that compared a price for me and fixed my battrey and my home button I highly recommended them love
7 months ago Chanette Khan
Very good service and prices
1 month ago Sarah Strong
Great service. Great warranty and prices are very affordable. I think this is a 5 star service. Thank you
4 months ago Bertha Quijada
Best prices in town
3 months ago Samantha Kratzer
Great fast service, would recommend. Employees know what they're doing and are great at it
5 months ago Hope Reed
Ok, so great experience, very quick within my rush timeline... great environment and good prices ! I will definitely return ????
4 months ago Michael Jacobs
Buyers be aware this estore is starving for money
1 month ago bilkisu hamidou
Staff is rude. Music is way too loud. Can barely hear yourself think - even if you're just walking by. Trashy store. (Replying to owner response: Most certainly not the wrong store. I lived down Jefferson street for years. I can only hope that new management is better, but based on recent reviews, doesn't seem that way.)
4 weeks ago Ivan Spitznogle
Good service and prices
3 months ago Nicholas Gabriel
Very good service
2 months ago Ahado Abdi
Great repair service, quick & punctual employees were patient and helpful Thanks????
1 month ago Krista Datzek
Really nice people stayed with me even thought they were busy
3 months ago Jaime Calitto
Employees always have a positive attitude and always up for a conversation. Quick repairs for reseenable prices
4 months ago Gerard Dias
Very friendly people, they tell exactly what you need. Very moderate on prices.
4 months ago Snappers Ferrara
Bad service- I paid twice to get my screen fixed.. But then they asked me to pay a third time to replace the front section that came unglued on my iPhone- a mistake made by them. They wanted to replace my screen- that wasn't the problem. The problem was that they needed to re-glue the front section of my phone. They just wanted to make more money.. Never again.
1 month ago Steven Thauriaux
Wonderful people. Super service. Friendly staff. Anything else you need?.
8 months ago Bruce Campbell
Everything @GREAT prices. Save BIG on Flat Screen T.v.& GREAT DEALS on ALL Electronics. I WILL BUY MY 50"T.V. RH.THERE @ $500.00 LG OR SAMSUNG. SONY 50"@ $800 INCREDIBLE PICTURE. STREAM MOVIES FROM YOUR P C.
1 month ago Desirae Coker
I got swindled there pretty badly. Don't shop there!
4 months ago Gerardo Arteaga
Good service
3 months ago Elsa Payne
Very great service for very great prices
5 months ago Sabrina H
"ALL SALES ARE FINAL NO CASH OR CREDIT CARD REFUND! EXCHANGE ONLY WITHIN 7 DAYS ONLY..." i bought a ac power charger there for my laptop, we tried it in the store and then back at home , overheated my laptop and suddnely shut off. when i wanted to returned i noticed no refund policy in receipt. Even that i explained this unusal issue, they were not able to do a refund. In conclusion, better get your electronic stuff in a big well know store with refund policy or buy it online. There's no any advantage to buy it here. not big difference in prices, i did it just because and needed to get the item asap. Edit 7-19-2020. After owner reply. It looks like a lot of customers reviewed" the wrong store" . No Sir, it's the RIGHT store, it's hard to forget that pink awning popping out in Ferry st. I dont need to make this up to harm a business. If you want to believe everyone is wrong, good for you! let's see how your business is doing. I was accurate on my review 4 years ago, and after all this time , it makes sense that i am not in the system. it's good that theres a new management but personally I dont care, I wont be back. My recommendation is that be straightforward with your refund policy.
2 days ago kahmiah g
Amazing service
2 months ago Mike Jackson
Good service
1 month ago Fallon Holland
I went there and asked if they had an LG tone.. the girl in the counter showed me a couple, I chose the infinim and bought it. Went home to find out that it is FAKE ! I called and her shameless ass self had the nerve to argue with me about it plus they won't give my money back , DON'T BUY STUFF FROM THIS FRAUDULENT STORE , THEY GOT HORRIBLE CUSTOMER SERVICE AND STAFF.. THEY DON'T CARE ABOUT YOU !! I wish I would have searched for these reviews first .
6 months ago Bettina Archer
Angelo Good any questions
6 months ago Saint Michael
Very good service
4 months ago dishon pitts
I EXCHANGED MY IPHONE 3G brand new for a blackberry but it was a big mistake THEY GAVE ME 3 phones they were all broken, everytime you try to contact them they hang up the phone on you or JULIUS SILVA one of the guys that work there say come back when my boss isnt here and i will help you.I MEAN I DONT KNOW WHAT THESE PEOPLE ARE UP 2 but they do BAD BUSINESS. I ADVICE ANYONE TO LOOK FOR ANOTHER STORE.I DECIDED TO LOOSE MY IPHONE 3G just so i woudnt have to come back there.EVERYONE THERE IS HELPLESS SPECIALLY THE OWNER.I HAD THE WORST EXPERIENCE THERE, THEY TREATED ME LIKE I WAS NOTHING, CAN YOU BELIEVE ONE TIME I CALLED AND ONE OF THE BOYS THERE TOLD ME THAT JULIUS IS THE ONLY ONE THAT CAN HELP ME AND HE WAS ON THE RESTROOM DOING #2. LOOK HOW NASTY THIS PLACE IS.AWFUL BAD BUSINESS. GUYS EVEN IF YOU PAY MORE IN ANOTHER STORE ITS BETTER THAT BUY ANYTHING ON FERRY WIRELESS & ELECTRONICS.103 FErry ST,NEWARK,NJ. I HOPE THEY READY THIS REVIEW AND START TREATING CUSTOMER BETTER. IF THERE IS A - START for SUPER POOR SERVICE THEY WOULD GET THAT.
1 month ago lichen sister
Good service and quick repair
9 months ago Jeffrey John
Terrible terrible terrible and they still Terrible any of the items that they have in the store you can buy them on Amazon half the priceWhat do you mean I don't come up in your system that's not true I will speaker From there two years ago that Was used and no good When I try to exchange for something better because that one was no good you turned around and gave me a Another use one Terrible one young lady that work in there have a terrible nasty attitude
1 week ago Jack Scott
I paid to get my screen protector done. It was done incorrectly and Marco who claims to be the owner didn't want to fix it or refund me my money
1 month ago Kc Miller
Good service
3 months ago Renee Gardner
Customer service on point lovely young lady made sure i'd get the help i needed. Will be visiting again.
1 month ago Benedict Cruz
Very good service
9 months ago Ken Molestina
They did not fix my my phone, and will not retun my $180.00, will try to get money back from AMX. NOT A GOOD EXPERIENCE Carlos
8 months ago Anton Andrtab
Great service
1 month ago E K
BAD BAD BAD
1 month ago Barseana Simond
Combative to turn down music. This is a community. A family neighborhood. Please respect your neighborhood & potential customers.
6 months ago Somayya Esmat
These people are SHADY. They do the hard sell thing and follow that up with sketchy store policies. Do yourself a favor and go somewhere else.
3 months ago Brenda Snodgrass
ferry wireless the best one
1 month ago Charles Kephart
Mi peor experiencia comprando un articulo, estas personas prácticamente te roban, venden celulares usados o reparados como nuevos, te dicen que solo lo han abierto para inspeccionar el equipo o enseñar a los clientes. En mi experiencia con estas personas de mal proceder con el cliente me vendieron un iphone 7 como "nuevo", llego a mi casa y me doy cuenta que tiene fallos con el sensor del boton home, regreso a reclamar y me salen con sus políticas de garantía las cuales por sorpresa no retornan tu dinero sino que te dan un voucher para consumo de la tienda lo que me obligo a cambiar el teléfono pagando esta vez 84.50$ más por que supuestamente ese si era "nuevo", lo pruebo esta vez en la tienda veo que funciona correctamente el sensor, la cámara y me olvido de probar los parlantes los cuales estaban dañados, vuelvo por segunda vez a reclamar y me dicen que ya no tienen mas iphone 7, ya muy enojado iba a llamar a la policía y luego me dicen que han encontrado un iphone 7 en otros de sus locales, pero por ser de otro local y por que ese si seguro era brand new debía cancelar 60$ más, a la final termine pagando 430$ por un iphone 7 usado, hoy voy a la pagina de servicio al cliente de apple y con el numero de serie veo que este teléfono ha sido reparado! una total estafa no 1 sino 3 veces en esta tienda de mal proceder, no la recomiendo a nadie por que serán estafados.
9 months ago Penny Graham
Excelente trabajo... buenas personas
6 months ago
Popular places from the category Electronics store