P.C. Richard & Son
Appliance store P.C. Richard & Son, 590 Atlantic Ave, Brooklyn, NY 11217, United States:
220 reviews
of users and employees, detailed information about the address, opening hours, location on the map, attendance, photos, menus, phone number and a huge amount of other detailed and useful information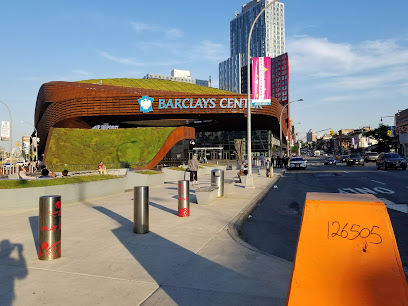 Address:
590 Atlantic Ave, Brooklyn, NY 11217, United States
GPS coordinates
Latitude:
40.6838860
Longitude:
-73.9781620
Location on the map
Reviews Tia Ekern
John customer service was exceptional today it was a pleasure meeting him. He was very helpful and attentive to what I wanted. I highly recommend asking for John if you visit this store. You won't regret it.
6 months ago Priscilla Llerena
Excellent customer service. Very little wait time awesome employees
2 months ago Randy Waller
DJ is a wonderful guy. Very helpful. I would recommend him to anyone trying to find a good deal .
6 months ago Anthony Greenblatt
I am absolutely impressed by the customer service at this location. I came in with no idea what I was buying for my dad for his birthday and Kristin did an amazing job helping me decide. That girl has PATIENCE!!! so much patience with me lol. I left with not only a gift for my dad but something for myself. I will definitely be coming back to buy a few more things.
7 months ago Alen Muslimovic
Rudy, though camera shy was great to work with.
8 months ago Arnobio Frota
I came in looking to buy a TV for my mom. With no prior knowledge I was able to get assistance. I experienced excellent customer service. The representative Tristan knew what he was talking about. He was very professional and accommodated me to the end. He is a great representative of P.C. Richard & Son. Great shopping experience at this location.
8 months ago Cheryl McBride
DJ is very knowledgable he was very patient he showed me a few refrigerators, gave us choices, was patient with me . Had to call my phone to get the dimensions of our over frigerator gave us information on on big fair price of the refrigerator to see if my dad could afford it. I just love that he was very patient and took his time and didn't mind my many questions about other things that I wasn't buying he would very good so he gets 5 gets a 5 star rating.
6 months ago Garrick Pelletier
This is my go to store for appliances as the staff is always knowledgeable and helpful. This time however, I was extra blown away at the professionalism and care I received from the manager Tristan. Most managers just delegate and don't bother with the customer but not Tristan! He really took his time, listened and used his expertise to help me pick out the perfect TV. Thank you! Of course I'll be back again.
7 months ago Newman William
If you need quality products with quality customer service, this is the place to go. And make sure you ask for Tristan he was very helpful, and very knowledgeable. I told him what I needed, and he was able to help me choose the perfect products for my home. He even suggested some Add ons that would enhance the products I was interested in. Awesome customer service, I will definitely be coming to visit again.
7 months ago Shelaine Blanchard
Came in for a TV, an employee named George greeted me and asked if I needed any assistance, of course I said I was fine and thought I knew where to look. Turns out I didn't know where to look and George noticed and pointed me in the right direction and gave me some options for my size and budget. Easy and painless process. George was great and made the whole purchase simple and quick. If I need any more electronics I'll be sure to go to PC Richard and Son.
8 months ago Brady Taneyhill
I came into the P.C. Richard & Son i was greeted by Carlos he is amazing!!!!!! He helped me pick the right television, with sound bar. His customer service is amazing also patient & knowledgeable. His manager James also came over & helped me out with the price I love it here.
7 months ago Idabel T
I only write reviews for exceptional service or very poor service, so I wanted to take the time to write about my experience yesterday at PC Richards. I went into the store to purchase a laptop and an employee named a Tristan was extremely helpful. He went above and beyond to show me the different models and answer the millions of questions I had lol. It is because of his service that I will make this store my go to for all electronic needs.
7 months ago Yandel Richardson
The staff here is so amazing. I recently visited and had the pleasure of having Triston as my sales rep. He was very attentive., patience and he took care of all my questions and concerns. Overall the support I received was thorough and timely and I left with a product that I love and which was also in my price range.
7 months ago goh eric
I went to this PC Richards location & Kristin offered the best customer service ever! She literally made my day & was very knowledgeable about the items I was interested in. Thank you for being the best. I'll definitely be back!!!!
7 months ago KDM
Ulvin had by far the best customer service. Made me feel welcomed and wanted to come back and shop for more! 10/10 recommend!
8 months ago Paul McClurg
Ive had a great experience shopping at this PC Richards. The worker Ulvin was great help when trying to decide which TV i should purchase for my new apartment. Very helpful and Good customer service
8 months ago Alan
James really helped us out in our emergency situation. My son needs medication for an autoimmune disease and our refrigerator broke. James was able to loan us a fridge until our new one was repaired and it was free of charge. So very grateful for the professionalism and kindness. Thanks!
7 months ago Vanessa Elliott
Ulvin provided me with exceptional customer service. I was unable to decide on what mini fridge I wanted and he found one that went perfectly with my home's aesthetic. Thank you so much!
8 months ago Gena Pugh
I was impressed by how professional the employees are. I purchased a TV today and Tristan was so patient and helpful assisting me. Thank you For showing such good Courtesy.
7 months ago Patrick MacMillan
Excellent sakes associates everywhere I went in the store an associate was there to assist me. Great service. Knowledgeable associates.
7 months ago Katelyn Berrey
At this location, I was blown away with great customer service. I will definitely use this location again and again. Congrats to the Management team who selected such a great staff...
7 months ago Kelly Bosserman
I went there for a TV and I wasn't sure what type of TV i wanted. This nice gentleman name Tristan help me out with which TV was good and how to get my moneys worth. The quality of the tv came out great!!
7 months ago James Scovel
Last week was my 1st time coming into this location and may I say I was pleasantly surprised !!! I was greeted as soon as a walked and felt very welcomed . I left with everything I needed .kudos to the management team. Great job ????????????
7 months ago Araceli Luna
I bought a television and a man name Tristan assisted me. He was extremely helpful and gave me a lot of info regarding the different TV brands that were available. He also found me the size and price range I wanted!! A1 customer service ????
7 months ago Brick
Good place to get the appliances you need. The customer service is good but they will try to sell you other things you may not need so go there knowing what you want and need.
7 months ago Seema Khan
I've had such an amazing experience. Service was great and a gentleman named Steve helped me out a lot. He is extremely knowledgeable and was able to answer all the questions that I had regarding some of the products I was looking into. He was extremely informative and also very patient with me. Ask for Steve, he will be more then happy to help!
1 week ago Karen Phillps
Excellent professional and pleasant. Last time I was in PC Richard was 20 yrs.ago. and this was the best experience I had with the store and Stephen Jarretf
7 months ago Catherine Gillmor
So I don't normally review but I had to after I stumbled into PC RICHARDS on Atlantic Ave in Brooklyn a few days ago and was greeted by the manager Steve and his crew. He was such a great stand up guy and helped me and my wife find exactly what we needed. His service was over the top! I will be coming into the store way more often. Thanks again Steve for all you assistance
1 month ago Tia Vaideanu
Carlos is an excellent salesperson who has helped us purchase several appliances over the past 5 years. Highly recommended.
7 months ago Veronica F
I recently been shopping all over for a TV and after searching numerous places I ran into PC RICHARDS on Atlantic Ave and met Steve he was amazing. He went above and beyond to help me. It was so great not having to run to a bunch more stores especially with the world today ! Thank you to Steve and friends at Atlantic Ave PC RICHARDS for all your help and patience you provided me. I will definitely be going back anytime I'm in need of electronics!!! HANDS DOWN BEST SPOT !!
3 weeks ago Tom Goodman
Experience wasn't bad that's where I'll pay my bills from now on.
7 months ago Cedric Marion
Thank you Steve for all of your help you truly made my experience buying electronics amazing comfortable. I couldn't have asked for more as for your help so easy. You walked me through step by step and made me feel very confident on my purchase.Thank you so much for your help.
1 week ago taylor marinovich
Pc Richards is A1 when it comes down to electronics and appliances. Sales team is very professional especially when it comes down to Javier. He listens to exactly on what your looking for and gets the job done. I would definitely refer friends and family to Javier without a doubt .
10 months ago David VARUSIO
So I visited this store recently and a Rep name Tristan helped me, I bought a Bose speaker, he was really helpful with all my inquiries and most of all patient...great employee and very polite, I would recommend this PC Richards to all my friends and family ????
8 months ago Yidi Li
Wonderful service! The staff was able to resolve the problem quickly! Highly recommend!!
7 months ago Lisa Ferguson
Leon was absolutely incredible! I highly recommend him. Very satisfied!
7 months ago caron doan
I have been here a few times for a variety of items and I always receive insanely great customer service. I was having a really stressful day and had to run in for something and Kelley really turned my day around, just by our brief interaction. He was really helpful, answered all of my questions, and was extremely patient while I tried to figure everything out. Thanks, Kelley!
3 days ago Louise Keesler
Tristan was really helpful, not only did he have knowledge of the product I was looking for but he was also very warm, accommodating and professional. Highly recommend this location.
7 months ago Joan Alaniz
Omg i walked in expained what i needed and believe it or not i was out of there in less theen 10 minutes . The Staff is amazing . Great service i wish i could remember the guys name that tended too my needs but he had great communication skills knew exactly where too take me and also rung up my stuff. Not too mention his great attitude two thumbs + up .
7 months ago Lorrany Cristina
James The manager is amazing , he help me with my sound bar, TV , my ring camera, I have to say it's always amazing customer service , James makes my shopping experience a breeze
7 months ago Francisca Gomez
I had an amazing experience overall.I loved that I was helped as soon as I walked in.Kristin helped me out with everything.
7 months ago Elvis Renolla
For all the years shopping at retail stores I have never encountered exceptional service as I did at this store the manager Steve is the best in the game! He is so knowledgeable and a master of his craft. What and experience great job Steve keep it up
2 weeks ago Diego Brizuela
Kristen was great wonderful salesperson excellent knowledge and I will return
6 months ago TheIndy Rowes
Kelly Feilds was great. I remember he helped on a previous visit. Highly pleasent.
7 months ago Husejin Dervic
The employee named krissy was very helpful and i enjoyed the services at this location. Fast & polite.
7 months ago Jessica maslowski
Leon was great he heloed set up my laptop
6 months ago Charles Lewis
Definitely would recommend a worker named Emanuel , he was really attentive and overall made my shopping experience wonderful
7 months ago John Gordon
I just wanted to share my experience I recently went to pc Richard and was helped by Steve the manager. He was great so helpful from start to finish. He helped me pick out a gift for my son and daughter :) Him and his staff were great!! I highly recommend going to PC RICHARDS on Atlantic Ave and ask for Steve ????
3 weeks ago Christopher Halbersma
Javier is definitely the guy to go to he knows exactly what people wants he has been the only sales guy I've gone to for the past 3 years and not once have I had a problem with what I have purchased.
9 months ago Linda Deppen
Thank you Steve for best customer service For all the years shopping at retail stores I have never encountered exceptional service as I did at this store the manager Steve is the best in the service He is so knowledgeable and a master of his craft. What and experience great job Steve keep it up merry Christmas
1 month ago
Popular places from the category Appliance store