Car wash WestSide Car Wash
Car wash WestSide Car Wash, 805 Forest St, Dover, DE 19904, United States:
220 reviews
of users and employees, detailed information about the address, opening hours, location on the map, attendance, photos, menus, phone number and a huge amount of other detailed and useful information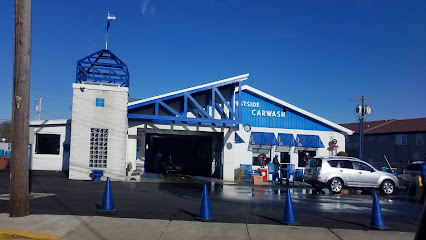 Address:
805 Forest St, Dover, DE 19904, United States
Website:
westsidecarwashde.com
GPS coordinates
Latitude:
39.1588213
Longitude:
-75.5358983
Location on the map
Reviews Andrew Zemlock
This car wash is friendly and welcoming but the only reason it's getting a 2 star rating is that I asked for just a simple wash and they sent me into the car wash machine. When I was done, I stepped out of my car, I look at the wash and …
7 months ago Alison Greig
I been going here for years Saturday was the first time I have ever had a issue I always go to them with my rental cars they always do great but this time I had to go behind them I called and told them what happened and i could not bring …
7 months ago Carla Chamberlain
Excellent job by your hardworking helpers. Got my car cleaner than I could - and I tried three times! But it was the excellent job they did of vacuuming that impressed me. Thank you. We'll be back!
6 months ago Jerry Nielson
Not like it used to be! Ok for a quick cleanup, but quality is not what it use to be. Will be looking for a new car wash. Tire shine slapped all over my wheels, soap still on the rear of the car when I got to the gas station, windows smeared on the inside. Waste of $30 to have to come home and clean it again!
6 months ago Nathan Bailey
Great car wash , they do get busy. But they move the car fast. 2 rows for car wash every other car moves up. And they have coupon in Sunday newspaper.
6 months ago Darell Joiner
I Love having my car washed here at Westside car wash but I truly believe an investment is needed to add an additional car wash conveyor lane to get the line moving faster... we tend to wait about 45 mins-1hr before the car gets washed and …
7 months ago Dottie Roland
If you value you vehicle, steer clear of Westside car wash. They broke the factory keypad off the driver door and then try to say it was broken before I went through. It was absolutely not broken before I went in there. NEVER AGAIN!!!! …
7 months ago Mark Mahar
Went in for a wash on my brand new truck. Vehicle came out with scratches. Also the staff that was drying the vehicle did a horrible job. Was still wet and the guys walked away. Had to get the towel myself to continue to dry it off..spoke …
6 months ago Jessica Johnson
Awesome experience. I'm in Dover, Delaware visiting parents. I usually get my car washed back home in NYC. Ummm...no comparison. The Westside crew I had was courteous, quick, and thourough. I didn't give my ???? car the 'once over' until I …
1 month ago Christian Koch
They do an awesome job. Keep up the good work.
7 months ago Rose Mbah
I ONLY go to this carwash. They are professional and my vehicles are always taking care of. Customer service is impeccable! During the pandemic I never thought I'd miss talking to the guy vacuuming my car as we slowly drive in, lol. Im glad they are back cleaning the inside of vehicles. I've been spoiled ????
8 months ago Kelvin Gardner
Very easy place. They do it all and well. Reasonable prices
8 months ago Carlos Diaz
I was less than pleased with my car wash services yesterday. I am giving 3 stars only because they attempted to make corrections. My car was not completely vacuumed as requested and the sap from the pine tree was still on my car when I …
1 month ago Bill Bailey
I like the service I receive at WestSide Wash. They treat you with respect and do a good job cleaning my car.
1 week ago Nicole Gonzalez
Did a great job on my car. Will go back.
7 months ago Lawrence Schmitz
Courtesy friendly and always helpful ???? ???? ☺
6 months ago Adri an
Best car wash in Dover, DE. The monthly membership is a great value, especially in Delaware, where pollen covers your car every 4 hours in the spring.
9 months ago Accupoint Labs
Just the best little Carwash west of Dover. It's worth the trip here to see the amazing inside customer area that contains so many auto antiques and kitschy things. Old gas related artifacts and there's a statue of Dino the dinosaur too! …
8 months ago Susan Cuello
Car is always cleaned very well. No streaks on windows and inside of car is wiped and vacuumed. They take their time to get in each nook and cranny. Always leave a good tip for the job well done!
4 weeks ago Jake Hodges
Very good car wash shop took extra car to clean interior, had the Delux package. Keep up the good job and I will be back everytime.
9 months ago Sean Riopelle
Did a great job, nice people.
6 months ago Random Stuff
Always do a great job and staff very friendly
7 months ago Sarmad Siddiqui
They do an excellent job. Very professional.
7 months ago Paul Fatum
I've been to quite a few carwashes since since moving to the area. WestSide has been consistently great. Never a problem in all these years. I am completely satisfied.
2 months ago April Gullick
This was the worst car wash ever! I paid $30 to ensure I would get a good job and no. I called back to let them know but no one called me back. When I had an issue at Costal car wash they called me and apologized and made it right. I won't be going back.
3 months ago Mingze Wang
These guys rock! Super fast! Great price! In their store you can find a little bit of everything!
9 months ago Stephanie Carter
Great job and received sanitizer for the vehicle.
9 months ago Jeremy Farmer
Best in the Dover area. Just ask the readers of the Delaware State News, voted best in the 2020 Stars of Delaware readers poll. Believe it has won the past 16 years.
2 months ago KM Wagner
My car was very dirty, took it to the car wash and they did an awesome job, the staff was very professional and covid-19 In place! My hat off to everyone!!!
2 months ago Robert Gilbert
Keep car shine and clean good price on weekend is crazy with card bc do good job!????????????
11 months ago Terri Schurz
Perfect pricing and great great quality work. Made my six year old car look brand new inside.
3 weeks ago Rachel Hamm
I took my car here to get the seats cleaned. Their number 1 package that starts at $90 and goes up. They did not get a single stain out of my seats which I didn't have many. I was told since my seats are light they won't come out. So just …
1 week ago Herman Axen
Disappointed .....Paid $16 to have inside vacuumed along with wash. Mat in back was not put down right and it did not appear that they vacuumed the drivers side.
4 months ago Lisa Raw
Excellant service . Clean and Friendly environment. I recommend it.
1 month ago Brady Allen
Great experience, very professional.
9 months ago Tyler Williams
The staff always does an awesome job...prices are good and they have my favorite car cologne...
1 month ago Ethan Pitts
Excellent wash and very friendly personnel. Totally satisfied
6 months ago Shahid Aslam
Always hit or miss when I go here. Sometimes they do a good job and sometimes not so good. Depends on how busy they are.
1 month ago Clark Nelson
Fast and great service.
7 months ago Jeremy Bonk
They do a pretty good job. Maybe a little pricey. Last time I went in they were charging 2.00 to sanitize this time it was 3.00. Only a munt ago.
5 months ago Matthew Laurin
You'll never be disappointed, they even found a way to clean interiors during covid 19
2 months ago patrick wilson
I love west side car wash...the people are nice and my car always comes back to me really clean..much better than stinky old coastal and race track....
2 months ago mohammed Yimer
Best in Kent County
6 months ago Ryan Snow
Fair service initially, but a young man responded and did a great job.
3 months ago Stephanie Cesar
Love these guys...
10 months ago Charlie Adorney
They are very polite and do a fantastic job I love going there
4 months ago Nicole Wojcik
Loved it got my car disinfected also . my car was clean in side and out..????????????
4 months ago thrifty minia
Always doing a great job!
6 days ago lea palms
Westside is the best car wash in town hands down! I have tried the rest and stick with the best! The fellas at the carwash are very kind and always have that Friendly Car Wash smile. Everyone is so kind.
9 months ago John Tyler
Great job cleaning my car. Only downside was the workers didn't fully dry it so the spots froze in the cold on my mirror and my trunk! :(
6 months ago
Popular places from the category Car wash