Hardware store Dembner's Hardware & Paints
Hardware store Dembner's Hardware & Paints, 68 Victory Blvd, Staten Island, NY 10301, United States:
30 reviews
of users and employees, detailed information about the address, opening hours, location on the map, attendance, photos, menus, phone number and a huge amount of other detailed and useful information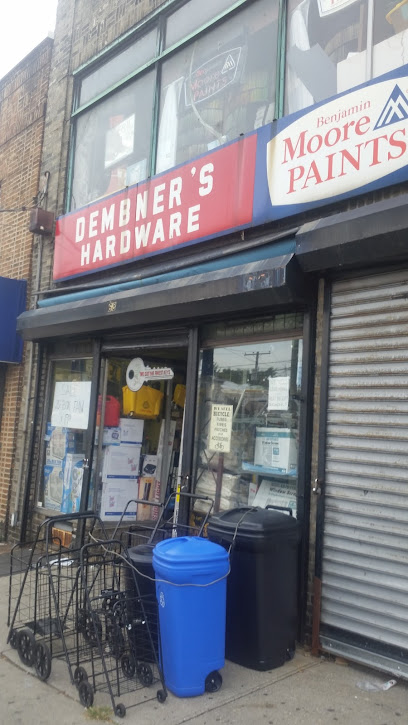 Address:
68 Victory Blvd, Staten Island, NY 10301, United States
Website:
benjaminmoore.com
GPS coordinates
Latitude:
40.6381470
Longitude:
-74.0788823
Location on the map
Reviews Jessie Ryan
Send this hardware store has been a fixture of tompkinsville for at least 100 years the owner of the store Harry is most helpful and knowledgeable that's the Go To hardware store in that area so what are you waiting for go see Harry and buy something or just say hello!
3 months ago Will Clodfelder
This little place has everything. Friendly guys and they have anything you'll need. Great shop. Bigger hardware stores have less selection. Can't say enough good things.
3 months ago Heather Lohmann
This is a small hardware store I've purchased material and hardware from on and off for over 30 years. The owner Harry Dembner is hands on, very friendly, helpful and knowledgeable. He has been a part of the community his whole life and took over the business from his father. He offers those unique and hard to find replacement parts, you can't find in the big box stores. Whether it's something you need for a bathroom, kitchen, bedroom or living room, he'll more than likely have it. Plumbing, electrical, tools, cement, paint, etc. you'll more than likely find it here.
9 months ago Susan Abraham
Great owner, he always knows what I need and has it available.
6 months ago C Well
Super friendly and right where u need them
1 week ago Sameer Kotecha
I remember this store when I was a kid. I like places that have withstood the takeover of large corporations. Friendly, family owned, plus I love animals so the store cat is a big plus! I think it's the only store still remaining from the ones I recall from that block. Keep up the good work!
1 week ago Khafiza Rikhsibayeva
Friendly, knowledgeable staff eager to help.
4 months ago Kellee Ward
Great neighborhood hardware store! Keeping your money local is always better, and they have great customer service!
7 months ago Roman Herman
Great Service, very polite guys! Highly recommend
6 months ago lisa marrone
Great store
10 months ago Diana Beveridge
Family owned business. Pillar of community. Paint is very popular item with pros here.
11 months ago Bruce Pelligra
Mr. Dembner is a rare gem in this world of impersonal corporations, when i walk into dembners, I feel like i'm transported back to a time where the mom and pop shops reigned. Mr. Dembner truly cares about his customers and even though it is a business he treats you like you're family.
7 months ago Christine Whitmore
The guys there were very helpful. I asked for a wrench but turns out I needed pliers. Good customer service!
8 months ago Patrick Grogan
Great little neighborhood hardware store. Harry has a lite bit of everything. This is not a big box home improvement spot. Prices are higher but if you have questions, someone with a good answer will help you (staff and/or other customers). Looks like something from the past.
10 months ago Lisa Melanson
The owner Harry is a nice guy. If they don't have it. He will get it in the next order.
9 months ago Abinaya P
Ahh on the service. I felt like If I asked a question ona price it was abother..it's whatever..
7 months ago Tamar Theiler
Always a pleasure to shop there. Owner always helpful and cheerful. Prices just right.
6 months ago Lorena Ariza
That got everything there really really really good ????????????????????
7 months ago Nyan Josh
Great service and staff.
10 months ago Mullin Studio
This is one of the oldest hardware store on Staten Island family owned and operated Harry always have what you need
10 months ago Jessica Greaves
You old fashioned hardware. You are sure to get a special one to one moment with the sale person. There is also a special relationship with the customers, one that doesn't exist in the bigger chains.
4 months ago Nikki N
Small neighborhood hardware store. Sometimes a limited selection, but cheap. Has more upstairs so must ask. Knowledgeable. For even cheaper simple tools, try the dollar store down the street.
6 months ago Amanda Markin
Great place and people. Always have what I need.
11 months ago Chris Thigpen
I cant stand going there...its empty too.
8 months ago Glepht
Old store that sells everything you can't find anywhere else
1 week ago Shannon Thor
Nice local hardware store with staff that are more helpful than Home Depot or Lowe's. It is small and therefore they will not have everything, but it is always my first choice.
6 months ago Mike Russell
Great hardware store...
9 months ago FANDA ERAPRAKOSO
Small old store great service
9 months ago Tricia B
Been going here for years, it doesn't get better.
2 months ago Seema Khan
Excellent !
1 month ago
Popular places from the category Hardware store