Apollo Auto Sales
Used car dealer Apollo Auto Sales, 573 Delsea Dr, Sewell, NJ 08080, United States:
220 reviews
of users and employees, detailed information about the address, opening hours, location on the map, attendance, photos, menus, phone number and a huge amount of other detailed and useful information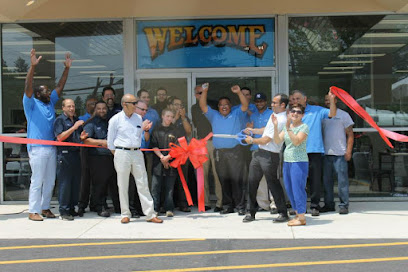 Address:
573 Delsea Dr, Sewell, NJ 08080, United States
GPS coordinates
Latitude:
39.7514321
Longitude:
-75.1123323
reviews Al
Mike C was super helpful and making our experience as effortless as possible as we were feeling stressed that our daily had broken down. We were allowed to walk the lot to get an idea of what we like. Sat down, ran up numbers to see what would work best in our budget. We were able to test drive a few cars. And was able to drive off the lot same day with our car! We would highly recommend you stop by and see Mike!
11 months ago Teresa Phillips
I had a really great car buying experience at Apollo. Moses was a true pleasure to work with. I was looking for a car for my daughter and he was so patient exploring the pros and cons of all the options parent to parent. We picked out a great car that she loves! This is not the typical car buying experience. It's a comfortable and friendly place. Moses made sure the car was all ready and sparkling with a full tank of gas when we picked it up. You've passed this dealership a bunch of times on Delsea, it's worth stopping in! Ask for Moses!
11 months ago Craig Parker
If you are looking for great quality car with low mileage and fair pricing stop by Apollo. Ask for Tom Seagreaves! My family and I have been going to Apollo for a few years now and Tom has helped us purchase four cars. Thank you Tom for being so very kind, patient and knowledgeable. Make an appointment or stop by and ask for Tom!
1 month ago Reid Dockins
I worked with Moses and he gave me a great experience! From start to finish I felt supported and like he was invested in my well-being. He is friendly, knowledgeable, and professional, and I would definitely recommend him! The overall purchasing experience was super easy and a lot faster than expected. They helped me register the car and gave it a full inspection! I'm a first time car owner so this experience meant everything to me! I was really overwhelmed at other dealers but Apollo auto sales made it feel easy
11 months ago Saksham Gupta
I'm leaving myself a review for the sole purpose of letting everyone know how amazing Apollo Auto Sales is. I've been here 2 years and just bought my 3rd vehicle here. The deals are just that good and here at Apollo you'll always get the best deal possible! Apollo will always take care of any concerns our clients have, will take care of your needs every time without fail, no exceptions! Contact me today, Nick Gregoria so I can help welcome you to the Apollo Family!
11 months ago Topher Boss
Great experience at Apollo. Moses handled everything very professionally. My purchase was smooth without any hassles. If you are in the market for a nice vehicle see Moses at Apollo.
3 months ago Marshall Goliath
Mike C took care of me and my wife with great consideration of our needs, budget, and concerns. We were in and out in a couple of ours and was the easiest car buying experience I have ever had. I highly recommend seeing Mike if you want someone who is willing to work with you, and get you what you want, but more importantly what you need.
11 months ago Nathalie Paradis
Had a great experience with Larry Frank. I went to other dealerships and felt they were a little pushy and trying to put pressure on me to make a quick decision. and then I remembered passing this Apollo place. Stopped in and was greeted by Larry and he was very pleasant to work with. Not pushy at all, told me my options with my current situation, and he worked with me and got me in the car I wanted. Would definitely recommend seeing Larry at Apollo for your next vehicle.
11 months ago Select Auto
From the time I reached out to Apollo to purchasing the truck it was a great experience. Devon was my salesman. He worked the numbers to get me in the truck I wanted. The numbers weren't exactly how I wanted them to be but adjusting the numbers worked even if I pay a little more . The truck pays for itself. Devon was very laid back , didn't pressure me into buying . No calling all week to see if I'm still interested just all around professional. He went above and beyond . Earned not just my business but respect. Great salesman you guys have !
11 months ago Tony Zebrowski
Nick was a fantastic sales person. Very professional and trust worthy. I was impressed with his grasp of finance numbers. He has been doing this for some time and it shows in his knowledge of the business. My wife and I really felt that we were god hands and tat he was doing all he could to get us the best outcome. I recommend him if visiting Apollo.
2 weeks ago Jordan Goode
I just wanted to give my rating of Apollo. My experience there was the best of the best! Larry was amazing! The whole process throughout my visit and paperwork was absolutely great thanks to Larry! I absolutely love my vehicle! If anyone is ever looking for a vehicle I highly recommend Apollo, and make sure to ask for Larry!
1 week ago Matt Lajoie
I had the pleasure of working with Larry Frank. He was very professional looking and very personable. He worked with me to find the vehicle that I wanted. I came back on two different occasions because I felt I could trust him. He was very low key and easy to talk to. He was extremely efficient and handles all paperwork in a timely manner. I will refer my wife to Larry when she wants a new car! Great experience!
3 weeks ago Dishari Mondal
I financed a Jeep Wrangler from Apollo and the process was super fast and simple. Gianna helped me out with picking the perfect car that met my standards. I left with a beautiful wrangler with a awesome price. All staff was super friendly and helpful! 100% recommend if looking into purchasing a vehicle
2 weeks ago Raami arora
I was hesitant on coming to this dealership, however Maria was courteous and patient with me. I am a 1st time car buyer. The process was simple, and she guided me through it. She answered all of my questions and doubts. I would recommend this dealership for anyone who wants low mileage and good quality cars! They called me a week later and asked how the car was! Definitely not bad for 1st time car buyers!
11 months ago Vincenzo Loffredo
Thank you Nick. I LOVE my new car! Thank you for making this as easy as possible. We will definitely be coming back and referring everyone we can. Thank You!!! If you're looking for a new vehicle go see Nick at Apollo, he genuinely cares about his customers!
11 months ago Moonshine Witten
Larry was awesome! He made the car buying process quick and simple. Very straight forward gentleman. We've bought 3 cars from Apollo now, great experience!
11 months ago Mark Follett
Larry is the man! I've purchased three cars from Apollo and I won't go anywhere else. Matter of fact, between myself and other family members through the years, we are now up to 13 cars. Yes, you read that right...13! I always know I'm in good hands when I walk through those doors. Larry made today's experience an awesome one...he is very knowledgeable, beyond helpful and extremely patient. He worked with me and got me into my dream car. I was only expecting to go for a test drive and review my options...but Larry worked his magic and had me driving out in a beautiful 2019 Ford Edge. All the bells and whistles! If you're looking for a salesperson (and dealership) that treats you like family and works their fingers to the bone to get you what you want, look no further! Thank you Larry!!! ~Jason Waligore
11 months ago RealChinnyFeaster ye
Great customer service and support. Rachel from Apollo Auto Sales is a tireless customer servant, working hard to share all details - Car Fax, pictures, videos and window stickers to make the car buying process easier and a better customer experience. 5 Stars for Rachel - Thanks to her for making the process so great!!
11 months ago Abigail Karanja
Always drove pass this dealer for years and today I stopped in looking to trade in my old car. The experience was awesome and the process extremely quick. The sales staff was extremely helpful and Tom made me feel valued and did not pressure me one bit. Got the financing taken care in just a few minutes and drove out of the dealership with a great vehicle.
5 days ago Sean Terkildsen
Love my new truck. Nick was my salesperson and he was awesome!!!! He helped me find what I was looking for and got me into a vehicle within an hour. He was patient and very professional, and I would recommend Apollo to all my friends and family. Thanks Nick!!!!
11 months ago Thomas Mathyn
My cay buying experience with Larry Frank was a very pleasant one!! Larry was very respectful of my wishes and did not try to "force feed" me at any point in the process. With my over 30 years experience in the credit union lending industry and another eight years in Retail Sales with Enterprise Car Sales, I am very well versed in the car buying process. Larry and I worked very well together throughout the entire purchase!! Larry is very much a "people person" and was a joy to work with.
3 weeks ago Hikmatullah Hotak
After being to many different car dealerships in the past, this is the first time I have ever felt comfortable in one, and Tony Russo is the reason for that. We were hoping for a certain type of car and he delivered. We were hoping for quick and painless and he delivered. We were hoping to feel comfortable with the person we worked with and he made that happen. Tony makes you feel like you'll be friends after you leave the dealership. We hope to have our vehicle for many years to come but when we need another, or wish to get another, we'll be returning here. Thank you Tony!
2 months ago Jorge Ribeiro
I just wanted to take a minute and rate my experience at Apollo. i gave this 5 stars because it was such a smooth process from beginning to end. Great service and they know they're stuff. I would like to praise my salesman Moses not only is he extremely genuine he was a professional. He has such good knowledge about cars more than any other salesmen I dealt with, he was calm patient, not pushy with me. He goes above and beyond for his customers and tries to help as much as possible. I am a repeating customer he has sold me 4 cars. To anyone out there who is looking for a car ask for Moses he is the best!
3 weeks ago Joshua Lalanne
No negotiating needed. I told Moses what I could pay, the value of my trade in and the low interest rate I wanted to pay and he met it seamlessly! I got a car that I thought was out of my price range. They even put new tires and brakes on the car. Then finished it up with a car wash and a full tank of gas! I'll be back and I'm recommending to everyone!
4 days ago Michael Schultz
Excellent service from Tom! I couldn't ask for a better car buying experience. I had an approval for the car I wanted before I even stepped foot in the building! I can't thank Tom enough for getting me in this car! I love it! I would highly recommend Apollo. Oh and definitely ask for Tom!!
3 weeks ago Cameron Cooper
Without exaggeration, I can say that this was easily the best car buying experience I have had. I worked with Devon, who I would recommend. I don't deal well in a high pressure negotiation style world, and Devon was the perfect fit. Easy going, no pressure, and great to work with. He followed through on everything he said. I bought a beautiful truck at a great price, and they gave me great value on my trade. And my favorite part, I spent less than an hour at the dealership, in total. I'd highly recommend Apollo, and Devon.
1 month ago sue pugh
Huge Shout Out to Tom! I appreciate the lookout with my new 2019 Chevy Impala Premier. You worked with me through this entire process with nothing but the best I beat around the bus a few times but at the end of the day we got it done. I will most definitely request you and your team here at Apollo Auto Sales. Once again thank you!!
1 month ago Juana Madera
I just want to say from the whole buying process, car selection, and the friendliness of the staff it was amazing. Mario made my family and I buying process enjoyable. Thank you Mario for everything you did for us.
11 months ago Robin R
Mike C Was the sales man that helped me and he did such a great job. The entire process was smooth and pleasant! Thanks so much mike
11 months ago Buffie Yarbrough
Larry was awesome! Very accommodating and knowing we had kids, pulled a few more chairs for them to sit down. He also knew we wanted to make the buying experience seamless, efficient, and expeditious. In knowing this, we were able to purchase a vehicle in under and hour! That must be a record! Thanks again buddy. We will definitely be back for another vehicle but hopefully not too soon.
4 months ago azetyn
I do not write reviews ever but entering this establishment has changed all that. I have been going in circles car shopping. I read the previous reviews on apollo auto sales website and I was skeptical. I walked into the dealership not knowing what was to come. I was greeted by Mario. Let me just say Mario is the man! This was the quickest and the best experience I have had at a dealership. Excellent service!!!!!
1 month ago Tristine West
Called and spoke to Mike C Thursday about a truck and his professional and attention to detail was amazing, I've purchased 100 plus vehicles in my life and this was the single best experience, he worked for hours today to get me the deal I needed. Thank you Mike
11 months ago Chris Burnett
Went in to see a specific car, the interior was a mess, Maria said it was a lender car - they didn't even remove the previous driver's mask and used vape. Maria was rude and said multiple comments such as "if you can find a car like this for less than good for you" in a sarcastic tone and as I was leaving (I told her I was going to think about it as they wouldn't budge at all when there were apparent concerns with the car) she took her business card BACK from me and put it back in her holder. She clearly didn't want to make the sale and her lack of knowledge showed. Will not be returning to Apollo - I wish I had one of the sales man in the positive reviews because I would have left a happy and loyal customer. Edit: the owner did reach out in hopes of getting my business back however I had already found another car. I appreciate the call back and the apology from Maria herself. But still feel strongly about the way my first visit went.
11 months ago ashley arnold
The BEST!!!! Larry was the BEST he made my husband and I very comfortable. He was very honest with us and assured us we would get a GREAT deal on what we wanted and we GOT it!!!! Please take your business to him @ APOLLO!
11 months ago Micheal Feldpausch
Thanks Mike C for helping us out and taking such good care of us! Amazing guy! Have known Mike for 30 years! Go see him!
11 months ago Nora White
Chris was great since the beginning even before he made the sale. The whole process he didn't make me feel like he was pushing me to do anything and it was all smooth. I appreciate all the welcoming staff at Apollo especially Chris. Whenever u go in he will make it work. Thanks a bunch
1 month ago Neetu kachawa
Secone time purchasing from Apollo and I must say they didn't disappoint. Four years later same great customer service and matter of fact I brought my mom back to buy her 1st car off a lot and Larry helped ease all her anxiety and helped the process move along smoothly...Larry Frank is that guy. He's the best went to him both times and no fast talking or all the extra BS just got me in the car I wanted. Apollo's team is welcoming and friendly even the owner comes out and greets customers. I definitely recommend to go to Apollo if you're looking to purchase, trade in, or shop around.
3 weeks ago Sarah killian
I had an amazing experience here! I worked with Chris Forgione. He is amazing and so prompt. He made the entire transition easy and extremely comfortable. Anything you need he is on it!!! When you are ready to buy a car, ask for Chris F. He will get you anything you need within less than an hour. Extremely friendly. He exceeded my expectation!!!! I give him 5 stars all the way.
6 days ago Khafiza Rikhsibayeva
Jesse and Nick have always done right by my family and friends, that's why we always come back. Thank you Nick for everything, we truly appreciate you and the entire Apollo team for making this process as seamless and comfortable as possible. Customer Service- 5/5 Product knowledge- 5/5 Sales- 5/5 Overall - 5/5 Thanks Again!!!
4 days ago Nicholas Cosens
I want to thank Larry for having amazing service. We had a 2012 Nissan and we have just got an amazing 2018 sonata for a steal. He will make sure you get the best for your buck. i assure you, you could never go wrong with Larry at Apollo Auto Sales!
2 months ago Seana Pierce
Because of the great on-line reviews, my daughter and I ended up driving four hours to this dealership. Mario was our salesman who was fabulous from beginning to end and made the entire experience quick and easy. We did not feel the pressure that you sometimes have at other dealerships and we highly recommend Mario should you be in need a competent sales person.
3 weeks ago Jordan Garner
Christian Miller was very patient and honest. He made sure we were 100% satisfied with the vehicle chosen. Mr. Miller was super honest about all options that we had. He gave us the best advice possible and I would definitely recommend others to come see him at Apollo.
1 week ago Devan Brown
I can not say enough about how smooth the buying process was. Moses was very professional. He has a calmness about him that will put you at ease. If you are looking for a different car buying experience than your used to, Get to Apollo and ask for Moses!
3 weeks ago Michael Morris
I came to Apollo Auto Sales and Tom greet me with professionalism. He was so enthusiastic that he got my attention. However, Anthony was incredible with helping me refinance the car with a low interest rate. I would recommend anyone to ask for Tom and Anthony. Today, I walk out APOLLO excited to drive my new car. Thanks for there assistance!! Y'all guys ROCK!!
3 months ago LaTonya Townes
Chris F. was very helpful and made use feel comfortable in purchasing a car. He had great energy and a willingness to put me and my wife in a reliable vehicle. Worked with us from start to finish. Thanks Chris F!!!
1 month ago Peter Flierl
The way Chris F. Made sure that my girlfriend and I left amazingly satisfied is mind blowing. We came to the dealership based off a Facebook Ad and left with a 2018! Totally unexpected, service was amazing the care was genuine and he got me set straight away to drive off TODAY! I recommend anyone to Apollo Auto Sales and especially my guy Chris F. Thanks again Chris!
4 days ago Oleg Gogolev
We finally found the car dealership we can trust and will be going to for now on for our car buying needs. This was, by far, our best car buying experience we've ever had, thanks to our salesman Nick. From start to finish, Nick walked us through the process and made it easy. He listened and once he understood our needs, our purchase could not have gone any better. Even with our trade in, everything was seamless and smooth. I would definitely recommend Nick and Apollo to anyone in need of a car. Lastly, we were so happy with our purchase and with Nick that we referred our son and Nick got him in a beautiful car a week after we bought ours. We will keep on sending as many referrals to Apollo as we can.
4 months ago Matthew Tortoriello
Bought a truck last week, runs well. Larry was super nice, friendly. Would highly recommend going to see Larry Frank for a new car!!
11 months ago Philip McLane
My experience at Apollo auto made my purchase of my vehicle the best process. From the minute I applied online I had an answer of my loan within minutes. Larry was a wonderful salesman he made me feel at ease from our first meeting. I highly recommend this dealership and Larry as a great salesman. Everyone at this dealership made me feel welcome .
3 weeks ago Nick James
Devon! Devon! Devon!!!! I have purchased many cars in my life and Devon made this the quickest, most painless purchase ever. He did not rush or try to double talk me into a vehicle I did not want or that was out of my set budget..he was very honest and a straight shooter.... he is so good we bought two cars. There were so many options and the dealership does not over price there vehicles... they really worked with us and we will be back !!!!
3 weeks ago
Popular places from the category Used car dealer